Abstract
I use a nationally representative survey to determine whether and which Americans associate personal responsibility with economic desert. Philosophers actively debate this relationship, but social scientists routinely take it for granted, foisting this assumed relationship on the people they study. Respondents, I find, generally want their economic fates to rest on criteria for which they are (or appear) personally responsible, but they express this belief with varying levels of conviction and with two notable exceptions. The first involves specific determinants of economic status. Respondents are divided on whether individuals exert control over their intelligence, creativity, health, and educational pedigree, but they are generally comfortable with the first two affecting peoples' economic standing. The second concerns who considers personal responsibility morally relevant to economic status. Neoliberals, chiefly concerned with economic growth, are significantly less insistent that individuals be personally responsible for their economic standing. Same for non-white, lower income, and older respondents, and respondents from elite schools, though to a lesser degree. At best, ideal paths to economic success and ruin are moderately associated with personal agency, though many are weakly correlated. So it goes with respondents' overall correlations between perceived control over economic determinants and the ideal-importance of those factors to economic standing. Researchers must look beyond their preferred philosophical dispositions and investigate justice as it is envisioned and lived by their subjects.
Access options
Buy single article
Instant access to the full article PDF.
US$ 39.95
Tax calculation will be finalised during checkout.
Subscribe to journal
Immediate online access to all issues from 2019. Subscription will auto renew annually.
US$ 79
Tax calculation will be finalised during checkout.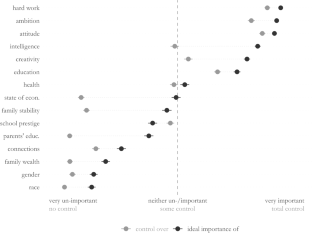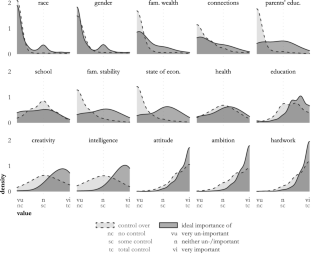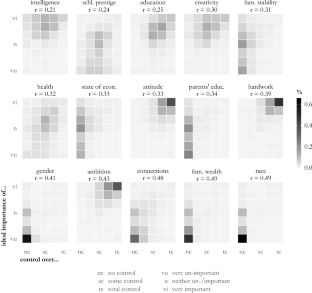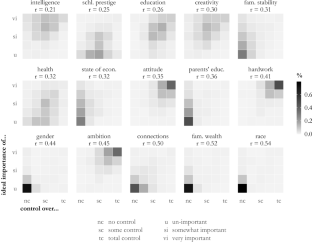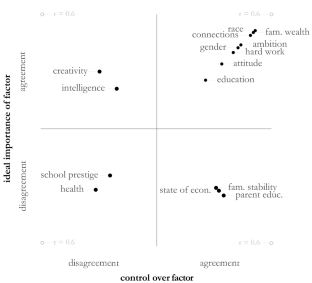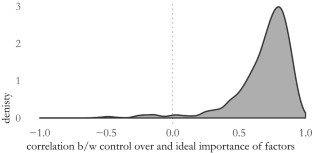 Notes
1.

Ironically, public funds covered around 62% of the costs to build the 2012 Republican Convention stadium (Sirota 2012).

2.

3.

Conservative Protestant writers often take a three-pronged approach to the question of female economic activity. As practical but secondary matters, they encourage women to consider whether and when employment is beneficial or detrimental to themselves, and to society broadly, but at root is the idea that economic matters are the purview of God and husbands, to whom women submit (Sherkat 2000). Similarly, farmers take into account environmental, legal, and economic factors when apportioning their farmsteads, but even land-hungry farmers will stay their financial interests and not bid on acreage that is "inappropriately" available for purchase on the market (Rogers and Salamon 1983, 545). In both examples you see moral notions of deservingness alongside more apparent, baser-seeming manifestations of self-interest. I say "more apparent" and "baser-seeming" because I will argue momentarily that, as social institutions, desert and related moral considerations are themselves observed, in part, out of self interest.

4.

Fong (2001) is a laudable exception on all counts.

5.

I will stick to the singular "basis" when speaking in general, but please keep in mind that there can be multiple desert bases. Similarly, I may write of deserved objects, but am referring to rewards, punishments, treatments, and responsibilities apportioned on specific conditions of worthiness.

6.

Lowe (2002, 201–202) addresses both concerns and is especially clear regrading determinism, the debate over whether agency (i.e., the meaningful authorship of actions) is compatible with a naturalistic conception of human beings, or whether it is reducible to event causation. Carnap (1966, 221–222) provides a brief and helpful explanation of indeterminacy's relationship with free choice and human behavior.

7.

"The fundamental idea of retributivism is that responsibility is a moral property of agents that consists in or supervenes upon underlying facts of agency and upon agents' connections to the world. Such facts uniquely determine the moral desert of the agent [...]" (Kutz 2004, 550).

8.

Although usually reserved for discussions of equity, particularly in market settings, 'merit' also applies to matters of equality. This is because merit is simply another term for desert basis (or bases), one that usually is meant to convey some quality or characteristic that can be measured in ordinal or continuous terms. An egalitarian may say that everyone deserves an equal share of national wealth, which seems to ignore merit altogether. In fact, the criteria that make someone meritorious in this egalitarian's eyes are probably (1) being a human, (2) adulthood, and (3) citizenship. These are her desert bases, and they are sufficiently universal that she did not bother to state them. Moreover, they are usually conceived of in dichotomous terms, although you could distinguish between shades of adulthood and citizenship, and even person-hood (Hofstadter 2008). Conversely, what may appear an inclination towards equality may actually be an exercise in equity, wherein "the scrutineer perceive[s] the relevant inputs to be equal" (Reis 1984, 39). See Bower-Bir (2014, chap. 2, 2020a) for an extended discussion.

9.

Think of the seemingly innocent conflating of the formerly broad 'interest' with the narrower 'material wellbeing', which was crucial in the academic, and eventually the social, triumph of capitalism (Hirschman 1977).

10.

See Crawford and Ostrom (1995) for an untangling of institutional types. Norms and rules are especially relevant because they have a deontic built into them and thus take on a moral flavor.

11.

Alternatively known as "iterative proportional fitting" and "sample-balancing."

12.

Figure 2 shows density curves of perceived control over economic factors and their ideal importance to economic standing plotted on the same axis. The space under each curve defines 100% of all probabilities. The percentage of this area between any two points along the curve coincides with the probability that an observation falls within those bounds.

13.

Quadrant assignment is a fundamentally subjective exercise and I invite readers to scrutinize my categorization by interrogating Figs. 1 and 2. There exist statistical measures of consensus and dissension for ordinal data (e.g., Tastle and Wierman 2007). Interested researchers could propose thresholds for such measures, although setting those thresholds would be arbitrary and quadrant assignment would remain a fundamentally subjective act.

14.

15.

16.

Elite university administrators and alumnus do not necessarily consider this a problem. Ivy League schools and Co. (and to a lesser degree, flagship public research universities) have, over decades and by design, positioned themselves as selectors of the "meritorious" national (and state, and industrial) elite (Lemann 1999). This new elite is preferable to the Episcopacy it overthrew in that it can draw ranks from the broader population, but elite selection remains the paramount goal and the self-tasked universities are only so willing to alloy that goal with related but secondary objectives like underclass upward mobility.

17.

Mounting evidence, however, indicates that which and what type of college you attend (e.g., liberal arts, large research, public, private, Ivy, etc.) matters little for your longterm success and satisfaction (Gallup and Purdue University 2014).

18.

Whether or not you believe there is any public benefit to elite universities depends on whether you consider their anointing and training of a ruling class (see footnote 16) as a beneficial civic function, a threat to democratic rule, or something in between. Moreover, many elite students believe themselves to be preparing for public service and leadership, but soon parlay their educational status into lucrative private ventures (Lemann 1999, chap. 16).

19.

To see the effect on the dependent variable of a single unit change in a a normalized, ordinal, independent variable, simply divide that independent variable's coefficient by the number of possible responses (e.g., 7 in the case of ideology). See Table 3 in Appendix 2 for relevant information about each variable.

20.

Future researchers may want to further investigate the effects of school prestige by expanding the Ivy League variable to include closely related schools (e.g., Stanford, University of Chicago, etc.).

21.

But suggest is all they do. While the constant term gives you an idea of the average value of the dependent variable when all independent variables are equal to zero—and while zero is a possible and observed value for all predictor variables in these models save age—the constant also serves as a receptacle for any bias otherwise unaccounted for in the model, as specified. While potentially revealing, interpret the constant with caution.

22.

Based on previous research, I would conjecture that for most respondents, the "diligent poor" do not deserve their poverty, but neither are their labours enough to win them moral claim to a glamorous economic station, even if they work harder than those (supposedly more meritorious) few who inhabit that enviable realm. See Bower-Bir (2014, chap. 5) for more on the "undeserving poor".

23.

Despite medical procedures that allow for sex reassignment and racial/ethnic modification, matters of sex and race are still largely about how others perceive us and are thus partially outside of our purview. Recall, for instance, the debate over whether citizens and civil rights leaders considered President Obama black, which he considered himself to be (Desmond-Harris 2014). Even if such characteristics were firmly in our control, acting on that control in pursuit of our self-identification often results in new social hostilities, such as those facing transgender and transracial advocates (Tuvel 2017).
References
Alesina, A., & Angeletos, G.-M. (2005). Fairness and redistribution: US vs. Europe. American Economic Review, 95, 913–935.

Alesina, A., & Giuliano, P. (2011). Preferences for redistribution. In J. Benhabib, A. Bisin, & M. O. Jackson (Eds.), Hanbook of social economics hanbook of social economics (Vol. 1A, pp. 93–132). Amsterdam: North Holland.

Alesina, A., & La Ferrara, E. (2005). Preferences for redistribution in the land of opportunities. Journal of Public Economics, 89, 879–931.

Ambrose, M. L., & Arnaud, A. (2005). Are procedural justice and distributive justice conceptually distinct? Handbook of organizational justice handbook of organizational justice (pp. 59–84). Mahwah: Lawrence Erlbaum Associates Publishers.

Aristotle. (2002). Nicomachean ethics (C. Rowe, Trans.). New York: Oxford University Press.

Bendroth, M. L. (1999). Fundamentalism and the family: Gender, culture, and the American pro-family movement. Journal of Women's History, 10(4), 35–54.

Binmore, K. (2009). Game theory and institutions [Working paper]. Centre for Economic Learning and Social Evolution, University College London. (331)

Binmore, K. (2011). Natural justice. Oxford: Oxford University Press.

Blackstone, W. (1975). Reverse discrimination and compensatory justice. Social Theory and Practice, 3, 253–288.

Bower-Bir, J. S. (2014). What we deserve: The moral origins of economic inequality and our policy responses to it (PhD dissertation). Bloomington: Indiana University.

Bower-Bir, J. S. (2017). Redistribution preferences and low socio-economic status. In T. K. Shackelford & V. A. Wezekes-Shackelford (Eds.), Encyclopedia of evolutionary psychological science. Encyclopedia of evolutionary psychological science. New York: Springer.

Bower-Bir, J. S. (2018). Desert and redistribution: Justice as a remedy for, and cause of, inequality. Chicago:Midwest Political Science Association Annual Conference.

Bower-Bir, J. S. (2020a). Desert as a parsimonious, emergent social institution (Tech. Rep.). Bloomington, IN: Ostrom Workshop in Political Theory and Policy Analysis.

Bower-Bir, J. S. (2020b). What we deserve: Survey dataset and code for cleaning and analysis. IUScholarWorks, Scholarly Communications Department, Indiana University Libraries.

Bowles, S., Gintis, H., & Groves, M. O. (2005). Unequal chances: Family background and economic success. Princeton: Princeton University Press.

Brockner, J., Heuer, L., Magner, N., Folger, R., Umphress, E., van den Bos, K., et al. (2003). High procedural fairness heightens the effect of outcome favorability on self-evaluations: An attributional analysis. Organizational Behavior and Human Decision Processes, 91(1), 51–68.

Brockner, J., & Wiesenfeld, B. M. (1996). An integrative framework for explaining reactions to decisions: Interactive effects of outcomes and procedures. Psychological Bulletin, 120(2), 189–208.

Carnap, R. (1966). An introduction to the philosophy of science. New York: Dover Publications Inc.

Chetty, R. , Friedman, J. N. , Saez, E. , Turner, N. , & Yagan, D. (2017). Mobility report cards: The role of colleges in intergenerational mobility. The Equality of Opportunity Project. Jan.

Clifford, S., & Jerit, J. (2014). Is there a cost to convenience? An experimental comparison of data quality in laboratory and online studies. Journal of Experimental Political Science, 1(2), 120–131.

Cohen, J. P., & Morrison Paul, C. J. (2004). Public infrastructure investment, interstate spatial spillovers, and manufacturing costs. The Review of Economics and Statistics, 86(2), 551–560.

Crandall, C. S., & Martinez, R. (1996). Culture, ideology, and antifat attitudes. Personality and Social Psychology Bulletin, 22(11), 1165–1176.

Crawford, S. E. S., & Ostrom, E. (1995). A grammar of institutions. American Political Science Review, 89(3), 582–600.

Cupit, G. (1996). Desert and responsibility. Canadian Journal of Philosophy, 26(1), 83–99.

Cupit, G. (1999). Justice as fittingness. Oxford: Oxford University Press.

Decety, J., Cowell, J. M., Lee, K., Mahasneh, R., Malcolm-Smith, S., Selcuk, X., et al. (2015). The negative association between religiousness and children's altruism across the world. Current Biology, 25(1), 1–5.

DeNavas-Walt, C. , Proctor, B. D. , & Smith, J. C. (2013). Income, poverty, and health insurance coverage in the united states: 2012 (Tech. Rep.). Washington, DC:U.S. Census Bureau, Current Population Reports.

Desmond-Harris, J. (2014April). Most Americans say Obama is not black. Here's why that Pew poll got it wrong. The Washington Post.

Deutsch, M. (1975). Equity, equality, and need: What determines which value will be used as the basis of distributive justice? Journal of Social Issues, 31(3), 137–149.

Elster, J. (1992). Local justice: How institutions allocate scarce goods and necessary burdens. New York: Russell Sage Foundation.

Emerson, M. O., & Hartman, D. (2006). The rise of religious fundamentalism. Annual Review of Sociology, 32(1), 127–144.

Feinberg, J. (1970). Justice and personal desert. In J. Feinberg (Ed.), Doing and deserving: Essays in the theory of responsibility. Princeton: Princeton University Press.

Feldman, F. (1995a). Adjusting utility for justice: A consequentialist reply to the objection from justice. Philosophy and Phenomenological Research, 55(3), 567–585.

Feldman, F. (1995b). Desert: Reconsideration of some received wisdom. Mind, 104(413), 63–77.

Feldman, F. (1995c). Justice, desert, and the repugnant conclusion. Utilitas, 7, 189–206.

Feldman, F. (1996). Responsibility as a condition for desert. Mind, 105(417), 165–168.

Feldman, S. (1983). Economic individualism and American public opinion. American Political Quarterly, 11(1), 3–29.

Fong, C. M. (2001). Social preferences, self-interest, and the demand for redistribution. Journal of Public Economics, 82(2), 225–246.

Fong, C. M., & Luttmer, E. F. P. (2009). What determines giving to hurricane katrina victims: Experimental evidence on racial group loyalty. American Economic Journal: Applied Economics, 1(2), 64–87.

Fulton, A. S., Gorsuch, R. L., & Maynard, E. A. (1999). Religious orientation, antihomosexual sentiment, and fundamentalism among Christians. Journal for the Scientific Study of Religion, 38(1), 14–22.

Galle, O. R., Wiswell, C. H., & Burr, J. A. (1985). Racial mix and industrial productivity. American Sociological Review, 50(1), 20–33.

Gallup and Purdue University. (2014). Great jobs, great lives: The 2014 Gallup-Purdue index report (Tech. Rep.). Washington, DC:Gallup and Purdue University.

Gardner, A. (2012). Obama facing mounting questions over 'you didn't build that' remark. Washington Post.

Greenberg, J. (2011). Organizational justice: The dynamics of fairness in the workplace. In APA Handbook of Industrial and Organizational Psychology, Vol 3: Maintaining, Expanding, and Contracting the Organization APA handbook of industrial and organizational psychology, vol 3: Maintaining, expanding, and contracting the organization (pp. 271–327). Washington, DC:American Psychological Association.

Haidt, J., & Joseph, C. M. (2004). Intuitive ethics: How innately prepared intuitions generate culturally variable virtues. Daedelus, 133(4), 55–66.

Hirschman, A. O. (1977). The passions and the interests: Political arguments for capitalism before its triumph. Princeton: Princeton University Press.

Hochschild, J. L., & Scovronick, N. (2004). The American dream and the public schools. Oxford: Oxford University Press.

Hofstadter, D. R. (2008). I am a strange loop. New York: Basic Books.

Horton, M. (1982). Free to stay at home: A woman's alternative. Waco: World Books.

Hospers, J. (1961). Human conduct. New York: Harcourt, Brace & World Inc.

Husak, D. (1987). Philosophy of criminal law. Totowa: Rowman & Littlefield.

Jepsen, D. (1988). Women: Beyond equal rights. Waco: World Books.

Jost, J. T., Blount, S., Pfeffer, J., & Hunyady, G. (2003). Fair market ideology: Its cognitive-motivational underpinnings. Research in Organizational Behavior, 25, 53–91.

Jost, J. T., Glaser, J., Kruglanski, A. W., & Sulloway, F. (2003). Political conservatism as motivated social cognition. Psychological Bulletin, 129, 339–375.

Jost, J. T., & Kay, A. C. (2010). Social justice: History, theory, and research. In S. T. Fiske, D. T. Gilbert, & G. Lindzey (Eds.), Handbook of social psychology handbook of social psychology (pp. 1122–1165). New York: Wiley.

Kassel, W. (2017). Donald Trump's presidency is an assault on women. Foreign Policy.

Khatchadourian, H. (2006). Compensation and reparation as forms of compensatory justice. Metaphilosophy, 37, 429–448.

Kutz, C. (2004). Responsibility. In J. L. Coleman, K. E. Himma, & S. J. Shapiro (Eds.), Oxford handbook of jurisprudence and philosophy of law (pp. 549–587). New York: Oxford University Press.

Lemann, N. (1999). The big test: The secret history of the American meritocracy. New York: Farrar, Straus and Giroux.

Lerner, M. J. (1974). The justice motive: 'equity' and 'parity' among children. Journal of Personality and Social Psychology, 29(4), 539–550.

Lim, E. T. (2002). Five trends in presidential rhetoric: An analysis of rhetoric from George Washington to Bill Clinton. Presidential Studies Quarterly, 32(2), 328–366.

Lindblom, C. E. (2002). The market system: What it is, how it works, and what to make of it. New Haven: Yalue University Press.

Lipset, S. M. (1996). American exceptionalism: A double-edged sword. New York: W. W. Norton & Company Inc.

Lowe, E. J. (2002). A survey of metaphysics. Oxford: Oxford University Press.

Luttmer, E. F. P. (2001). Group loyalty and the taste for redistribution. Journal of Political Economy, 109(3), 500–528.

Mackie, J. L. (1977). Ethics: Inventing right and wrong. London: Penguin Books.

Marchand, R. (1986). Advertising the American dream: Making way for modernity, 1920–1940. Berkley: University of California Press.

McLeod, O. (2013). Desert. In E. N. Zalta (Ed.), The Stanford encyclopedia of philosophy. The Stanford encyclopedia of philosophy. Stanford: The Metaphysics Research Lab, Center for the Study of Language and Information, Stanford University.

Mill, J. S. (1957). Utilitarianism. Indianapolis: Liberal Arts Press.

O'Flaherty, B. (2015). The economics of race in the United States. Boston: Harvard University Press.

Ostrom, E. (2005). Explaining institutional diversity. Princeton: Princeton University Press.

Pargament, K. I., Kennell, J., Hathaway, W., Grevengoed, N., Newman, J., & Jones, W. (1988). Religion and the problem-solving process: Three styles of coping. Journal for the Scientific Study of Religion, 27(1), 90–104.

Peek, C. W., Lowe, G. D., & Williams, L. S. (1991). Gender and God's word: Another look at religious fundamentalism and sexism. Social Forces, 69(4), 1205–1221.

Perry, S. (2001). Responsibility for outcomes, risk, and the law of torts. In G. Postema (Ed.), Philosophy and the law of torts philosophy and the law of torts (pp. 72–130). Cambridge: Cambridge University Press.

Pew Research Center. (2012) Partisan polarization surges in Bush, Obama years (Tech. Rep.). Washington, DC:Pew Research Center for the People and the Press.

Pojman, L. (1997). Equality and desert. Philosophy, 72(282), 549–570.

Polanyi, K. (1957). The great transformation: The political and economic origins of our time. Boston: Beacon Press.

Potok, M. (2017). The year in hate and extremism (Tech. Rep.). Montgomery, AL:Southern Poverty Law Center.

Puhl, R., & Brownell, K. D. (2003). Ways of coping with obesity stigma: Review and conceptual analysis. Eating Behaviors, 4(1), 53–78.

Quinn, D. M., & Crocker, J. (1999). When ideology hurts: Effects of belief in the protestant ethic and feeling overweight on the psychological well-being of women. Journal of Personality and Social Psychology, 77(2), 402.

Rachels, J. (1978). What people deserve. In J. Arthur & W. Shaw (Eds.), Justice and economic distribution justice and economic distribution (pp. 167–196). Englewood Cliffs: Prentice-Hall.

Rawls, J. (1971). A theory of justice. Cambridge: Harvard Univesity Press.

Reis, H. T. (1984). The multidimensionality of justice. In R. Folger (Ed.), The sense of injustice (pp. 25–61). US: Springer.

Rescher, N. (1966). Distributive justice. Indianapolis: Bobbs-Merrill.

Rogers, S. C., & Salamon, S. (1983). Inheritance and social organization among family farmers. American Ethnologist, 10(3), 529–550.

Ross, R. (1982). Racism and colonialism: Essays on ideology and social structure. Leiden: Kluwer.

Rotem, K., & Demel, W. (1996). Race and racism in modern East Asia: Western and eastern constructions. Leiden: Brill.

Schneider, A., & Ingram, H. (1993). Social construction of target populations: Implications for politics and policy. American Political Science Review, 87, 334–347.

Schram, S. F. (2000). After welfare: The culture of postindustrial social policy. New York: New York University Press.

Sherkat, D. E. (2000). 'That they be keepers of the home': The effect of conservate religion on early and late transitions into housewifery. Review of Religious Research, 41(3), 344–358.

Sidgwick, H. (1962). The methods of ethics. London: Macmillan & Co.

Sirota, D. (2012). The four biggest convention stories you won't hear about. Salon. (visited on 2016-01-28)

Sniderman, P. M., & Carmines, E. G. (1999). Reaching beyond race. Cambridge: Harvard University Press.

Starmans, C., Sheskin, M., & Bloom, P. (2017). Why people prefer unequal societies. Nature Human Behavior, 1, 1–7.

Strawson, P. F. (1962). Freedom and resentment. In G. Watson (Ed.), Proceedings of the British Academy Proceedings of the British Academy (Vol. 48, pp. 1–25). Oxford: Oxford University Press.

Tastle, W. J., & Wierman, M. J. (2007). Consensus and dissention: A measure of ordinal dispersion. International Journal of Approximate Reasoning, 45(3), 531–545.

Tuvel, R. (2017). Defence of transracialism. Hypatia, 32(2), 263–278.

Tyler, T. (2011). Procedural justice shapes evaluations of income inequality: Commentary on Norton and Ariely (2011). Perspectives on Psychological, Science, 6, 115–16.

Tyler, T. R., & Smith, H. J. (1998). Social justice and social movements. In D. T. Gilbert, S. T. Fiske, & G. Lindzey (Eds.), The handbook of social psychology (4th ed., Vol. 1 and 2, pp. 595–629). New York: McGraw-Hill.

Wagstaff, G. (1994). Equity, equality, and need: Three principles of justice or one? Current Psychology: Research and Reviews, 13, 138–152.

Westen, D., Blagov, P. S., Harenski, K., Kilts, C., & Hamann, S. (2006). Neural bases of motivated reasoning: An fMRI study of emotional constraints on partisan political judgment in the 2004 U.S. presidential election. Journal of Cognitive Neuroscience, 18(11), 1947–1958.

Westermarck, E. (1906). The origin and development of moral ideas (Vol. I and II). London: MacMillan.

Young, H. P. (1995). Equity in theory and practice. Princeton: Princeton University Press.
Acknowledgements
Special thanks to Elinor Ostrom, who started me on this path, and to Zach Wendling, who encouraged me to keep walking it.
Additional information
Publisher's Note
Springer Nature remains neutral with regard to jurisdictional claims in published maps and institutional affiliations.
Appendices
Appendix 1: Demographic breakdown of survey sample
See Table 2
Appendix 2: Summary of independent variables
Table 3 summarizes the types and values of independent variables included in my regressions. More complete information pertaining to these variables can be found in the codebook that accompanies the publicly available dataset. Moreover, interested readers may freely download all Stata and R code used in data cleaning and analysis (Bower-Bir 2020b).
Appendix 3: Additional regression results
See Table 4
Appendix 4: Theoretical grounds for independent variables
In this appendix, I provide the theoretical motivations for including the independent variables I use in my Sect. 4 regression analysis. I also outline my hypotheses surrounding those variables. I pay special attention here to those variables for which I find no statistically significant effect. I give expanded treatment in the main text to variables for which I uncover evidence at traditional levels of statistical significance.
Ideology, political party, religiosity, and theology
I predict that certain philosophical considerations—especially ideological and religious viewpoints—will explain an individual's association of personal responsibility with economic desert. It is unclear, however, whether Democrats and liberals or their Republican and conservative counterparts will be more likely to restrict their ideal factors of desert to those qualities over which they believe people exert control. On the one hand, personal responsibility is central to Republican and conservative American rhetoric (Schram 2000), such that they may more firmly equate agency with economic desert. Indeed, the Horatio Alger, pull-yourself-up-by-your-bootstraps mentality seems particularly ingrained among denizens of America's right. But so are long-standing, still prevalent, social and economic prejudices based on race, ethnicity, gender, and sexuality. As such, conservative susceptibility to status-quo biases might lead right-leaning respondents to be more relaxed than liberals on responsibility's relationship to desert (Jost et al. 2003). Members of America's left, while certainly not immune to economic and social prejudices, are the traditional promoters of policy safeguards for people whom fate has placed at the unpleasant end of economic bigotry. Democrats and liberals, then, might be specifically looking for desert criteria that allow for individual agency, whereas Republicans and conservatives may be happy to support status quo and even outdated desert criteria.
As for religion, I expect that regular churchgoers and those who identify with a fundamentalist theology will be less attached to the notion of economic agency. Compared to their fair-weather counterparts and those who subscribe to a liberal doctrine, the highly devout and religious fundamentalists are content to judge others based on characteristics beyond personal control, such as gender and sexual preference (Bendroth 1999; Emerson and Hartman 2006; Fulton et al. 1999). These people care less about their personal actions and desires and more about the interventions and dictates of a Higher Power (Pargament et al. 1988).
Findings. As discussed in Sect. 4.2, I found no statistical support for these hypotheses in my regression analysis.
Nonwhite, female, and gay
I expect that members of social and economic outgroups will be more likely to include agency as an integral part of economic desert. I specifically control for whether a respondent is female, non-white, and homosexual. Individual female, non-white, and homosexual respondents may not consider themselves the subject of personal discrimination, but "indeterminate classes of persons" can also be the victims or perpetrators of injustice (Blackstone 1975, 255; Khatchadourian 2006), and each aforementioned demographic has long been the target of economic discrimination. In each of these cases, broad classes of people face economic hurdles because of demographic characteristics over which they either have no control, or where exerting control leads to additional prejudices. Having been so long deprived the ability to dictate their own economic fortunes, I predict their definitions of economic desert will place special emphasis on factors that people can control.
Findings. As discussed in Sect. 4.2, none of my hypotheses pass statistical muster, and the direction of the regression coefficient for nonwhite respondents actually runs in the direction opposite my prediction.
Income and change in socioeconomic class
I expect that the correlation between agency and economic desert will be strongest among respondents who are currently facing either very favorable or very unfavorable economic conditions. Such an association, if uncovered, is likely an internal face-saving measure, an instance of motivated reasoning, whereby the brain converges on judgments that minimize negative and maximize positive affect states (e.g. Westen et al. 2006). The well-to-do want to claim credit—or at least believe themselves responsible—for their high status, and thus see agency as an important factor of economic desert. Believing themselves personally responsible for their success, their ideal economic factors will be those over which people exercise control. The economically worst-off, wanting consciously or unconsciously to eschew responsibility for their destitution, will figure themselves to be the playthings of a cruel and arbitrary system. Believing that they have been denied economic agency and suffered for it, their ideal measure of desert will also feature a prominent role for personal responsibility. Respondents of middling incomes have less to justify. Whether they earned their middle status or lucked into it, their economic position is unremarkable, albeit comfortable.
The relationship I posit between a respondent's income and correlation coefficient is nonlinear. Specifically, I expect a 'U' shape to characterize the relationship, with demand for agency highest at extreme incomes (although not necessarily reaching equally high at the ends). I am able to test for this nonlinearity two ways. In one class of models I treat income as a polynomial. In another class of models I fold the variable for income about the median value, so that high and low incomes are of the same sign. It is possible, however, that rather than exhibiting a quadratic relationship, income has a simple linear relationship such that moving up economic echelons makes you think differently about agency's ideal relationship with economic desert. A positive linear relationship between desire for agency and income is still suggestive of motivated reasoning, whereby respondents feel the need to justify only what they have, as opposed to the nonlinear scenario where they must also justify what they do not have. Rather than comparing their income to a median value, respondents may be thinking about their income relative to a floor. If so, they would want to attribute high income to themselves, which in turn inclines them to assign a healthy role to agency in their definition of economic desert.
If at work, I hypothesize that this psychological mechanism will also express itself in respondents whose current economic standing is notably better or worse than it was in a prior time. It is not just about what you have, but where you came from to get it. Someone who has ascended the economic ladder will frame her journey as one of will, determination, and personal triumph. Someone who has plummeted in economic standing, the professed victim of misfortune, will be all the more desirous of an economic system that differentiates desert from stochastic factors. Accordingly, I included in my models a variable that measures a respondent's perceived change in socioeconomic status from childhood to the present, expecting respondents who climbed or fell several socioeconomic rungs over their life to be particularly attuned to agency's role in economic desert.
Findings. As discussed in Sect. 4.2, only my linear treatment of income produced statistically significant results indicative of motivated reasoning. I ran separate models wherein I treated income as a polynomial and another set of models wherein the variable was folded about the median value to test for the nonlinear relationship I posited above. Incremental Wald and F tests failed to provide support for my prediction of nonlinearity. Regression coefficients and p-values for the other independent variables were largely unchanged regardless of how I modeled and measured income. As such, I have opted to show only the more easily interpretable linear models in Table 1. Moreover, my variable measuring a respondent's perceived change in socioeconomic status offered little in the way of explanatory power, never achieved statistical significance, and standard tests indicated that its removal from my various models did not result in omitted variable bias. As with my nonlinear measures of income, I have chosen not to display the regression results for this variable, though I do introduce the class-change variable in Table 3.
Education, age, urban, and southern
I account for the potential effect of education, age, and place on an individual's association of economic desert with agency. As an individual advances in her schooling she is exposed to diverse ideas and people and is socialized to be inquisitive and tolerant. Such characteristics are essential to a fruitful course of study in organizations of higher learning. The higher the degree sought, the more internal these qualities become, and the more likely the respondent is to judge others on merits they can control rather than those they cannot. Conversely, older Americans, and Americans from rural communities and southern states may subscribe to outdated economic norms that emphasize the role of gender and race (and thus de-emphasized the role of agency) in economic desert.
Findings. As discussed in Sect. 4.2, only age has a statistically significant effect on the dependent variable. Age's regression coefficient has the predicted sign, though its magnitude is rather small.
About this article
Cite this article
Bower-Bir, J.S. Earning our place, more or less: responsibility's flexible relationship with desert in socioeconomic standing. Econ Polit 38, 131–170 (2021). https://doi.org/10.1007/s40888-020-00201-9
Received:

Accepted:

Published:

Issue Date:
Keywords
Justice

Morals

Social institutions

Responsibility

Desert

Luck
JEL Classificaton