Abstract
Making use of the quasi-natural experimental setting provided by the unexpected and sudden change in Italian retirement legislation at the end of 2011 (Fornero law), this article estimates the effect on productivity of a reduction of sorting mechanisms among older workers. The estimation uses provincial-level data. The increase of retirement age and restrictions on early retirement plans locked older employees into the workplace with a negative impact on productivity. Assessing the sorting effect contributes to the age-productivity debate, isolating more precisely the average effect of ageing on productivity.
This is a preview of subscription content,
to check access.
Access this article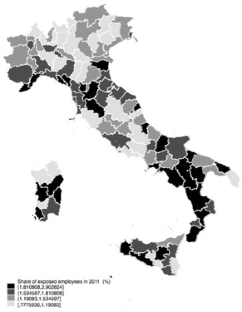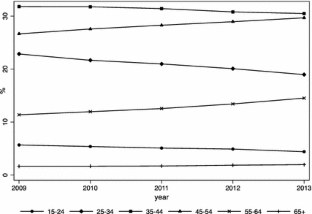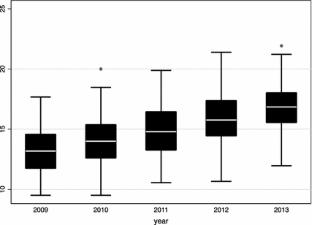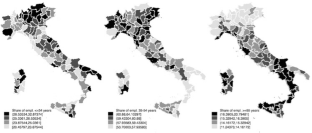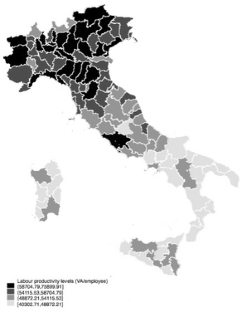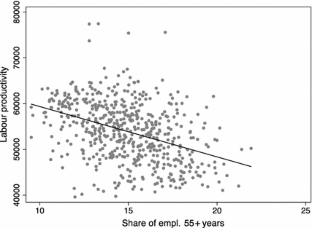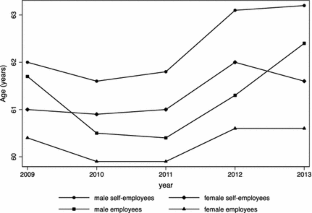 Notes
A more precise description of the NDC system is provided in Sect. 3.

In this review, we leave aside the debate on the relationship between an ageing population and growth. The 'secular stagnation' view is well represented by Robert Gordon's (2016) book, which identifies demographic changes as being among the main causes of slowdown in the developed world. In contrast, Acemoglu (2016) and Acemoglu and Restrepo (2017) support the view that labour shortages can encourage innovation. If, according to this second view, an ageing population has the twofold effect of decreasing labour force and increasing innovation, it is possible that ageing goes on hand with increased total factor productivity (TFP) (and growth). We do not enter into this debate because what matters in this stream of literature is labour scarcity, not specially ageing. Innovation driven by labour scarcity would affect productivity of the entire labour force, while our concern is the productivity of older workers.

We are grateful to our anonymous reviewer to have highlighted this counterbalancing effect.

The retirement age of independent workers was slightly different.

Bertoni and Brunello (2017) similarly use provincial and regional data to assess the effect of the raised retirement age on young employment: they exploit the fact that minimal retirement age is set at the national level, but the impact of national changes on the number of employees non eligible to retire varies across local areas.

Sample weights have been provided by ISTAT.

Following previous research (Feyer 2007; Ayar et al. 2016) an IV approach was also attempted by instrumenting each province's share of the workforce aged 55 or older with the population share of those aged 45–64 10 years previously. Tests of the validity of the instrument suggested abandoning this approach.

The use of the Fornero law as a quasi-natural experiment, justified by the unanticipated approval and immediate application of the new regulation, was suggested by Boeri, Garibaldi and Moen (2016).

A similar econometric strategy can be found in Guadalupe and Wulf (2010). They analyse the effect of the 1989 Canada–US Free Trade Agreement on firms' organizational flattening. Their variable of interest is zero before 1989 and assumes the value of the average level of tariffs on Canadian imports in the industry pre-1989 (their degree of exposure of each statistical unit to the institutional discontinuity).

Note that all Italian provinces have been exposed to the discontinuity identified by the new law.

The same compulsory retirement age can be, in this regard, reconsidered.
References
Acemoglu, D. (2016). When does labor scarcity encourage innovation? Journal of Political Economy, 118(6), 1037–1978.

Acemoglu, D., & Restrepo, P. (2017). Secular stagnation? The effect of aging on economic growth in the age of automation. NBER Working Papers N. 23077.

Aubert, P., & Crépon, B. (2003). La productivité des salaries ages. Economie et Statistique, 363, 95–119.

Ayar, S., Ebeke, C., & Shao, X. (2016). The impact of workforce aging on Euro area productivity. IMF Country Report, 16/220. Washington, DC: International Monetary Fund.

Baltes, B. B., Rudolph, C. W., & Bal, A. C. (2012). A review of aging theories and modern work perspectives. In W. C. Borman & J. W. Hedge (Eds.), The Oxford handbook of work and aging. Oxford: Oxford University Press.

Bertoni, M., & Brunello, G. (2017). Does delayed retirement affect youth employment? Evidence from Italian local labour markets. IZA Discussion Paper 10733.

Bloom, D. E., & Sousa-Poza, A. (2013). Aging and productivity: Introduction. Labour Economics, 22, 1–4.

Boeri, T., Garibaldi, P., & Moen, E. R. (2016). A clash of generations? Increase in retirement age and labor demand for youth. CEPR Discussion Paper N. 11422. http://www.cepr.org/active/publications/discussion_papers/dp.php?dpno=11422. Accessed 12 Dec 2016.

Börsh-Supan, A., & Weiss, M. (2016). Productivity and age: Evidence from work teams at the assembly line. Journal of Economics of Ageing, 7, 30–42.

Brugiavini, A., & Peracchi, F. (2012). Health status, welfare programs participation, and labor force activity in Italy. In D. Wise (Ed.), Social security programs and retirement around the world: Historical trends in mortality and health, employment, and disability insurance participation and reforms (pp. 175–215). Chicago: University of Chicago Press.

Brunow, S., & Hirte, G. (2009). The age pattern of human capital and regional productivity: A spatial econometric study on German regions. Papers in Regional Science, 88(4), 799–823.

Cardoso, A. R., Guimarães, P., & Varejão, J. (2010). Are older workers worthy of their pay? An empirical investigation of age-productivity and age-wage nexus. IZA Discussion Paper N. 5121.

Daveri, F., & Maliranta, M. (2007). Age, seniority and labour costs: Lessons from the Finnish IT revolution. Economic Policy, 22(49), 119–175.

Dostie, B. (2011). Wages, productivity and aging. De Economist, 159, 139–158.

Feyer, J. (2007). Demographics and productivity. Review of Economics and Statistics, 89(1), 100–109.

Goebel, C., & Zwick, T. (2011). Age and productivity: Sector differences? ZEW Discussion Paper N. 11-058. http://hdl.handle.net/10419/49997. Accessed 4 Sept 2016.

Gordon, R. (2016). The rise and fall of American capitalism. Princeton NJ: Princeton University Press.

Guadalupe, M., & Wulf, J. (2010). The flattening firm and product market competition: The effect of trade liberalization on corporate hierarchies. American Economic Journal: Applied Economics, 2(4), 105–127.

Hedge, J. W., & Borman, W. C. (2012). Work and aging: Introduction. In J. W. Hedge & W. C. Borman (Eds.), The Oxford handbook of work and aging. Oxford: Oxford University Press.

Ilmakunnas, P., & Miyakoshi, T. (2013). What are the drivers of TFP in an aging economy? Aging labor and ICT capital. Journal of Comparative Economics, 41, 201–211.

Jeske, D., Stamov Roβnagel, C., & Strack, J. (2017). Training older workers: Resource-oriented strategies. International Journal of Training and Development, 21(2), 167–176.

Klehe, U.-C., Koen, J., & De Pater, I. E. (2012). Ending on the scrap heap? The experience of job loss and job search among old workers. In J. W. Hedge & W. C. Borman (Eds.), The Oxford Handbook of Work and Aging (pp. 313–340). Oxford: Oxford University Press.

Kraiger, K. (2017). Designing effective training for older workers. The Palgrave handbook of age diversity and work (pp. 639–667). UK: Palgrave Macmillan.

Kubeck, J. E., Delp, N. D., Haslett, T. K., & McDaniel, M. A. (1996). Does job-related training performance decline with age? Psychology and Aging, 11, 92–107.

Mahlberg, B., Freund, I., Crespo Cuaresma, J., & Prskawetz, A. (2013). Ageing, productivity and wages in Austria. Labour Economics, 22, 5–15.

McDaniel, M. A., Pesta, B. J., & Banks, G. C. (2012). Job performance and the aging worker. In J. W. Hedge & W. C. Borman (Eds.), The Oxford Handbook of Work and Aging (pp. 280–297). Oxford: Oxford University Press.

Tang, J., & MacLoad, C. (2006). Labour force ageing and productivity performance in Canada. Canadian Journal of Economics/Revue Canadienne d'Economique, 39(2), 582–603.

Thomson, L. F., & Mayhorn, C. B. (2012). Aging workers and technology. In J. W. Hedge & W. C. Borman (Eds.), The Oxford handbook of work and aging (pp. 341–361). Oxford: Oxford University Press.

Van Dalen, H. P., Henkens, K., & Schippers, J. (2010). Productivity of older workers: Perceptions of employers and employees. Population and Development Review, 36(2), 309–330.

Van Ours, J. C., & Stoeldraijer, L. (2011). Age, wage and productivity in Dutch manufacturing. De Economist, 159, 113–137.

Vandenberghe, V. (2011). Introduction to De Economist special issue on 'ageing workforces'. De Economist, 159, 89–94.

Vandenberghe, V. (2015). The productivity challenge. What to expect from older/more experienced, better-educated and ICT equipped workforces? Paper presented at the workshop Human Capital and Ageing, Harvard School of Public Health, Boston, MA (US) 13–15 April 2015.
Acknowledgements
The research has been supported by a joint project of the University of Trento and the Provincia Autonoma di Trento.
About this article
Cite this article
Gabriele, R., Tundis, E. & Zaninotto, E. Ageing workforce and productivity: the unintended effects of retirement regulation in Italy. Econ Polit 35, 163–182 (2018). https://doi.org/10.1007/s40888-017-0079-x
Received:

Accepted:

Published:

Issue Date:

DOI: https://doi.org/10.1007/s40888-017-0079-x
Keywords
JEL Classification