Abstract
The impact performance of T650-35 stitched polyimide laminates and unstitched CFRP woven laminates is investigated at 23 and − 70 °C. Three impact energy levels of 6.7, 13.4, and 18.4 J/mm are selected to analyze the resulting damage modes. The results from the force–displacement and the absorbed energy curves evidently show that at − 70 °C, the specimens have noticeably higher initiation damage force for both material systems. Moreover, more significant load drops are observed at − 70 °C curves compared to the room temperature curves, which imply that multiple damage modes exist in greater extent at low temperature. The results further show that the T650-35 polyimide composites require higher impact load to initiate the matrix damage, indicating that the stitches efficiently suppressed the crack propagation on the samples. Furthermore, the T650-35 stitched polyimide composites can carry higher damage loads in both temperatures compared to the unstitched CFRP woven composites. X-ray micro-computed tomography technique is employed to reveal multiple complex impact damage modes. Results show that for unstitched composites impacted at 6.7 J/mm, − 70 °C samples experience multiple damage modes that include significant delamination, fiber breakage. However, for stitched composites impacted at 13.4 J/mm, similar complex damage modes are observed at 23 and − 70 °C.
Access options
Buy single article
Instant access to the full article PDF.
US$ 39.95
Tax calculation will be finalised during checkout.
Subscribe to journal
Immediate online access to all issues from 2019. Subscription will auto renew annually.
US$ 79
Tax calculation will be finalised during checkout.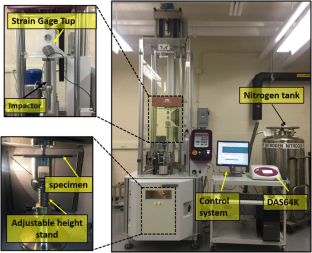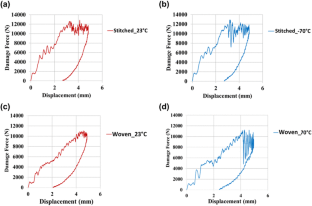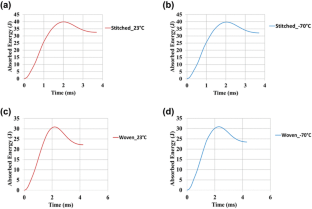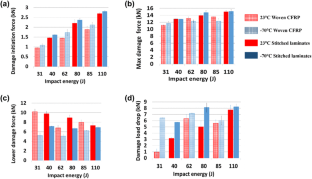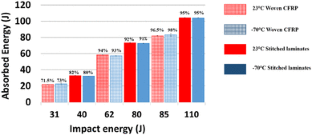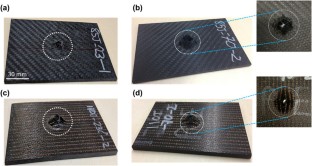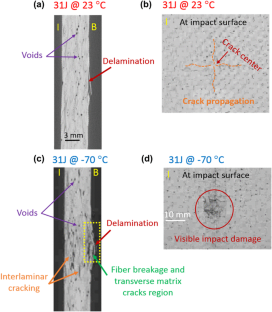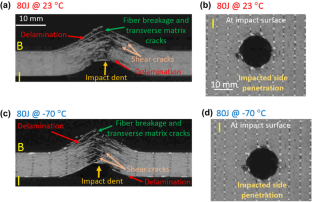 References
1.

Abrate S (1998) Impact on composite structures. Cambridge University Press, Cambridge

2.

Abrate S (1994) Impact on laminated composites: recent advances. Appl Mech Rev 47:517–544

3.

Elamin M, Li B, Tan KT (2018) Impact damage of composite sandwich structures in arctic condition. Compos Struct 192:422–433

4.

Reinhart TJ, Clements LL (1987) Introduction to composites engineered materials handbook, vol 1: Composites. In: Dostal Cyril A et al (eds). ASM International, Geauga County, OH

5.

Feng D, Aymerich F (2014) Finite element modelling of damage induced by low-velocity impact on composite laminates. Compos Struct 108:161–171

6.

Zhou G, Davies G (1995) Impact response of thick glass fibre reinforced polyester laminates. Int J Impact Eng 16(3):357–374

7.

Zhou G (1998) The use of experimentally-determined impact force as a damage measure in impact damage resistance and tolerance of composite structures. Compos Struct 42(4):375–382

8.

Cox BN (1999) Constitutive model for a fiber tow bridging a delamination crack. Mech Compos Mater Struct 6:117–138

9.

Cox BN, Massabo R, Kedward KT (1996) Suppression of delaminations in curved structures by stitching. Compos Part A 127A:1133–1138

10.

Tada Y, Ishikawa T (1989) Experimental evaluation of the effects of stitching on CFRP laminate specimens with various shapes and locations. Key Eng Mater 37:305–316

11.

Mouritz AP, Jain LK (1999) Further validation of the Jain and Mai models for interlaminar fracture of stitched composites. Compos Sci Technol 59:1653–1662

12.

Tan KT, Watanabe N, Iwahori Y, Hoshi H, Sano M (2010) Interlaminar fracture toughness of Vectran-stitched composites-experimental and computational analysis. J Compos Mater 44(26):3203–3229

13.

Iwahori Y, Nakane K, Watanabe N (2009) DCB test simulation of stitched CFRP laminates using interlaminar tension test results. Compos Sci Technol 69:2315–2322

14.

Jain LK, Mai YW (1995) Determination of mode II delamination toughness of stitched laminated composites. Compos Sci Technol 155:241–253

15.

Jain LK, Dransfield KA, Mai YW (1998) On the effects of stitching in CFRPs – II. Mode II delamination toughness. Compos Sci Technol 58:829–837

16.

Mouritz AP (2001) Ballistic impact and explosive blast resistance of stitched composites. Compos Part B 32:431–439

17.

Caprino G, Lopresto V, Santoro D (2007) Ballistic impact behaviour of stitched graphite/epoxy laminates. Compos Sci Technol 67:325–335

18.

Sankar BV, Zhu HS (2000) The effect of stitching on the low-velocity impact response of delaminated composite beams. Compos Sci Technol 60:2681–2691

19.

Mouritz AP, Gallagher J, Goodwin AA (1997) Flexural strength and interlaminar shear strength of stitched GRP laminates following repeated impacts. Compos Sci Technol 57:509–522

20.

Lopresto V, Melito V, Leone C, Caprino G (2006) Effect of stitches on the impact behaviour of graphite/epoxy composites. Compos Sci Technol 66:206–214

21.

Yoshimura A, Nakao T, Yashiro S, Takeda N (2008) Improvement on out-of-plane impact resistance of CFRP laminates due to through-the-thickness stitching. Compos Part A 39:1370–1379

22.

Larsson F (1997) Damage tolerance of a stitched carbon/epoxy laminate. Compos Part A 28A:923–934

23.

Zhao NP, Rodel H, Herzberg C, Gao SL, Krzywinski S (2009) Stitched glass/PP composite. Part I: tensile and impact properties. Compos Part A 40:635–643

24.

Byun JH, Song SW, Lee CH, Um MK, Hwang BS (2006) Impact properties of laminated composites with stitching fibers. Compos Struct 76:21–27

25.

Kang TJ, Lee SH (1994) Effect of stitching on the mechanical and impact properties of woven laminate composite. J Compos Mater 28(16):1574–1587

26.

Hosur MV, Vaidya UK, Ulven C, Jeelani S (2004) Performance of stitched/unstitched woven carbon/epoxy composites under high velocity impact loading. Compos Struct 64:455–466

27.

Tan KT, Watanabe N, Iwahori Y (2010) Effect of stitch density and stitch thread thickness on low-velocity impact damage of stitched composites. Compos Part A 41:1857–1868

28.

Vihma T (2014) Effects of arctic sea ice decline on weather and climate: a review. Surv Geophys 35(5):1175

29.

Schutz JB (1998) Properties of composite materials for cryogenic applications. Cryogenics 38:3–12

30.

Timmerman JF, Tillman MS, Hayes BS, Seferis JC (2001) Matrix and fiber influences on the cryogenic microcracking of carbon fiber/epoxy composites. Compos Part A 33:323–329

31.

Sanchez-Saez S, Gomez-del Rıo T, Barbero E, Zaera R, Navarro C (2002) Static behavior of CFRPs at low temperatures. Compos Part B 33:383–390

32.

Im KH, Cha CS, Kim SK, Yang IY (2001) Effects of temperature on impact damages in CFRP composite laminates. Compos Part B 32(8):669–682

33.

López-Puente J, Zaera R, Navarro C (2002) The effect of low temperatures on the intermediate and high velocity impact response of CFRPs. Compos Part B 33(8):559–566

34.

Gómez-del Rıo T, Zaera R, Barbero E, Navarro C (2005) Damage in CFRPs due to low velocity impact at low temperature. Compos Part B 36(1):41–50

35.

ASTM D7136/D7136M (2014) Standard testing method for measuring the damage resistance of a fiber-reinforced polymer matrix composite to a drop-weight impact event. ASTM International, West Conshohocken, PA

36.

Tan KT, Watanabe N, Iwahori Y (2011) X-ray radiography and micro-computed tomography examination of damage characteristics in stitched composites subjected to impact loading. Compos Part B 42(4):874–884

37.

Chu XX, Wu ZX, Huang RJ, Zhou Y, Li LF (2010) Mechanical and thermal expansion properties of glass fibers reinforced PEEK composites at cryogenic temperatures. Cryogenics 50(2):84–88

38.

Sánchez-Sáez S, Barbero E, Navarro C (2008) Compressive residual strength at low temperatures of composite laminates subjected to low-velocity impacts. Compos Struct 85(3):226–232
Acknowledgements
The authors acknowledge the research Grant N00014-16-1-3202 provided by the Office of Naval Research (ONR Program Manager: Dr. Yapa Rajapakse). The authors also thank Dr. Kathy Chuang (NASA Glenn Research Center) for providing the stitched composite specimens.
About this article
Cite this article
Elamin, M., Li, B. & Tan, K.T. Impact Performance of Stitched and Unstitched Composites in Extreme Low Temperature Arctic Conditions. J. dynamic behavior mater. 4, 317–327 (2018). https://doi.org/10.1007/s40870-018-0158-2
Received:

Accepted:

Published:

Issue Date:
Keywords
Damage tolerance

Stitching

Impact behavior

Low temperature