Abstract
Purpose
Rising prison populations worldwide have led to an increasing body of research about the well-being of children of prisoners. Research to date has demonstrated that the consequences of parental imprisonment for children are significant and long lasting, often extending beyond the imprisonment period and into adulthood. However, research examining the association between parental imprisonment and offspring health problems and mortality is lacking. Moreover, no research to date has examined the association between parental imprisonment and premature mortality among adults.
Methods
Using a Dutch multigenerational sample, this study aimed to extend existing literature by examining the link between parental imprisonment and offspring mortality up to age 65, while controlling for parental criminality.
Results
Results indicated that children of imprisoned parents were significantly more likely to die prematurely than children of both non-criminal and criminal but non-imprisoned parents.
Conclusions
These findings implicate that the mortality risk is not the consequence of the parental criminal behavior but is specifically related to the incarceration of the parent. Further research is required to examine the mechanisms at play for the increased risk of premature mortality for children of prisoners. This research has important implications for health-related early interventions and criminal justice policy.
Access options
Buy single article
Instant access to the full article PDF.
US$ 39.95
Tax calculation will be finalised during checkout.
Subscribe to journal
Immediate online access to all issues from 2019. Subscription will auto renew annually.
US$ 79
Tax calculation will be finalised during checkout.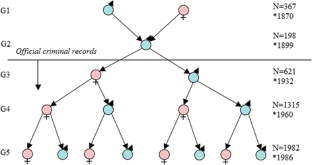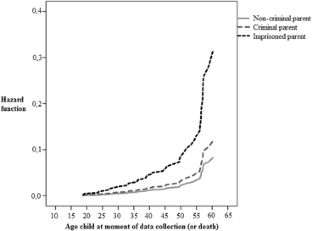 Notes
1.

Using all Dutch individuals born in 1942 as a control group would have made it possible to compare until age 65 (i.e., the age until a death is considered premature, according to the World Health Organization). However, as only a few G4 sample members from the Transfive Study were measured up to age 65, this would make it difficult to make comparisons at older ages.
References
1.

Binswanger, I. A., Stern, M. F., Deyo, R. A., Heagerty, P. J., Cheadle, A., Elmore, J. G., & Koepsell, T. D. (2007). Release from prison—a high risk of death for former inmates. New England Journal of Medicine, 356(2), 157–165.

2.

Coffey, C., Veit, F., Wolfe, R., Cini, E., & Patton, G. C. (2003). Mortality in young offenders: a retrospective cohort study. British Medical Journal, 326, 1064.

3.

Dennison, S., Bijleveld, C. C. J. H., & van de Weijer, S. G. A. (2017). Intergenerational continuity in incarceration: evidence from a Dutch multi-generation cohort. In A. A. J. Blokland & V. R. Van der Geest (Eds.), Routledge international handbook of life-course criminology (pp. 450–469). New York: Routledge.

4.

Dirkzwager, A., Nieuwbeerta, P. N., & Blokland, A. A. J. (2011). Effects of first-time imprisonment on postprison mortality: a 25-year follow-up study with a matched control group. Journal of Research in Crime and Delinquency, 49(3), 383–419.

5.

D'onofrio, B. M., Lahey, B. B., Turkheimer, E., & Lichtenstein, P. (2013). Critical need for family-based, quasi-experimental designs in integrating genetic and social science research. American Journal of Public Health, 103(S1), S46–S55.

6.

Geller, A., Cooper, C. E., Garfinkel, I., Schwartz-Soicher, O., & Mincy, R. B. (2012). Beyond absenteeism: father incarceration and child development. Demography, 49(1), 49–76.

7.

Glaze, L. E., & Maruschak, L. M. (2008). Parents in prison and their minor children. Washington, DC: US Department of Justice, Office of Justice Programs.

8.

Hart, C. L., & Smith, G. D. (2003). Relation between number of siblings and adult mortality and stroke risk: 25 year follow up of men in the collaborative study. Journal of Epidemiology & Community Health, 57(5), 385–391.

9.

Kjelsberg, E., & Laake, P. (2010). Is the high mortality risk in sentenced offenders independent of previous imprisonment? European Journal of Epidemiology, 25(4), 237–243.

10.

Lee, R. D., Fang, X., & Luo, F. (2013). The impact of parental incarceration on the physical and mental health of young adults. Pediatrics, 131(4), 1188–1195.

11.

Link, B. G., & Phelan, J. (1995). Social conditions as fundamental causes of disease. Journal of Health and Social Behavior, 80–94.

12.

Link, B. G., & Phelan, J. C. (2002). McKeown and the idea that social conditions are fundamental causes of disease. American Journal of Public Health, 92(5), 730–732.

13.

Murray, J. (2007). The cycle of punishment social exclusion of prisoners and their children. Criminology and Criminal Justice, 7(1), 55–81.

14.

Murray, J., Bijleveld, C. C. J. H., Farrington, D. P., & Loeber, R. (2014). Effects of parental incarceration on children: cross-national comparative studies. American psychological association.

15.

Murray, J., & Farrington, D. P. (2008). The effects of parental imprisonment on children. Crime and Justice, 37(1), 133–206.

16.

Murray, J., Farrington, D. P., & Sekol, I. (2012a). Children's antisocial behavior, mental health, drug use, and educational performance after parental incarceration: a systematic review and meta-analysis. Psychological Bulletin, 138(2), 175.

17.

Murray, J., Loeber, R., & Pardini, D. (2012b). Parental involvement in the criminal justice system and the development of youth theft, marijuana use, depression, and poor academic performance. Criminology, 50(1), 255–302.

18.

Phillips, S. D., Burns, B. J., Wagner, H. R., Kramer, T. L., & Robbins, J. M. (2002). Parental incarceration among adolescents receiving mental health services. Journal of Child and Family Studies, 11(4), 385–399.

19.

Piquero, A. R., Farrington, D. P., Shepherd, J. P., & Auty, K. (2014). Offending and early death in the Cambridge study in delinquent development. Justice Quarterly, 31(3), 445–472.

20.

Roettger, M. E., & Boardman, J. D. (2012). Parental incarceration and gender-based risks for increased body mass index: evidence from the National Longitudinal Study of Adolescent Health in the United States. American Journal of Epidemiology, 175(7), 636–644.

21.

Thornberry, T. P., & Farnworth, M. (1982). Social correlates of criminal involvement: further evidence on the relationship between social status and criminal behavior. American Sociological Review, 47(4), 505–518.

22.

Wakefield, S., & Wildeman, C. (2011). Mass imprisonment and racial disparities in childhood behavioral problems. Criminology & Public Policy, 10(3), 793–817.

23.

Van de Weijer, S. G. A., Bijleveld, C. C. J. H., & Huschek, D. (2016). Offending and mortality. Advances in Life Course Research, 28, 91–99.

24.

Wildeman, C. (2012). Imprisonment and infant mortality. Social Problems, 59(2), 228–257.

25.

Wildeman, C., Andersen, S. H., Lee, H., & Karlson, K. B. (2014). Parental incarceration and child mortality in Denmark. American Journal of Public Health, 104(3), 428–433.

26.

World Health Organization. (2015). The European Health Report 2015. Targets and beyond—reaching new frontiers in evidence. Copenhagen: WHO Regional Office for Europe.
About this article
Cite this article
van de Weijer, S.G.A., Smallbone, H.S. & Bouwman, V. Parental Imprisonment and Premature Mortality in Adulthood. J Dev Life Course Criminology 4, 148–161 (2018). https://doi.org/10.1007/s40865-017-0078-1
Received:

Revised:

Accepted:

Published:

Issue Date:
Keywords
Parental imprisonment

Parental incarceration

Premature mortality

Children of prisoners

Health

Criminal justice