Abstract
Dry edible beans are a vital food source in Mozambique, East Africa—one that alleviates hunger and malnutrition and adds value to the economy. In recent years, root/crown rot (RCR) pathogens have emerged as limiting constraints in dry bean production. Not much has been characterized concerning the causal agents of RCR in Mozambique. The purpose of this study was to identify the primary pathogen(s) associated with RCR dry bean samples collected at breeder nursery sites and farmer fields in Mozambique using molecular sequencing and culture-based methods. Sequencing revealed, not surprisingly, an increased diversity of fungal/oomycete operational taxonomic units when compared to culture-based methods oof diversity. Species of Fusarium, mainly F. oxysporum, were the dominant taxa detected in RCR dry beans through sequencing the ITS rDNA region and partial EF-1α gene. Collectively, 333 fungi and/or Oomycetes were isolated in culture during the 2014–2015 growing seasons and tested for pathogenicity on healthy bean seedlings. Fusarium species were identified by both morphological and molecular characters. At least 60% of the isolates inoculated on common bean were recognized as potentially pathogenic. From both isolation frequency and pathogenicity testing, F. oxysporum and related species play an important role in the bean RCR complex. We found similar results from dry beans grown in the two main bean-growing regions of Mozambique. These findings will allow breeders to screen for resistance to F. oxysporum in greenhouse grown bean plants as well as within field grown bean cultivars.
This is a preview of subscription content,
to check access.
Access this article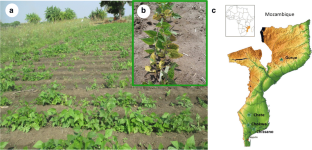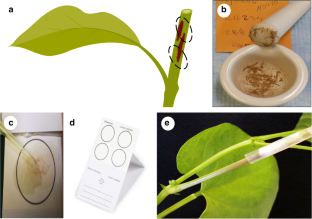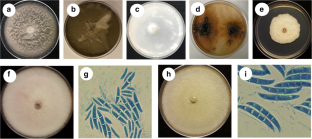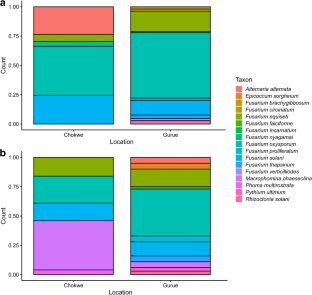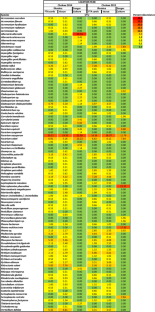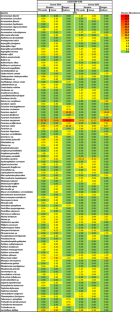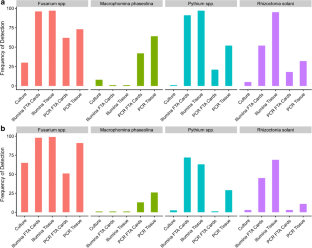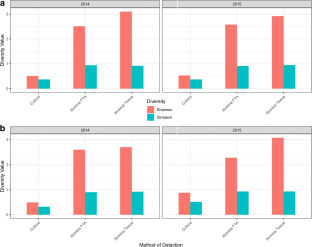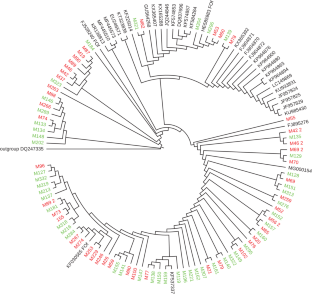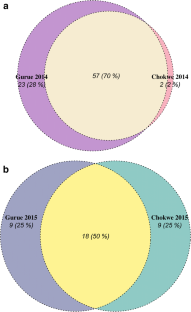 References
Abawi GS (1989) Root rots. In: Bean production problems in the tropics. Centro Internacional de Agricultura Tropical (CIAT), Cali, Colombia, 654 p

Abawi GS, Pastor-Corrales MA (1990) Root rots of beans in Latin America and Africa: diagnosis, research methodologies, and management strategies. Centro Internacional de Agricultura Tropical (CIAT), Cali, Colombia, 114 p

Abd-Elsalam KA, Mohmed IN, Abdel-Sattar MA, Khalil MS, Verreet JA (2003) PCR identification of Fusarium genus based on nuclear ribosomal-DNA sequence data. African Journal of Biotechnology 2:82–85

Alves-Santos FM, Cordeiro-Rodrigues L, Sayagués JM, Martín-Domínguez R, García-Benavides P, Crespo MC, Díaz-Mínguez JM, Eslava AP (2002) Pathogenicity and race characterization of Fusarium oxysporum f. sp. phaseoli isolates from Spain and Greece. Plant Pathology 51:605–611

Babu BK, Srivastava AK, Saxena AK, Arora DK (2007) Identification and detection of Macrophomina phaseolina by using species-specific oligonucleotide primers and probe. Mycologia 99:733–739

Bahkali AH, Abd-Elsalam KA, Guo JR, Khiyami MA, Verreet JA (2012) Characterization of novel di-, tri-, and tetranucleotide microsatellite primers suitable for genotyping various plant pathogenic fungi with special emphasis on Fusaria and Mycospherella graminicola. International Journal of Molecular Sciences 13:2951–2964

Bodah ET (2017) Root rot diseases in plants: a review of common causal agents and management strategies. Agricultural Research and Technology 5:555661

Brasileiro BTRV, Coimbra MRM, Morais MA Jr, Oliveira NT (2004) Genetic variability within Fusarium solani species as revealed by PCR-fingerprinting based on PCR markers. Brazilian Journal of Microbiology 35:205–210

Burgess LW, Summerell BA, Bullock S, Gott KP, Backhouse D (1994) Laboratory manual for Fusarium research. The University of Sydney, Sydney, AUS - Royal Botanic Gardens Press, Sydney

Buruchara R, Camacho L (2000) Common bean reaction to Fusarium oxysporum f. sp. phaseoli, the cause of severe vascular wilt in Central Africa. Journal of Phytopathology 148:39–45

Capote N, Aguado A, Pastrana AM, Sánchez-Torres P (2012) Molecular tools for detection of plant pathogenic fungi and fungicide resistance. In: Molecular tools for detection of plant pathogenic fungi and fungicide resistance. InTechOpen Press. https://doi.org/10.5772/38011

Chaudhary S, Anderson TR, Park SJ, Yu K (2006) Comparison of screening methods for resistance to Fusarium root rot in common beans (Phaseolus vulgaris L.). Journal of Phytopatholgy 154:303–308

Chiodini RJ, Dowd SE, Galandiuk S, Davis B, Glassing A (2016) The predominant site of bacterial translocation across the intestinal mucosal barrier occurs at the advancing disease margin in Crohn's disease. Microbiology 162:1608–1619

Cichy KA, Porch TG, Beaver JS, Cregan P, Fourie D, Glahn RP, Grusak MA, Kamfwa K, Katuuramu DN, McClean P, Mndolwa ES, Nchimbi MS, Pastor-Corrales MA, Miklas PN (2015) A Phaseolus vulgaris diversity panel for Andean bean improvement. Journal of Crop Science 55:2149–2160

Clare MM, Melis R, Dereta J, Laing M, Buruchara RA (2010) Identification of sources of resistance to Fusarium root rot among selected common bean lines in Uganda. Journal of Animal and Plant Sciences 7:876–891

Cole JR, Chai B, Farris RJ, Wang Q, Kulam SA, McGarrell DM, Garrity GM, Tiedje JM (2005) The Ribosomal Database Project (RDP-II): sequences and tools for high-throughput rRNA analysis. Nucleic Acids Research 33:D294–D296

Core Team R (2018) R: a language and environment for statistical computing. R Foundation for Statistical Computing, Vienna https://www.R-project.org/

DeSantis TZ, Hugenholtz P, Larsen N, Rojas M, Brodie EL, Keller K, Huber T, Dalevi D, Hu P, Andersen PL (2006) Greengenes, a chimera-checked 16S rRNA gene database and workbench compatible with ARB. Applied and Environmental Microbiology 72:5069–5072

Dhingra OD, Sinclair JB (1978) Biology and pathology of Macrophomina phaseolina. Imprensa Universitária, Universidade Federal de Viçosa, Viçosa, 166 pp

Drummond AJ, Rambaut A (2007) BEAST: Bayesian evolutionary analysis by sampling trees. BMC Evolutionary Biology 7:214

Dugan FM (2006) The identification of fungi: an illustrated introduction with keys, glossary and guide to literature. APS Press, St Paul, 176 pp

Dundore-Arias JP, Eloe-Fadrosh EA, Schriml LM, Beattie GA, Brennan FP, Busby PE, Calderon RB, Castle SC, Emerson JB, Everhart SE, Eversole K, Frost KE, Herr JR, Huerta AI, Iyer-Pascuzzi AS, Kalil AK, Leach JE, Leonard J, Maul JE, Prithiviraj B, Potrykus M, Redekar NR, Rojas JA, Silverstein KAT, Tomso DJ, Tringe SG, Vinatzer BA, Kinkel LL (2020) Community-driven metadata standards for agricultural microbiome research. Phytobiomes Journal 4:115–121

Edgar RC (2004) MUSCLE: multiple sequence alignment with high accuracy and high throughput. Nucleic Acids Research 32:1792–1797

Estevez de Jensen CE, Kurle JE, Percich JA (2004) Integrated management of edaphic and abiotic factors limiting yield of irrigation soybean and dry bean in Minnesota. Field Crops Research 86:211–224

Farrow A, Musoni D, Cook S, Buruchara R (2011) Assessing the risk of root rots in common beans in East Africa using simulated, estimated, and observed daily rainfall data. Experimental Agriculture 47:357–373

Fisher NL, Burgess LW, Toussoun TA, Nelson PE (1982) Carnation leaves as a substrate for preserving cultures of Fusarium species. Journal of Phytopathology 72:151–152

Gargouri S, Hajlaoui MR, Abdennadher M, Marrakchi M (2000) Isolation and morphological and molecular identification of Fusarium spp. transmitted by watermelon seeds. Bulletin OEPP 30:217–222

Garibaldi A, Gilardi G, Gullino ML (2004) Seed transmission of Fusarium oxysporum f. sp. lactucae. Phytoparasitica 32:61–65

Gordon TR (2017) Fusarium oxysporum and the Fusarium wilt syndrome. Annual Review of Phytopathology 55:23–39

Gordon TR, Martyn RD (1997) The evolutionary biology of Fusarium oxysporum. Annual Review of Phytopathology 35:111–128

Guillemaut C, Edel-Hermann V, Camporota P, Alabouvette C, Richard-Molard M, Steinberg C (2003) Typing of anastomosis groups of by restriction analysis of ribosomal DNA. Can J Microbiol 49:556–568

Hammer O, Harper DAT, Ryan PD (2001) PAST: paleontological statistics software package for education and data analysis. Palaeontologia Electronica 4:1–9

Harveson RM, Smith JA, Stroup WW (2005) Improving root health and yield of dry bean on Nebraska panhandle with a new technique for reducing soil compaction. Plant Disease 89:279–284

Herr JR, Öpik M, Hibbett DS (2015) Towards the unification of sequence-based classification and sequence-based identification of host-associated microorganisms. New Phytologist 205:27–31

Hibbett D, Abarenkov K, Kõljalg U, Öpik M, Chai B, Cole J, Wang Q, Crous P, Robert V, Helgason T, Herr JR, Kirk P, Lueschow S, O'Donnell K, Nilsson RH, Oono R, Schoch C, Smyth C, Walker DM, Porras-Alfaro A, Taylor JW, Geiser DM (2016) Sequence-based classification and identification of fungi. Mycologia 108:1049–1068

Hilton SK, Castro-Nallar E, Pérez-Losada M, Toma I, McCaffrey TA, Hoffman EP, Siegel MO, Simon GL, Johnson WE, Crandall KA (2016) Metataxonomic and metagenomic approaches vs. culture-based techniques for clinical pathology. Frontiers in Microbiology 7:484

Kamvar ZN, Tabima JF, Grünwald NJ (2014) Poppr: an R package for genetic analysis of populations with clonal, partially clonal, and/or sexual reproduction. PeerJ 2:e281

Kang HW, Park DS, Go SJ, Eun MY (2002) Fingerprinting of diverse genomes using PCR with universal rice primers generated from repetitive sequence of Korean weedy rice. Molecules and Cells 13:281–287

Leslie JF, Summerell BA (2006) The Fusarium laboratory manual. Wiley-Blackwell Publishing, Hoboken,pp 388

Letunic I, Bork P (2016) Interactive tree of life (iTOL) version 3: an online tool for the display and annotation of phylogenetic and other trees. Nucleic Acids Research 44:W242–W245

Lieckfeldt E, Meyer W, Börner T (1993) Rapid identification and differentiation of yeasts by DNA and PCR fingerprinting. J Basic Microbiol 33(6):413–425

Lofgren LA, LeBlanc NR, Certano AK, Nachtigall J, LaBine KM, Riddle J, Broz K, Dong Y, Bethan B, Kafer CW, Kistler HC (2018) Fusarium graminearum: pathogen or endophyte of North American grasses? New Phytologist 217:1203–1212

Martin FN (2000) Phylogenetic relationships among some Pythium species inferred from sequence analysis of the mitochondrially encoded cytochrome oxidase II gene. Mycologia 92:711–727

McDonald D, Price MN, Goodrich J, Nawrocki EP, DeSantis TZ, Probst A, Andersen GL, Knight R, Hugenholtz P (2012) An improved Greengenes taxonomy with explicit ranks for ecological and evolutionary analyses of bacteria and archaea. The ISME Journal 6:610–618

Mukuma C, Godoy-Lutz G, Eskridge K, Steadman J, Urrea C, Muimui K (2020) Use of culture and molecular methods for identification and characterization of dry bean fungal root rot pathogens in Zambia. Tropical Plant Pathology 45:385–396

Nair DN, Padmavathy S (2014) Impact of endophytic microorganisms on plants, environment, and humans. The Scientific World Journal 2014:250693

Narayanasamy P (2011) Detection of fungal pathogens in plants. In: Microbial plant pathogens-detection and disease diagnosis. Springer, Dordrecht

Ndunguru J, Taylor NJ, Yadav J, Aly H, Legg JP, Aveling T, Fauquet CM (2005) Application of FTA technology for sampling, recovery and molecular characterization of viral pathogens and virus-derived transgenes from plant tissues. Virology Journal 2:45

Nei M (1973) Analysis of gene diversity in subdivided populations. Proceedings of the National Academy of Sciences USA 70:3321–3323

Neuwirth E (2014) RColorBrewer: ColorBrewer palettes. R package version 1:1–2 https://CRAN.R-project.org/package=RColorBrewer

Nzungize J, Gepts P, Buruchara R, Buah S, Ragama P, Busogoro JP, Baudoin JP (2011a) Pathogenic and molecular characterization of Pythium species inducing root rot symptoms of common bean in Rwanda. African Journal of Microbiological Research 5:1169–1181

Nzungize J, Gepts P, Buruchara R, Male A, Ragama P, Busogoro JP, Baudoin JP (2011b) Introgression of Pythium root rot resistance gene into Rwandan susceptible common bean cultivars. African Journal of Plant Sciences 5:193–200

O'Donnell K, Kistler HC, Cigelnik E, Ploetz RC (1998) Multiple evolutionary origins of the fungus causing Panama disease of banana: concordant evidence from nuclear and mitochondrial gene genealogies. Proceedings of the National Academy of Sciences USA 95:2044–2049

Paparu P, Acur A, Kato F, Acam C, Nakibuule J, Musoke S, Nikalubo S, Mukankusi C (2018) Prevalence and incidence of four common bean root rots in Uganda. Experimental Agriculture 54:888–900

Park B, Park J, Cheong KC, Choi J, Jung K, Kim D, Lee YH, Ward TJ, O'Donnell K, Geiser DM, Kang S (2010) Cyber infrastructure for Fusarium: three integrated platforms supporting strain identification, phylogenetics, comparative genomics, and knowledge sharing. Nucleic Acids Research 39:D640–D646

Pastor-Corrales MA, Abawi GS (1987) Reaction of selected bean germplasm to infection by Fusarium oxysporum f sp. phaseoli. Journal of Plant Disease 71:990–993

Peakall R, Smouse PE (2006) GenAlEx 6: genetic analysis in Excel - population genetic software for teaching and research. Molecular Ecology Notes 6:288–295

Pires da Silva R, Vechiato MH, Harakava R (2014) EF-1α gene and IGS rDNA sequencing of Fusarium oxysporum f. sp. vasinfectum and F. oxysporum f. sp. phaseoli reveals polyphyletic origin of strains. Tropical Plant Pathology 39:64–73

Quast C, Pruesse E, Yilmaz P, Gerken J, Schweer T, Yarza P, Peplies J, Glöckner FO (2012) The SILVA ribosomal RNA gene database project: improved data processing and web-based tools. Nucleic Acids Research 41:D590–D596

Rognes T, Flouri T, Nichols B, Quince C, Mahé F (2016) VSEARCH: a versatile open-source tool for metagenomics. PeerJ 4:e2584

Rusuku G, Buruchara RA, Gatabazi M, Pastor-Corrales MA (1997) Occurrence and distribution in Rwanda of soilborne fungi pathogenic to the common bean. Journal of Plant Disease 81:445–449

Shannon CE, Wiener W (1963) The mathematical theory of communication. University of Illinois Press, Urbana

Simpson EH (1949) Measurement of diversity. Nature 163:688

Songa W, Hillocks RJ (1996) Charcoal rot in common bean with special reference to Kenya. International Journal of Pest Management 42:213–219

Valverde-Bogantes E, Bianchini A, Herr JR, Rose DJ, Wegulo SN, Hallen-Adams HE (2019) Recent population changes of Fusarium head blight pathogens: drivers and implications. Canadian Journal of Plant Pathology 42:315–329

Walker TS, Pitoro R, Tomo A, Sitoe I, Salencia C, Mahanzule R, Donovan C, Mazuze FM (2006) Priority setting for public-sector agricultural research in Mozambique with the National Agricultural Survey Data (No. 1093-2016-88001)

Watanabe T (2010) Morphologies of cultured fungi and key to species. In: Pictorial atlas of soil and seed fungi - Morphologies of cultured fungi and key to species, 3rd Edition. CRC Press, Florida pp 426. https://www.routledge.com/Pictorial-Atlas-of-Soil-and-Seed-Fungi-Morphologies-of-Cultured-Fungi-and/Watanabe/p/book/9781439804193

White TJ, Bruns T, Lee S, Taylor TW (1990) Amplification and direct sequencing of fungal ribosomal RNA genes for phylogenetics. In: PCR protocols: a guide to methods and applications, Academic Press, Inc., New York. pp. 315–322

Wickham H (2016) ggplot2: elegant graphics for data analysis. Springer-Verlag Press, New York

Wortmann CS, Kirkby RA, Eledu CA, Allen DJ (1998) Atlas of common bean (Phaseolus vulgaris L.) production in Africa. Centro Internacional de Agricultura Tropical (CIAT). CIAT publication number 297, Cali, 131 p
Acknowledgements
We recognize the help of many regional farmers, most notably R. Joseph, J. Tenga, and E. Langa, as well as many whom remain anonymous, in the field identification and collection of beans with RCR symptoms. We acknowledge the help of Edgar Nieto who provided recommendations on heatmap visualization tools using the R statistical framework. We also want to thank the anonymous reviewers who provided feedback and comments on the initial submission of this manuscript.
Funding
This work was completed using the Holland Computing Center of the University of Nebraska, which receives support from the Nebraska Research Initiative. JRS recognizes funding from USDA-NIFA (Grant #11172136) which directly supported this research. JRH acknowledges funding from the US National Air & Space Administration (Grant #80NSSC17K0737), the US National Science Foundation (EPSCoR Grant #1557417), and US National Institute of Justice (Grant #2017-IJ-CX-0025), as well as start-up funding from the University of Nebraska Agricultural Research Division and the University of Nebraska Office of Research and Economic Development, which indirectly supported this research through the support of research facilities. The funding agencies had no role in study design, data collection and interpretation, or the decision to submit the work for publication.
Ethics declarations
Conflict of interest
The authors declare no competing interests.
Additional information
Publisher's note
Springer Nature remains neutral with regard to jurisdictional claims in published maps and institutional affiliations.
Supplementary information
About this article
Cite this article
Fernandes, S., Godoy-Lutz, G., Jochua, C. et al. Root and crown rot pathogens found on dry beans grown in Mozambique. Trop. plant pathol. 46, 294–310 (2021). https://doi.org/10.1007/s40858-021-00422-8
Received:

Accepted:

Published:

Issue Date:

DOI: https://doi.org/10.1007/s40858-021-00422-8
Keywords