Abstract
The apple stem grooving virus (ASGV) and apple stem pitting virus (ASPV) are among the major viral species that infect apple trees and are responsible for substantial damage and loss. The aim of this study was to assess the effectiveness of droplet-vitrification cryotherapy technique in eradication of ASGV and ASPV in Malus prunifolia "Marubakaido" apple rootstock plants. The axillary shoot tips were excised from ASGV- and ASPV-infected plants and incubated for one day on preculture medium. Subsequently, they were exposed to plant vitrification solution 2 (PVS2) for 0, 20, 40, 50, 60 or 80 min at 22 °C and immersed in liquid nitrogen for 1 h. Cryopreserved shoot tips had the highest survival (75 and 65%) and regrowth (53 and 58%) percentages with PVS2 exposure duration of 20 and 40 min, respectively. After six months of growth in a greenhouse, RT-PCR analyses revealed that all the tested plants were free of ASPV and 70% were free of ASGV. The high eradication percentage of ASGV and ASPV indicated that the droplet-vitrification cryotherapy technique is an effective tool to produce ASGV- and ASPV-free propagating material of "Marubakaido" apple rootstock.
Access options
Buy single article
Instant access to the full article PDF.
USD 39.95
Price excludes VAT (USA)
Tax calculation will be finalised during checkout.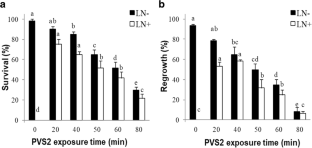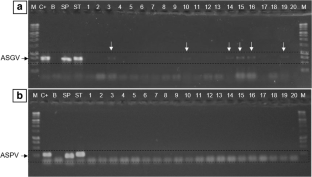 References
Barba M, Ilardi V, Pasquini G (2015) Control of pome and stone fruit virus diseases. Advances in Virus Research 91:48–72

Bettoni JC, Dalla Costa M, Gardin JPP, Kretzschmar AA, Pathirana R (2016) Cryotherapy: a new technique to obtain grapevine plants free of viruses. Revista Brasileira de Fruticultura 28:e–883

Bettoni JC, Dalla Costa M, Souza JA, Volk GM, Nickel O, da Silva FN, Kretzschmar AA (2018) Cryotherapy by encapsulation-dehydration is effective for in vitro eradication of latent viruses from 'Marubakaido' apple rootstock. Journal of Biotechnology 269:1–7

Bettoni JC, Souza JA, Volk GM, Dalla Costa M, da Silva FN, Kretzschmar AA (2019) Eradication of latent viruses from apple cultivar 'Monalisa' shoot tips using droplet-vitrification cryotherapy. Scientia Horticulturae 250:12–18

Guerra DS, Nickel O, Del Ponte EM, Sanhueza RMV, Fajardo TVM, Marondin GAB (2012) Development of Glomerella leaf spot is enhanced in virus-infected maxi gala apples. Journal of Plant Pathology 94:237–241

James D (2010) Confirmation of the elimination of apple stem grooving virus fromapple trees by in vitro chemotherapy. Julius-Kuhn-Archiv 427:47–50

Li BQ, Feng CH, Wang MR, Hu LY, Volk GM, Wang QC (2015) Recovery patterns, histological observations and genetic integrity in Malus shoot tips cryopreserved using droplet-vitrification and encapsulation-dehydration procedures. Journal of Biotechnology 214:182–191

Li BQ, Feng CH, Hu LY, Wang MR, Wang QC (2016) Shoot tip culture and cryopreservation for eradication of Apple stem pitting virus (ASPV) and Apple stem grooving virus (ASGV) from apple root- stocks 'M9' and 'M26'. Annals of Applied Biology 168:142–150

Murashige T, Skoog F (1962) A revised medium for rapid growth and bioassays with tobacco tissue cultures. Physiologia Plantarum 15:473–497

Nickel O, Fajardo TVM (2014) Detection of viruses in apples and pears by real time RT-PCR using 5'-hydrolysis probes. Journal of Plant Pathology 96:207–213

Romadanova NV, Mishustina SA, Gritsenko D, Omasheva MY, Galiakparov NN, Reed BM, Kushnarenko SV (2016) Cryotherapy as a method for reducing the virus infection of apples (Malus sp.). CryoLetters 37:1–9

Sakai A, Kobayashi S, Oiyama I (1990) Surviral by vitrification of nu-cellar cells of navel orange (Citrus sinensis Obs. Var. Brasiliensis tanaka). Plant Cell Reports 9:30–33

Sareila O, Hohkuri M, Wahlroos T, Susi P (2004) Role of viral movement and coat proteins and RNA in phloem-dependent movement and phloem unloading of Tobamoviruses. Journal of Phytopathology 152:622–629

Vivek M, Modgil M (2018) Elimination of viruses through thermotherapy and meristem culture in apple cultivar 'Oregon spur-II'. Virus Disease 29:75–82

Volk GM, Harris JJ, Rotindo KE (2006) Survival of mint shoot tips after exposure to cryoprotectant solution components. Cryobiology 52:305–308

Wang QC, Valkonen JPT (2009) Improved recovery of cryotherapy- treated shoot tips following thermotherapy of in vitro-grown stock shoots of raspberry (Rubus idaeus L.). CryoLetters 30:171–182

Wang MR, Li BQ, Feng CH, Wang QC (2016) Culture of shoot tips from adventitious shoots can eradicate Apple stem pitting virus but fails in Apple stem grooving virus. Plant Cell, Tissue and Organ Culture 125:283–291

Wang MR, Cui ZH, Li JW, Hao XY, Zhao L, Wang QC (2018a) In vitro thermotherapy-based methods for plant virus eradication. Plant Methods 14:1–18

Wang MR, Chen L, Teixeira da Silva JA, Volk GM, Wang QC (2018b) Cryobiotechnology of apple (Malus spp.): development, progress and future prospects. Plant Cell Reports 37:1–21

Zhao L, Wang MR, Cui ZH, Chen L, Volk GM, Wang QC (2018) Combining thermotherapy with cryotherapy for efficient eradication of Apple stem grooving virus from infected in-vitro-cultured apple shoots. Plant Disease 102:1–7
Acknowledgements
The authors thank Santa Catarina Foundation for Research and Innovation (FAPESC), to the Santa Catarina State Agricultural Research Agency (EPAGRI), and to the Santa Catarina State University (UDESC) for financial support. The authors would like to thank Lucas Stempkowski (UFV/MG) for the RT-PCR analyses support.
Ethics declarations
Conflict of interest
On behalf of all authors, the corresponding author states that there is no conflict of interest.
Additional information
Section Editor: Juliana Freitas Astua
Publisher's note
Springer Nature remains neutral with regard to jurisdictional claims in published maps and institutional affiliations.
About this article
Cite this article
Souza, J.A., Bogo, A., Bettoni, J.C. et al. Droplet-vitrification cryotherapy for eradication of apple stem grooving virus and apple stem pitting virus from "Marubakaido" apple rootstock. Trop. plant pathol. 45, 148–152 (2020). https://doi.org/10.1007/s40858-019-00321-z
Received:

Accepted:

Published:

Issue Date:

DOI: https://doi.org/10.1007/s40858-019-00321-z
Keywords