Abstract
Quantifying gene expression is essential in most functional genomics experiments. For quantitative PCR (qPCR) assays, reproducible results are dependent on the correct choice of the reference genes for data normalization. To date, screenings for candidate reference genes suitable for expression studies on plant-phytoplasma interactions in plants have not been reported. In the present study, we analyzed the expression patterns of 14 genes in midrib samples of C. aurantifolia plants infected with a 'Candidatus Phytoplasma aurantifolia' strain. Using GeNormPlus, NormFinder and BestKeeper algorithms, as well as testing relative expression by REST2009 software, the expression stability of several "classical" reference genes, such as GAPDH, CYCLOPHILIN and 18S rRNA, and of newly identified candidates, was assessed. Our results showed similar performance among GeNormPlus, NormFinder and BestKeeper in evaluating the suitability of reference genes, with few differences among the top five genes. Furthermore, our data showed that some of the widely used reference genes for relative expression normalization in plants, including citrus lineages, were not the most stably expressed transcripts. In conclusion, we provide a list of validated reference genes and their relative primer sequences, usable to conduct reliable qPCR experiments in C. aurantifolia during phytoplasma infection.
Access options
Buy single article
Instant access to the full article PDF.
USD 39.95
Price excludes VAT (USA)
Tax calculation will be finalised during checkout.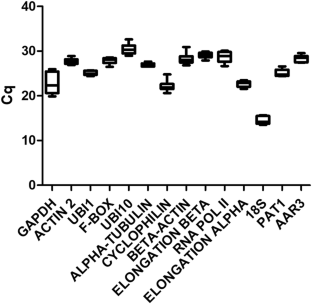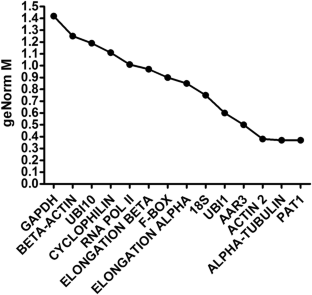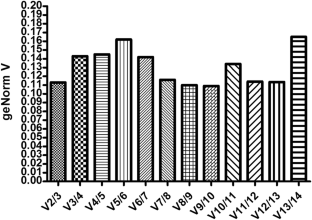 References
Alves MS, Silva FN, Guimarães DSPSF, Vital CE, Vidigal PMP, Al-Mahmooli I, Al-Sadi AM, Carvalho CM (2018) Differential expression and phytohormone unbalance in Citrus aurantifolia plants during "sudden decline of lime", a new phytoplasma disease of citrus. Tropical Plant Pathology In press

Al-Yahyai R, Khan I, Al-Said F, Al-Sadi A, Al-Wahaibi A, Deadman M (2012) Status of Citrus aurantifolia infected with witches' broom disease of lime in Oman. Acta Horticulturae 928:375–381

Andersen CL, Jensen JL, Ørntoft TF (2004) Normalization of real-time quantitative reverse transcription-PCR data: a model-based variance estimation approach to identify genes suited for normalization, applied to bladder and colon cancer data sets. Cancer Research 64:5245–5250

Askari N, Salehi Jouzani G, Mousivand M, Foroutan A, Hagh Nazari A, Abbasalizadeh S, Soheilivand S, Mardi M (2011) Evaluation of anti-phytoplasma properties of surfactin and tetracycline towards lime witches' broom disease using real-time PCR. Journal of Microbiology and Biotechnology 21:81–88

Bai X, Correa VR, Toruño TY, Ammar E-D, Kamoun S, Hogenhout SA (2009) AY-WB phytoplasma secretes a protein that targets plant cell nuclei. Molecular Plant-Microbe Interactions 22:18–30

Biswas KK, Ooura C, Higuchi K, Miyazaki Y, Van Nguyen V, Rahman A, Uchimiya H, Kiyosue T, Koshiba T, Tanaka A, Narumi I, Oono Y (2007) Genetic characterization of mutants resistant to the antiauxin p-chlorophenoxyisobutyric acid reveals that AAR3, a gene encoding a DCN1-like protein, regulates responses to the synthetic auxin 2,4-dichlorophenoxyacetic acid in Arabidopsis roots. Plant Physiology 145:773–785

Borges A, Tsai SM, Caldas DGG (2012) Validation of reference genes for RT-qPCR normalization in common bean during biotic and abiotic stresses. Plant Cell Reports 31:827–838

Bustin SA, Benes V, Garson JA, Hellemans J, Huggett J, Kubista M, Mueller R, Nolan T, Pfaffl MW, Shipley GL, Vandesompele J, Wittwer CT (2009) The MIQE guidelines: minimum information for publication of quantitative real-time PCR experiments. Clinical Chemistry 55:611–622

De Spiegelaere W, Dern-Wieloch J, Weigel R, Schumacher V, Schorle H, Nettersheim D, Bergmann M, Brehm R, Kliesch S, Vandekerckhove L, Fink C (2015) Reference gene validation for RT-qPCR, a note on different available software packages. PLoS One 10:e0122515

Dekkers BJW, Willems L, Bassel GW, van Bolderen-Veldkamp RP, Ligterink W, Hilhorst HWM, Bentsink L (2012) Identification of reference genes for RT-qPCR expression analysis in Arabidopsis and tomato seeds. Plant and Cell Physiology 53:28–37

Ehya F, Monavarfeshani A, Mohseni Fard E, Karimi Farsad L, Khayam Nekouei M, Mardi M, Salekdeh GH (2013) Phytoplasma-responsive microRNAs modulate hormonal, nutritional, and stress signalling pathways in mexican lime trees. PLoS One 8:e66372

Fan G, Cao X, Niu S, Deng M, Zhao Z, Dong Y (2015) Transcriptome, microRNA, and degradome analyses of the gene expression of Paulownia with phytoplamsa. BMC Genomics 16:896

Hoshi A, Oshima K, Kakizawa S, Ishii Y, Ozeki J, Hashimoto M, Komatsu K, Kagiwada S, Yamaji Y, Namba S (2009) A unique virulence factor for proliferation and dwarfism in plants identified from a phytopathogenic bacterium. Proceedings of the National Academy of Sciences, USA 106:6416–6421

Li J, Brader G, Palva ET (2004) The WRKY70 transcription factor: a node of convergence for jasmonate-mediated and salicylate-mediated signals in plant defense. Plant Cell 16:319–331

Li J, Brader G, Kariola T, Palva ET (2006) WRKY70 modulates the selection of signaling pathways in plant defense. Plant Journal 46:477–491

Liu L-YD, Tseng H-I, Lin C-P, Lin Y-Y, Huang Y-H, Huang C-K, Chang T-H, Lin S-S (2014) High-throughput transcriptome analysis of the leafy flower transition of Catharanthus roseus induced by peanut witches'-broom phytoplasma infection. Plant & Cell Physiology 55:942–957

Luge T, Kube M, Freiwald A, Meierhofer D, Seemüller E, Sauer S (2014) Transcriptomics assisted proteomic analysis of Nicotiana occidentalis infected by 'Candidatus Phytoplasma mali' strain AT. Proteomics 14:1882–1889

MacLean AM, Sugio A, Makarova OV, Findlay KC, Grieve VM, Tóth R, Nicolaisen M, Hogenhout SA (2011) Phytoplasma effector SAP54 induces indeterminate leaf-like flower development in Arabidopsis plants. Plant Physiology 157:831–841

MacLean AM, Orlovskis Z, Kowitwanich K, Zdziarska AM, Angenent GC, Immink RGH, Hogenhout SA (2014) Phytoplasma effector SAP54 hijacks plant reproduction by degrading MADS-box proteins and promotes insect colonization in a RAD23-dependent manner. PLoS Biology 12:e1001835

Mafra V, Kubo KS, Alves-Ferreira M, Ribeiro-Alves M, Stuart RM, Boava LP, Rodrigues CM, Machado MA (2012) Reference genes for accurate transcript normalization in citrus genotypes under different experimental conditions. PLoS One 7:e31263

Manoli A, Sturaro A, Trevisan S, Quaggiotti S, Nonis A (2012) Evaluation of candidate reference genes for qPCR in maize. Journal of Plant Physiology 169:807–815

Mardi M, Karimi Farsad L, Gharechahi J, Salekdeh GH (2015) In-depth transcriptome sequencing of mexican lime trees infected with 'Candidatus Phytoplasma aurantifolia. PLoS One 10:e0130425

Minato N, Himeno M, Hoshi A, Maejima K, Komatsu K, Takebayashi Y, Kasahara H, Yusa A, Yamaji Y, Oshima K, Kamiya Y, Namba S (2014) The phytoplasmal virulence factor TENGU causes plant sterility by downregulating of the jasmonic acid and auxin pathways. Scientific Reports 4:7399

Monavarfeshani A, Mirzaei M, Sarhadi E, Amirkhani A, Khayam Nekouei M, Haynes PA, Mardi M, Salekdeh GH (2013) Shotgun proteomic analysis of the Mexican lime tree infected with 'Candidatus Phytoplasma aurantifolia'. Journal of Proteome Research 12:785–795

Nejat N, Cahill DM, Vadamalai G, Ziemann M, Rookes J, Naderali N (2015) Transcriptomics-based analysis using RNA-Seq of the coconut (Cocos nucifera) leaf in response to yellow decline phytoplasma infection. Molecular Genetics and Genomics 290:1899–1910

Oshima K, Maejima K, Namba S (2013) Genomic and evolutionary aspects of phytoplasmas. Frontiers in Microbiology 4:230

Pabinger S, Rödiger S, Kriegner A, Vierlinger K, Weinhäusel A (2014) A survey of tools for the analysis of quantitative PCR (qPCR) data. Biomolecular Detection and Quantification 1:23–33

Pauwels L, Goossens A (2011) The JAZ proteins: a crucial interface in the jasmonate signaling cascade. Plant Cell 23:3089–3100

Pfaffl MW, Horgan GW, Dempfle L (2002) Relative expression software tool (REST) for group-wise comparison and statistical analysis of relative expression results in real-time PCR. Nucleic Acids Research 30:e36

Pfaffl MW, Tichopad A, Prgomet C, Neuvians TP (2004) Determination of stable housekeeping genes, differentially regulated target genes and sample integrity: BestKeeper-Excel-based tool using pair-wise correlations. Biotechnology Letters 26:509–515

Radonić A, Thulke S, Mackay IM, Landt O, Siegert W, Nitsche A (2004) Guideline to reference gene selection for quantitative real-time PCR. Biochemical and Biophysical Research Communications 313:856–862

Rose AB, Casselman AL, Last RL (1992) A phosphoribosylanthranilate transferase gene is defective in blue fluorescent Arabidopsis thaliana tryptophan mutants. Plant Physiology 100:582–592

Schmittgen TD, Livak KJ (2008) Analyzing real-time PCR data by the comparative Ct method. Nature Protocols 3:1101–1108

Shan X, Li C, Peng W, Gao B (2011a) New perspective of jasmonate function in leaf senescence. Plant Signaling & Behavior 6:575–577

Shan X, Wang J, Chua L, Jiang D, Peng W, Xie D (2011b) The role of Arabidopsis rubisco activase in jasmonate-induced leaf senescence. Plant Physiology 155:751–764

Shim JS, Jung C, Lee S, Min K, Lee Y-W, Choi Y, Lee JS, Song JT, Kim J-K, Choi YD (2013) AtMYB44 regulates WRKY70 expression and modulates antagonistic interaction between salicylic acid and jasmonic acid signaling. Plant Journal 73:483–495

Silva FN, Souza AN, Al-Mahmooli I, Al-Sa'di AM, Carvalho CM (2015) A new disease in Citrus aurantifolia in Oman, "sudden decline", is associated with a pathogen complex including a 16SrII group phytoplasma. Phytopathogenic Mollicutes 5:S101

Taheri F, Nematzadeh G, Zamharir MG, Nekouei MK, Naghavi M, Mardi M, Salekdeh GH (2011) Proteomic analysis of the Mexican lime tree response to 'Candidatus Phytoplasma aurantifolia' infection. Molecular BioSystems 7:3028–3035

Vandesompele J, De Preter K, Pattyn F, Poppe B, Van Roy N, De Paepe A, Speleman F (2002) Accurate normalization of real-time quantitative RT-PCR data by geometric averaging of multiple internal control genes. Genome Biology 3:RESEARCH0034

Yan J, Yuan F, Long G, Qin L, Deng Z (2012) Selection of reference genes for quantitative real-time RT-PCR analysis in citrus. Molecular Biology Reports 39:1831–1838

Zamharir MG, Mardi M, Alavi SM, Hasanzadeh N, Nekouei MK, Zamanizadeh HR, Alizadeh A, Salekdeh GH (2011) Identification of genes differentially expressed during interaction of Mexican lime tree infected with 'Candidatus Phytoplasma aurantifolia'. BMC Microbiology 11:1

Zhao Y, Wei W, Lee I-M, Shao J, Suo X, Davis RE (2013) The iPhyClassifier, an interactive online tool for phytoplasma classification and taxonomic assignment. Methods in Molecular Biology 938:329–338

Zreik L, Carle P, Bové JM, Garnier M (1995) Characterization of the mycoplasma-like organism associated with witches'-broom disease of lime and proposition of a Candidatus taxon for the organism, 'Candidatus Phytoplasma aurantifolia'. International Journal of Systematic Bacteriology 45:449–453
Acknowledgments
This work was funded by Vale S.A. MSA was a Vale Technological Institute postdoctoral fellow. CMC is the recepient of a CNPq research productivity fellowship. We thank Sam Elliot (Dep. de Entomologia, UFV) for critically reviewing the English of the manuscript.
Ethics declarations
Conflict of interest
The authors declare that they have no conflict of interest.
Additional information
Section Editor: Robert Miller
Electronic supplementary material
About this article
Cite this article
Alves, M.S., Al-Sadi, A.M. & Carvalho, C.M. Selection of reference genes for quantitative PCR analysis in Citrus aurantifolia during phytoplasma infection. Trop. plant pathol. 43, 402–412 (2018). https://doi.org/10.1007/s40858-018-0224-2
Received:

Accepted:

Published:

Issue Date:

DOI: https://doi.org/10.1007/s40858-018-0224-2
Keywords