Abstract
Commelina benghalensis (tropical spiderwort - TS) is an invasive herbaceous plant, native to South and Southeast Asia and one of the worst agricultural weeds in the tropics. Its management is notoriously difficult because of its ability to regenerate from small fragments and its tolerance to glyphosate applications. There are no published records of biocontrol attempts against TS involving either microbial or arthropod natural enemies. Prior to investigating classical biocontrol agents, surveys have been conducted in Brazil and, more recently, concentrated in Viçosa (state of Minas Gerais) to determine whether fungal pathogens of TS are already present. Five different fungal pathogens were collected. These fungi were identified as causing the following diseases: Athelia rolfsii – crown rot, Cercospora cf. sigesbeckiae – leaf spots, Corynespora cassiicola – leaf spots, Neopyricularia obtusa sp. nov. – leaf spots and Rhizoctonia solani – blight. One of the fungi found on TS represents a new taxon, and the others represent either a new host association, a new geographic record or both, except for Corynespora cassiicola, which has already been recorded as able to attack TS (ex-tomato isolates, under controlled conditions) in Brazil. The mycobiota identified in Brazil is limited and lacks many of the TS-specific fungal pathogens recorded in Africa and Asia, namely: Kordyana celebensis, Kordyana indica, Phakopsora tecta, Puccinia commelinae, Uredo ochracea, Bauerago combensis and Bauerago commelinae. It is conjectured here, that such exotic fungi, may offer a valuable resource for management of one of the worst agricultural weeds in Brazil and in the tropical world, and require investigation as biological control agents for introduction in Brazil.
This is a preview of subscription content, log in to check access.
Access options
Buy single article
Instant access to the full article PDF.
US$ 39.95
Price includes VAT for USA
Subscribe to journal
Immediate online access to all issues from 2019. Subscription will auto renew annually.
US$ 99
This is the net price. Taxes to be calculated in checkout.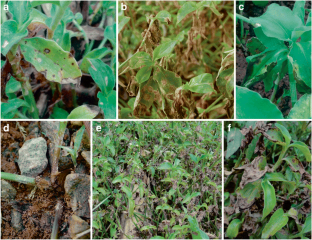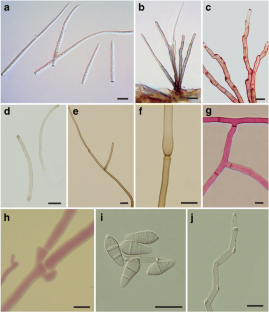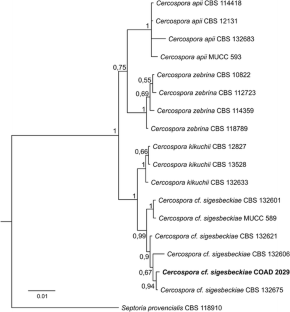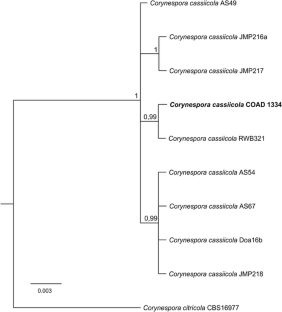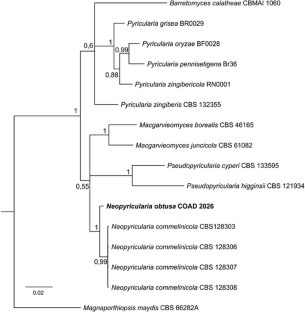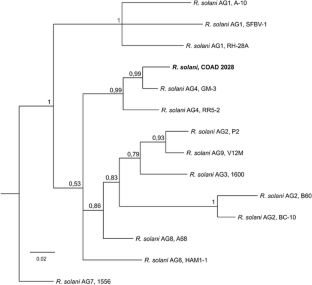 References
Barreto RW (1991) Studies on the pathogenic mycoflora of selected weeds from the state of Rio de Janeiro (Brazil). PhD Thesis. University of Reading. Reading, UK

Barreto RW, Evans HC (1994) The mycobiota of the weed Chromolaena odorata in southern Brazil with particular reference to fungal pathogens for biological control. Mycological Research 98:1107–1116

Barreto RW, Evans HC (1995a) Fungal pathogens of weeds collected in the Brazilian tropics and subtropics and their biocontrol potential. In: Delfosse ES, Scott RR (eds) Proceedings of the Eighth International Symposium on Biological Control of Weeds. DSIR/CSIRO, Melbourne, p 679 – 691

Barreto RW, Evans HC (1995b) The mycobiota of the weed Mikania micrantha in southern Brazil with particular reference to fungal pathogens for biological control. Mycological Research 99:343–352

Barreto RW, Evans HC, Ellison C (1995) The mycobiota of the weed Lantana camara in Brazil, with particular reference to biological control. Mycological Research 99:407–419

Barreto RW, Ellison CA, Seier MK, Evans HC (2012) Biological control of weeds with plant pathogens: Four decades on. In: Abrol DP, Shankar U (eds) Integrated Pest Management Principles and Practice. CABI, Wallingford, pp 299–350

Barton J (2004) How good are we at predicting the field host-range of fungal pathogens used for classical biological control of weeds? Biological Control 31:99–122

Blazquez CH (1967) Corynespora leaf spot of cucumber. Proceedings of the Florida State Horticultural Society 80:177–182

Boedijn KB (1959) The Uredinales of Indonesia. Nova Hedwigia 1:463–496

Braun U, Sivapalan A (1999) Cercosporoid hyphomycetes from Brunei. Fungal Diversity 3:1–27

Carbone I, Kohn LM (1999) A method for designing primer sets for speciation studies in filamentous ascomycetes. Mycologia 91:553–556

Caretta G, Piontelli E, Picco AM, Del Frate G (1999) Some filamentous fungi on grassland vegetation from Kenya. Mycopathologia 145:155–169

Castellani E, Ciferri R (1937) Prodromus Mycoflorae Africae Orientalis Italicae. Istituto Agricolo Coloniale Italiano, Florence

Chupp C (1954) A monograph of the fungus genus Cercospora. Published by the author, Ithaca

Corbett DCM (1964) A supplementary list of plant diseases in Nyasaland. Mycological Papers 95:1–16

Cordeiro ZJM, Kimati H (1997) Manual de Fitopatologia, vol 2. Doenças das Plantas Cultivadas. Ed, Agronômica Ceres, São Paulo

Crous PW, Braun U (2003) Mycosphaerella and its anamorphs: 1. Names published in Cercospora and Passalora. Centraalbureau voor Schimmelcultures, Utrecht

Crous PW, Phillips AJL, Baxter AP (2000) Phytopathogenic Fungi from South Africa. University of Stellenbosch, Department of Plant Pathology Press, Stellenbosch

Cutrim SA, Silva GS (2003) Patogenicidade de Corynespora cassiicola a várias espécies de plantas. Fitopatologia Brasileira 28:192–194

Denchev CM (2003) A new record and two new combinations in Microbotryales. Mycotaxon 87:127–130

Dhingra OD, Sinclair JB (1996) Basic Plant Pathology Methods. CRC Press, Boca Raton

Dingley JM, Fullerton RA, McKenzie EHC (1981) Survey of Agricultural Pests and Diseases. Technical Report. Vol. 2. Records of Fungi, Bacteria, Algae, and Angiosperms Pathogenic on Plants in Cook Islands, Fiji, Kiribati, Niue, Tonga, Tuvalu, and Western Samoa. FAO, Rome

Dixon LJ, Schlub RL, Pernezny K, Datnoff LE (2009) Host specialization and phylogenetic diversity of Corynespora cassiicola. Phytopathology 99:1015–1027

Doidge EM (1950) The South African fungi and lichens to the end of 1945. Bothalia 5:1–1094

Ebbels DL, Allen DJ (1979) A supplementary and annotated list of plant diseases, pathogens and associated fungi in Tanzania. Phytopathological Papers 22:1–89

Ellis MB (1976) Dematiaceous Hyphomycetes. CMI, Kew

Ellis MB, Holliday P (1971) Corynespora cassiicola. CMI Description of Pathogenic Fungi and Bacteria 303:1–2

Ellison CA, Barreto RW (2004) Prospects for the management of invasive alien weeds using co-evolved fungal pathogens: A Latin American perspective. Biological Invasions 6:23–45

Evans HC (1987) Fungal pathogens of some subtropical and tropical weeds and the possibilities for biological control. Biocontrol News and Information 8:1–30

Farr DF, Rossman AY (2016) Fungal Databases, Systematic Mycology and Microbiology Laboratory. ARS, USDA. Available at: http://nt.ars-grin.gov/fungaldatabases Accessed on Apr 4 2016

Fowler SV, Barreto RW, Dodd S, Macedo DM, Paynter Q, Pedrosa-Macedo JH, Pereira OL, Peterson P, Smith L, Waipara N, Winks CJ, Forrester G (2013) Tradescantia fluminensis, an exotic weed affecting native forest regeneration in New Zealand: Ecological surveys, safety tests and releases of four biocontrol agents from Brazil. Biological Control 64:323–329

García GV, Onco MAP, Susan VR (2006) Biology and systematics of the form genus Rhizoctonia. Spanish Journal of Agricultural Research 4:55–79

Gjaerum HB (1984) East African rusts (Uredinales), mainly from Uganda 3. On Amaryllidaceae, Commelinaceae, Iridaceae, Juncaceae, Liliaceae, Orchidaceae and Xyridaceae. Mycotaxon 20:65–72

Groenewald JZ, Nakashima C, Nishikawa J, Shin HD, Park J-H, Jama AN, Groenewald M, Braun U, Crous PW (2013) Species concepts in Cercospora: spotting the weeds among the roses. Studies in Mycology 75:115–170

Guo YL, Jiang Y (2000) Studies on Cercospora and allied genera in China II. Mycosystema 19:302–305

Halmos S (1970) Inoculum sources of Pyricularia grisea, the cause of pitting disease of banana. Phytopathology 60:183–184

Harlton CE, Levesque CA, Punja ZK (1995) Genetic diversity in Sclerotium (Athelia) rolfsii and related species. Phytopathology 85:1269–1281

Hashioka Y (1973) Notes on Pyricularia II: Four species and one variety parasitic to Cyperaceae, Gramineae and Commelinaceae. Transactions of the Mycological Society of Japan 14:256–265

Holm LG, Plucknett DL, Pancho JV, Herberger JP (1977) The World's Worst Weeds. University Press of Hawaii, Honolulu

Hosagoudar VB (1988) Uredinales of Kerala. Journal of Economic and Taxonomic Botany 12:265–272

Jones JP (1961) A leaf spot of cotton caused by Corynespora cassiicola. Phytopathology 51:305–308

Kar AK, Mandal M (1973) New Cercospora spp. from West Bengal. III. Indian Phytopathology 26:674–680

Katsuki S (1949) A contribution to the genus Cercospora in Fukuoka prefecture (1). Bulletin of Agriculture, Improvement Section. Economic Department Fukuoka Prefecture 1:1–32

Kissmann KG (1991) Plantas infestantes e nocivas, vol 1. BASF, São Paulo

Klaubauf S, Tharreau D, Fournier E, Groenewald JZ, Crous PW, De Vries RP, Lebrun MH (2014) Resolving the polyphyletic nature of Pyricularia (Pyriculariaceae). Studies in Mycology 79:85–120

Kranz J (1963) Fungi collected in the Republic of Guinea, collections from the Kindia area in 1962. Sydowia 17:174–185

Lustosa DC, Barreto RW (2001) Primeiro relato de Cercospora commelinicola Chupp em Commelina benghalensis L. no Brasil. Fitopatologia Brasileira 26(supl):364

Macedo DM, Pereira OL, Wheeler GS, Barreto RW (2013) Corynespora cassiicola f. sp. schinii, a potential biocontrol agent for the weed Schinus terebinthifolius in the United States. Plant Disease 97:496–500

Macedo DM, Pereira OL, Hora Júnior BT, Weir BS, Barreto RW (2016) Mycobiota of the weed Tradescantia fluminensis in its native range in Brazil with particular reference to classical biological control. Australasian Plant Pathology 45:45–56

Mathur RS (1979) The Coelomycetes of India. Bishen Singh Mahendra Pal Singh, Delhi

Mendes MAS, Urben AF, Fonseca JNL (1998) Fungos Relatados em Plantas no Brasil. Embrapa-SPI/Embrapa-Cenargen, Brasilia

Miller MA, Pfeiffer W, Schwartz T (2010) Creating the CIPRES Science Gateway for inference of large phylogenetic trees. In: Proceedings of the Gateway Computing Environments Workshop (GCE). New Orleans. pp. 1−8

Mohanty NN, Mohanty NW (1955) Target spot of tomatoes. Science and Culture 21:330–332

Morandi MAB, Barreto RW (1995) Mancha de Bipolaris em trapoeraba (Commelina benghalensis). Fitopatologia Brasileira 20(supl):368

Mordue JEM (1974) Corticium rolfsii. CMI Description of Pathogenic Fungi and Bacteria 410:1–2

Morin L (2015) Using pathogens to biologically control environmental weeds - updates. Plant Protection Quarterly 30:82–85

Nattrass RM (1961) Host lists of Kenya fungi and bacteria. Mycological Papers 81:1–46

Nylander JA (2004) MrModelTest ed. 2.2. Uppsala University, Evolutionary Biology Centre, Uppsala

Orieux L, Felix S (1968) List of plant diseases in Mauritius. Phytopathological Papers 7:1–48

Park MJ, Shin HD (2009) A new species of Pyricularia on Commelina communis. Mycotaxon 108:449–456

Peregrine WTH, Siddiqi MA (1972) A revised and annotated list of plant diseases in Malawi. Phytopathological Papers 16:1–51

Pereira JM, Barreto RW, Ellison CA, Maffia LA (2003) Corynespora cassiicola f. sp. lantanae: a potential biocontrol agent for Lantana camara from Brazil. Biological Control 26:21–31

Punithalingam E (1975) Some new species and combinations in Phomopsis. Transactions of the British Mycological Society 64:427–435

Purchio AF, Muchovej JJ (1993) Commelina agraria: a new host of Pyricularia grisea. Plant Pathology 42:818–819

Rambaut A (2009) FigTree 1.2.2. Available at: http://tree.bio.ed.ac.uk/software/ figtree/. Accessed on Jan 15 2016

Rayner RW (1970) A Mycological Colour Chart. CMI and British Mycological Society, Kew

Riley EA (1956) A preliminary list of plant diseases in northern Rhodesia. Mycological Papers 63:1–28

Seaman WL, Shoermaker RA (1964) Corynespora cassiicola on soybean in Ontario. Plant Disease Report 48:90

Shaw DE (1984) Microorganisms in Papua New Guinea. Research Bulletin Department of Primary Industries Port Moresby 33:1–344

Silva-Barreto FAZ, Pereira WV, Ciampi MB, Câmara MPS, Ceresini PC (2010) Associação de Rhizoctonia solani Grupo de Anastomose 4 (AG-4 HGI e HGIII) a espécies de plantas invasoras de área de cultivo de batata. Summa Phytopathologica 36:145–154

Sinha AK, Narain U (1992) A new host record of Myrothecium roridum from India. Indian Phytopathology 45:281

Skamnioti P, Gurr SJ (2009) Against the grain: safeguarding rice from rice blast disease. Trends in Biotechnology 27:141–150

Sneh B, Burpee L, Ogoshi A (1991) Identification of Rhizoctonia species. APS Press, St.Paul

Spencer JA, Walter HJ (1969) Variations in certain isolates of Corynespora cassiicola. Phytopathology 59:58–60

Teodoro NG (1937) An enumeration of Philippine fungi. Technical Bulletin Department of Agriculture Commerce, Manila 4:1–585

Thirumalachar MJ, Kulkarni NB, Patel MK (1956) Two new records of Pyricularia species from India. Indian Phytopathology 9:48–51

Vilgalys R, Hester M (1990) Rapid genetic identification and mapping of enzymatically amplified ribosomal DNA from several Cryptococcus species. Journal of Bacteriology 172:4238–4246

Webster TM, Burton MG, Culpepper AS, York AC, Prostko EP (2005) Tropical spiderwort (Commelina benghalensis): A tropical invader threatens agroecosystems of the southern United States. Weed Technology 19:501–508

White TJ, Bruns T, Lee S, Taylor JW (1990) Amplification and direct sequencing of fungal ribosomal RNA genes for phylogenetics. In: Innis MA, Gelfand DH, Sninsky JJ, White TJ (eds) PCR protocols: A guide to methods and applications. Academic Press, New York, pp 315–322

Whiteside JO (1966) A revised list of plant diseases in Rhodesia. Kirkia 5:87–196
Acknowledgements
Financial support from the Conselho Nacional de Desenvolvimento Científico e Tecnológico (CNPq), Fundação de Amparo à Pesquisa do Estado de Minas Gerais (FAPEMIG) and the Coordenação de Aperfeiçoamento de Pessoal de Nível Superior (CAPES) is acknowledged.
Additional information
Section Editor: Alan R. Wood
About this article
Cite this article
Ferreira, B.W., Alves, J.L., Miranda, B.E.C. et al. Fungi on Commelina benghalensis from Brazil, with notes on potential for weed biological control. Trop. plant pathol. 43, 21–35 (2018). https://doi.org/10.1007/s40858-017-0189-6
Received:

Accepted:

Published:

Issue Date:
Keywords
Biological control

Commelinaceae

fungal pathogens

taxonomy