Abstract
This study investigated self-reported indicators of noise exposure, symptoms of hearing loss and awareness of hearing problems in 76 Australian fitness instructors working in the Newcastle area (NSW) 1997–1998 and Sydney in 2009–2011. Nineteen Newcastle instructors also submitted for audiometry. Instructors spent an average of 11.5 h/week in fitness classes, 30.3 % did other paid work involving noise exposure for all or most of the time and for an average of 25 h/week and 72.4 % attended music entertainment venues for an average of 4 h/week. The loudness categories and previously recorded noise levels were used to estimate Pascal-squared hours of noise exposure, and instructors were classified into low- and high-exposure groups. 64 % of instructors reported experiencing at least one of the symptoms of tinnitus, temporary hearing loss, dizziness, or the need to turn up the volume on the radio and there was a non-significant correlation between the occurrence of symptoms and noise exposure. More instructors reported no symptoms in the low- compared with the high-exposure group. Audiogram hearing thresholds were compared against the 10th percentile of gender- and age-matched normal subjects. 68.8 % of audiograms revealed an elevated threshold in at least one ear and 37.5 % showed an auditory notch at 6000 Hz. Overall the findings showed that more than half of fitness instructors had signs or symptoms of hearing loss and were potentially exposed to excess noise. It is important to communicate the risks of loud music in fitness classes and partner with media outlets to publicise research findings and raise awareness amongst those at risk.
This is a preview of subscription content, log in to check access.
Access options
Buy single article
Instant access to the full article PDF.
US$ 39.95
Price includes VAT for USA
Subscribe to journal
Immediate online access to all issues from 2019. Subscription will auto renew annually.
US$ 99
This is the net price. Taxes to be calculated in checkout.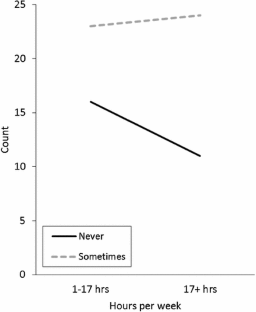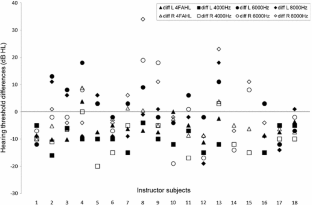 Notes
1.

4FAHL is the average threshold at 500, 1000, 2000 and 4000 Hz.
References
1.

Drake-Lee, A.: Beyond music: auditory threshold shift in rock musicians after a heavy metal concert. J. R. Soc. Med. 85, 617–619 (1992)

2.

Phillips, S., Henrich, V., Mace, S.: Prevalence of noise-induced hearing loss in student musicians. Int. J. Audiol. 49(4), 309–316 (2010)

3.

Zhao, F., Manchaiah, V., French, D., Price, S.: Music exposure and hearing disorders: an overview. Int. J. Audiol. 49, 54–64 (2010)

4.

Schmidt, J., Pedersen, E., Paarup, H., Christensen-Dalsgaard, J., Andersen, T., Poulsen, T., Baelum, J.: Hearing loss in relation to sound exposure of professional symphony orchestra musicians. Ear Hear. 35(4), 448–460 (2014)

5.

Halevi-Katz, D., Yaakobi, E., Putter-Katz, H.: Exposure to music and noise-induced hearing loss (NIHL) among professional pop/rock/jazz musicians. Noise Health 17(76), 158–164 (2015)

6.

Beach, E., Gilliver, M., Williams, W.: Leisure noise exposure: participation, trends, symptoms of hearing damage and perceptions of risk. Int. J. Audiol. 52(sup 1), S20–S25 (2013)

7.

Yaremchuk, K., Kaczor, J.: Noise levels in the health club setting. Ear Nose Throat J. 78, 54–57 (1999)

8.

Torre III, P., Howell, J.: Noise levels during aerobics and the potential effects on distortion product otoacoustic emissions. J. Commun. Disord. 41, 501–511 (2008)

9.

Beach, E.: Noise levels in fitness classes are still too high: evidence from 1997–1998 and 2009–2011. Arch Environ Occup Health 69(4), 223–230 (2014). doi:10.1080/19338244.2013.771248

10.

Safe Work Australia: Model Work Health and Safety Regulations 2011 Ch. 4 Hazardous Work: Part 4. 1 Noise (rev. 2014)

11.

Australian Bureau of Statistics: Australian and New Zealand Standard Industrial Classification (ANZSIC). ABS Catalogue No.1292.0 (1993)

12.

IBM Corp. Released 2013. IBM SPSS Statistics for Macintosh, Version 22.0. IBM Corp, Armonk (2013)

13.

Deloitte Access Economics: The Australian Fitness Industry Workforce Report 2010–2020. Fitness Australia (2012)

14.

Standards Australia: AS/NZ 1269.1:2005 Occupational Noise Management—Measurement and Assessment of Noise Immission and Exposure. Standards Australia (2005)

15.

International Standards Organisation: ISO 7029: Acoustics—Statistical Distribution of Hearing Thresholds as a Function of Age, 2nd edn. SAI Global (2000)

16.

Beach, E., Williams, W., Gilliver, G.: Estimating young Australian adults' risk of hearing damage from selected leisure activities. Ear Hear. 34(1), 75–82 (2013). doi:10.1097/AUD.0b013e318262ac6c

17.

Satish, K.: Significance of 6 khz in noise induced hearing loss in Indian Air Force personnel. Indian J. Aerosp. Med. 52(2), 15–20 (2008)

18.

Beach, E.: Up the beat—not the volume! Australian Fitness Network. http://www.fitnessnetwork.com.au/resources-library/up-the-beat-not-the-volume (2013). Accessed 10 September 2015
Ethics declarations
Human Research Ethics Committee
The University of Newcastle Human Research Ethics Committee granted approval for the 1997–1998 data collection, requiring informed consent by the Newcastle and Lake Macquarie fitness instructors prior to the completion of questionnaires or audiometry. The Australian Hearing Human Research Ethics Committee granted approval for the 2009–2011 Sydney data collection, also requiring informed consent prior to questionnaire completion.
Conflicts of Interest
There were no financial or non-financial conflicts of interest in data collection, analysis, or preparation of the manuscript. The University of Newcastle and Australian Hearing funded the study.
About this article
Cite this article
Nie, V., Beach, E. Fitness Instructors and Noise Exposure: Spreading the Hearing Health Message. Acoust Aust 44, 87–93 (2016). https://doi.org/10.1007/s40857-015-0042-3
Received:

Accepted:

Published:

Issue Date:
Keywords
Noise

Noise-induced hearing loss

Hearing

Audiogram

Fitness