Abstract
Many contemporary concert halls are so called surround or vineyard design, in which audience members gather around the orchestra. However, not so many articles on the acoustics of such halls have been published. This article presents the acoustical differences of vineyard and shoebox designs. A recently opened vineyard-type hall, Helsinki Music Centre, is used as a case study, and we discuss its perceptual acoustic qualities and investigate the reasons for subjective observations with objective room-acoustic measurements. In particular, we focus on factors affecting the perception of music dynamics. Results from the objective parameters and spatiotemporal analysis show that the sound field is dominated by the direct sound and early energy in the median plane. These findings are in agreement with the perceptual effects, and resemble the acoustic conditions of another vineyard hall, Berlin Philharmonie. A comparison to a classical shoebox hall reveals fundamental differences in the structure of the sound field.
This is a preview of subscription content,
to check access.
Access this article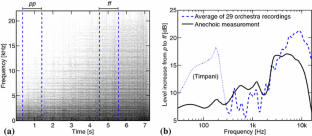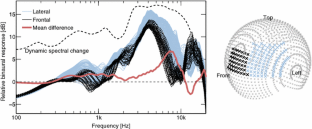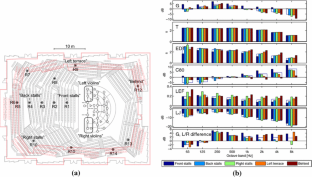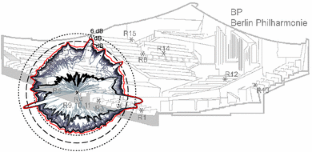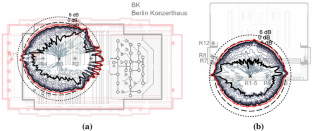 Similar content being viewed by others
References
Pätynen, J., Tervo, S., Robinson, P.W., Lokki, T.: Concert halls with strong lateral reflections enhance musical dynamics. Proc. Natl. Acad. Sci. Am. 111(12), 4409 (2014)

Nagata Acoustics, Helsinki Music Centre factsheet, cited 10 February 2015. URL: http://www.nagata.co.jp/e_sakuhin/factsheets/helsinki.pdf

Gade, A.C.: Auditorium projects in Denmark since year 2000; room acoustic research and experience materialized. In: Joint Baltic-Nordic Acoustics Meeting (BNAM 2012), Odense, Denmark (2012)

Clements, P.: Orchestral performance practice and the perception of acoustic quality in concert halls. In: International Symposium on Room Acoustics (ISRA 2013). International Symposium on Room Acoustics 2013, Toronto, Canada (2013)

Luce, D.: Dynamic spectrum changes of orchestral instruments. J. Audio Eng. Soc 23(7), 565 (1975)

Algazi, V.R., Duda, R.O., Thompson, D.M., Avendano, C.: The CIPIC HRTF database. In: IEEE Workshop on the Applications of Signal Processing to Audio and Acoustics (WASPAA2001), pp. 99–102. New York (2001)

Sivonen, V.P., Ellermeier, W.: Directional loudness in an anechoic sound field, head-related transfer functions, and binaural summation. J. Acoust. Soc. Am. 119(5), 2965 (2006)

Moore, B.C.J., Glasberg, B.R.: Formulae describing frequency selectivity as a function of frequency and level, and their use in calculating excitation patterns. Hear. Res. 28, 209 (1987)

Marshall, A.H., Barron, M.: Spatial responsiveness in concert halls and the origins of spatial impression. Appl. Acoust. 62(2), 91 (2001)

Kuhl, W.: Räumlichkeit als Komponente des Raumeindrucks. Acta Acust United Ac 40(3), 167 (1978)

Keet, W.V.: The influence of early lateral reflections on the spatial impression. In: Proceedings of the 6th International Congress on Acoustics, vol. 3, pp. E53–E56. Tokyo, Japan (1968)

Marshall, A.H.: A note on the importance of room cross-section in concert halls. J. Sound. Vib. 5(1), 100 (1967)

Beranek, L.: Concert Halls and Opera Houses: Music, Acoustics, and Architecture. Springer, New York (2004)

Lokki, T., Pätynen, J., Tervo, S., Siltanen, S., Savioja, L.: Engaging concert hall acoustics is made up of temporal envelope preserving reflections. J. Acoust. Soc. Am. 129(6), EL223 (2011)

ISO 3382–1:2009: Acoustics—Measurement of room acoustic parameters—I: Performance spaces. International Standards Organization, Geneva, Switzerland (2009)

Pätynen, J., Tervo, S., Lokki, T.: Analysis of concert hall acoustics via visualizations of time-frequency and spatiotemporal responses. J. Acoust. Soc. Am.133(2), 842 (2013)

Pätynen, J.: A virtual symphony orchestra for studies on concert hall acoustics. Ph.D. thesis, Aalto University School of Science. http://lib.tkk.fi/Diss/2011/isbn9789526042916/isbn9789526042916.pdf (2011)

Tervo, S., Pätynen, J., Kuusinen, A., Lokki, T.: Spatial decomposition method for room impulse responses. J. Audio. Eng. Soc. 61(1/2), 16 (2013)

Barron, M., Lee, L.J.: Energy relations in concert auditoriums. I. J. Acoust. Soc. Am. 84(2), 618 (1988)

Pätynen, J., Lokki, T.: Directivities of symphony orchestra instruments. Acta Acustica United with Acustica 96(1), 138 (2010)
Acknowledgments
The Academy of Finland [257099] is funding this research.
About this article
Cite this article
Pätynen, J., Lokki, T. The Acoustics of Vineyard Halls, is it so Great After all?. Acoust Aust 43, 33–39 (2015). https://doi.org/10.1007/s40857-015-0011-x
Received:

Revised:

Accepted:

Published:

Issue Date:

DOI: https://doi.org/10.1007/s40857-015-0011-x
Keywords
PACS