Abstract
The gender inequality gap has widened in recent years, despite significant global awareness and efforts to address the issue. This indicates the possibility that there is still uncertainty about the selection of the most important levers for reducing gender inequality. While economic empowerment has been analysed and discussed as an important input into women's empowerment, evidence remains inconclusive and interventions sparse, especially in the context of large populous lower middle-income countries like India. The paper examines the impact of economic empowerment on a woman's overall ability to take decision using data from the National Family Health Survey in India. Data on decision-making, economic empowerment and other socioeconomic variables of currently married women, aged 15–49 years, are used to analyse to whether and to what extent economic empowerment has an impact on women's agency. Nine decision-making areas were used cumulatively in an ordered logit model, and the results indicated that economic empowerment was important in improving women's decision-making abilities, including other key variables on the socioeconomic status of the women. The results imply that while education would remain a key policy tool, policies on women's empowerment need to incorporate programmes and interventions on women's economic empowerment, and programmes guaranteeing women employment and focusing on their employment conditions need to get much higher budget allocations within the government's overall budget.
Access options
Buy single article
Instant access to the full article PDF.
USD 39.95
Price excludes VAT (USA)
Tax calculation will be finalised during checkout.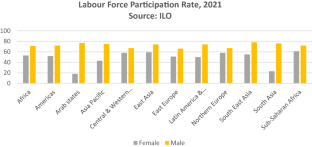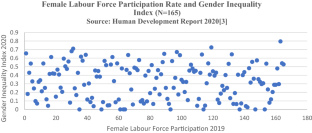 References
Ahmed R, Hyndman-Rizk N (2020) The higher education paradox: towards improving women's empowerment, agency development and labour force participation in Bangladesh. Gend Educ 32(4):447–465

Andres LA, Dasgupta B, Joseph G, Abraham V, Correia M (2017) Precarious drop: Reassessing patterns of female labor force participation in India. World Bank Policy Research Working Paper, 8024

Assaad R, Hendy R, Lassassi M, Yassin S (2020) Explaining the MENA paradox: rising educational attainment, yet stagnant female labor force participation. Demogr Res 43:817

Behrman J, Gonalons-Pons P (2020) Women's employment and fertility in a global perspective (1960–2015). Demogr Res 43:707

Borbora A (2020) Support to training and employment programme (STEP): a programme for economic empowerment of women in India. Compl Eng J 11(3):137–147

Brody C, Hoop TD, Vojtkova M, Warnock R, Dunbar M, Murthy P, Dworkin SL (2017) Can self-help group programs improve women's empowerment? A systematic review. J Dev Effect 9(1):15–40

Bursztyn L, González AL, Yanagizawa-Drott D (2018) Misperceived social norms: Female labor force participation in Saudi Arabia (No. w24736). National Bureau of Economic Research

Buvinić M, Furst-Nichols R (2016) Promoting women's economic empowerment: what works? World Bank Res Observer 31(1):59–101

CARE International (2020) Women's economic empowerment. https://www.care-international.org/what-we-do/womens-economic-empowerment.

Chang W, Diaz-Martin L, Gopalan A, Guarnieri E, Jayachandran S, Walsh C (2020) What works to enhance women's agency: Cross-cutting lessons from experimental and quasi-experimental studies. J-PAL Working Paper

Chatterjee E, Desai S, Vanneman R (2018) Indian paradox: rising education, declining womens' employment. Demogr Res 38:855. https://doi.org/10.4054/DemRes.2018.38.31

Cornish H, Walls H, Ndirangu R, Ogbureke N, Bah OM, Tom-Kargbo JF, Dimoh M, Ranganathan M (2021) Women's economic empowerment and health related decision-making in rural Sierra Leone. Cult Health Sex 23(1):19–36

Crotti R, Pal KK, Ratcheva V, Zahidi S (eds) (2021) The Global Gender Gap Report 2021. World Economic Forum, Geneva

Efobi UR, Tanankem BV, Asongu SA (2018) Female economic participation with information and communication technology advancement: Evidence from Sub-Saharan Africa. South Afr J Econ 86(2):231–246

Eggers del Campo I, Steinert JI (2020) The effect of female economic Empowerment interventions on the risk of intimate partner violence: a systematic review and meta-analysis. Trauma Violence Abuse. https://doi.org/10.1177/1524838020976088

European Institute for Gender Equality (2016). Empowerment of women. https://eige.europa.eu/thesaurus/terms/1102

Ferragina E (2020) Family policy and women's employment outcomes in 45 high-income countries: a systematic qualitative review of 238 comparative and national studies. Soc Policy Admin 54(7):1016–1066

Field E, Pande R, Rigol N, Schaner S, Troyer Moore C (2021) On her own account: how strengthening women's financial control impacts labor supply and gender norms. Am Econ Rev 111(7):2342–2375

Gaddis I, Klasen S (2014) Economic development, structural change, and women's labor force participation. J Popul Econ 27(3):639–681

Gammage S, Joshi S, Rodgers YM (2020) The intersections of women's economic and reproductive empowerment. Fem Econ 26(1):1–22

Gibbs A, Jacobson J, Kerr Wilson A (2017) A global comprehensive review of economic interventions to prevent intimate partner violence and HIV risk behaviours. Glob Health Action 10(sup2):1290427

Gupta I, Joe W, Rudra S (2010) Demand Side Financing in Health: How far can it address the issue of low utilization in developing countries. World Health Report Background Paper, 27

Hendriks S (2019) The role of financial inclusion in driving women's economic empowerment. Dev Pract 29(8):1029–1038

Hunter BM, Harrison S, Portela A, Bick D (2017) The effects of cash transfers and vouchers on the use and quality of maternity care services: a systematic review. PLoS ONE 12(3):e0173068

International Labour Organization (2021) Labour force participation rate by sex and age. https://www.ilo.org/shinyapps/bulkexplorer11/?lang=en&segment=indicator&id=EAP_2WAP_SEX_AGE_RT_A.

Jayachandran S (2021) Social norms as a barrier to women's employment in developing countries. IMF Econ Rev 69(3):576–595

John ME, Gopal M (eds) (2021) Women in the worlds of labour: interdisciplinary and intersectional perspectives. Orient BlackSwan Private Limited, Hyderabad

Kabeer N (2005) Gender equality and women's empowerment: a critical analysis of the third millennium development goal 1. Gend Dev 13(1):13–24

Kelkar G (2020) Gender and productive assets: Implications for women's economic security and productivity. Women, Land & Power in Asia, 60–83. Routledge India.

Khera R, Nayak N (2009) Women workers and perceptions of the national rural employment guarantee act. Econ Pol Wkly 44:49–57

Khursheed A, Khan AA, Mustafa F (2021) Women's social empowerment and microfinance: a brief review of literature. J Int Women's Stud 22(5):249–265

Kim JC, Watts CH, Hargreaves JR, Ndhlovu LX, Phetla G, Morison LA, Busza J, Porter JD, Pronyk P (2007) Understanding the impact of a microfinance-based intervention on women's empowerment and the reduction of intimate partner violence in South Africa. Am J Public Health 97(10):1794–1802

Kinoshita Y, Guo F (2015) Female labor force participation in Asia: Lessons from the Nordics. RIETI Discussion Paper Series 15-E-102, Research Institute of Economy, Trade and Industry (RIETI)

Klasen S (2018) The impact of gender inequality on economic performance in developing countries. Annu Rev Resource Econ 10:279–298

Klasen S (2019) What explains uneven female labor force participation levels and trends in developing countries? World Bank Res Observer 34(2):161–197

Krumbiegel K, Maertens M, Wollni M (2020) Can employment empower women? Female workers in the pineapple sector in Ghana. J Rural Stud 80:76–90

Leach F, Sitaram S (2002) Microfinance and women's empowerment: a lesson from India. Dev Pract 12(5):575–588

Njuki R, Obare F, Warren C, Abuya T, Okal J, Mukuna W, Kanya L, Askew I, Bracke P, Bellows B (2013) Community experiences and perceptions of reproductive health vouchers in Kenya. BMC Public Health 13(1):1–10

Nussbaum M, Sen A (eds) (1993) The quality of life. Clarendon Press, Oxford

Nussbaum MC (2001) Women and human development: the capabilities approach, vol 3. Cambridge University Press, Cambridge

Okal J, Kanya L, Obare F, Njuki R, Abuya T, Bange T, Warren C, Askew I, Bellows B (2013) An assessment of opportunities and challenges for public sector involvement in the maternal health voucher program in Uganda. Health Res Policy Syst 11(1):1–11

Pankaj A, Tankha R (2010) Empowerment effects of the NREGS on women workers: a study in four states. Econ Polit Weekly 45–55

Parsuraman S, Somaiya M (2016) Economic empowerment of women: promoting skills development in slum areas. Tata Institute of Social Sciences. https://wcd.nic.in/sites/default/files/Final%20Report-TISS-%20Skill%20in%20slums.pdf

Prata N, Fraser A, Huchko MJ, Gipson JD, Withers M, Lewis S, Ciaraldi EJ, Upadhyay UD (2017) Women's empowerment and family planning: a review of the literature. J Biosoc Sci 49(6):713–743

Rahman MM, Khanam R, Nghiem S (2017) The effects of microfinance on women's empowerment: new evidence from Bangladesh. Int J Soc Econ

Raj A, Silverman JG, Klugman J, Saggurti N, Donta B, Shakya HB (2018) Longitudinal analysis of the impact of economic empowerment on risk for intimate partner violence among married women in rural Maharashtra, India. Soc Sci Med 196:197–203

Raju S, Jatrana S (eds) (2016) Women workers in urban India. Cambridge University Press, Cambridge. https://doi.org/10.1017/CBO9781316459621

Reed E, West BS, Salazar M, Monroy RV (2018) Economic empowerment to improve sexual and reproductive health among women and girls. In: Global perspectives on women's sexual and reproductive health across the lifecourse. Springer, Cham, 297–315

Rob U, Rahman M, Bellows B (2010) Using vouchers to increase access to maternal healthcare in Bangladesh. Int Q Community Health Educ 30(4):293–309

Sarkar S, Sahoo S, Klasen S (2019) Employment transitions of women in India: a panel analysis. World Dev 115:291–309. https://doi.org/10.1016/j.worlddev.2018.12.003

Shah M, Mann N, Pande V (eds) (2012) MGNREGA Sameeksha: An Anthology of Research Studies on the Mahatma Gandhi National Rural Employment Guarantee Act, 2005, 2006–2012. Ministry of Rural Development, Government of India. New Delhi: Orient BlackSwan. https://nrega.nic.in/Circular_Archive/archive/MGNREGA_SAMEEKSHA.pdf

Taramol KG (2014) Eradication of poverty and women empowerment-a study of Kudumbashree project in Ernakulam district of Kerala, India. Int Rev Res Emerg Mark Global Econ IREM 1(4):236–241

United Nations Development Programme (2015) MGNREGA Sameeksha II: An Anthology of Research Studies on the Mahatma Gandhi National Rural Employment Guarantee Act, 2012–2014. https://www.in.undp.org/content/india/en/home/library/poverty/mgnrega-sameeksha-ii--an-anthology-of-research-studies-2012-2014.html

United Nations Women (2018) Facts and Figures: Economic Empowerment. https://www.unwomen.org/en/what-we-do/economic-empowerment/facts-and-figures.

Van den Broeck G (2020) Women's employment and family planning in rural Uganda. Women Health 60(5):517–533

Vijayasingham L, Govender V, Witter S, Remme M (2020) Employment based health financing does not support gender equity in universal health coverage. BMJ. https://doi.org/10.1136/bmj.m3384

Viswanathan PK, Mishra RN, Bhattarai M (2014) Gender Impact of MGNREGA: Evidence from 10 Selected Semi-Arid Tropics (SAT) Villages in India
Funding
The study did not need approval from an ethics committee/institutional review board as it is based on secondary data that is freely available for public use.
Ethics declarations
Conflict of interest
Indrani Gupta and Arjun Roy declare that that they have no conflict of interest.
Additional information
Publisher's Note
Springer Nature remains neutral with regard to jurisdictional claims in published maps and institutional affiliations.
Rights and permissions
Springer Nature or its licensor (e.g. a society or other partner) holds exclusive rights to this article under a publishing agreement with the author(s) or other rightsholder(s); author self-archiving of the accepted manuscript version of this article is solely governed by the terms of such publishing agreement and applicable law.
About this article
Cite this article
Gupta, I., Roy, A. What really empowers women? Taking another look at economic empowerment. J. Soc. Econ. Dev. (2022). https://doi.org/10.1007/s40847-022-00215-y
Published:

DOI: https://doi.org/10.1007/s40847-022-00215-y
Keywords
Gender inequality

Decision-making

Economic empowerement

Employment