Abstract
Purpose
A comprehensive investigation of various maximum voluntary contraction (MVC) positions to determine the optimal positions for vastus lateralis (VL), biceps femoris (BF), gastrocnemius lateralis (GL), and tibialis anterior (TA).
Methods
Twelve participants performed total of seventeen MVC positions for major lower limb muscle groups (VL, BF, GL, and TA). Neuromuscular activities were recorded by surface electromyography. Signals were smoothed by root mean square (RMS). Each MVC level were expressed as a percentage of MVC (% MVC). Statistical differences were measured with a one-way repeated measures analysis of variance and a Tukey's HSD (p < 0.05).
Results
Optimal MVC positions were found as follows: (i) VL: the combination of knee extension at 70° and 90° flexed knee in sitting position; (ii) BF: the combination of knee flexion at 30°, 45°, and 60° flexed knee in prone position; (iii) GL: unipedal standing position; (iv) TA: the combination of dorsiflexion in sitting position and ankle neutral, in standing position and ankle 110°, and in standing position and ankle 70°.
Conclusion
This study confirms that multiple positions were needed to elicit the maximal MVC values for VL, BF, and TA. For GL, single MVC position should be performed to elicit the maximal MVC.
Access options
Buy single article
Instant access to the full article PDF.
USD 39.95
Price excludes VAT (USA)
Tax calculation will be finalised during checkout.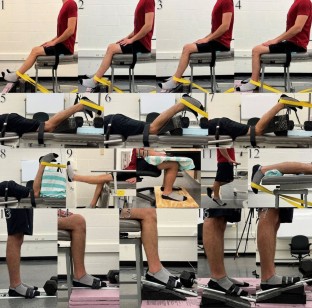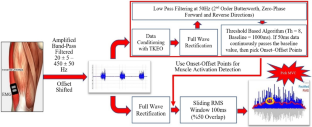 Data Availability
The data that support the findings of this study are available from the corresponding author (BKS), upon reasonable written request.
References
Emanuel Singh, R., Iqbal, K., White, G., & Holtz, K. (2019). A review of EMG techniques for detection of gait disorders. Artificial Intelligence Applications in Medicine and Biology. https://doi.org/10.5772/intechopen.84403

Malone, A., Meldrum, D., Gleeson, J., & Bolger, C. (2013). Electromyographic characteristics of gait impairment in cervical spondylotic myelopathy. European Spine Journal, 22(11), 2538–2544. https://doi.org/10.1007/s00586-013-2928-9.

Konrad, P. (2005). The ABC of EMG A practical introduction to kinesiological electromyography. Retrieved from www.noraxon.com

Zhao, K., Zhang, Z., Wen, H., & Scano, A. (2021). Intra-subject and inter-subject movement variability quantified with muscle synergies in upper-limb reaching movements. Biomimetics, 6(4), 63. https://doi.org/10.3390/biomimetics6040063.

Araujo, R. C., Duarte, M., & Amadio, A. C. (2000). On the inter- and intra-subject variability of the electromyographic signal in isometric contractions. Electromyography and Clinical Neurophysiology, 40(4), 225–229.

Burden, A. (2010). How should we normalize electromyograms obtained from healthy participants? What we have learned from over 25years of research. Journal of Electromyography and Kinesiology, 20(6), 1023–1035. https://doi.org/10.1016/j.jelekin.2010.07.004.

Vera-Garcia, F. J., Moreside, J. M., & McGill, S. M. (2010). MVC techniques to normalize trunk muscle EMG in healthy women. Journal of Electromyography and Kinesiology, 20(1), 10–16. https://doi.org/10.1016/j.jelekin.2009.03.010.

Bley, A. S., Correa, J. C. F., Reis, A. C., dos Rabelo, N. D. D. A., Marchetti, P. H., & Lucareli, P. R. G. (2014). Propulsion phase of the single leg triple hop test in women with patellofemoral pain syndrome: a biomechanical study. PLoS One. https://doi.org/10.1371/journal.pone.0097606

Reid, D., McNair, P. J., Johnson, S., Potts, G., Witvrouw, E., & Mahieu, N. (2012). Electromyographic analysis of an eccentric calf muscle exercise in persons with and without Achilles tendinopathy. Physical Therapy in Sport, 13(3), 150–155. https://doi.org/10.1016/j.ptsp.2011.08.003.

Perry, J., & Burnfield, J. M. (2010). Gait analysis normal and pathological function. Journal of Sports Science and Medicine, 9(2), 353.

Schwartz, C., Wang, F. C., Forthomme, B., Denoël, V., Brüls, O., & Croisier, J. L. (2020). Normalizing gastrocnemius muscle EMG signal: an optimal set of maximum voluntary isometric contraction tests for young adults considering reproducibility. Gait and Posture, 82, 196–202. https://doi.org/10.1016/j.gaitpost.2020.08.129.

Rutherford, D. J., Hubley-Kozey, C. L., & Stanish, W. D. (2011). Maximal voluntary isometric contraction exercises: a methodological investigation in moderate knee osteoarthritis. Journal of Electromyography and Kinesiology, 21(1), 154–160. https://doi.org/10.1016/j.jelekin.2010.09.004.

Hébert-Losier, K., Schneiders, A. G., García, J. A., Sullivan, S. J., & Simoneau, G. G. (2011). Peak triceps surae muscle activity is not specific to knee flexion angles during MVIC. Journal of Electromyography and Kinesiology, 21(5), 819–826. https://doi.org/10.1016/j.jelekin.2011.04.009.

Lanshammar, K., & Ribom, E. L. (2011). Differences in muscle strength in dominant and non-dominant leg in females aged 20–39 years - a population-based study. Physical Therapy in Sport, 12(2), 76–79. https://doi.org/10.1016/j.ptsp.2010.10.004.

Sousa, P., Frias, A. S. R., & R., Manuel, S., & Tavares, J. R. (2012). Surface electromyographic amplitude normalization methods: A review. Electromyography new developments, procedures and applications. Nova Science Publishers Inc.

Hermens, H. J., Freriks, B., Disselhorst-Klug, C., & Rau, G. (2000). Development of recommendations for SEMG sensors and sensor placement procedures. Journal of Electromyography and Kinesiology, 10(5), 361–374. https://doi.org/10.1016/S1050-6411(00)00027-4.

Solnik, S., Rider, P., Steinweg, K., Devita, P., & Hortobágyi, T. (2010). Teager-Kaiser energy operator signal conditioning improves EMG onset detection. European Journal of Applied Physiology, 110(3), 489–498. https://doi.org/10.1007/s00421-010-1521-8.

Li, X., Zhou, P., & Aruin, A. S. (2007). Teager-kaiser energy operation of surface EMG improves muscle activity onset detection. Annals of Biomedical Engineering, 35(9), 1532–1538. https://doi.org/10.1007/s10439-007-9320-z.

Allison, G. T., Marshall, R. N., & Singer, K. P. (1993). EMG signal amplitude normalization technique in stretch-shortening cycle movements. Journal of electromyography and kinesiology: official journal of the International Society of Electrophysiological Kinesiology, 3(4), 236–244. https://doi.org/10.1016/1050-6411(93)90013-M.

Moreira, L., Figueiredo, J., Fonseca, P., Vilas-Boas, J. P., & Santos, C. P. (2021). Lower limb kinematic, kinetic, and EMG data from young healthy humans during walking at controlled speeds. Scientific Data. https://doi.org/10.1038/s41597-021-00881-3

Rudolph, K. S., Axe, M. J., & Snyder-Mackler, L. (2000). Dynamic stability after ACL injury: who can hop? Knee Surgery Sports Traumatology Arthroscopy, 8(5), 262–269. https://doi.org/10.1007/s001670000130.

Vigotsky, A. D., Harper, E. N., Ryan, D. R., & Contreras, B. (2015). Effects of load on good morning kinematics and EMG activity. Peer Journal. https://doi.org/10.7717/peerj.708

Khaiyat, O. A., & Norris, J. (2018). Electromyographic activity of selected trunk, core, and thigh muscles in commonly used exercises for ACL rehabilitation. The Journal of Physical Therapy Science, 30(4), 642–648. https://doi.org/10.1589/jpts.30.642.

Garci, S. C., Rueda, C. L., Sua, J., Luginick, B., & Navarro, E. (2020). Differences in the electromyographic activity of lower-body muscles in hip thrust variations. Journal of Strength and Conditioning Research, 34(9), 2449–2455. https://doi.org/10.1519/JSC.0000000000002859

Carlsson, U., Lind, K., Moller, M., Karlsson, J., & Svantesson, U. (2008). Plantar flexor muscle function in open and closed chain. Clinical Physiology, 21(1), 1–8. https://doi.org/10.1046/j.1365-2281.2001.00304.x.

Cresswell, A. G., Scher, L., Thorstensson, W. N., Loscher, A., & W. N., & Thorstensson, A. (1995). Influence of gastrocnemius muscle length on triceps surae torque development and electromyographic activity in man. Experimental Brain Research, 105, 283–290.

Pinniger, G. J., Steele, J. R., Thorstensson, A., & Cresswell, A. G. (2000). Tension regulation during lengthening and shortening actions of the human soleus muscle. European Journal Of Applied Physiology, 81, 375–383. https://doi.org/10.1007/s004210050057.

Frigon, A., Carroll, T. J., Jones, K. E., Zehr, E. P., & Collins, D. F. (2007). Ankle position and voluntary contraction alter maximal M waves in soleus and tibialis anterior. Muscle and Nerve, 35(6), 756–766. https://doi.org/10.1002/mus.20747.

Marsh, E., Sale, D., McCOMAS, A. J., Quinlan, J., & Mccomas, A. J. (1981). Influence of joint position on ankle dorsiflexion in humans. Journal of Applied Physiology Respiratory Environmental Exercise Physiology, 51(1), 160–167.

Linden, D. W., vander, Kukulka, C. G., & Soderberg, G. L. (1991). The effect of muscle length on motor unit discharge characteristics in human tibialis anterior muscle. Experimental Brain Research, 84, 210–218.

Duchateau, J., & Enoka, R. M. (2016). Neural control of lengthening contractions. Journal of Experimental Biology, 219(2), 197–204. https://doi.org/10.1242/jeb.123158.
Funding
The authors declare that no funds, grants, or other support were received during the preparation of this manuscript.
Ethics declarations
Conflict of interest
The authors declare that they have no known competing financial interests or personal relationships that could have appeared to influence the work reported in this paper.
Ethical Approval
The study was performed following the principles outlined in the Helsinki Declaration and it was approved by the Ethics Committee of Southern Illinois University Edwardsville (Date: April 29, 2021 / No: 1206).
Consent to Participate
Informed consent was obtained from all individual participants included in the study.
Consent to Publish
The authors affirm that human research participants provided informed consent for publication of the images in Fig. 1.
Additional information
Publisher's Note
Springer Nature remains neutral with regard to jurisdictional claims in published maps and institutional affiliations.
Rights and permissions
Springer Nature or its licensor (e.g. a society or other partner) holds exclusive rights to this article under a publishing agreement with the author(s) or other rightsholder(s); author self-archiving of the accepted manuscript version of this article is solely governed by the terms of such publishing agreement and applicable law.
About this article
Cite this article
Avdan, G., Onal, S. & Smith, B.K. Normalization of EMG Signals: Optimal MVC Positions for the Lower Limb Muscle Groups in Healthy Subjects. J. Med. Biol. Eng. (2023). https://doi.org/10.1007/s40846-023-00782-3
Received:

Accepted:

Published:

DOI: https://doi.org/10.1007/s40846-023-00782-3
Keywords
Electromyography

Maximum voluntary contraction

Normalization

Lower limb muscles