Abstract
Purpose
In this paper, a 3D finite element model of L1–L5 region in spinal column was developed to investigate biomechanical behavior of spine under different types of decompression surgery, which will help spinal surgeons to have a patient-specific computational tool for optimizing surgical treatment of spinal canal pathologies.
Methods
In this study, a new theoretical approach was developed to evaluate and compare different spinal surgical procedures using finite element model of lumbar spine. This model was developed by using computed tomography scanning (CT scan) of a patient with spinal canal stenosis and the computer-aided design (CAD) software was used to virtually simulate different types of surgery. The results of simulations were verified and validated through experimental data from the literature and a good agreement was found between the results. Four different types of spinal surgical procedures including unilateral laminotomy, bilateral laminotomy, laminectomy with complete facetectomy, and laminectomy with partial facetectomy were virtually simulated in model.
Results
Post-operative kinematics, various biomechanical relevant parameters of spine, such as intradiscal pressure, disc stresses, and stresses at adjacent segments were evaluated by simulating each surgical procedure and optimal procedure was specified. Results showed that laminectomy with complete facetectomy leads to big changes in spinal stability and larger intradiscal pressure and stress at the operated segment (up to 150% in comparison with intact spine).
Conclusion
Our results represented that laminotomy is an optimal technique to reduce potential risk of adjacent segment disease and spinal instability.
This is a preview of subscription content, log in to check access.
Access options
Buy single article
Instant access to the full article PDF.
US$ 39.95
Tax calculation will be finalised during checkout.
Subscribe to journal
Immediate online access to all issues from 2019. Subscription will auto renew annually.
US$ 79
Tax calculation will be finalised during checkout.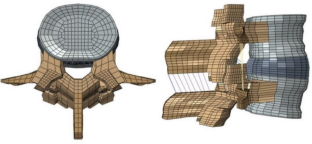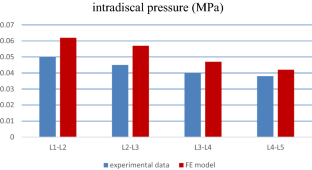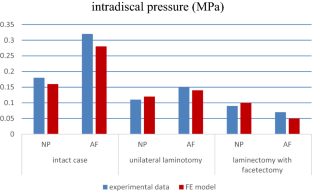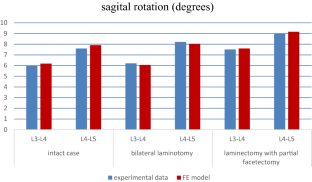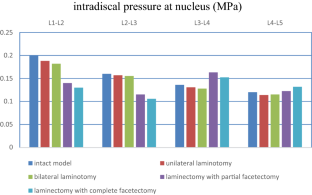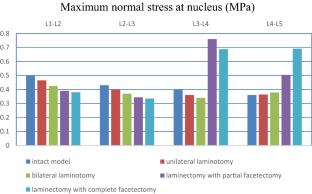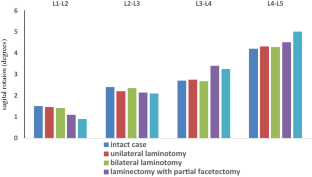 References
1.

Chad, D. A. (2007). Lumbar spinal stenosis. Neurologic Clinics, 25(2), 407–418.

2.

Genevay, S., & Atlas, S. J. (2010). Lumbar spinal stenosis. Best Practice & Research Clinical Rheumatology, 24(2), 253–265.

3.

Throckmorton, T. W., Hilibrand, A. S., Mencio, G. A., Hodge, A., & Spengler, D. M. (2003). The impact of adjacent level disc degeneration on health status outcomes following lumbar fusion. Spine, 28(22), 2546–2550.

4.

Ekman, P., Möller, H., Shalabi, A., Yu, Y. X., & Hedlund, R. (2009). A prospective randomised study on the long-term effect of lumbar fusion on adjacent disc degeneration. European Spine Journal, 18(8), 1175–1186.

5.

Tsai, R. Y., Yang, R., & Bray, R. D. (1998). Microscopic laminotomies for degenerative lumbar spinal stenosis. Journal of Spinal Disorders, 11(5), 389–394.

6.

Thomé, C., Zevgaridis, D., Leheta, O., Bäzner, H., Pöckler-Schöniger, C., Wöhrle, J., et al. (2005). Outcome after less-invasive decompression of lumbar spinal stenosis: A randomized comparison of unilateral laminotomy, bilateral laminotomy, and laminectomy. Journal of Neurosurgery: Spine, 3(2), 129–141.

7.

Fu, Y.-S., Zeng, B.-F., & Xu, J.-G. (2008). Long-term outcomes of two different decompressive techniques for lumbar spinal stenosis. Spine, 33(5), 514–518.

8.

Lee, M. J., Bransford, R. J., Bellabarba, C., Chapman, J. R., Cohen, A. M., Harrington, R. M., et al. (2010). The effect of bilateral laminotomy versus laminectomy on the motion and stiffness of the human lumbar spine: A biomechanical comparison. Spine, 35(19), 1789–1793.

9.

Cardoso, M. J., Dmitriev, A. E., Helgeson, M., Lehman, R. A., Kuklo, T. R., & Rosner, M. K. (2008). Does superior-segment facet violation or laminectomy destabilize the adjacent level in lumbar transpedicular fixation? An in vitro human cadaveric assessment. Spine, 33(26), 2868–2873.

10.

Rao, R. D., Wang, M., Singhal, P., McGrady, L. M., & Rao, S. (2002). Intradiscal pressure and kinematic behavior of lumbar spine after bilateral laminotomy and laminectomy. The Spine Journal, 2(5), 320–326.

11.

Zander, T., Rohlmann, A., Klöckner, C., & Bergmann, G. (2003). Influence of graded facetectomy and laminectomy on spinal biomechanics. European Spine Journal, 12(4), 427–434.

12.

Natarajan, R., Andersson, G., Patwardhan, A., & Andriacchi, T. (1999). Study on effect of graded facetectomy on change in lumbar motion segment torsional flexibility using three dimensional continuum contact representation for facet joints. Journal of Biomechanical Engineering, 121(2), 215–221.

13.

Parikh, R. (2010) Biomechanical comparison of various posterior dynamic stabilization systems for different grades of facetectomy and decompression surgery, master thesis, The University of Toledo.

14.

Grauer, J. N., Biyani, A., Faizan, A., Kiapour, A., Sairyo, K., Ivanov, A., et al. (2006). Biomechanics of two-level Charite artificial disc placement in comparison to fusion plus single-level disc placement combination. The Spine Journal, 6(6), 659–666.

15.

Musculoskeletal Research Laboratories UoU. (2015). FEBio user's manual V 2.4. Salt Lake City: Musculoskeletal Research Laboratories UoU.

16.

Rohlmann, A., Neller, S., Claes, L., Bergmann, G., & Wilke, H.-J. (2001). Influence of a follower load on intradiscal pressure and intersegmental rotation of the lumbar spine. Spine, 26(24), E557–E561.

17.

Iatridis, J. C., MacLean, J. J., Roughley, P. J., & Alini, M. (2006). Effects of mechancial loading on intervertebral disc metabolism in vivo. Journal of Bone and Joint Surgery, 88(2), 41–46.
Funding
No funding has been provided for this study.
Ethics declarations
Conflict of interest
The authors declare that they have no conflicts of interest.
Informed Consent
Informed consent was obtained from all individual participants included in the study.
About this article
Cite this article
Veisari, S.F., Haghpanahi, M. Implications of Different Types of Decompression Spinal Stenosis Surgical Procedures on the Biomechanics of Lumbar Spine. J. Med. Biol. Eng. (2021). https://doi.org/10.1007/s40846-020-00580-1
Received:

Accepted:

Published:
Keywords
Finite element model

Lumbar decompression surgery

Spinal stenosis