Abstract
Purpose
Neurofeedback training (NFT) has been widely used to regulate brain activity. The present study aimed to examine the effectiveness of NFT in enhancing brain functional connectivity in patients with mild cognitive impairment (MCI).
Methods
Functional brain networks were constructed based on the coherence and phase synchronization index and verified the improvement effect by analyzing the characteristic parameters of brain connections between different electrode pairs for delta, theta, alpha, and beta rhythms.
Results
The coherence and phase synchronization index of each brainwave rhythm showed significant improvement after NFT, especially in the beta rhythm, with Pbc=0.003 < 0.05, Pbp=0.075 < 0.1. Functional brain networks demonstrated that the functional connectivity of the whole brain was enhanced, especially in frontal region and between the frontal region and the temporal, parietal, and occipital regions.
Conclusion
The results indicate that NFT can improve the brain functional connectivity of people with MCI. Coherence and phase synchronization analysis can objectively and accurately evaluate improvements in functional connectivity.
Access options
Buy single article
Instant access to the full article PDF.
USD 39.95
Price excludes VAT (USA)
Tax calculation will be finalised during checkout.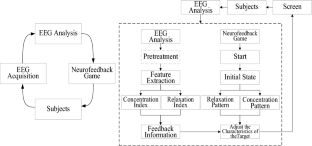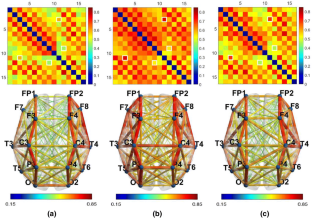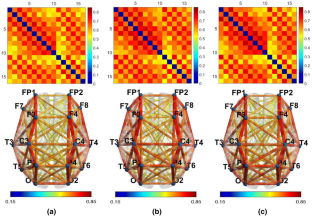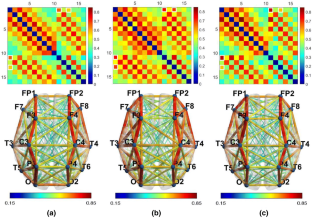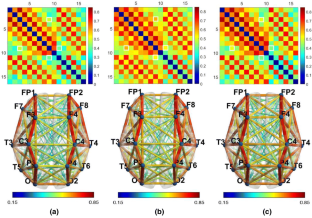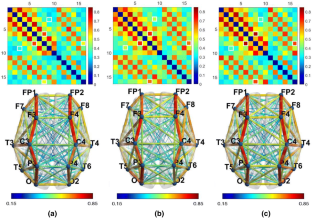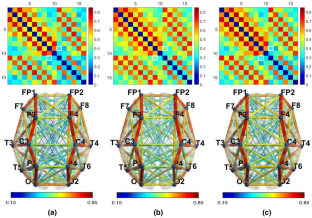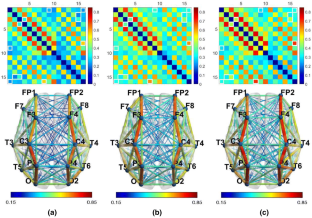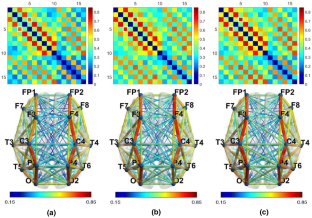 Reference
Stam, C. J., Montez, T., Jones, B. F., Rombouts, S. A., van der Made, Y., Pijnenburg, Y. A., et al. (2005). Disturbed fluctuations of resting state EEG synchronization in Alzheimer's disease. Clinical Neurophysiology, 116(3), 708–715.

Liu, Y., Yu, C., Zhang, X., Liu, J., Duan, Y., Alexander-Bloch, A. F., et al. (2014). Impaired long distance functional connectivity and weighted network architecture in Alzheimer's disease. Cerebral Cortex, 24(6), 1422–1435.

Zhou, B., Yao, H., Wang, P., Zhang, Z., Zhan, Y., Ma, J., et al. (2015). Aberrant functional connectivity architecture in Alzheimer's disease and Mild Cognitive Impairment: a whole-brain, data-driven analysis. Biomed Research International, 2015, 1–9.

Yu, E. Y., Wu, W. Z., Ding, Z. X., Tan, Y. F., Liao, Z. L., Qiu, Y. J., et al. (2013). Application of resting brain function in elderly people with different cognitive status. Zhejiang Medical Journal, 35(18), 1622–1624, 1647.

Adler, G., Brassen, S., & Jajcevic, A. (2003). EEG coherence in Alzheimer's dementia. Journal of Neural Transmission, 110(9), 1051–1058.

Pijnenburg, Y. A., v d Made, Y., van Cappellen van Walsum, A. M., Knol, D. L., Scheltens, P., & Stam, C. J. (2004). EEG synchronization likelihood in mild cognitive impairment and Alzheimer's disease during a working memory task. Clinical neurophysiology, 115(6), 1332–1339.

Liu, Z. Y., & Qiu, S. J. (2010). Joint study of resting state functional connection and anatomical structure in human brain. International Journal of Medical Radiology, 33(5), 411–415.

Friston, K. J. (1994). Functional and effective connectivity in neuroimaging: a synthesis. Human Brain Mapping, 2(1–2), 56–78.

Horwitz, B. (2003). The elusive concept of brain connectivity. NeuroImage, 19(2), 466–470.

Handayani, N., Haryanto, F., Khotimah, S. N., Arif, I., & Taruno, W. P. (2018). Coherence and phase synchrony analyses of EEG signals in Mild Cognitive Impairment (MCI): A study of functional brain connectivity. Polish Journal of Medical Physics and Engineering, 24(1), 1–9.

Hata, M., Kazui, H., Tanaka, T., Ishii, R., Canuet, L., & Pascualmarqui, R. D. (2016). Functional connectivity assessed by resting state EEG correlates with cognitive decline of Alzheimer's disease-an eLORETA study. Clinical Neurophysiology, 127(1), 1269–1278.

Tóth, B., File, B., Boha, R., Kardos, Z., Hidasi, Z., Gaál, Z. A., et al. (2014). EEG network connectivity changes in mild cognitive impairment—Preliminary results. International Journal of Psychophysiology, 92(1), 1–7.

Higashima, M., Takeda, T., Kikuchi, M., Nagasawa, T., & Koshino, Y. (2006). Functional connectivity between hemispheres and schizophrenic symptoms: a longitudinal study of interhemispheric EEG coherence in patients with acute exacerbations of schizophrenia. Clinical EEG and Neuroscience, 37(1), 10–15.

Miskovic, V., & Keil, A. (2015). Reliability of event-related EEG functional connectivity during visual entrainment: magnitude squared coherence and phase synchrony estimates. Psychophysiology, 52(1), 81–89.

Erickson, K. I., Colcombe, S. J., Wadhwa, R., Bherer, L., Peterson, M. S., Scalf, P. E., et al. (2007). Training-induced plasticity in older adults: Effects of training on hemispheric asymmetry. Neurobiology of Aging, 28(2), 272–283.

Gutchess, A. (2014). Plasticity of the aging brain: New directions in cognitive neuroscience. Science, 346(6209), 579–582.

Clark, V. P., & Parasuraman, R. (2014). Neuroenhancement: Enhancing brain and mind in health and in disease. NeuroImage, 85(3), 889–894.

Huo, L. J., Zheng, Z. W., Li, J., & Li, J. (2018). Brain plasticity of the elderly: evidence from cognitive training. Advances in Psychological Science, 26(5), 846–858.

Barban, F., Mancini, M., Cercignani, M., Adriano, F., Perri, R., Annicchiarico, R., et al. (2017). A pilot study on brain plasticity of functional connectivity modulated by cognitive training in mild Alzheimer's Disease and Mild Cognitive Impairment. Brain Sciences, 7(5), 50.

Klados, M. A., Charis, S., Frantzidis, C. A., Evangelos, P., & Bamidis, P. D. (2016). Beta-band functional connectivity is reorganized in mild cognitive impairment after combined computerized physical and cognitive training. Frontiers in Neuroscience, 10, 55.

Anguera, J. A., Boccanfuso, J., Rintoul, J. L., Al-Hashimi, O., Faraji, F., Janowich, J., et al. (2013). Video game training enhances cognitive control in older adults. Nature, 501(7465), 97–101.

Jirayucharoensak, S., Israsena, P., Pan-Ngum, S., & Hemrungrojn, S. (2014). A game-based neurofeedback training system for cognitive rehabilitation in the elderly. International Conference on Pervasive Computing Technologies for Healthcare, ICST (Institute for Computer Sciences, Social-Informatics and Telecommunications Engineering), 278–281.

Becerra, J., Fernández, T., Roca-stappung, M., Díaz-Comas, L., Galán, L., Bosch, J., et al. (2012). Neurofeedback in healthy elderly human subjects with electroencephalographic risk for cognitive disorder. Journal of Alzheimer's Disease, 28(2), 357–367.

Zoefel, B., René, J., Huster, & Herrmann, C. S. (2011). Neurofeedback training of the upper alpha frequency band in EEG improves cognitive performance. Neuroimage, 54(2), 1427–1431.

Munivenkatappa, A., Rajeswaran, J., Indira Devi, B., Bennet, N., & Upadhyay, N. (2014). EEG Neurofeedback therapy: Can it attenuate brain changes in TBI? NeuroRehabilitation, 35(3), 481–484.

Datko, M. C. (2015). Functional and structural connectivity, and the effects of neurofeedback training, in imitation-related brain networks in Autism. UC San Diego. ProQuest ID: Datko_ucsd_0033D_15082. Merritt ID: ark:/13030/m5kq0zh6. Retrieved from https://escholarship.org/uc/item/5rw1x2ss.

Hou, J. L., Zhan, X. H., Yan, G. L., Liu, Y., Li, W., Yang, L. P., et al. (2013). Progress in screening programs for Mild Cognitive Impairment. Chinese Journal of Gerontology, 33(10), 2464–2466.

Roth, M., Tym, E., Mountjoy, C. Q., Huppert, F. A., Hendrie, H., Verma, S., et al. (1986). Camdex. a standardised instrument for the diagnosis of mental disorder in the elderly with special reference to the early detection of dementia. The British Journal of Psychiatry: the Journal of Mental Science, 149(6), 698–709.

Jaime, M., Mcmahon, C. M., Davidson, B. C., Newell, L. C., Mundy, P. C., & Henderson, H. A. (2016). Brief report: reduced temporal-central EEG alpha coherence during joint attention perception in adolescents with autism spectrum disorder. Journal of Autism and Developmental Disorders, 46(4), 1477–1489.

Zhao, L. N., Wang, B. Q., & Yao, D. Z. (2008). Research on phase synchronization analysis method of EEG based on signal processing. Journal of Biomedical Engineering, 25(2), 250–254.

Angelakis, E., Stathopoulou, S., Frymiare, J. L., Green, D. L., & Kounios, J. (2007). EEG neurofeedback: a brief overview and an example of peak alpha frequency training for cognitive enhancement in the elderly. The Clinical Neuropsychologist, 21(1), 110–129.

Vernon, D., Egner, T., Cooper, N., Compton, T., Neilands, C., Sheri, A., et al. (2003). The effect of training distinct neurofeedback protocols on aspects of cognitive performance. International Journal of Psychophysiology, 47(1), 75–85.

Staufenbiel, S. M., Brouwer, A. M., Keizer, A. W., & Wouwe, N. C. V. (2013). Effect of beta and gamma neurofeedback on memory and intelligence in the elderly. Biological psychology, 95(1), 74–85.

Moretti, D. V., Frisoni, G. B., Pievani, M., Rosini, S., Geroldi, C., Binetti, G., et al. (2008). Cerebrovascular disease and hippocampal atrophy are differently linked to functional coupling of brain areas: an EEG coherence study in mci subjects. Journal of Alzheimer's Disease, 14(3), 285–299.

Sun, J., Hong, X., & Tong, S. (2012). Phase synchronization analysis of EEG signals: an evaluation based on surrogate tests. IEEE transactions on bio-medical engineering, 59(8), 2254–2263.

Sweeney-Reed, C. M., Riddell, P. M., Ellis, J. A., Freeman, J. E., & Nasuto, S. J. (2012). Neural correlates of true and false memory in mild cognitive impairment. PLoS ONE, 7(10), e48357.

Wang, R., Wang, J., Yu, H., Wei, X., Yang, C., & Deng, B. (2014). Decreased coherence and functional connectivity of electroencephalograph in Alzheimer's disease. Chaos (Woodbury, N.Y.), 24(3), 033136.

Williamson, P. C., Merskey, H., Morrison, S., Rabheru, K., Fox, H., Wands, K., et al. (1990). Quantitative electroencephalographic correlates of cognitive decline in normal elderly subjects. Archives of Neurology, 47(11), 1185–1188.

Han, S. D., Arfanakis, K., Fleischman, D. A., Leurgans, S. E., Tuminello, E. R., Edmonds, E. C., et al. (2012). Functional connectivity variations in mild cognitive impairment: associations with cognitive function. Journal of the International Neuropsychological Society: JINS, 18(1), 39–48.
Acknowledgement
We would like to thank all subjects from the First Hospital of Hebei Medical University and the HanDan Central Hospital for their participation in this study.
Funding
This study was funded by Hebei Provincial Natural Science Foundation (F2014203244, F2019203515) and China Postdoctoral Science Foundation (2014M550582).
Ethics declarations
Conflict of interest
The authors declare that they have no conflict of interest.
Additional information
Publisher's Note
Springer Nature remains neutral with regard to jurisdictional claims in published maps and institutional affiliations.
About this article
Cite this article
Li, X., Zhang, J., Li, XD. et al. Neurofeedback Training for Brain Functional Connectivity Improvement in Mild Cognitive Impairment. J. Med. Biol. Eng. 40, 484–495 (2020). https://doi.org/10.1007/s40846-020-00531-w
Received:

Accepted:

Published:

Issue Date:

DOI: https://doi.org/10.1007/s40846-020-00531-w
Keywords