Abstract
Asian people may demand more social welfare or greater redistributive expenditure because they are currently faced with problems of growing economic inequality and a state of social development that is lagging far behind its state of economic development. However, they do not seem to be in favor of demanding more welfare expenditure. This paper investigates how individual attitudes toward redistribution are shaped by focusing on institutional dependency and social preference to address this paradoxical issue. First, we show that social preferences are more relevant to redistribution preference than self-interested motives in Asian socio-economies. We also argue that a synergy between trustworthy individuals and a social preference space could work, leading to a stronger preference for redistribution. However, for the second, we show that the degree to which redistribution preference is associated with social preferences could be lowered as the market space is liberalized: in other words, a social preference space contracts. As a result, we cannot expect a synergy between a social preference space and trustworthy individuals to work, leading to a paradoxical situation, i.e., Asian people refrain from demanding that the government should undertake more redistributive expenditure despite their exacerbating income inequality, caused by the expansion of a liberal type of market space.
Access options
Buy single article
Instant access to the full article PDF.
US$ 39.95
Tax calculation will be finalised during checkout.
Subscribe to journal
Immediate online access to all issues from 2019. Subscription will auto renew annually.
US$ 79
Tax calculation will be finalised during checkout.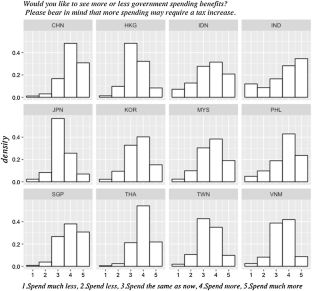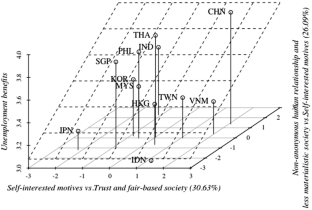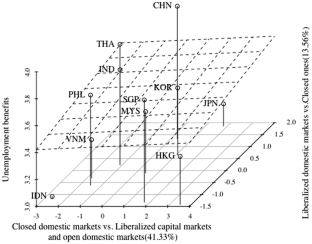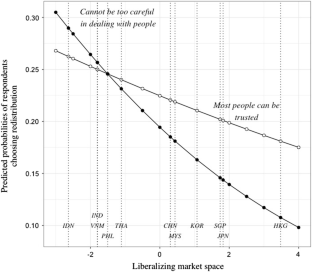 Notes
1.

Inoguchi, Takashi, AsiaBarometer Survey Data (2003–2007) [computer file]. AsiaBarometer Project(http://www.asiabarometer.org/). AsiaBarometer represents the largest ever, comparative survey in Asia, covering East, Southeast, South and Central Asia. It focuses on daily lives of ordinary people and their relationships to family, neighborhood, workplace, social and political institutions and market place. In this paper, Survey data from AsiaBarometer for the period from 2003 to 2007 are used.
References
Bian Y, Zhang L (2014) Corporate social capital in Chinese guanxi culture. In: Brass DJ, Labianca G, Mehra A, Halgin DS, Borgatti SP (eds) Contemporary perspectives on organizational social networks (research in the sociology of organizations, volume 40). Emerald Group Publishing Limited, Bingley, pp 421–443

Bowles S (2016) The moral economy: why good incentives are no substitute for good citizens. Yale University Press, New Haven

Bowles S, Gintis H (2004) The evolution of strong reciprocity: cooperation in heterogeneous populations. Theor Popul Biol 65:17–28

Bowles S, Polania-Reyes S (2012) Economic incentives and social preferences: substitutes or complements? J Econ Lit 50(2):368–425

Chang AC (2018) How do Asian values constrain public support for redistribution? J Behav Exp Econ 77:139–150

Dimick M, Rueda D, Stegmueller D (2016) The altruistic rich? Inequality and other-regarding preferences for redistribution. Q J Polit Sci 11:385–439

Dimick M, Rueda D, Stegmueller D (2018) Models of other-regarding preferences and redistribution. Annu Rev Polit Sci 21:441–460

Dion ML, Birshfield V (2010) Economic development, income inequality and preferences for redistribution. Int Stud Q 54:315–334

Djankov S, Qian Y, Roland G, Zhuravskaya E (2006) Who are China's entrepreneurs? Am Econ Rev 96(2):348–352

Falk A, Becker A, Dohmen T, Enk B, Huffman D, Sunde U (2018) Global evidence on economic preference. Q J Econ 133(4):1645–1692

Fehr E (2009) On the Economics and Biology of trust. J Eur Econ Assoc 7:235–266

Fong C (2001) Social preferences, self-interest, and the demand for redistribution. J Public Econ 82:225–246

Fong CM, Bowles S, Gintis H (2005) Behavioural motives for income redistribution. Aust Econ Rev 38(3):285–297

Fossati F (2018) How regimes shape references. A study of political actors' labour market policy preferences in flexicurity and dialyzing countries. Socio Econ Rev 16(3):523–544

Gintis H, Bowles S, Boyd R, Fehr H (2003) Explaining altruistic behavior in humans. Evol Hum Behav 24:153–172

Henrich J, Boyd R, Bowles S, Camerer C, Fehr E, Gintis H, McElreath R (2001) In search of homo economicus: behavioral experiments in 15 small-scale societies. Am Econ Rev 91(2):73–78

Holliday I (2000) Productivist welfare capitalism: social policy in East Asia. Polit Stud 48(4):706–723

Inglehart R, Haerpfer C, Moreno A, Welzel C, Kizilova K, Diez-Medrano J, Lagos M, Norris P, Ponarin E, Puranen B et al (eds) (2014) World Values survey: round six-country-pooled datafile 2010–2014. JD Systems Institute, Madrid. http://www.worldvaluessurvey.org/WVSDocumentationWV6.jsp

Inoguchi T (2003–2007) AsiaBarometer Survey Data 2003–2007 [computer file]. Asia Barometer Project. http://www.asiabarometer.org/. Accessed 12 May 2017

Kim H, Huh S, Choi S, Lee Y (2017) Perceptions of inequality and attitudes towards redistribution in four East Asian welfare states. Int J Soc Welf 27(1):28–39

Lee YJ, Ku YW (2007) East Asian welfare regimes: testing the hypothesis of the developmental welfare state. Soc Policy Adm 41(2):197–212

Lim S, Burgoon B (2018) Globalization and support for unemployment spending in Asia: do Asian citizens want to embed liberalism? Socio Econ Rev (forthcoming)

Lindert PH (2004) Growing public: social spending and economics growth since the eighteenth century 1, 2. Cambridge University Press, Cambridge

Luebker M (2014) Income inequality, redistribution, and poverty: contrasting rational choice and behavioral perspectives. Rev Income Wealth 60(1):133–154

Meltzer AH, Richard SF (1981) A rational theory of the size of government. J Polit Econ 89(5):914–927

Moene KO, Wallerstein M (2001) Inequality, social insurance, and redistribution. Am Polit Sci Rev 95(December):859–874

Pagès J (2015) Multiple factor analysis by example using R. Chapman & Hall/CRC, Boca Raton

Park C, Jung D (2009) Making sense of the Asian welfare regimes. Korean J Sociol 43(3):57–85

Rehm P (2009) Risks and redistribution: an individual-level analysis. Comp Polit Stud 42(7):855–881

Rueda D (2018) Food comes first, then morals: redistribution preferences, parochial altruism and immigration in Western Europe. J Polit 80(1):225–239

Schechter L (2007) Traditional trust measurement and the risk confound: an experimental in rural Paraguay. J Econ Behav Organ 62:272–292

Sturgeon T, Kawakami M (2011) Global value chains in the electronics industry: characteristics, crisis, and upgrading opportunities for firms from developing countries. Int J Technol Learn Innov Dev 4(1):120–147

Tohyama H (2015) Varieties of Asian welfare capitalisms and the influence of globalization. J Int Comp Soc Policy 31(1):51–73
Ethics declarations
Conflict of interest
There is no conflict of interest.
Ethical approval
This article does not contain any studies with human participants or animals performed by the author.
Additional information
Publisher's Note
Springer Nature remains neutral with regard to jurisdictional claims in published maps and institutional affiliations.
Electronic supplementary material
Below is the link to the electronic supplementary material.
About this article
Cite this article
Tohyama, H. How does a liberalizing market influence a synergy between redistribution preference and social preferences in Asian socio-economies?. Evolut Inst Econ Rev 16, 455–477 (2019). https://doi.org/10.1007/s40844-019-00139-z
Keywords
Government expenditure and welfare programs

Comparative studies

Redistribution preference

Social preference

Institution

Asia
JEL Classification