Abstract
We investigate what properties are associated with knowledge-creating communities. Using unique Japanese patent data and a community-detection method, we separate Japanese business establishments into communities composed of connections through joint patent applications. By comparing actual and random communities, we reveal that communities are similar in the total patents applied for, the total citations, and geographic distance and that they are dissimilar in their knowledge distance. The findings can benefit those who develop collaboration strategies in firms and create government policies to nurture collaborations among business establishments.
This is a preview of subscription content, log in to check access.
Access options
Buy single article
Instant access to the full article PDF.
US$ 39.95
Price includes VAT for USA
Subscribe to journal
Immediate online access to all issues from 2019. Subscription will auto renew annually.
US$ 99
This is the net price. Taxes to be calculated in checkout.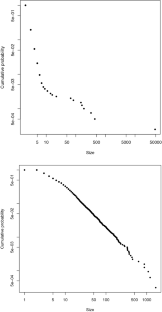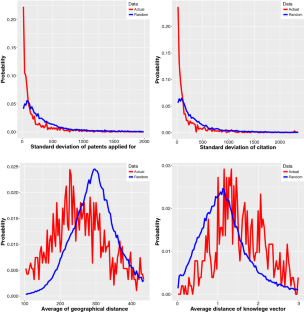 References
Barabási A-L (2016) Network science. Cambridge University Press, Cambridge

Benner M, Waldfogel J (2008) Close to you? Bias and precision in patent-based measures of technological proximity. Res Policy 37(9):1556–1567

Berliant M, Fujita M (2008) Knowledge creation as a square dance on the Hilbert cube. Int Econ Rev 49(4):1251–1295

Bloom NN, Schankerman M, Van Reenen J (2013) Identifying technology spillovers and product market rivalry. Econometrica 81(4):1347–1393

Fleming L, Mingo S, Chen D (2007a) Collaborative brokerage, generative creativity, and creative success. Admin Sci Q 52(3):443–475

Fleming L, King C III, Juda AI (2007b) Small worlds and regional innovation. Org Sci 18(6):938–954

Forti E, Franzoni C, Sobrero M (2013) Bridges or isolates? Investigating the social networks of academic inventors. Res Policy 42(8):1378–1388

Fortunato S, Barthelemy M (2007) Resolution limit in community detection. Proc Natl Acad Sci 104(1):36–41

Gautam A (2000) Collaboration networks, structural holes, and innovation: a longitudinal study. Admin Sci Q 45(3):425–455

Gonzalez-Brambila CN, Veloso FM, Krackhardt D (2013) The impact of network embeddedness on research output. Res Policy 42(9):1555–1567

Goto A, Motohashi K (2007) Construction of a Japanese patent database and a first look at Japanese patenting activities. Res Policy 36(9):1431–1442

Griliches Z (1998) R&D and productivity—the economic evidence. The University of Chicago Press, Chicago

Inoue H, Liu Y (2015) Revealing the intricate effect of collaboration on innovation. PLoS One 10(3):e0121973

Inoue H, Nakajima K, Saito YU (2013) Localization of collaborations in knowledge creation. RIETI Discussion Paper Series, 13-E-070

Inoue H, Nakajima K, Saito YU (2015) Innovation and collaboration patterns between research establishments. RIETI Discussion Paper Series, 15-E-049

Jones BF (2005) The burden of knowledge and the 'death of the renaissance man': is innovation getting harder? NBER Working Paper Series

Kawamoto T, Rosvall M (2015) Estimating the resolution limit of the map equation in community detection. Phys Rev E 91(1):012809

Lancichinetti A, Fortunato S (2009) Community detection algorithms: a comparative analysis. Phys Rev E 80(5):056117

Merton RK (1979) The sociology of science: theoretical and empirical investigations. University of Chicago Press, Chicago

Nagaoka S, Motohashi K, Goto A (2010) Patent statistics as an innovation indicator. In: Handbook of the economics of innovation, vol 2. Elsevier, pp 1083–1127

Porter ME (1998) On competition. Harvard Business School Press, Brighton

Rosvall M, Bergstrom CT (2008) Maps of random walks on complex networks reveal community structure. Proc Natl Acad Sci 105(4):1118–1123

Rosvall M, Bergstrom CT (2011) Multilevel compression of random walks on networks reveals hierarchical organization in large integrated systems. PLoS One 6(4):e18209

Simonton DK (1988) Scientific genius: a psychology of science. Cambridge University Press, Cambridge

Trajtenberg M (1990) A penny for your quotes: patent citations and the value of innovations. Rand J Econ 21(1):172–187

Weisberg RW (2006) Creativity: understanding innovation in problem solving, science, invention, and the arts. Wiley, New York

Wuchty S, Jones BF, Uzzi B (2007) The increasing dominance of teams in production of knowledge. Science 316(5827):1036–1039
Ethics declarations
Conflict of interest
The authors declare that they have no conflict of interest.
Human and animal participants
This article does not contain any studies with human participants or animals performed by any of the authors.
Informed consent
Informed consent was obtained from all individual participants included in the study.
Additional information
I thank Kentaro Nakajima for his helpful comments. We gratefully acknowledge financial support from the Japan Society for the Promotion of Science (18K04615).
About this article
Cite this article
Inoue, H. The community structure of business establishments and its properties: evidence from joint patent applications. Evolut Inst Econ Rev 15, 465–475 (2018). https://doi.org/10.1007/s40844-018-0116-7
Keywords
Network

Patent

Business establishment

Community

Innovation
JEL Classification