Abstract
We find experimental evidence suggesting that market institutions are capable of developing their own cultures by influencing generalized and individualized trust. We employ two different markets in this study: the first market fully and automatically enforces all agreed-upon contracts; and the second market offers no such enforcement and allows subjects to defect on previously agreed-upon contracts. We find that a type of culture where people treat one another more or less equally and indiscriminately emerges with the first market, while a culture where people differentiate between the trustworthy and the untrustworthy emerges with the second market. While generalized trust remains the same across both treatments, individualized trust was only important in the treatment where contracts were not enforced in the experimental market. In the treatment where the market offered no enforcement, subjects exhibited less trust towards those with whom they had developed negative relationships and reciprocated at higher levels to those with whom that had developed positive relationships.
Access options
Buy single article
Instant access to the full article PDF.
US$ 39.95
Tax calculation will be finalised during checkout.
Subscribe to journal
Immediate online access to all issues from 2019. Subscription will auto renew annually.
US$ 79
Tax calculation will be finalised during checkout.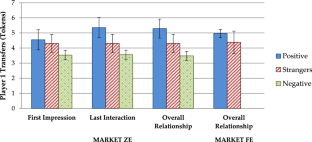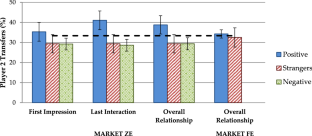 Notes
1.

2.

See Alesina and Giuliano (2015) for a comprehensive overview of the empirical research in economics that concludes culture matters for economic outcomes.

3.

While we specifically focus on market institutions here, Ockenfels and Weimann (1999) more broadly addresses formal institutions. Their study speaks to how the types of institutions to which individuals are exposed can influence their social and cultural norms, which in turn inform their economic decisions. They attribute apparent cultural differences between eastern and western Germans to their exposure to socialism or capitalism during the Cold War. "After the end of the cold war, we can now examine cultural differences, namely differences in the cooperation and solidarity behavior of subjects living in former East and former West Germany. Eastern subjects grew up in a socialist planned economy, while western subjects have been socialized in a market-oriented environment" (Ockenfels and Weimann 1999, 276).

4.

There was one Market ZE session with twelve subjects. In this session, the market consisted of six buyers and six sellers. Comparisons showed the Market ZE session with twelve subjects to be no different from those with eight subjects (analysis not included in this study).

5.

Coincidentally, no two buyers received the same value within the same round.

6.

For clarification, the computer displayed no information about executed contracts in past trading rounds. We employed record sheets to allow subjects to carry their own market histories, which we further discuss in Sect. 3.4.

7.

This is the original, unmodified trust game as implemented by Berg, Dickhaut and McCabe (1995).

8.

In an ideal laboratory economic experiment, any systematic difference(s) observed between treatments (i.e., the main/treatment effect) is a direct result of a change(s) in the decision environment operationalized through the experimental design itself. In such cases, the experimenter is able to then speak about her hypothesis by linking the main design manipulation to the observed effect. The worst-case scenario for such an experiment would be one where the main effect is, instead, a direct result of a fundamental difference across treatments at the subject-level (and not of the main design manipulation). To mitigate the possibility of the worst-case scenario, experimentalists have designed and adopted a best-faith recruiting method where participants for an experiment are randomly selected from the same subject pool. While not a guarantee, this random sampling method assuages experimenters that (1) a representative sample was chosen for each of the various treatments and (2) any biases specific to this subject pool would then be minimized as an issue for their results. Since we adopted this standard recruiting method, we are confident that we had comparable samples in Markets ZE and FE treatments. Note that this is not necessarily true of all experimental studies in economics; some studies do want to examine how different groups of people (e.g., members of different cultures, countries, age groups, or the different sexes) behave in the same decision environment. In those experimental studies, any systematic difference(s) observed at the treatment-level would be attributed to how these groups are fundamentally different.

9.

One subject opted to not fully complete the survey and another chose not to complete the risk attitude measure. The graduate students were not working on an economics degree and were previously not acquainted with either of the authors.

10.

In the experimental economics literature, there are studies that speak to how first impressions can matter for economic decisions. For instance, Eckel and Petrie (2011) and Centorrino et al. (2015) find that appearances matter for trust games. Castillo and Petrie (2010) report that subjects utilize race to predict economic behavior when payoff relevant information is absent. To the best of our knowledge, there is no experimental literature that directly addresses last impressions; last impressions, as defined here, differ from last round (or end-of-game) effects because our subjects interact with each other again after the last trading round. The closest analogy may be the restart effect. Andreoni (1988), for example, finds that restarting a public goods game has a disparate effect on stranger- and partner-plays.

11.

This is, of course, not to say that objective facts about what happened do not matter; it is simply that our primary interest in this study was our subject's perceptions.

12.

Several subjects misreported their trading partner's identities onto the market record sheets, thus affecting the total number of positive and negative interactions they had with a particular trading partner. Because this paper seeks to understand how a subject's perception about a trading partner and their shared relationship affects the trust and reciprocity he exhibits to the said trading partner, we do not view the subject errors to be an issue. It should be noted, however, that the significance of our results (Sect. 5) becomes even stronger if we use z-Tree records instead of subject-reported records (analysis not included in this study).

13.

The Market ZE session with twelve subjects generates a total of 36 possible buyer–seller relationships.

14.

We rationalize that enjoying a positive relationship with a person, for example, does not preclude us from enjoying a positive relationship with another person. Furthermore, looking at just those buyer–seller pairs who interacted at least once on the market, the median number of interactions per trading partner is 2 with the midspread occurring between 1 and 3 for both Markets FE and ZE. Hence, choosing to interact with a specific trading partner in a trading round does not seem to have cost the other three potential trading partners the opportunity to interact and form relationships with the subject.

15.

For this analysis, we exclude any subject who reported that they held dual (or more) citizenships or that they belonged to more than one race.
References
Alesina A, Giuliano P (2015) Culture and institutions. J Econ Lit 53(4):898–944

Andreoni J (1988) Why free ride? Strategies and learning in public goods experiments. J Public Econ 37:291–304

Arrow K (1972) Gifts and exchange. Philos Public Aff 1:343–362

Barr A, Serra D (2010) Corruption and culture: an experimental analysis. J Public Econ 94(11–12):862–869

Berg J, Dickhaut J, McCabe K (1995) Trust, reciprocity and social history. Games Econ Behav 10:122–142

Brandts J, Riedl A (2016) Market competition and efficient cooperation. CESifo Working Paper Series No. 5694

Buchan N, Croson R, Dawes R (2002) Swift neighbors and persistent strangers: a cross-cultural investigation of trust and reciprocity in social exchange. Am J Soc 108:168–206

Burlando R, Hey JD (1997) Do anglo-saxons free-ride more? J Public Econ 64(1):41–60

Carpenter JP, Daniere AG, Takahashi LM (2004) Cooperation, trust, and social capital in Southeast Asian urban slums. J Econ Behav Org 55:533–551

Castillo M, Petrie R (2010) Discrimination in the lab: does information trump appearance? Games Econ Behav 68(1):50–59

Centorrino S, Djemai E, Hopfensitz A, Milinski M, Seabright P (2015) Honest signaling in trust interactions: smiles rated as genuine induce trust and signal higher earning opportunities. Evol Hum Behav 36(1):8–16

Chamberlin EH (1948) An experimental imperfect market. J Polit Econ 56(2):95–108

Chuah S-H, Hoffman R, Jones M, Williams G (2007) Do cultures clash? Evidence from cross-national ultimatum game experiments. J Econ Behav Org 64(1):35–48

Costa-Gomez M, Zauner KG (2001) Ultimatum bargaining behavior in Israel, Japan, Slovenia, and the United States: A social utility analysis. Games Econ Behav 34(2):238–269

Eckel CC, Petrie R (2011) Face value. Am Econ Rev 101(4):1497–1513

Ensminger J (2004) Market integration and fairness: evidence from ultimatum, dictator, and public good experiments in East Africa. In: Henrich J, Boyd R, Bowles S, Camerer C, Fehr E, Gintis H (eds) Foundations of human sociality. Oxford University Press, Oxford, pp 356–381

Ensminger J, Cook K (2014) Pro-sociality in rural America: evidence from dictator, ultimatum, public goods, and trust games. In: Ensminger J, Henrich J (eds) Experimenting with social norms: fairness and punishment in cross-cultural perspective. The Russell Sage Foundation, New York, pp 445–464

Fehr E, Gachter S (2000) Fairness and retaliation: the economics of reciprocity. J Econ Perspect 14(3):159–181

Fehr E, Kirchsteiger G, Riedl A (1993) Does fairness prevent market clearing? An experimental investigation. Q J Econ 108:437–459

Fischbacher U (2007) z-Tree: Zurich toolbox for ready-made economic experiments. Exp Econ 10(2):171–178

Foddy M, Yamagishi T (2009) Group-based trust. In: Cook K, Levi M, Hardin R (eds) Whom can we trust?. Russell Sage Foundation, New York, pp 17–41

Fukuyama F (1995) Trust: the social virtues and the creation of prosperity. Hamish Hamilton, London

Geertz C (1973) The interpretation of cultures. Basic Books, New York

Greif A (1994) Cultural beliefs and the organization of society: a historical and theoretical reflection on collectivist and individualist societies. J Polit Econ 102(5):912–950

Hayek FA (1945) The use of knowledge in society. Am Econ Rev 35(4):519–530

Hayek FA (1976) Law, legislation, and liberty, volume 2: The mirage of social justice. University of Chicago Press, Chicago

Hemesath M, Pomponio X (1998) Cooperation and culture: students from China and the United States in a prisoner's dilemma. Cross Cult Res J Comp Soc Sci 32(2):171–184

Henrich J (2000) Does culture matter in economic behavior? Ultimatum game bargaining among the Machiguenga of the peruvian Amazon. Am Econ Rev 90(4):973–979

Henrich J, Boyd R, Bowles S, Camerer C, Gintis H, McElreath R, Fehr E (2001) In search of homo-economicus: behavioral experiments in 15 small-scale societies. Am Econ Rev 91:73–78

Henrich J, Boyd R, Bowles S, Camerer C, Fehr E, Gintis H (2004) Foundations of human sociality. Oxford University Press, Oxford

Henrich J, Boyd R, Bowles S, Camerer C, Fehr E, Gintis H, McElreath R, Alvard M, Barr A, Ensminger J, Smith Henrich N, Hill K, Gil-White F, Gurven M, Marlowe F, Patton J, Tracer D (2005) "Economic Man" in cross-cultural perspective: behavioral experiments in 15 small-scale societies. Behav Brain Sci 25:795–855

Henrich J, Ensminger J, McElreath R, Barr A, Barrett C, Bolyanatz A, Cardenas J, Gurven M, Gwako E, Henrich N, Lesorogol C, Marlowe F, Tracer D, Ziker J (2010) Markets, religion, community size, and the evolution of fairness and punishment. Science 327:1480–1484

Herz H, Taubinsky D (2017) What makes a price fair? An experimental study of transaction experience and endogenous fairness views. J Eur Econ Assoc 16:316–352

Holm HJ, Danielson A (2005) Tropic trust versus nordic trust: experimental evidence from Tanzania and Sweden. Econ J 115:505–532

Holt C, Laury S (2002) Risk aversion and incentive effects. Am Econ Rev 92(5):1655–1655

Johnson N, Mislin A (2011) Trust games: a meta-analysis. J Econ Psychol 32:865–889

Knack S, Keefer P (1997) Does Social capital have an economic payoff? A cross-country investigation. Q J Econ 112(4):1251–1288

Lavoie D (1985) The market as a procedure for discovery and conveyance of inarticulate knowledge. Comp Econ Stud 28:1–19

Levine RV, Norenzayan A, Pilbrick K (2001) Cross-cultural differences in helping strangers. J Cross Cult Psychol 32(5):543–560

McCabe KA, Rassenti SJ, Smith VL (1996) Game theory and reciprocity in some extensive form games. Proc Natl Acad Sci USA 93(23):13421–13428

North DC (1990) Institutions, institutional change and economic performance. Cambridge University Press, Cambridge

Ockenfels A, Weimann J (1999) Types and patterns: an experimental East–West-German comparison of cooperation and solidarity. J Public Econ 71(2):275–287

Okun AM (1981) Prices and quantities: a macroeconomic analysis. Brookings Institution Press, Washington, DC

Oosterbeek H, Sloof R, van de Kuilen G (2004) Cultural differences in ultimatum game experiments: evidence from a meta-analysis. Exp Econ 7(2):171–188

Renner E, Tyran J-R (2004) Price rigidity in customer markets. J Econ Behav Org 55:575–593

Roth A (1995) Bargaining experiments. In: Kagel J, Roth A (eds) Handbook of experimental economics. Princeton University Press, Princeton, pp 253–348

Roth AE, Prasnikar V, Okuno-Fujiwara M, Zamir S (1991) Bargaining and market behavior in Jerusalem, Ljubljana, Pittsburgh, and Tokyo: an experimental study. Am Econ Rev 81:1068–1095

Storr VH (2013) Understanding the culture of markets. Routledge, New York

Tabellini G (2010) Culture and institutions: economic development in the regions of Europe. J Eur Econ Assoc 8(4):677–716

Tracer D (2004) Market integration, reciprocity, and fairness in rural Papua New Guinea: results from a two-village ultimatum game experiment. In: Henrich J, Boyd R, Bowles S, Camerer C, Fehr E, Gintis H (eds) Foundations of human sociality. Oxford University Press, Oxford, pp 232–259

Tu Q, Bulte E (2010) Trust, market participation and economic outcomes: evidence from rural China. World Dev 38(8):1179–1190

Weimann G (1994) Individual behaviour in a free-riding experiment. J Public Econ 54(2):185–200
Acknowledgements
This paper has been presented at BEEMA Conference (2015), North American Economic Science Association (2016) and Southern Economic Association (2016) as "Learning Whom to Trust." We thank the participants of these conferences and our other colleagues at ICES, The Mercatus Center and Saint Vincent College for helpful comments and suggestions. This work was funded by The Mercatus Center at George Mason University.
Ethics declarations
Conflict of interest
On behalf of all authors, the corresponding author states that there is no conflict of interest. All remaining errors are our own.
About this article
Cite this article
Choi, G., Storr, V.H. Market institutions and the evolution of culture. Evolut Inst Econ Rev 15, 243–265 (2018). https://doi.org/10.1007/s40844-018-0103-z
Keywords
JEL Classification