Abstract
Classroom furniture has evolved over time from fixed desks facing the front to maintain order and control to a range of flexible furniture types to encourage student-centred pedagogies. This article reports research that applied a socio-material approach to explore how furniture is used in a flexible learning environment. Data were gathered from observations, reflections, student focus group interviews and teacher interviews in one school in New Zealand. In this context it was found that students used furniture for different purposes. Individual student preferences and differences were evident including unconventional use of furniture. The use of furniture was influenced by the teachers, students, environment, furniture design and the curriculum, and mediated by pedagogy and a focus on developing autonomy and environmental competence. The students demonstrated environmental competence, including awareness of the ways that the available furniture can be used for different types of curriculum activities and how environmental and social conditions can affect comfort, collaboration and concentration levels. In classrooms where students move around the space, environmental competence should be deliberately embedded in the teaching programme implicitly and explicitly. In this context, the teachers controlled the environment and the students had restricted autonomy over their use of furniture. The notion of student-centredness in contemporary classroom environments requires further investigation.
Access options
Buy single article
Instant access to the full article PDF.
US$ 39.95
Tax calculation will be finalised during checkout.
Subscribe to journal
Immediate online access to all issues from 2019. Subscription will auto renew annually.
US$ 79
Tax calculation will be finalised during checkout.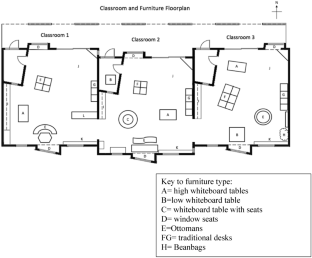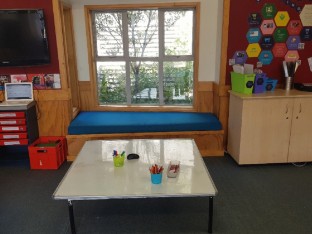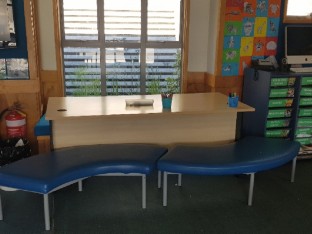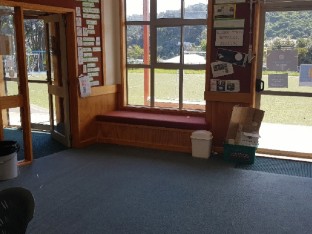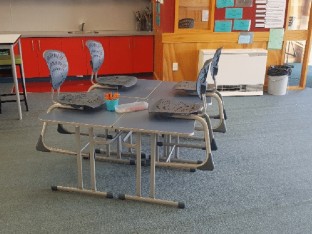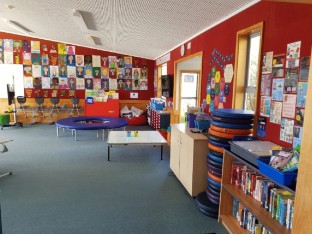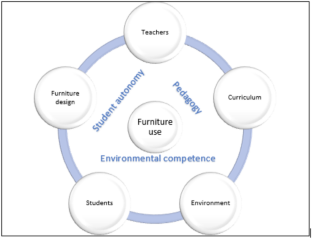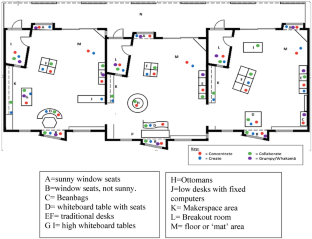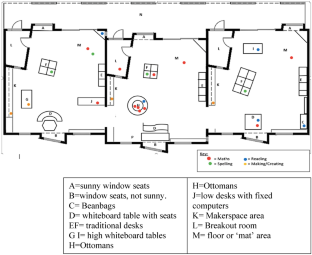 References
Berchuck, I., & Tauss, V. (1973). Opening classroom: guiding the transition from traditional to open classroom. Elementary School Journal, 74, 78–83. https://doi.org/10.1086/460803.

Binboğa, E., & Korhan, O. (2014). Posture, musculoskeletal activities, and possible musculoskeletal discomfort among children using laptops or tablet computers for educational purposes: A literature review. Journal of Science Education & Technology, 23(5), 605–616. https://doi.org/10.1007/s10956-014-9505-9.

Brunelli, M., & Meda, J. (2017). Gymnastics between school desks. History of Education Review, 46(2), 178–193.

Cardon, G., De Clercq, D., De Bourdeaudhuij, I., & Breithecker, D. (2004). Sitting habits in elementary schoolchildren: A traditional versus a "Moving school." Patient Education and Counseling, 54(2), 133–142.

Charteris, J., Smardon, D., & Nelson, E. (2017). Innovative learning environments and new materialism: A conjunctural analysis of pedagogic spaces. Educational Philosophy & Theory, 49(8), 808–821. https://doi.org/10.1080/00131857.2017.1298035.

da Silva, L. B., Eliza, J., Coutinho, A. S., Soares, E. V. G., de Lourdes Silva dos Santos, R., Jacobs, K., & Soares, M. M. (2012). Analysis on the relationship between the school furniture and the work surface lighting and the body posture of public Middle School students from João Pessoa, Paraíba, Brazil. Work, 41, 5540–5542.

Deed, C., & Lesko, T. (2015). 'Unwalling'the classroom: Teacher reaction and adaptation. Learning Environments Research, 18(2), 217–231.

Dyson, S. M., Abuateya, H., Atkin, K., Culley, L., Dyson, S. E., & Rowley, D. (2010). Reported school experiences of young people living with sickle cell disorder in England. British Educational Research Journal, 36(1), 125.

Fenwick, T., Edwards, R., & Sawchuk, P. (2015). Emerging approaches to educational research: Tracing the socio-material. London: Routledge.

Fenwick, T., & Landri, P. (2012). Materialities, textures and pedagogies: Socio-material assemblages in education. Pedagogy, Culture & Society, 20(1), 1–7.

Garcia, J. J., Huang, T., Trowbridge, M., Weltman, A., Sirard, J., Garcia, J. M., . . . Sirard, J. R. (2016). Comparison of the Effects of Stable and Dynamic Furniture on Physical Activity and Learning in Children. Journal of Primary Prevention, 37(6), 555-560. doi:https://doi.org/10.1007/s10935-016-0451-6

Hageman, H. A. (1935). Streamlined schoolhouses wanted by newton planner. Journal of Education, 118(15), 425–425.

Herman, F., Van Gorp, A., Simon, F., & Depaepe, M. (2011). The school desk: From concept to object. History of Education, 40(1), 97.

Kariippanon, K. E., Cliff, D. P., Lancaster, S. L., Okely, A. D., & Parrish, A.-M. (2018). Perceived interplay between flexible learning spaces and teaching, learning and student wellbeing. Learning Environments Research, 21(3), 301–320. https://doi.org/10.1007/s10984-017-9254-9.

Kim, C., Kim, M. K., Lee, C., Spector, J. M., & DeMeester, K. (2013). Teacher beliefs and technology integration. Teaching and Teacher Education, 29, 76–85.

Knight, G., & Noyes, J. (1999). Children's behaviour and the design of school furniture. Ergonomics, 42(5), 747–760. https://doi.org/10.1080/001401399185423.

Le Garde, E. (1911). Proper school furniture for the child. Journal of Education, 74(1), 11–13.

OECD. (2013). Innovative learning environments. Paris: OECD.

OECD. (2015). Schooling redesigned: Towards innovative learning systems. Paris: OECD.

O'Hare, M. (1998). Classroom design for discussion-based teaching. Journal of Policy Analysis & Management, 17(4), 706–720.

Panagiotopoulou, G., Christoulas, K., Papanckolaou, A., & Mandroukas, K. (2004). Classroom furniture dimensions and anthropometric measures in primary school. Applied Ergonomics, 35(2), 121.

Patton, M. Q. (1990). Qualitative evaluation and research methods. SAGE Publications, inc.

Saarni, L., Nygård, C. H., Kaukiainen, A., & Rimpelä, A. (2007). Are the desks and chairs at school appropriate? Ergonomics, 50(10), 1561–1570. https://doi.org/10.1080/00140130701587368.

Sommer, R. (1977). Classroom layout. Journal of theory into practice., 16(3), 174–175.

Sørensen, E. (2009). The materiality of learning: Technology and knowledge in educational practice. Cambridge: Cambridge University Press.

Starkey, L. (2012). Teaching and learning in the digital age. Londone: Routledge.

Starkey, L. (2019). Three dimensions of student-centred education: A framework for policy and practice. Critical Studies in Education, 60(3), 375–390.

Stewart, S. C., Evans, W. H., & Kaczynski, D. J. (1997). Setting the stage for success: Assessing the instructional environment. Preventing School Failure, 41, 53–56. https://doi.org/10.1080/10459889709603268.

Tormey, T. J. (1942). Furniture and equipment for school buildings. Review of Educational Research, 12, 203–210.
Additional information
Publisher's Note
Springer Nature remains neutral with regard to jurisdictional claims in published maps and institutional affiliations.
About this article
Cite this article
Starkey, L., Leggett, V., Anslow, C. et al. The Use of Furniture in a Student-Centred Primary School Learning Environment. NZ J Educ Stud (2021). https://doi.org/10.1007/s40841-020-00187-9
Received:

Accepted:

Published:
Keywords
Furniture

Student-centred

Primary school

Flexible learning environment

Environmental competence