Abstract
This article describes the results of a study that investigated the effect of features of talk that appear to foster higher levels of interaction, within the scope of a larger study (Davies and Meissel in Br Educ Res J 42:342–365, 2016). Students were recruited from seven classrooms across three secondary schools of varying socioeconomic levels within the Auckland region in New Zealand, with four of the classrooms engaging in face-to-face and online discussion in small groups and the other three participating as whole classes. Results indicated a significant increase in the proportion of uptake questions used by students working in small groups for face-to-face group discussions. When placed in online groups (the same groups as the face-to-face groups), uptake questions increased. Classes who worked as a whole class online used significantly more elaborated explanations but, consequently, fewer interactions—less than half as many as the small groups. The results suggest that students using uptake questions fostered higher levels of interactions in both conditions.
This is a preview of subscription content, log in to check access.
Access options
Buy single article
Instant access to the full article PDF.
US$ 39.95
Price includes VAT for USA
Subscribe to journal
Immediate online access to all issues from 2019. Subscription will auto renew annually.
US$ 99
This is the net price. Taxes to be calculated in checkout.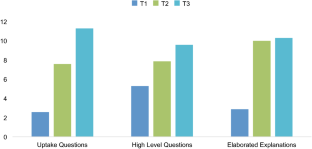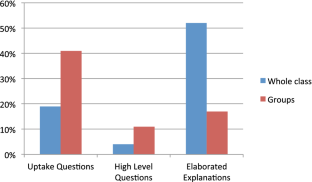 References
Adey, P., & Shayer, M. (2013). Piagetian approaches. In J. Hattie & E. M. Anderman (Eds.), International guide to student achievement (pp. 28–31). New York, NY: Routledge.

Anderson, R. C., Nguyen-Jahiel, K., McNurlen, B., Archodidou, A., Kim, S., & Reznitskaya, A. (2001). The snowball phenomenon: Spread of ways of talking and ways of thinking across groups of children. Cognition and Instruction, 19, 1–46.

Applebee, A. N., Langer, J. A., Nystrand, M., & Gamoran, A. (2003). Discussion-based approaches to developing understanding: Classroom instruction and student performance in middle and high school English. American Educational Research Journal, 40(3), 685–730.

Bakhtin, M. (1986). Speech genres and other late essays. Austin, TX: University of Texas Press.

Barnes, D., & Todd, F. (1978). Communication and learning in small groups. London, England: Routledge & Keegan Paul.

Bernstein, B. (1975). Class, codes and action. Vol. 3: Towards a theory of educational transmissions. London, England: Routledge & Keegan Paul.

Cheong, C. M., & Cheung, W. S. (2008). Online discussion and critical thinking skills: A case study in a Singapore secondary school. Australasian Journal of Educational Technology, 24(5), 556–573.

Chinn, C. A., Anderson, R. C., & Waggoner, M. (2001). Patters of discourse in two kinds of literature discussions. Reading Research Quarterly, 36, 378–411.

Cho, H., Gay, G., Davidson, B., & Ingraffea, A. (2007). Social networks, communication styles, and learning performance in a CSCL community. Computers & Education, 49(2), 309–329.

Davies, M. J., & Meissel, K. (2016). The use of quality talk to increase critical analytical speaking and writing of students in three secondary schools. British Educational Research Journal, 42(2), 342–365. https://doi.org/10.1002/berj.3210.

Davies, M. J., & Sinclair, A. (2013). The effectiveness of on-line discussions for preparing students for a Paideia seminar. Technology, Pedagogy and Education, 22(2), 173–193. https://doi.org/10.1080/1475939X.2013.773719.

Freire, P. (1970). Pedagogy of the oppressed. New York, NY: Seabury.

Garrison, D. R., Anderson, T., & Archer, W. (2001). Critical thinking, cognitive presence and computer conferencing in distance education. American Journal of Distance Education, 15(1), 7–23.

Heath, S. (1983). Ways with words: Language, life and work in communities and classrooms. Cambridge, England: Cambridge University Press.

Lee, S. (2005). Electronic spaces as an alternative to traditional classroom discussion and writing in secondary English classrooms. Journal of Asynchronous Learning Network, 9(3), 25–46.

Matusov, E. (2009). Journey into dialogic pedagogy. Hauppauge, NY: Nova Publishers.

May, S. (1993). Collaborative learning: More is not necessarily better. American Journal of Distance Education, 7(3), 39–50.

Mazzolini, M., & Maddison, S. (2007). When to jump in: The role of the instructor in online discussion forums. Computers & Education, 49(2), 193–213. https://doi.org/10.1207/S15326950DP3502_3.

McLaren, P., Macrine, S., & Hill, D. (2010). Revolutionizing pedagogy: Educating for social justice within and beyond global neo-liberalism. London, England: Palgrave Macmillan.

Mercer, N., & Littleton, K. (2007). Dialogue and the development of children's thinking: A sociocultural approach. London, England: Routledge.

Merleau-Ponty, M. (2005). In C. Smith (Ed.), Phenomenology of perception. London, England: Routledge.

Nystrand, M., Wu, L. L., Gamoran, A., Zeiser, S., & Long, D. (2003). Questions in time: Investigating the structure and dynamics of unfolding classroom discourse. Discourse Processes, 35(2), 135–198. https://doi.org/10.1207/S15326950DP3502_3.

Oakeshott, M. (1962). The voice of poetry in the conversation of mankind, rationalism in politics and other essays. London, England: Methuen.

Piaget, J. (1962). Play, dreams, and imitation in childhood. New York, NY: Norton & Co.

Redmon, R., & Burger, M. (2004). Web CT discussion forums: Asynchronous group reflection of the student teaching experience. Curriculum and Teaching Dialogue, 6(2), 157–166.

Rovai, A. P. (2007). Facilitating online discussions effectively. The Internet and Higher Education, 10(1), 77–88.

Schrire, S. (2006). Knowledge building in asynchronous discussion groups: Going beyond quantitative analysis. Computers and Education. https://doi.org/10.1016/j.compedu.2005.04.006.

Soter, A., Wilkinson, I. A. G., Murphy, P. K., Rudge, L., & Reninger, K. B. (2016). Analyzing the discourse of discussion: Coding manual (Technical report, unpublished manuscript). Department of Teaching and Learning, College of Education & Ecology, The Ohio State University, Columbus, OH, USA.

Steinberg, L. D. (2005). Adolescence (7th ed.). New York, NY: McCraw-Hill.

Vygotsky, L. (1978). In M. Cole, V. John-Steiner, S. Scribner, & E. Souberman (Eds.), Mind in society: The development of higher psychological processes. Cambridge, MA: Harvard University Press.

Wegerif, R., Fujita, T., Doney, J., Linares, J. P., Andrews, R., & Van Rhyn, C. (2016). Developing and trialing a measure of group thinking. Learning and Instruction, 48(September), 40–50. https://doi.org/10.1016/learninstruc.2016.08.001.

Wegerif, R., & Mercer, N. (1997). A dialogical framework for researching peer talk. In R. Wegerif & P. Scrimshaw (Eds.), Computers and talk in the primary classroom (pp. 49–65). UK, Multilingual Matters: Clevedon.

Wells, G. (1978). Talking with children: The complementary roles of parents and teachers. English in Education, 12, 15–38. https://doi.org/10.1111/j.1754-8845.1978.tb00010.x.

Wells, G. (2006). Monologic and dialogic discourses as mediators of education. Research in the Teaching of English, 41(2), 168–175.

Wertsch, J. V. (1985). Vygotsky and the social formation of mind. Cambridge, MA: Harvard University Press.
About this article
Cite this article
Davies, M.J., Meissel, K. Secondary Students Use of Dialogical Discussion Practices to Foster Greater Interaction. NZ J Educ Stud 53, 209–225 (2018). https://doi.org/10.1007/s40841-018-0119-2
Received:

Accepted:

Published:

Issue Date:
Keywords
Students' questioning

Interactive talk

Online learning

Group discussions

Secondary education