Abstract
New Zealand officially provides free education to domestic students between the years of 5–19 in state and state-integrated schools, but the schools can legally require families to provide school uniforms and stationery, and examination fees apply at the upper secondary-school level. State-integrated schools can also charge attendance dues to cover property maintenance. Additionally, schools of either kind can request donations, and charge for activities beyond those deemed necessary for curriculum coverage. This article presents findings from a survey of parents/caregivers about the ways the costs associated with education influence their children's participation in school-based activities. Some respondents believe costs are precluding children from full participation in normal educational experiences and socialisation alongside their more advantaged peers. There is a need for further research to investigate how this could impact on school achievement.
This is a preview of subscription content, log in to check access.
Access options
Buy single article
Instant access to the full article PDF.
US$ 39.95
Price includes VAT for USA
Subscribe to journal
Immediate online access to all issues from 2019. Subscription will auto renew annually.
US$ 99
This is the net price. Taxes to be calculated in checkout.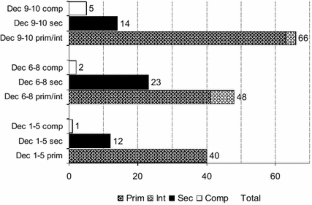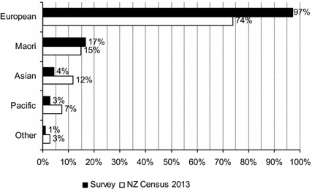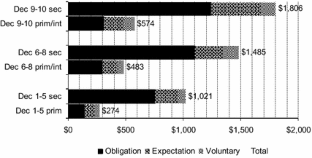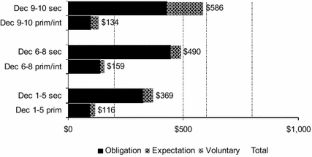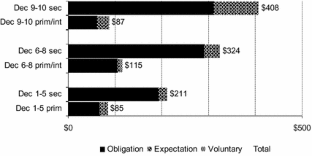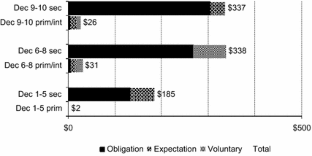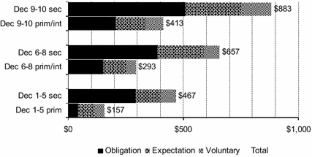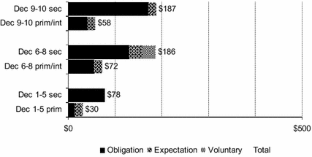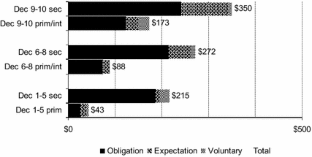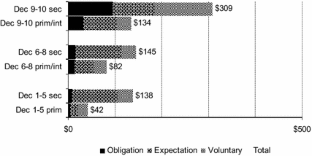 References
Alton-Lee, A. (2003). Quality teaching for diverse students in schooling: Best evidence synthesis. Wellington: Ministry of Education. Retrieved from http://www.educationcounts.govt.nz/publications/series/2515/5959

Biddulph, F., Biddulph, J., & Biddulph, C. (2003). The complexity of community and family influences on children's achievement in New Zealand: Best evidence synthesis. Wellington: Ministry of Education. Retrieved from http://www.educationcounts.govt.nz/publications/series/2515/5947

Boston, J., & Chapple, S. (2014). Child poverty in New Zealand. Wellington: Bridget Williams Books.

Children's Commission on Poverty. (2014). At what cost? Exposing the impact of poverty on school life. London: The Children's Society. Retrieved from http://www.childrenssociety.org.uk/what-we-do/resources-and-publications/publications-library/at-what-cost-exposing-the-impact-of-poverty-on-school-life-full-report

Davies, D. (2001). School entry assessment: June 1997–December 2000. Wellington: Research Division, Ministry of Education. Retrieved from https://www.educationcounts.govt.nz/publications/curriculum/school_entry_assessment_june_1997-dec_2000

Day, S. (2015, April 12). Decile funding set for review. Sunday Star Times.

Education Counts. (2015). Number of schools. Retrieved from http://www.educationcounts.govt.nz/statistics/schooling/number-of-schools

Elley, W. (2015). PISA and high-stakes standards based assessment. Quality Public Education Coalition newsletter.

Gershon, M. (2015). How to be outstanding in the classroom: Raising achievement, securing progress and making learning happen. London: Routledge.

Gordon, L. (2015). 'Rich' and 'poor' schools revisited. New Zealand Journal of Educational Studies, 50(1), 7–21.

Hipkins, R. (2004). Changing school subjects for changing times. Paper presented at the PPTA Conference: Charting the future, the way forward for secondary education, Wellington.

Ladd, H. F., & Fiske, E. B. (2001). The uneven playing field of school choice: Evidence from New Zealand. Journal of Policy Analysis and Management, 20(1), 43–64. doi:10.1002/1520-6688(200124)20:1<43:aid-pam1003>3.0.co;2-4.

Marshall, C., & Rossman, G. B. (1999). Designing qualitative research (3rd ed.). London: Sage.

May, S., Cowles, S., & Lamy, M. (2013). PISA 2012: New Zealand summary report. Wellington: Ministry of Education. Retrieved from http://www.educationcounts.govt.nz/publications/series/2543/pisa-2012/pisa-2012-new-zealand-summary-report

Ministry of Education. (2007). The New Zealand curriculum for English-medium teaching and learning in years 1–13. Wellington: Learning Media. Retrieved from http://nzcurriculum.tki.org.nz/The-New-Zealand-Curriculum

Ministry of Education. (2013). Circular 2013-06: Payments by parents of students. Retrieved from http://www.education.govt.nz/ministry-of-education/publications/education-circulars/2013-circulars/circular-2013-06-payments-by-parents-of-students/

Ministry of Education. (2014a). Health and physical education: Learning area structure. Retrieved from http://nzcurriculum.tki.org.nz/The-New-Zealand-Curriculum/Learning-areas/Health-and-physical-education/Learning-area-structure

Ministry of Education. (2014b). Partnership schools/kura hourua. Retrieved from http://www.education.govt.nz/ministry-of-education/specific-initiatives/partnership-schools-kura-hourua/

Ministry of Education. (2015a). Attendance dues accounts for integrated schools. Retrieved from http://www.education.govt.nz/school/running-a-school/school-finances/attendance-dues-accounts-for-integrated-schools/

Ministry of Education. (2015b). Education in New Zealand. Retrieved from http://www.education.govt.nz/home/education-in-nz/

Ministry of Education. (2015c). Enrolment schemes (zoning). Retrieved from http://parents.education.govt.nz/primary-school/schooling-in-nz/enrolment-schemes-zoning/

Ministry of Education. (2015d). New Zealand schools directory. Retrieved from http://www.educationcounts.govt.nz/data-services/directories/list-of-nz-schools

Ministry of Education. (2015e). New Zealand schools: Nga kura o Aotearoa 2014. Wellington: Ministry of Education. Retrieved from http://www.educationcounts.govt.nz/publications/series/2523/new-zealand-schools-nga-kura-o-aotearoa-2014

Ministry of Education. (2015f). School transport. Retrieved from http://www.education.govt.nz/school/running-a-school/using-school-transport/

New Zealand Qualifications Authority. (2015). Secondary education fees. Retrieved from http://www.nzqa.govt.nz/about-us/our-role/legislation/fees/secondary-education-fees/

New Zealand Treasury. (2013). Education key to economic growth and equity. Retrieved from http://www.treasury.govt.nz/economy/education

Organisation for Economic Co-operation and Development. (2013). PISA 2012 results: Excellence through equity: Giving every student the chance to succeed (Volume II). Paris: OECD Publishing. Retrieved from http://www.oecd.org/pisa/keyfindings/pisa-2012-results-volume-ii.htm

Organisation for Economic Co-operation and Development. (2014). Education at a glance: OECD indicators. Paris: OECD Publishing.

Statistics New Zealand. (2014). New Zealand in profile: 2014. Retrieved from http://www.stats.govt.nz/browse_for_stats/snapshots-of-nz/nz-in-profile-2014/about-new-zealand.aspx

The Education Act, 21, NZ (1877). http://www.nzlii.org/nz/legis/hist_act/ea187741v1877n21224/

The Education Act, 80, NZ (1989). http://www.legislation.govt.nz/act/public/1989/0080/latest/whole.html

Thomas, D. R. (2006). A general inductive approach for analyzing qualitative evaluation data. American Journal of Evaluation, 27(2), 237–264.

Tukey, J. W. (1977). Exploratory data analysis. Reading, MA: Addison-Wesley.

Wylie, C. (1999). Ten years on: How schools view educational reform. Wellington: New Zealand Council for Educational Research. Retrieved from http://www.nzcer.org.nz/research/publications/ten-years-how-schools-view-educational-reform

Wylie, C. (2000). Picking up the pieces: Review of Special Education 2000. Wellington: Ministry of Education.

Wylie, C. (2012). Vital connections: Why we need more than self-managing schools. Wellington: New Zealand Council for Educational Research.

Wylie, C. (2013a). Schools and inequality. In M. Rashbrooke (Ed.), Inequality a New Zealand crisis (pp. 134–147). Wellington: Bridget Williams Books.

Wylie, C. (2013b). Secondary schools in 2012: Main findings from the NZCER national survey. Wellington. Retrieved from http://www.nzcer.org.nz/research/publications/secondary-schools-2012

Wylie, C., & Bonne, L. (2014). Primary and intermediate schools in 2013: Main findings from the NZCER national survey. Wellington: NZCER. Retrieved from http://www.nzcer.org.nz/research/publications/primary-and-intermediate-schools-2013

YouthLaw Aotearoa. (2015). Rights at school: School uniform. Retrieved from http://www.youthlaw.co.nz/information/school/school-uniform/
About this article
Cite this article
Gasson, N.R., Pratt, K., Smith, J.K. et al. The Impact of Cost on Children's Participation in School-Based Experiences: Parents' Perceptions. NZ J Educ Stud 52, 123–142 (2017). https://doi.org/10.1007/s40841-016-0046-z
Received:

Accepted:

Published:

Issue Date:
Keywords
Schools

Inequality

Cost

Achievement gap