Abstract
A circular economy is one of the important pillars of a sustainable iron and steel industry. Solid and sludgy residuals from steelmaking processes represent secondary resources with considerable amounts of valuable materials such as metals and minerals. Therefore, several treatment technologies for dusts and sludges target material recovery. The main benefits are a lower demand for primary resources and a reduced landfill volume as well as economic savings for steel plant operators. The current review article gives an overview of the amounts of steelmaking residuals generated in Europe and describes the OxyCup® shaft furnace, the integrated DK recycling route, and the Befesa Waelz rolling tube furnace process in detail, which represent currently operating state-of-the-art treatment technologies in detail. Nowadays, European steel producers reach a byproduct recycling rate of up to 95% (including onsite recycling and residual utilization performed by external companies). A benefit analysis was performed by several experts from Germany comparing different residual-treatment processes in terms of feed flexibility, product recovery, and material cycle closure. The study revealed that the OxyCup® shaft furnace and the DK route are more favorable compared to the Befesa Waelz process. However, moderate effort is required to implement the Befesa Waelz process in an existing steelmaking process chain, which is one of the advantages of this technology.
Access options
Buy single article
Instant access to the full article PDF.
USD 39.95
Price excludes VAT (USA)
Tax calculation will be finalised during checkout.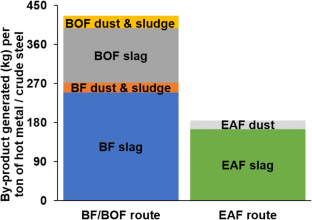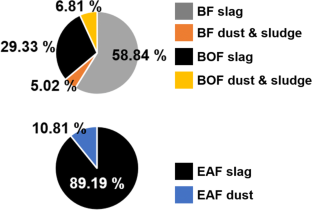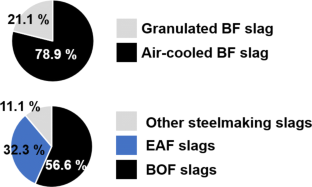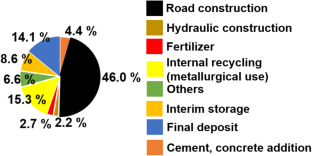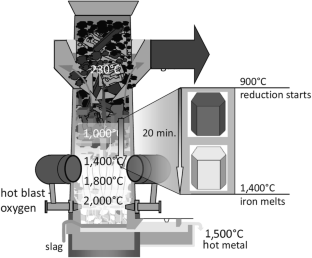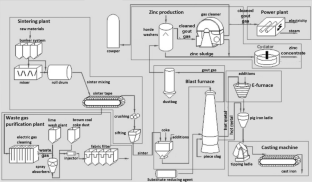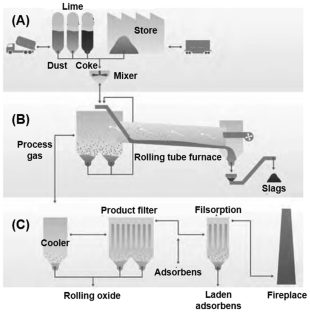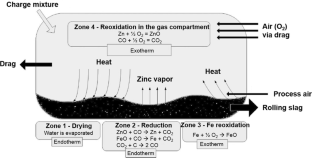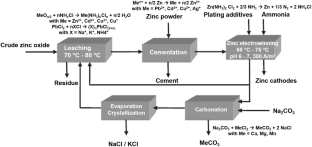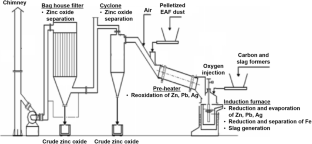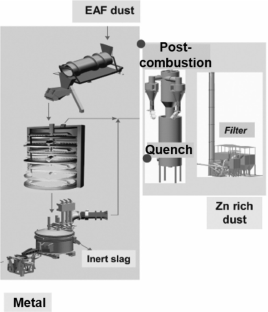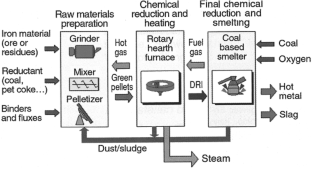 References
World Steel Association (2017) Statistical steel yearbook. https://www.worldsteel.org/steel-by-topic/statistics/steel-statistical-yearbook.html. Accessed 07 Dec 2018

Remus R, Aguado Monsonet MA, Roudier S, Delgado Sancho L (2013) Best Available Techniques (BAT) Reference Document for iron and steel production, Joint Research Centre reference report. European Commission, Seville

Das B, Prakash S, Reddy PSR, Misra VN (2007) An overview of utilization of slag and sludge from steel industries. Resour Conserv Recy 50:40–57

Lobato NCC, Villegas EA, Mansur MB (2015) Management of solid wastes from steelmaking and galvanizing processes: a brief review. Resour Conserv Recy 102:49–57

Sadek DM (2014) Effect of cooling technique of blast furnace slag on the thermal behaviour of solid cement bricks. J Clean Prod 79:134–141

López-Delgado A, Pérez C, López VA (1998) Sorption of heavy metals on blast furnace sludge. Water Res 32:989–996

Gurtubay L, Gallastegui G, Elias A, Rojo N, Barona A (2014) Accelerated ageing of an EAF black slag by carbonation and percolation for long-term behaviour assessment. J Environ Manag 140:45–50

Euroslag (2016) Statistics. https://www.euroslag.com/research-library-downloads/downloads/. Accessed 18 Nov 2018

Voestalpine environmental declaration (2017) http://www.voestalpine.com/group/static/sites/group/.downloads/en/group/environment/2017-environmental-statement.pdf. Accessed 18 Nov 2018

voestalpine environmental declaration (2018) http://www.voestalpine.com/group/static/sites/group/.downloads/en/group/2018-environmental-statement.pdf. Accessed 18 Nov 2018

Svenskt Stal AB annual report (2017)

Svenskt Stal AB GRI report (2016)

Küttner Shaft furnace technology for scrap and waste recycling. http://www.kuettner.de/Files/Filer/Catalogues/6317_EN_Oxycup_A4.pdf. Accessed 18 Nov 2018

Endemann G, Lüngen HB, Wuppermann CD (2006) Dust, scale and sludge generation and utilization in German steelworks. Stahl Eisen 126(9):25–32

Fisch T, Schmöle P, Senk DG (2015) Aus Kreislaufstoffe werden Produkte. In: Thomé-Kozmiensky K (ed) Mineralische Nebenprodukte und Abfälle, 2nd edn. TK Verlag Karl Thomé-Kozmiensky, Neuruppin, pp 417–430

Kesseler K, Möller J, Peters M, Schmöle P, Still G (2005) The new OxyCup shaft furnace plant of ThyssenKrupp: start up and first results. International conference on clean technologies in the steel industry, Budapest (Hungary)

Sassen KJ, Hillmann C (2011) The DK process—for recovery of iron and zinc from BOF dusts and sludges. Steel Times Int 04:17–20

DK Recycling und Roheisen. https://www.dk-duisburg.de//index_en.html. Accessed 18 Nov 2018

Von Billerbeck E, Ruh A, Kim D-S (2014) Verarbeitung von Filterstäuben aus der Elektrostahlerzeugung im Wälzprozess. In: Thomé-Kozmiensky K (ed) Mineralische Nebenprodukte und Abfälle- Aschen. Schlacken, Stäube und Baurestmassen, TK Verlag Karl Thomé-Kozmiensky, Neuruppin, pp 387–397

Befesa overview of the company (2018) http://www.befesa.com/export/sites/befesa2014/resources/pdf/Befesa-Company-Presentation.pdf. Accessed 18 Nov 2018

Maccagni MG (2016) INDUTEC®/EZINEX® integrate process on secondary zinc-bearing materials. J Sustain Metall 2:133–140

Bianco L, Porisiensi S, Baracchini G, Battigelli L, Ceschia C (2018) Circular economy in EAF process: how to make it sustainable with zero waste project in Ferriere Nord. Universal J Manag 6:190–197

Schenk J (2011) Reduction technologies for the recycling of iron and steel residues. 3rd international conference on networking between zinc and steel industry, Leoben (Austria)

Guillaume PC, Devos G, Roth JL (2008) Recycling residues into metals. Millenium Steel, London, pp 25–30

Paul Wurth (2010) Recycling technologies, company brochure

REDSMELT process for ironmaking (2018) http://ispatguru.com/redsmelt-process-for-ironmaking/. Accessed 11 Dec 2018

EUROFER (2018) A steel roadmap for a low carbon Europe 2050

EU research project database CORDIS. https://cordis.europa.eu/projects/home_de.html. Accessed 11 Dec 2018

Synopsis of RFCS projects 2015–2018. http://ec.europa.eu/research/industrial_technologies/pdf/rfcs/synopsis_projects_2015-18.pdf. Accessed 11 Dec 2018

Wang C, Jennes R, Mattila O, Paananen T, Lilja J, Larsson M (2015) Investigation of applying OxyCup® process for an integrated steel plant from a nordic country, METEC & 2nd European Steel Application Days (ESTAD), Duesseldorf (Germany)

Ruetten J, Frias C, Diaz G, Martin D, Sanchez F (2011) Processing EAF dust through Waelz kiln and ZINCEX™ solvent extraction: the optimum solution, European Metallurgical Conference (EMC), Duesseldorf (Germany)

Mueller JIR (2017) Stoffstrommanagement als Instrument zur Steigerung der Ressourceneffizienz der deutschen Eisen- und Stahlindustrie, PhD thesis (German version), Technical University of Munich, School of Life Sciences Weihenstephan, Chair of Raw Materials and Energy Technology
Acknowledgements
The authors gratefully acknowledge the funding support of K1-MET GmbH, the metallurgical competence center. The research program of the K1-MET competence center is supported by COMET (Competence Center for Excellent Technologies), and the Austrian program for competence centers. K1-MET is funded by the Federal Ministry for Transport, Innovation, and Technology; the Federal Ministry for Digital and Economic Affairs; the provinces of Upper Austria, Tyrol, and Styria; as well as the Styrian Business Promotion Agency (SFG).
Additional information
The contributing editor for this article was I. Sohn.
Publisher's Note
Springer Nature remains neutral with regard to jurisdictional claims in published maps and institutional affiliations.
About this article
Cite this article
Rieger, J., Schenk, J. Residual Processing in the European Steel Industry: A Technological Overview. J. Sustain. Metall. 5, 295–309 (2019). https://doi.org/10.1007/s40831-019-00220-2
Published:

Issue Date:

DOI: https://doi.org/10.1007/s40831-019-00220-2
Keywords