Abstract
The annual CLEERS conference sponsored by the U.S. Department of Energy and organized by the Oak Ridge National Laboratory was held in Ann Arbor, MI, 18–20 September 2018. It brought together emission control scientists, engineers, and investigators from academia, national labs, and industry from across the U.S. and abroad, discussing the latest emission control technologies, trends, challenges, and regulations. Presentations, deliberations, exchanges, and panel discussions displayed a much-needed focus on the latest up-and-coming approaches to further advance NOx reduction, a major remaining challenge especially in diesel emission control, using further advances in selective catalytic reduction (SCR) of NOx, passive NOx adsorbers, lean NOx traps, and SCR on particulate filter, amongst others. Discussions were further held on diesel oxidation catalysts, gasoline particulate filters, three-way catalysts, and hydrocarbon SCR, and also on the latest catalyst washcoat technologies, materials, and catalytic processes such as diffusion and kinetics, testing, and computer simulations.
This is a preview of subscription content,
to check access.
Access this article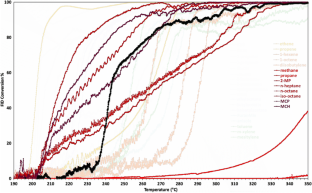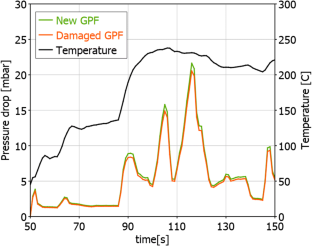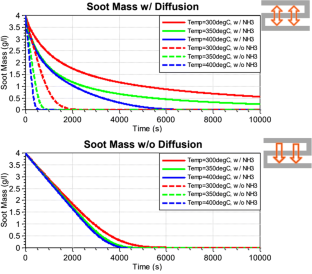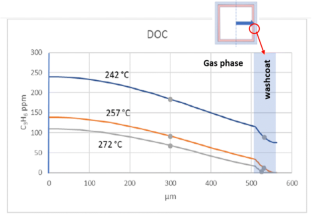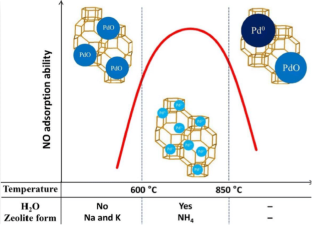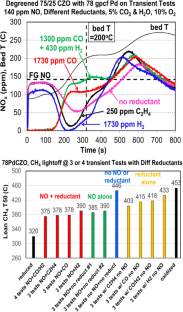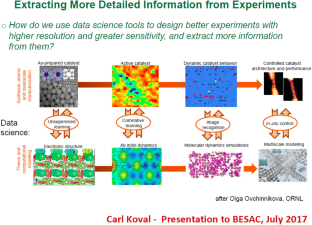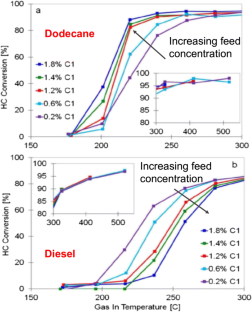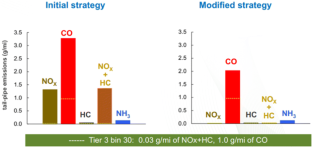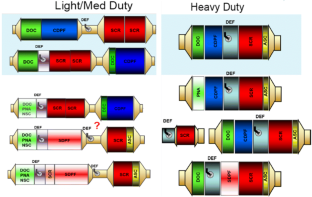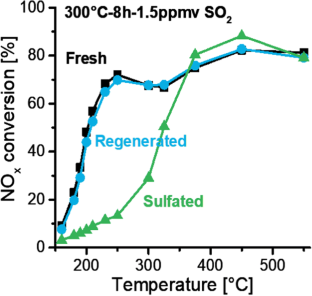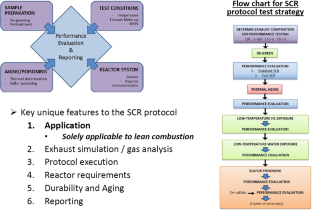 Similar content being viewed by others
Abbreviations
BEA:

Beta polymorph A—one of various zeolite types

CHA:

Chabazite—one of various zeolite types, also SSZ-13 (a synthetic type of CHA)

DFT:

Density functional theory

DOC:

Diesel oxidation catalyst

E10:

Fuel blended with 9–10% ethanol

FTP:

Federal test protocol

GPF:

Gasoline particulate filter

HC:

Hydrocarbon

LNT:

Lean NOx trap

LTNA:

Low-temperature NOx adsorber

TWC:

Three-way catalyst

NOx :

Nitrogen oxides: NO, NO2, etc.

NEDC:

New European drive cycle

NMR:

Nuclear magnetic resonance

PEMS:

Portable emission measurement system

PM:

Particulate matter (in diesel emission)

QENS:

Quasielastic neutron scattering

SI:

(SI engine) Spark-ignition

TG:

Thermogravimetry

TPR:

Temperature-programmed reaction

C2, C3, Cx :

Refers to Cx as in CxHy components in diesel fuel and gasoline

DRIFTS:

Diffuse reflectance infrared Fourier transform spectroscopy

DPF:

Diesel particulate filter

FTIR:

Fourier transform infrared spectroscopy

FWC:

Four-way catalyst (also called GPF)

H2O:

Water

HPLC:

High-performance liquid chromatography

LO:

Light-off

SCR:

Selective catalytic reduction

MOC:

Methane oxidation catalyst

N2O:

Nitrous oxide, a potent greenhouse gas

NH3 :

Ammonia

OBD:

Onboard diagnostics

PGM:

Platinum group metal

PNA:

Passive NOx adsorber

SDPF:

Combined SCR-DPF (also called SCRF)

T50:

Temperature for 50% catalytic efficiency

TPD:

Temperature-programmed desorption
References
Hammershøi, P.S., Vennestrøm, P.N.R., Falsig, H., Jensen, A.D., Janssens, T.V.W.: Importance of the Cu oxidation state for the SO2-poisoning of a Cu-SAPO-34 catalyst in the NH3-SCR reaction. Appl. Catal. B Environ. 236, 377–383 (2018). https://doi.org/10.1016/j.apcatb.2018.05.038

Hammershøi, P.S., Jensen, A.D., Janssens, T.V.W.: Impact of SO2-poisoning over the lifetime of a Cu-CHA catalyst for NH3–SCR. Appl. Catal. B Environ. 238, 104–110 (2018). https://doi.org/10.1016/j.apcatb.2018.06.039
Acknowledgments
Professor Andrea Strzelec (Mississippi State University) and Dr. Se Oh (General Motors R&D) contributed to "In the Memory of Dr. Dick Blint." Their input is hereby appreciated.
Ethics declarations
The authors declare that they have no competing interests. Use of figures within this article is with express consent of their respective authors or copyright holders.
About this article
Cite this article
Masoudi, M., Hensel, J. & Tegeler, E. A Review of the 2018 U.S.-DOE CLEERS Conference: Trends and Deeper Insights in Reduction of NOx and Particulate in Diesel and Gasoline Engines and Advances in Catalyst Materials, Mechanisms, and Emission Control Technologies. Emiss. Control Sci. Technol. 6, 113–125 (2020). https://doi.org/10.1007/s40825-019-00134-1
Received:

Revised:

Accepted:

Published:

Issue Date:

DOI: https://doi.org/10.1007/s40825-019-00134-1
Keywords