Abstract
Purpose of Review
We asked how the concept of landscape extent is used in conservation planning. To narrow the scope of our review, we focused on four iconic species depicted on Canadian currency: the beaver (Castor canadensis), the caribou (Rangifer tarandus), the common loon (Gavia immer), and the polar bear (Ursus maritimus).
Recent Findings
Landscape ecology research suggests that a landscape is a species-specific construct arising from the spatial scales over which ecological processes occur. Species traits can be correlated with the scales of important effects and thus can identify relevant landscape extents for research and conservation. It is unclear, however, how the theoretical concept of landscape extent is applied in conservation practice.
Summary
For the four iconic species in our study, we found an inconsistent use of species-specific traits in definitions of landscape extent for conservation planning. For two species, the caribou and the polar bear, species-specific traits were used to define conservation units, for defining either Designatable Units for assessment of at-risk status or for defining herds or subpopulations for management actions. No species-specific traits were identified in spatial frameworks used in loon or beaver conservation planning, as both were included in multi-species management approaches. Our review suggests a type of research implementation gap. Conservation units are often defined based on political or administrative boundaries rather than by species-specific processes. We suggest that landscape extent be implemented as a hypothesis in an adaptive management framework when possible. Additionally, we encourage research approaches that explicitly incorporate policy considerations into research design.
This is a preview of subscription content, log in to check access.
Access options
Buy single article
Instant access to the full article PDF.
US$ 39.95
Tax calculation will be finalised during checkout.
Subscribe to journal
Immediate online access to all issues from 2019. Subscription will auto renew annually.
US$ 119
Tax calculation will be finalised during checkout.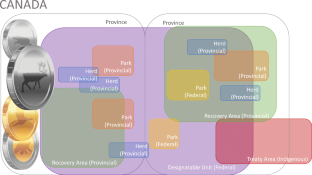 References
Papers of particular interest, published recently, have been highlighted as: • Of importance •• Of major importance
1.

Dunning JB, Danielson BJ, Pulliam HR. Ecological processes that affect populations in complex landscapes. Oikos. 1992;65:169–75.

2.

Turner MG. Landscape ecology: the effect of pattern on process. Annu Rev Ecol Syst. 1989;20:171–97.

3.

Gergel SE, Turner MG. Learning landscape ecology: a practical guide to concepts and techniques. Q Rev Biol. 2017. https://doi.org/10.1086/698046.

4.

Karau EC, Keane RE. Determining landscape extent for succession and disturbance simulation modeling. Landsc Ecol. 2007. https://doi.org/10.1007/s10980-007-9081-y.

5.

Wiens JA. Spatial scaling in ecology. Funct Ecol. 1989;3:385–97.

6.

• Miguet P, Jackson HB, Jackson ND, Martin AE, Fahrig L. What determines the spatial extent of landscape effects on species? Landsc Ecol. 2016. https://doi.org/10.1007/s10980-015-0314-1The authors provide a summary of hypotheses and predictions for determination of the scale of effect in landscape ecology research. Based on a review of the literature, the authors find only 9 of 14 predictions have been tested, suggesting that much work needs to be done on this research topic.

7.

Roland J, Taylor PD. Insect parasitoid species respond to forest structure at different spatial scales. Nature. 1997. https://doi.org/10.1038/386710a0.

8.

•• Jackson HB, Fahrig L. Are ecologists conducting research at the optimal scale? Glob Ecol Biogeogr. 2015. https://doi.org/10.1111/geb.12233Using a review of 71 studies, the authors tested whether research is usually conducted at the true scale of effect. Nearly half of the species studied (44%) had observed scales of effect equal to the largest or smallest scale in the study, suggesting that the true scale of effect was outside this range, and thus that the studies are not being conducted at the optimal scale.

9.

Heppenheimer E, Harrigan RJ, Rutledge LY, et al. Population genomic analysis of North American eastern wolves (Canis lycaon) supports their conservation priority status. Genes. 2018. https://doi.org/10.3390/genes9120606.

10.

Bowman J, Greenhorn JE, Marrotte RR, et al. On applications of landscape genetics. Conserv Genet. 2016. https://doi.org/10.1007/s10592-016-0834-5.

11.

Krause M, Robinson K. Charismatic species and beyond: how cultural schemas and organisational routines shape conservation. Conserv Soc. 2017. https://doi.org/10.4103/cs.cs.

12.

McClintic LF, Taylor JD, Jones JC, et al. Effects of spatiotemporal resource heterogeneity on home range size of American beaver. J Zool. 2014. https://doi.org/10.1111/jzo.12128.

13.

Bloomquist CК, Nielsen CK, Shew JJ. Spatial organization of unexploited beavers (Castor canadensis). Am Midl Nat. 2012;167:188–97.

14.

Wheatley M. Beaver, Castor canadensis, home range size and patterns of use in the taiga of southeastern Manitoba: II. Sex, age, and family status. Can Field-Naturalist. 1997;111:211–6.

15.

Banci V, Proulx G. Resiliency of furbearers to trapping in Canada. In: Proulx G, editor. Mammal trapping. Alpha Wildlife Publications: Sherwood Park; 1990. pp. 175–203.

16.

Cassola F. Castor canadensis. The IUCN Red List of Threatened Species 2016. https://doi.org/10.2305/IUCN.UK.2016-3.RLTS.T4003A22187946.en.

17.

Jenkins SH, Busher PE. Castor canadensis. Mamm Species. 1979;120:1–8.

18.

Johnson DR, Chance DH. Presettlement overharvest of upper Columbia River beaver populations. Can J Zool. 1974;52:1519–21.

19.

Van Asselen S, Verburg PH, Vermaat JE, Janse JH. Drivers of wetland conversion: a global meta-analysis. PLoS One. 2013. https://doi.org/10.1371/journal.pone.0081292.

20.

Bergerud AT. Evolving perspectives on caribou population dynamics, have we got it right yet? Rangifer. 1996;20:95–116.

21.

COSEWIC. Designatable units for caribou (Rangifer tarandus) in Canada. Committee on the Status of Endangered Wildlife in Canada. Ottawa; 2011:88.

22.

Species at risk public registry. Caribou (Rangifer tarandus). Species at Risk Act. 2017.

23.

Festa-Bianchet M, Ray JC, Boutin S, et al. Conservation of caribou (Rangifer tarandus) in Canada: an uncertain future. Can J Zool. 2011. https://doi.org/10.1139/z11-025.

24.

COSEWIC. Unpublished report COSEWIC assessment and status report on the common loon in Canada.Committee on the Status of Endangered Wildlife in Canada. Ottawa; 1997.

25.

Alvo R, Hussell D, Berrill M. The breeding success of common loons (Gavia immer) in relation to alkalinity and other lake characteristics in Ontario. Can J Zool. 1988;66:746–52.

26.

Barr JF. Aspects of common loon (Gavia immer) feeding biology on its breeding ground. Hydrobiologia. 1996;321:119–44.

27.

Tischler KB. Species conservation assessment for the common loon (Gavia immer) in the Upper Great Lakes. 2011.

28.

Alvo R. Common loon, Gavia immer, breeding success in relation to lake pH and lake size over 25 years. Can Field-Naturalist. 2017. https://doi.org/10.22621/cfn.v123i2.693.

29.

Burgess NM, Evers DC, Kaplan JD. Mercury and other contaminants in common loons breeding in Atlantic Canada. Ecotoxicology. 2005. https://doi.org/10.1007/s10646-004-6271-0.

30.

COSEWIC. Assessment and update status report polar bear Ursus maritimus. Committee on the Status of Endangered Wildlife in Canada. Ottawa; 2008.

31.

Ferguson SH, Taylor MK, Born EW, Rosing-Asvid A, Messier F. Determinants of home range size for polar bears (Ursus maritimus). Ecol Lett. 1999. https://doi.org/10.1046/j.1461-0248.1999.00090.x.

32.

Parks EK, Derocher AE, Lunn NJ. Seasonal and annual movement patterns of polar bears on the sea ice of Hudson Bay. Can J Zool. 2006. https://doi.org/10.1139/z06-115.

33.

Taylor M, Lee J. Distribution and abundance of Canadian polar bear populations: a management perspective. Arct Inst North Am. 2016;48:147–54.

34.

Bethke R, Taylor M, Amstrup S, Messier F. Population delineation of polar bears using satellite collar data. Ecol Appl. 1996;6:311–7.

35.

Paetkau D, Amstrup C, Born EW, Calvert W, Derocher AE, Garner GW, et al. Genetic structure of the world's polar bear populations. Mol Ecol. 1999;10:1571–84.

36.

COSEWIC. COSEWIC guidelines for recognizing designatable units. In: Gov. Canada. https://www.canada.ca/en/environment-climate-change/services/committee-status-endangered-wildlife/guidelines-recognizing-designatable-units.html. 2016. Accessed 14 May 2019.

37.

COSEWIC. Caribou (Rangifer tarandus) some populations: COSEWIC assessment and status report. Committee on the Status of Endangered Wildlife in Canada. Ottawa; 2017.

38.

Ministry of Justice. Migratory Birds Convention Act. Canada, 1994.

39.

Department of Environment Nunavut. Canada's polar bear subpopulations. In: Polar Bears Canada. https://www.polarbearscanada.ca/en/polar-bears-canada/canadas-polar-bear-subpopulations. 2015. Accessed 14 May 2019.

40.

Obbard ME, Walton LR. The importance of Polar Bear Provincial Park to the Southern Hudson Bay polar bear population in the context of future climate change. Park Prot areas Res Ontario, 2004 Plan North Park Prot areas Proc Park Res Forum Ontario Gen Meet May 4-6. 2004; 105–116.

41.

Klütsch CFC, Manseau M, Trim V, Polfus J, Wilson P. The eastern migratory caribou: the role of genetic introgression in ecotype evolution. R Soc Open Sci. 2016. https://doi.org/10.1098/rsos.150469.

42.

Hardin G. The tragedy of the commons. Science. 1968;162:1243–8.

43.

Milan, Novak, Baker J, Obbard ME. Wild furbearer management and conservation in North America, 1st ed. Ontario Ministry of Natural Resources, 1987.

44.

Allen TF, Hoekstra TW. Role of heterogeneity in scaling of ecological systems under analysis. In: Kolasa J, Pickett STA, editors. Ecological Heterogeneity. Ecological Studies (Analysis and Synthesis). New York: Springer; 1991.

45.

Stenseth NC, Ehrich D, Rueness EK, Lingjærde OC, Chan K, Boutin S, et al. The effect of climatic forcing on population synchrony and genetic structuring of the Canadian lynx. Proc Natl Acad Sci. 2004. https://doi.org/10.1073/pnas.0307123101.

46.

Row JR, Gomez C, Koen EL, Bowman J, Murray DL, Wilson PJ. Dispersal promotes high gene flow among Canada lynx populations across mainland North America. Conserv Genet. 2012. https://doi.org/10.1007/s10592-012-0369-3.

47.

• Mee JA, Bernatchez L, Reist JD, Rogers SM, Taylor EB. Identifying designatable units for intraspecific conservation prioritization: a hierarchical approach applied to the lake whitefish species complex (Coregonus spp.). Evol Appl. 2015. https://doi.org/10.1111/eva.12247The most detailed, recent example of identifying designatable units for conservation in the Canadian context. The authors use the example of identifying 36 lake whitefish DUs to discuss the DU process in Canada.

48.

Zollner PA, Lima SL. Landscape-level perceptual abilities in white-footed mice: perceptual range and the detection of forested habitat. Oikos. 1997;80:51–60.

49.

Boates JS, Fenton MB. Flagship species – flagship problems: recovery of species at risk and the conservation of biodiversity in Canada. Can J Zool. 2011. https://doi.org/10.1139/z11-020.

50.

Knight AT, Cowling RM, Rouget M, Balmford A, Lombard AT, Campbell BM. Knowing but not doing: selecting priority conservation areas and the research-implementation gap. Conserv Biol. 2008. https://doi.org/10.1111/j.1523-1739.2008.00914.x.

51.

Mayer AL, Cameron GN. Consideration of grain and extent in landscape studies of terrestrial vertebrate ecology. Landsc Urban Plan. 2003;65:201–17.

52.

Turner MG. Spatial and temporal analysis of landscape patterns. Landsc Ecol. 1990. https://doi.org/10.1007/BF02573948.

53.

Baskerville G. Advocacy, science, policy and life in the real world. Conserv Ecol. 1997;1:9.

54.

Folke C, Carpenter S, Walker B, Scheffer M, Elmqvist T, Gunderson L, et al. Regime shifts, resilience, and biodiversity in ecosystem management. Annu Rev Ecol Evol Syst. 2004. https://doi.org/10.1146/annurev.ecolsys.35.021103.105711.

55.

• Britt M, Haworth S, Johnson J, Martchenko D, Shafer ABA. The importance of non-academic co-authors in bridging the conservation genetics gap. Biol Conserv. 2018:118–23 The authors address causes of an apparent gap between conservation genetics research and its application. The authors suggest that collaboration with non-academics is a key to seeing research applied via successfully addressing relevant policy frameworks. Research papers with non-academic co-authors had a 2.5-fold increase in providing specific solutions or links to policy.

56.

• Toomey AH, Knight AT, Barlow J. Navigating the space between research and implementation in conservation. Conserv Lett. 2017. https://doi.org/10.1111/conl.12315The authors discuss the reasons for the research-implementation gap, finding that the dominant paradigm of the gap evolving due to linear processes may hinder the effectiveness of research implementation. Instead, the authors argue for a less linear, more collaborative process.

57.

Bailey DR, Dittbrenner BJ, Yocorn KP. Reintegrating the North American beaver (Castor canadensis) in the urban landscape. WIREs Water. 2019;6:1.
Acknowledgements
The authors would like to thank Marisa Bivi for providing the graphics of Canadian coins. Nancy Davy from Environment and Climate Change Canada for providing the COSEWIC report of the Common Loon.
Funding
Funding for this research was provided by the NSERC CREATE and Discovery grants to JB, an NSERC scholarship to PPO, and by the Ontario Ministry of Natural Resources and Forestry.
Ethics declarations
Conflict of Interest
Kirsten Solmundson, Jeff Bowman, Elizabeth Adey, Jennifer Baici, Rachel Dillon, Arthur Dupuis, Robby Marrotte, Samantha Morin, Sasha Newar, Paul O'Brien, and Laura Scott declare that they have no conflict of interest.
Human and Animal Rights and Informed Consent
This article does not contain and studies with human or animal subjects performed by any of the authors.
Additional information
Publisher's Note
Springer Nature remains neutral with regard to jurisdictional claims in published maps and institutional affiliations.
This article is part of the Topical Collection on Spatial Scale-Measurement, Influence, and Integration
Electronic Supplementary Material
About this article
Cite this article
Solmundson, K., Bowman, J., Adey, E. et al. The Currency of Conservation: How Is Landscape Extent Applied in Conservation Planning?. Curr Landscape Ecol Rep 5, 1–11 (2020). https://doi.org/10.1007/s40823-019-00048-2
Keywords
Landscape extent

Applications

Conservation planning

Government

Species management

Scale