Abstract
Research in the United States' agricultural futures markets have found maize (what they refer to as corn) to be the commodity that most broadly received and transmitted volatility transmissions. South Africa is the main emerging market for price discovery of maize in Africa, with white maize being the largest and most liquid agricultural commodity futures contract traded on the South African Futures Exchange (SAFEX). This paper examines volatility spillover effects in white maize futures against several other domestic grain and external market futures listed on SAFEX. Using daily return data, a multivariate GARCH approach is employed to study spillover effects between grain futures (white maize, yellow maize, wheat and sunflower seed), currency futures (Dollar/Rand and Euro/Rand), equity futures (JSE Top 40 Index) and interest rate futures (JIBA). A Dynamic Conditional Correlation (DCC) model is used to evaluate the degree of interdependence between futures markets which is measured through a time-variant conditional correlation matrix. The results indicate that the South African futures markets analyzed are highly interrelated, with significant dependence and volatility transmissions being observed. Furthermore, the results also highlight that these interrelations are changing over time. The findings have important implications for portfolio allocations, hedging strategies and policy and regulatory initiatives.
This is a preview of subscription content, log in to check access.
Access options
Buy single article
Instant access to the full article PDF.
US$ 39.95
Price includes VAT for USA
Subscribe to journal
Immediate online access to all issues from 2019. Subscription will auto renew annually.
US$ 99
This is the net price. Taxes to be calculated in checkout.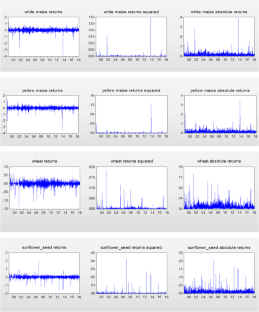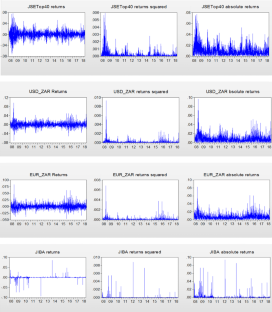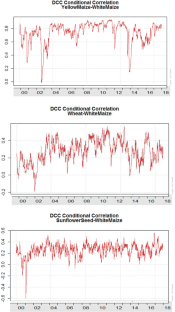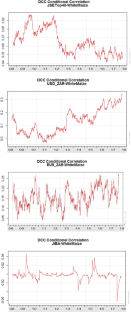 Notes
1.

The International Maize and Wheat Improvement Center (CIMMYT) is a global leader in publicly funded maize and wheat research and related farming systems.

2.

Source: Authors' own calculation using data from the JSE—available on request.

3.

Price limits are a regulatory tool intended to control volatility in a financial market.
References
Adelegan, O. J. (2009). The derivatives market in South Africa: Lessons for sub-Saharan African countries. International Monetary Fund 2009, IMF Working Paper WP/09/196, 1–19.

Alexander, C. (2008). Market risk analysis: Practical financial econometrics (II ed.). Chichester: Wiley.

Andersen, T. G., & Bollerselv, T. (1997). Intraday periodicity and volatility persistence in financial markets. Journal of Empirical Finance,4(2–3), 115–158. https://doi.org/10.1016/S0927-5398(97)00004-2.

Auret, C. J., & Schmitt, C. C. (2008). An explanatory model of South African white maize futures prices. Studies in Economics and Econometrics,32(1), 103–131.

Beckmann, J., & Czudaj, R. (2014). Volatility transmission in agricultural futures markets. Economic Modelling,36, 541–546. https://doi.org/10.1016/j.econmod.2013.09.036.

Bollerslev, T. (1990). Modelling the coherence in short-run nominal exchange rates: A multivariate generalized ARCH model. The Review of Economics and Statistics,72(3), 498–505.

Booth, G. G., & Ciner, C. (1997). International transmission on information in corn futures markets. The Journal of Multinational Financial Management.,7(3), 175–187. https://doi.org/10.1016/S1042-444X(97)00012-1.

CIMMYT. (2018). Spotlight on the international maize and wheat improvement center. Cereal Foods World,63(5), 226–227.

Conrad, J., Gultekin, M. N., & Kaul, G. (1991). Asymmetric predictability of conditional variances. The Review of Financial Studies,4(1), 597–622. https://doi.org/10.1093/rfs/4.4.597.

Engle, R. (2002). Dynamic conditional correlation—a simple class of multivariate GARCH models. Journal of Business & Economic Statistics,20(3), 339–350. https://doi.org/10.1198/073500102288618487.

Engle, R. F., Ito, T., & Lin, W. L. (1990). Meteor showers or heat waves? Heteroskedastic intra-daily volatility in the foreign exchange market. Econometrica,58(3), 525–542. https://doi.org/10.3386/w2609.

Engle, R. F., & Kroner, K. F. (1995). Multivariate simultaneous generalized ARCH. Econometric Theory,11(1), 122–150. https://doi.org/10.1017/S0266466600009063.

Engle, R. F., & Sheppard, K. (2001). Theoretical and empirical properties of dynamic conditional correlation multivariate GARCH. NBER Working Paper 8554, National Bureau of Economic Research. https://doi.org/10.3386/w8554.

Felipe S. P., & Diranzo C. F. (2006). Volatility transmission models: A survey. Revista De Economia Financiera,10, 32–81.

Gallagher, L. A., & Twomey, C. E. (1998). Identifying the source and of mean and volatility spillovers in Irish equities: A multivariate GARCH analysis. The Economic and Social Review,29(4), 341–356.

Gardebroek, C., Hernandez, M. A., & Robles, M. (2016). Market interdependence and volatility transmission among major crops. Agricultural Economics,47(2), 141–155. https://doi.org/10.1111/agec.12184.

Geyser, M., & Cutts, M. (2007). SAFEX maize price volatility scrutinized. Agrekon,46(3), 291–305. https://doi.org/10.1080/03031853.2007.9523773.

Ghalanos, A. (2018). rmgarch: Multivariate GARCH models. R package version 1.3.5. https://cran.r-project.org/web/packages/rmgarch/citation.html. Accessed 19 Oct 2018.

Grieb, T. (2015). Mean and volatility transmission for commodity futures. Journal of Economics and Finance,39(1), 100–118. https://doi.org/10.1007/s12197-012-9425-8.

Hamao, Y., Masulis, R. W., & Ng, V. (1990). Correlation in price changes and volatility across international stock markets. The Review of Financial Studies,3(2), 281–307. https://doi.org/10.1093/rfs/3.2.281.

Hernandez, M. A., Ibarra, R., & Trupkin, D. R. (2014). How far do shocks move across borders? Examining volatility transmission in major agricultural futures markets. European Review of Agricultural Economics,41(2), 301–325. https://doi.org/10.1093/erae/jbt020.

Hurditt, P. (2004). An assessment of volatility transmission in the Jamaican financial system. Journal of Business, Finance and Economics in Emerging Economies,1(1), 1–28.

Kalu, E. (2014). Volatility transmission between stock and foreign exchange markets: Evidence from Nigeria. Journal of Banking and Financial Economics,1(1), 59–72. https://doi.org/10.7172/2353-6845.jbfe.2014.1.4.

King, M., & Wadhwani, S. (1990). Transmission of volatility between stock markets. The Review of Financial Studies,3(1), 5–33. https://doi.org/10.1093/rfs/3.1.5.

Kotze, A. (2017). FTSE/JSE Top 40 index long-term returns (May 31, 2017). https://doi.org/10.2139/ssrn.2978093.

Kyle, A. S. (1985). Continuous auctions and insider trading. Econometrica,53(6), 1315–13350. https://doi.org/10.2307/1913210.

Le Pen, Y., & Sevi, B. (2010). Revisiting the excess co-movements of commodity prices in a data-rich environment. Working paper, France: Université d'Angers and Université de Nantes.

Liu, Y. A., & Pan, M. S. (1997). and volatility spillover effects in the U.S. and Pacifin-Basin stock markets. Multinational Finance Journal,1(1), 47–62.

Monk, M. J., Jordaan, H., & Grove, B. (2010). Factors affecting the price volatility of July futures contracts for white maize in South Africa. Agrekon,49(4), 446–458. https://doi.org/10.1080/03031853.2010.526420.

Protopapadakis, A., & Stoll, H. R. (1983). Spot and futures prices and the law of one price. The Journal of Finance,38(5), 1431–1455. https://doi.org/10.1111/j.1540-6261.1983.tb03833.x.

RStudio (2018). RStudio: Integrated development for R. RStudio, Inc., Boston, MA URL http://www.rstudio.com

Sayed, A., & Auret, C. J. (2018). The effectiveness of price limits in the South African white maize futures markets. Investment Analysts Journal,47(3), 200–212. https://doi.org/10.1080/10293523.2018.1475591.

The Maize Trust (2013). Prospectus on the South African Maize Industry, 1-20. https://www.jse.co.za/content/JSEBrochureItems/Prospectus%20on%20the%20South%20African%20Maize%20Industry.pdf. Accessed 3 March 2019.

USDA WASDE. (2018). United States Department of Agriculture World Agricultural Supply and Demand Estimates. In: Released 11thOctober 2018 by the National Agricultural Statistics Service (NASS), Agricultural Statistics Board, United States Department of Agriculture (USDA)

Wright, B. D. (2011). The economics of grain price volatility. Applied Economic Perspectives and Policy,33(1), 32–58. https://doi.org/10.1093/aepp/ppq033.

Yang, J., Bessler, D. A., & Leatham, D. J. (2001). Asset storability and price discovery in commodity futures markets: A new look. The Journal of Futures Markets,21(3), 279–300. https://doi.org/10.1002/1096-9934(200103)21:3%3c279:AID-FUT5%3e3.0.CO;2-L.

Zhao, J., & Goodwin, B. (2011). Volatility spillovers in agricultural commodity markets: An application involving implied volatilities from options markets. In: Paper prepared for presentation at the Agricultural and Applied Economics Association's 2011 Annual Meeting, Pittsburgh, Pennsylvania, July 24–26, 2011.
Additional information
Publisher's Note
Springer Nature remains neutral with regard to jurisdictional claims in published maps and institutional affiliations.
About this article
Cite this article
Sayed, A., Auret, C. Volatility transmission in the South African white maize futures market. Eurasian Econ Rev 10, 71–88 (2020). https://doi.org/10.1007/s40822-019-00128-y
Received:

Revised:

Accepted:

Published:

Issue Date:
Keywords
Volatility spillover

Volatility transmission

Multivariate GARCH

Dynamic conditional correlations

White maize futures

Grain price volatility
JEL classification