Abstract
In the recent decades, India has not only experienced substantial growth in its services trade with the rest of the world but has also become a net exporter of services. Using the annual exports and imports data of 10 disaggregated service items from 2000 to 2013, this paper computes and analyzes various comparative advantage (CA) measures. The analysis reveals that India has had a CA in computer and information services and other business services (that include a wide range of information-intensive services) for the entire sample period. These two service categories together accounted for more than two-thirds of the total commercial services export from India. Furthermore, according to an alternative CA measure that considers intra-industry trade, India seems to have CA over the rest of the world in different services such as travel, communication services, and personal, cultural, and related services as well. This paper further explores the shape and dynamics of the distribution of the CA measures by employing a nonparametric method. The distributional dynamics analysis indicates that India is more likely to lose CA over the rest of the world than to gain dominance from a comparative disadvantage (CDA) position in services trade.
Access options
Buy single article
Instant access to the full article PDF.
US$ 39.95
Tax calculation will be finalised during checkout.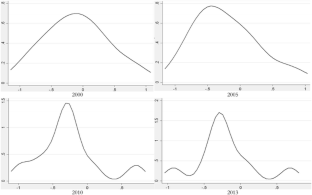 Notes
1.

These figures are based on authors' calculations using the data obtained from the Handbook of Statistics on the Indian Economy published by the Reserve Bank of India (2016).

2.

See Mandal and Nath (2016).

3.

4.

5.

In a study on the growth of service industries in China and India over the period 1993–2003, Wu (2007) identifies rising per-capita income, accelerated urbanization, and external demand as the primary drivers of the rapid expansion of the tertiary sector.

6.

7.

Since the RCA measures are not strictly based on the concept of comparative advantage as explained in the international trade theories, they are often criticized. Costinot et al. (2012) propose an empirical strategy for measuring Ricardian comparative advantage. It is based on the theoretical foundations and focuses on revealed productivity measures.

8.

If we were simply interested in knowing the service items for which India has CA over the rest of the world, this would not be a serious problem. Symmetry is important because we also investigate the distributional dynamics of the CA measure in order to shed lights on the evolution of CA.

9.

Laursen (2015) also shows how using asymmetric RCA in econometric analysis (e.g. regression analysis) leads to biases by assigning larger weights to values above 1 compared to those below.

10.

Nath et al. (2015) use a similar methodology for investigating the US bilateral CA/CDA over India and China.

11.

Data-driven bandwidth selection (likelihood cross validation) and a Gaussian kernel are used.

12.

Appendix table provides a list of the 10 items with their corresponding definitions according to WTO. Note that the services trade items that we study here do not necessarily represent services producing industries. They are services items as recorded in the balance of payments (BoP) transactions. The BoP methodology focuses on the products and services and not the industries. For example, as we discuss in the introduction, trade in computer services may include services provided either by computer services industry or by other industries (e.g., construction or finance).

13.

14.

There are other tests used in the literature. For example, depending on whether the CA measures are interpreted as cardinal measures (extent of CA/CDA in a product or a service) or ordinal measures (ranking of products or services by degree of CA/CDA), the literature suggests two different consistency tests. The consistency test of the indices as cardinal measures is based on pairwise correlation coefficients for each year during the sample period. Likewise, the pairwise rank correlation coefficients are used to test consistency of the indices as ordinal measures.

15.

This enables firms to estimate time and resources required for a project and thereby allow them to bid for challenging projects.
References
Arora, A., & Athreye, S. (2002). The software industry and India's economic development. Information Economics and Policy, 14(2), 253–273.

Balance, R. H., Forstner, H., & Murray, T. (1987). Consistency tests of alternative measures of comparative advantage. Review of Economics and Statistics, 69(1), 157–161.

Balassa, B. (1965). Trade liberalization and 'revealed' comparative advantage. The Manchester School of Economics and Social Studies, 33(2), 99–123.

Balassa, B. (1986). Comparative advantage in manufactured goods: A reappraisal. Review of Economics and Statistics, 68(2), 315–319.

Balasubramanyam, A., & Balasubramanyam, V. N. (1997). Singer, services and software. World Development, 25(11), 1857–1861.

Banerjee, A. V., & Duflo, E. (2000). Reputation effects and the limits of contracting: a study of the Indian software industry. The Quarterly Journal of Economics, 115(3), 989–1017.

Batra, A., & Khan, Z. (2005). Revealed comparative advantage: An Analysis For India and China. ICRIER Working Paper, 168. New Delhi: Indian Council for Research on International Economic Relations.

Bender, S., & Li, K.W. (2002). The changing trade and revealed comparative advantages of Asian and Latin American manufactured exports. Center Discussion Paper, 843. New Haven: Economic Growth Center, Yale University.

Benedictis, L. D. (2005). Three decades of Italian comparative advantages. The World Economy, 28(11), 1679–1709.

Bhattacharjee, S., & Chakrabarti, D. (2015). Investigating India's competitive edge in the IT-ITeS sector. IIMB Management Review, 27(1), 19–34.

Bugamelli, M. (2001). A Model of Specialization for Italy and the Main European Countries: Homogeneity and Convergence. Bank of Italy Discussion Paper, 402.

Burange, L. G., Chaddha, S. J., & Kapoor, P. (2010). India's Trade in Services. Indian Economic Journal, 58(2), 44–62.

Carolan, T., Singh, N., & Talati, C. (1998). The composition of U.S.-East Asia Trade and changing comparative advantage. Journal of Development Economics, 57(2), 361–389.

Costinot, A., Donaldson, D., & Komunjer, I. (2012). What goods do countries trade? A quantitative exploration of Ricardo's ideas. Review of Economic Studies, 79(2), 581–608.

Dalum, B., Laursen, K., & Villumsen, G. (1998). Structural change in OECD export specialisation patterns: De-specialisation and 'stickiness'. International Review of Applied Economics, 12(3), 423–443.

Dash, R. K., & Parida, P. C. (2012). Services trade and economic growth in India: An analysis in the post-reform period. International Journal of Economics and Business Research, 4(3), 326–345.

Dash, R. K., & Parida, P. C. (2013). FDI, services trade and economic growth in India: Empirical evidence on causal links. Empirical Economics, 45(1), 217–238.

Fertö, I., & Hubbard, L. J. (2003). Revealed comparative advantage and competitiveness in Hungarian agri-food sectors. The World Economy, 26(2), 247–259.

Goswami, A. G., Mattoo, A., & Sáez, S. (2009). Exporting services: A developing country perspective. Washington DC: World Bank.

Joshi, K., & Mudigonda, S. (2008). An analysis of India's future attractiveness as an offshore destination for IT and IT-enabled services. Journal of Information Technology, 23(4), 215–227.

Lafay, J. (1992). The measurement of revealed comparative advantage. In M. G. Dagenais & P. A. Muet (Eds.), International trade modelling (pp. 220–236). London: Chapman & Hall.

Laursen, K. (2015). Revealed comparative advantage and the alternatives as measures of international specialization. Eurasian Business Review, 5, 99–115.

Mandal, R., & Nath, H. K. (2016). Services trade in emerging market economies. In Rajagopal & R. Behl (Eds.) Business Analytics and Cyber Security Management in Organizations (pp. 64–83). Hershey: IGI Global.

NASSCOM. (2013). The IT-BPM sector in India: Strategic review 2013. New Delhi: NASSCOM.

Nath, H. K., Liu, L., & Tochkov, K. (2015). Comparative advantages in U.S. Bilateral services trade with China and India. Journal of Asian Economics, 38, 79–92.

Pailwar, V. K., & Shah, N. R. (2009). Revealed comparative advantages for India in services trade. International Journal of Trade and Global Markets, 2(2), 109–127.

Reserve Bank of India (2016). Handbook of statistics on the Indian economy. https://dbie.rbi.org.in/DBIE/dbie.rbi?site=publications. Accessed 30 Oct 2016.

Sahoo, P., & Dash, R. K. (2014). India's surge in modern services exports: Empirics for policy. Journal of Policy Modelling, 36(6), 1082–1100.

Veeramani, C. (2008). India and China: Changing patterns of comparative advantage? In R. Radhakrishna (Ed.), India development report 2008 (pp. 145–156). New Delhi: Oxford University Press.

Wu, Y. (2007). Service sector growth in China and India: A comparison. China: An International Journal, 5(1), 137–154.
Acknowledgements
The authors are grateful to an anonymous reviewer and the Managing Editor of the journal for their comments. A major part of this research was conducted when Nath was a Visiting Professor at the Department of Humanities and Social Sciences, Indian Institute of Technology—Guwahati (IITG), India, during the 2016–17 academic year. He is grateful to IITG for its hospitality and support. An earlier version of the paper was presented at the 86th Annual Meetings of Southern Economic Association held in Washington, D.C. (USA) in November 2016 and at the School of Economics, University of Hyderabad, India, in April 2017. The authors would like to thank Zachary H. Cohle and other session participants at the conference and Phanindra Goyari and the seminar participants at the university for their valuable comments. The usual disclaimer applies.
Appendix
Appendix
See Table 7.
About this article
Cite this article
Nath, H.K., Goswami, B. India's comparative advantages in services trade. Eurasian Econ Rev 8, 323–342 (2018). https://doi.org/10.1007/s40822-018-0098-0
Received:

Revised:

Accepted:

Published:

Issue Date:
Keywords
Services trade

Comparative advantage (CA)

Comparative disadvantage (CDA)

Revealed comparative advantage (RCA)

Revealed symmetric comparative advantage (RSCA)

Trade Balance Index (TBI)

India
JEL classifications