Abstract
The primary objective of the study is to characterize the hydrogeologic status and identify the trend in groundwater storage of aquifer system to provide an improved understanding of the groundwater flow system in the Kadva river basin, India. This is accomplished by the integrated use of stratigraphic modeling, pressure derivative approach, and pumping test analysis. The results of the stratigraphic modeling indicate that the unconfined aquifer thickness ranging from 8.2 to 34.2 m and generally occur to the depth of 2.2–36.5 m below ground level (bgl), whereas semi-confined aquifer thickness ranges from 6.1 to 58.3 m and generally occurs 30.6 m bgl over the study area with an interconnected semi-confining unit of thickness ranging from 1.6 to 22.3 m. The pumping test results of unconfined aquifer in the study area show that the transmissivity varies from 15.66 to 98.18 m2/day, and the specific yield ranging from 8.2 × 10–4 to 3.2 × 10–2. Pumping test data and derivative analysis show that the deep aquifers are semi-confined with transmissivity ranging from 14.4 to 111.2 m2/day, storage coefficient varies from 1.56 × 10–4 to 4.83 × 10–4, and hydraulic resistance ranges from 93 to 1270 days. The values of hydraulic parameters revealed a remarkable spatial variability, suggesting that the basaltic aquifer system has strong heterogeneity. The results of the present study are helpful in the formulation of efficient policies for sustainable groundwater management in basaltic aquifers system in India in particular and worldwide in general.
Access options
Buy single article
Instant access to the full article PDF.
USD 39.95
Price excludes VAT (USA)
Tax calculation will be finalised during checkout.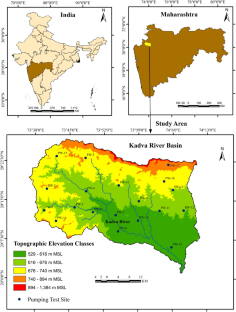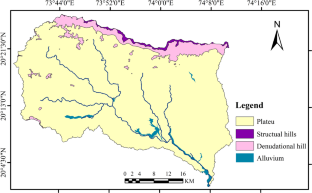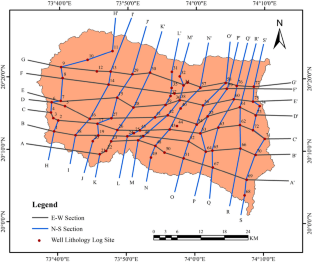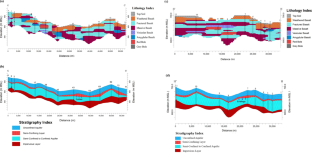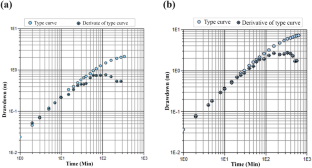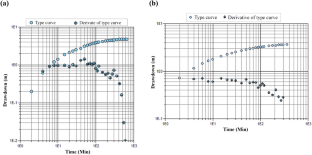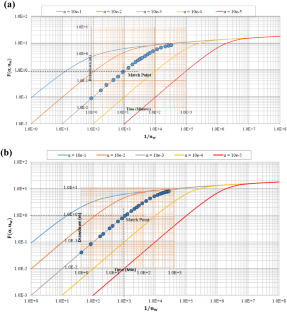 References
Ahmed AA (2009) Using lithologic modeling techniques for aquifer characterization and groundwater flow modeling of the Sohag area. Egypt Hydrogeol J 17(5):1189–1201

Anderson MP, Woessner WW (1992) Applied groundwater modeling: simulation of flow and advective transport. Academic Press Inc., San Diego

Arnold TL, Friedel MJ, Warner KL (2001) Hydrogeologic inventory of the upper Illinois River Basin—creating a large data base from well construction records. Geological models for groundwater flow modeling. Open File Ser 1:1–5

Athavale RN, Singh VS, Subrahmanyam K (1983) A constant discharge device for aquifer tests on large-diameter wells. Groundwater 21(6):752–755

Bailey RT, Wible TC, Arabi M, Records RM, Ditty J (2016) Assessing regional-scale spatio-temporal patterns of groundwater–surface water interactions using a coupled SWAT-MODFLOW model. Hydrol Process 30(23):4420–4433

Balkhair KS (2002) Aquifer parameters determination for large diameter wells using neural network approach. J Hydrol 265(1–4):118–128

Barker JA (1988) A generalized radial flow model for hydraulic tests in fractured rock. Water Resour Res 24(10):1796–1804

Bhusari V, Katpatal YB, Kundal P (2016) An innovative artificial recharge system to enhance groundwater storage in basaltic terrain: example from Maharashtra, India. Hydrogeol J 24(5):1273–1286

Biswal S, Jha MK, Sharma SP (2018) Hydrogeologic and hydraulic characterization of aquifer and nonaquifer layers in a lateritic terrain (West Bengal, India). Hydrogeol J 26(6):1947–1973

Bondre NR, Duraiswami RA, Dole G (2004) Morphology and emplacement of flows from the Deccan Volcanic Province, India. Bull Volcanol 66(1):29–45

Boulton NS, Streltsova TD (1977) Unsteady flow to a pumped well in a two-layered water-bearing formation. J Hydrol 35(3–4):245–256

Bourdet D, Whittle TM, Douglas AA, Pirard YM (1983) A new set of type curves simplifies well test analysis. World oil 196(6):95–106

Bourdet D, Ayoub JA, Pirard YM (1989) Use of pressure derivative in well test interpretation. SPE Format Evaluat 4(02):293–302

Bushira KM, Hernandez JR, Sheng Z (2017) Surface and groundwater flow modeling for calibrating steady state using MODFLOW in Colorado River Delta, Baja California. Mexico Model Earth Syst Environ 3(2):815–824

CGWB (1997) Ground water resource estimation methodology—1997. Report of the Ground Water Resource Estimation Committee, Central Ground Water Board (CGWB), Ministry of Water Resources, Government of India, New Delhi, India

CGWB (2014) Groundwater Information Nashik District Maharashtra. Central Ground Water Board, 1–17. https://cgwb.gov.in/district_profile/maharashtra/nashik.pdf. Accessed 7 Feb 2020

Chapuis RP, Chenaf D (2003) Effects of monitoring and pumping well pipe capacities during pumping tests in confined aquifers. Can Geotech J 40(6):1093–1103

Charbeneau RJ (2000) Groundwater hydraulics and pollutant transport. Prentice Hall, Upper Saddle River

Cooley RL, Case CM (1973) Effect of a water table aquitard on drawdown in an underlying pumped aquifer. Water Resour Res 9(2):434–447

Cooper HH Jr, Jacob CE (1946) A generalized graphical method for evaluating formation constants and summarizing well-field history. Eos Trans Am Geophys Union 27(4):526–534

Deolankar SB (1980) The deccan basalts of Maharashtra, India—their potential as aquifers. Groundwater 18(5):434–437

Di Paola MA, Margiotta S, Mazzone F, Negri S (2005) An integrated geological, hydrogeological and geophysical approach to the characterisation of the aquifer in a contaminated site. Hydrol Earth Syst Sci Discuss Eur Geosci Union 2(1):229–263

Ducci D, Sellerino M (2015) Groundwater mass balance in urbanized areas estimated by a groundwater flow model based on a 3D hydrostratigraphical model: the case study of the eastern plain of Naples (Italy). Water Resour Manage 29(12):4319–4333

Fan Z, Parashar R (2020) Transient flow to a finite-radius well with wellbore storage and skin effect in a poroelastic confined aquifer. Adv Water Resour 103604

Fetter CW (2001) Applied hydrogeology. Prentice-Hall, Upper Saddle River

Gringarten AC, Ramey HJ Jr, Raghavan R (1974) Unsteady-state pressure distributions created by a well with a single infinite-conductivity vertical fracture. Soc Petrol Eng J 14(04):347–360

GSI (2001) District resources map. Nashik District. Geological Survey of India Publications Calcutta

Hagagg KH (2019) Numerical modeling of seawater intrusion in karstic aquifer, Northwestern Coast of Egypt. Model Earth Syst Environ 5(2):431–441

Hamdi M, Zagrarni MF, Djamai N, Jerbi H, Goita K, Tarhouni J (2018) 3D geological modeling for complex aquifer system conception and groundwater storage assessment: Case of Sisseb El Alem Nadhour Saouaf basin, northeastern Tunisia. J Afr Earth Sc 143:178–186

Hantush MS (1960) Modification of the theory of leaky aquifers. J Geophys Res 65(11):3713–3725

Hantush MS (1964) Hydraulics of wells. Adv Hydrosci 1:281–432

Hantush MS, Jacob CE (1955) Non-steady radial flow in an infinite leaky aquifer. Eos Trans Am Geophys Union 36(1):95–100

Horne RN (1995) Modern well test analysis. Petroway. Inc, Palo Alto

Houben GJ, Stoeckl L, Mariner KE, Choudhury AS (2018) The influence of heterogeneity on coastal groundwater flow-physical and numerical modeling of fringing reefs, dykes and structured conductivity fields. Adv Water Resour 113:155–166

Jacob CE (1944) Notes on determining permeability by pumping tests under water-table conditions: US Geol. Survey Open-file Rept 1947:1047–1064

Jerbi H, Massuel S, Leduc C, Tarhouni J (2018) Assessing groundwater storage in the Kairouan plain aquifer using a 3D lithology model (Central Tunisia). Arab J Geosci 11(10):236

Khadri SFR, Pande C (2016) Ground water flow modeling for calibrating steady state using MODFLOW software: a case study of Mahesh River basin, India. Model Earth Syst Environ 2(1):39

Kruseman GP, De Ridder NA (1990) Analysis and evaluation of pumping test data, ILRI publication 47. International Institute for Land Reclamation and Improvement, The Netherlands

Kulkarni H, Deolankar SB, Lalwani A, Joseph B, Pawar S (2000) Hydrogeological framework of the Deccan basalt groundwater systems, west-central India. Hydrogeol J 8(4):368–378

Kuntamalla S, Sakram G, Madhusudhan N, Srinivas E (2019) Estimating aquifer characteristics by conducting pumping tests: a GIS and remote sensing approach in south western part of Mahbubnagar District, Telangana State, India. In: Proceedings of International Conference on Remote Sensing for Disaster Management. Springer, Cham, pp. 599–612

Lekula M, Lubczynski MW, Shemang EM (2018) Hydrogeological conceptual model of large and complex sedimentary aquifer systems–Central Kalahari Basin. Phys Chem Earth Parts A/B/C 106:47–62

Li P, Qian H, Wu J (2014) Comparison of three methods of hydrogeological parameter estimation in leaky aquifers using transient flow pumping tests. Hydrol Process 28(4):2293–2301

Limaye SD (2010) Groundwater development and management in the Deccan Traps (basalts) of western India. Hydrogeol J 18(3):543–558

Machiwal D, Singh PK, Yadav KK (2017) Estimating aquifer properties and distributed groundwater recharge in a hard-rock catchment of Udaipur, India. Appl Water Sci 7(6):3157–3172

Marchant AP, Banks VJ, Royse K, Quigley SP, Wealthall GP (2011) An initial screening tool for water resource contamination due to development in the Olympic Park 2012 site, London. Environ Earth Sci 64(2):483–495

Mishra D, Biswas SK (2009) Sedimentology, sequence stratigraphy and syn-rift model of younger part of Washtawa Formation and early part of Kanthkot Formation, Wagad, Kachchh basin, Gujarat. J Geol Soc India 73(4):519–527

Moench AF (1985) Transient flow to a large-diameter well in an aquifer with storative semiconfining layers. Water Resour Res 21(8):1121–1131

Moench AF (1997) Flow to a well of finite diameter in a homogeneous, anisotropic water table aquifer. Water Resour Res 33(6):1397–1407

Moharir K, Pande C, Patil S (2017) Inverse modelling of aquifer parameters in basaltic rock with the help of pumping test method using MODFLOW software. Geosci Front 8(6):1385–1395

Mukherjee A, Fryar AE, Howell PD (2007) Regional hydrostratigraphy and groundwater flow modeling in the arsenic-affected areas of the western Bengal basin, West Bengal, India. Hydrogeol J 15(7):1397

Neuman SP (1975) Analysis of pumping test data from anisotropic unconfined aquifers considering delayed gravity response. Water Resour Res 11(2):329–342

Neuman SP, Witherspoon PA (1969) Applicability of current theories of flow in leaky aquifers. Water Resour Res 5(4):817–829

Ni JC, Cheng WC, Ge L (2011) A case history of field pumping tests in a deep gravel formation in the Taipei Basin, Taiwan. Eng Geol 117(1–2):17–28

Pannecoucke L, Le Coz M, Houzé C, Saintenoy A, Cazala C, de Fouquet C (2019) Impact of spatial variability in hydraulic parameters on plume migration within unsaturated surficial formations. J Hydrol 574:160–168

Papadopulos IS, Cooper HH Jr (1967) Drawdown in a well of large diameter. Water Resour Res 3(1):241–244

Park E, Zhan H (2002) Hydraulics of a finite-diameter horizontal well with wellbore storage and skin effect. Adv Water Resour 25(4):389–400

Ratej J, Brenčič M (2005) Comparative analysis of single well aquifer test methods on the mill tailing site of Boršt Žirovski vrh, Slovenija Primerjalna analiza metod obdelave hidravličnih poizkusov v črpanem vodnjaku na odlagališču hidrometalurške jalovine Boršt, Žirovski vrh. Slovenija RMZ-Mater Geoenviron 52(4):669–684

Razminia K, Razminia A, Machado JAT (2016) Analytical solution of fractional order diffusivity equation with wellbore storage and skin effects. J Comput Nonlinear Dyn 11(1):011006

Renard P (2005) The future of hydraulic tests. Hydrogeol J 13(1):259–262

Renard P, Glenz D, Mejias M (2009) Understanding diagnostic plots for well-test interpretation. Hydrogeol J 17(3):589–600

RockWare (2017) RockWorks 17 user manual. Rockware, Golden

Rushton KR, Holt SM (1981) Estimating aquifer parameters for large-diameter wells. Groundwater 19(5):505–509

Sahoo S, Jha MK (2017) Numerical groundwater-flow modeling to evaluate potential effects of pumping and recharge: implications for sustainable groundwater management in the Mahanadi delta region, India. Hydrogeol J 25(8):2489–2511

Samuel MP, Jha MK (2003) Estimation of aquifer parameters from pumping test data by genetic algorithm optimization technique. J Irrig Drainage Eng 129(5):348–359

Sen Z (1995) Applied hydrogeology for scientists and engineers. CRC Press, Boca Raton

Sethi R (2011) A dual-well step drawdown method for the estimation of linear and non-linear flow parameters and wellbore skin factor in confined aquifer systems. J Hydrol 400(1–2):187–194

Shishaye HA, Tait DR, Befus KM, Maher DT (2019) An integrated approach for aquifer characterization and groundwater productivity evaluation in the Lake Haramaya watershed, Ethiopia. Hydrogeol J 27(6):2121–2136

Singh VS (2000) Well storage effect during pumping tests in an aquifer of low permeability. Hydrol Sci J 45(4):589–594

Singhal BBS (2008) Nature of hard rock aquifers: hydrogeological uncertainties and ambiguities. Groundwater Dynamics in Hard Rock Aquifers. Springer, Dordrecht, pp 20–39

Spane FA Jr, Wurstner SK (1993) DERIV: a computer program for calculating pressure derivatives for use in hydraulic test analysis. Groundwater 31(5):814–822

Tartakovsky GD, Neuman SP (2007) Three-dimensional saturated-unsaturated flow with axial symmetry to a partially penetrating well in a compressible unconfined aquifer. Water Resour Res. https://doi.org/10.1029/2006WR005153

Theis CV (1935) The relation between the lowering of the piezometric surface and the rate and duration of discharge of a well using ground-water storage. Eos Trans Am Geophys Union 16(2):519–524

Todd DK, Mays LW (2004) Groundwater hydrology. Wiley, Hoboken

Trabelsi F, Tarhouni J, Mammou AB, Ranieri G (2013) GIS-based subsurface databases and 3-D geological modeling as a tool for the set up of hydrogeological framework: Nabeul-Hammamet coastal aquifer case study (Northeast Tunisia). Environ Earth Sci 70(5):2087–2105

Wang L, Tye A, Hughes A (2010) Riverine floodplain groundwater flow modelling: the case of Shelford (UK). British Geological Survey, Nottingham

Zech A, Zehner B, Kolditz O, Attinger S (2016) Impact of heterogeneous permeability distribution on the groundwater flow systems of a small sedimentary basin. J Hydrol 532:90–101

Zhuang C, Zhou Z, Illman WA, Guo Q, Wang J (2017) Estimating hydraulic parameters of a heterogeneous aquitard using long-term multi-extensometer and groundwater level data. Hydrogeol J 25(6):1721–1732
Ethics declarations
Conflict of interest
The authors declare that they have no conflict of interest.
Additional information
Publisher's Note
Springer Nature remains neutral with regard to jurisdictional claims in published maps and institutional affiliations.
About this article
Cite this article
Rane, N., Jayaraj, G.K. Stratigraphic modeling and hydraulic characterization of a typical basaltic aquifer system in the Kadva river basin, Nashik, India. Model. Earth Syst. Environ. 7, 293–306 (2021). https://doi.org/10.1007/s40808-020-01008-0
Received:

Accepted:

Published:

Issue Date:

DOI: https://doi.org/10.1007/s40808-020-01008-0
Keywords