Abstract
This study combined magnetic and electrical resistivity investigations to assess the reasons for the persistent failure of road pavement along the Ife-Osogbo highway, southwestern Nigeria. Three traverses, each covering both stable and failed road segments, were established for ground magnetic, 2D dipole–dipole electrical resistivity imaging (ERI) and 1D Schlumberger vertical electrical sounding (VES) surveys. Data correction involving diurnal effect and offset were carried out on the magnetic data and the corrected data were presented as profiles and then modeled for 2D subsurface images. The VES and 2D ERI data were respectively modeled for layer geoelectric parameters and 2D resistivity images. The magnetic profiles and 2D magnetic subsurface models identified geologic structures (fault/fracture/contact zones) that are inimical to road pavement foundation beneath the investigated traverses. Subsurface sequences underlying the road segments are topsoil, lateritic layer, weathered layer, partly weathered/fractured basement and the fresh basement rock. Laterite, typical of competent subgrade for road pavement foundation, was generally observed beneath the stable segments while clayey weathered layer characterized the failed segments. From 2D resistivity images (upper 5 m), low resistivities (< 100 Ωm), typical of expansive clay, were observed partly beneath the stable but predominately beneath the failed road segments. Generally, it was observed that road segments founded on relatively high resistivity/lateritic layer were stable while the failed segments were associated with significantly thick and low resistivity weathered layer with thin/no lateritic topsoil cover. It was therefore concluded that the persistent road pavement failure along the Ife-Osogbo highway were caused by the clayey nature of the subsoil and the underlying geologic features.
This is a preview of subscription content, log in to check access.
Access options
Buy single article
Instant access to the full article PDF.
US$ 39.95
Price includes VAT for USA
Subscribe to journal
Immediate online access to all issues from 2019. Subscription will auto renew annually.
US$ 99
This is the net price. Taxes to be calculated in checkout.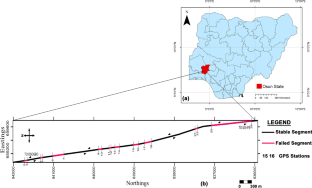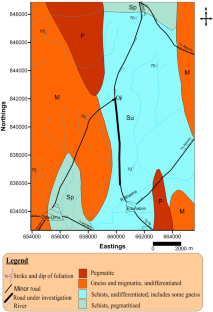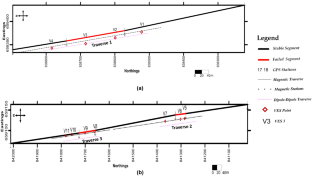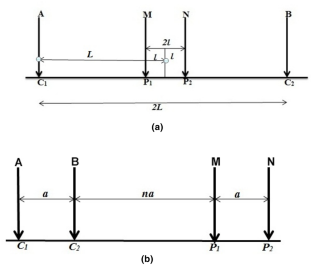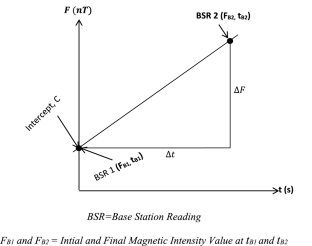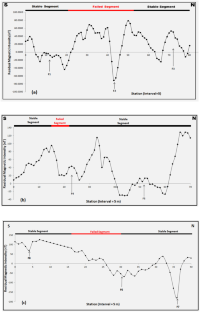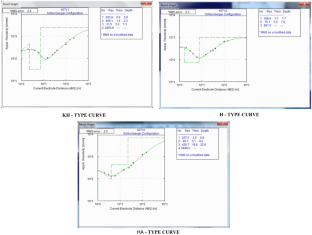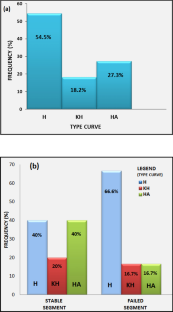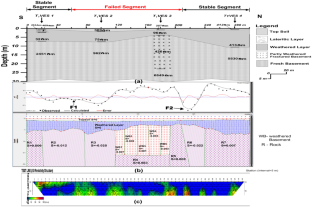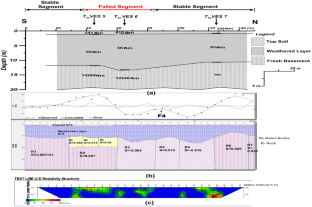 References
Abam TKS, Osadebe CC, Omange GN (2005) Influence of geology on pavement performance: a case study of Shagamu–Benin road. Glob J Geol Sci 3(1):17–24

Abiola OS, Owolabi AO, Odunfa SO, Olusola A (2010) Investigation into causes of premature failure of highway pavements in Nigeria and remedies. In: Proceedings of the Nigeria Institution of Civil Engineers (NICE) conference

Acworth I (1987) The development of crystalline basement aquifers in tropical environment. Q J Eng Geol Hydrogeol 20:265–272

Adegoke AWC, Agada OA (1980) Geotechnical characteristics of some residual soils and their implications on road design in Nigeria. Technical Lecture, Lagos, pp 1–16

Adeleke BO, Leong GC (1978) Certificate of physical and human geography, West African. Oxford University Press, Nigeria

Adeyemi GO (1994) Clay mineralogy, major elements geochemistry and strength characteristics of three highway subgrade soils in southwestern Nigeria. Bull Eng Geol Environ 50:5–8

Adeyemo IA, Omosuyi GA (2012) Geophysical investigation of road pavement instability along Akure-Owo expressway, Southwestern Nigeria. Am J Res 3(4):191–197

Adiat KAN, Adelusi AO, Ayuk MA (2009) Relevance of geophysics in road failures investigation in a typical basement complex of southwestern Nigeria. PJST 10(1):528–539

Adiat KAN, Akinlalu AA, Adegoroye AA (2017) Evaluation of road failure vulnerability section through integrated geophysical and geotechnical studies. NRIAG J Astron Geophys 6:244–255

Adlinge SS, Gupta AK (2010) Pavement deterioration and its cause. J Mech Civ Eng 2(4):9–15

Aghamelu OP, Okogbue CO (2011) Geotechnical assessment of road failures in the Abakaliki area, southeastern Nigeria. IJCEE-IJENS 11(2):12–24

Aigbedion I (2007) Geophysical investigation of road failure using electromagnetic profiles along Opoji, Uwenlenbo and Illeh in Ekpoma-Nigeria. Middle-East J Sci Res 2(3–4):111–115

Ajayi LA (1987) Thought on road failures in Nigeria. Niger Eng 22(1):10–17

Akintorinwa OJ, Oluwole ST (2018) Empirical relationship between electrical resistivity and geotechnical parameters: a case study of Federal University of Technology campus, Akure SW, Nigeria. NRIAG J Astron Geophys 7:123–133

Akintorinwa OJ, Ojo JS, Olorunfemi MO (2010) Geophysical investigation of pavement failure in a basement complex terrain of southwestern Nigeria. PJST 11(2):649–663

Akpan O (2005) Relationship between road pavement failures, engineering indices and underlying geology in a tropical environment. Glob J Geol Sci 3(2):99–108

deGroot-Hedlin C, Constable S (1990) Occam's inversion to generate smooth, two dimensional models from magnetotelluric data. Geophysic 55:1613–1624

Dobrin MB, Savit CH (1988) Introduction to geophysical prospecting. McGraw-Hill Book Co., Singapore, pp 633–635

Fatoba JO (2012) Geoelectric, geotechnical and remote sensing investigation of flexible highway pavement failure along Shagamu–Benin expressway, southwestern Nigeria. Thesis, Obafemi Awolowo University, Ile-Ife

Gidigasu MD (1976) Laterite soil engineering. Elsevier, Amsterdam, p 554

Ibitomi MA, Fatoye FB, Onsachi JM (2014) Geophysical investigation of pavement failure on a portion of Okene-Lokoja highway, North Central Nigeria. J Environ Earth Sci 4(13):44–50

Iloeje NP (1981) A new geography of Nigeria (new revised edition). Longman Nig. Ltd., Lagos, p 201

Jain SS, Kumar P (1998) Report on causes of cracks occurrence in Ramghat–Aligarh road in UP. Report submitted to PWD, Aligarh

Li Y, Oldenburg DW (1992) Approximate inverse mappings in Dc resistivity problems. Geophys J Int 109(2):343–362

Loke MH, Baker RD (1996) Rapid least-square inversion of apparent resistivity pseudosection using quasi-Newton method. Geophys Prospect 44(1):131–152

Mesida EA (1987) The relationship between the geology and the lateritic engineering soils in the northern environs of Akure, Nigeria. Bull Int Assoc Eng Geol 35:65–69

Momoh LO, Akintorinwa O, Olorunfemi MO (2008) Geophysical investigation of highway failure- a case study from the basement complex terrain of southwestern Nigeria. J Appl Sci Res 4(6):637–648

Nelson RG, Haigh JH (1990) Geophysical investigations of in Lateritic terrain geotechnical and environmental geophysics. In: Ward SH (ed) Geotechnical, vol 2. SEG, Tulsa, pp 133–154

NIMET (2007) Nigeria Meteorological Agency daily weather forecast on the Nigerian Television Authority Nigerian Metrological Agency, Oshodi, Lagos

Odunfa SO, Owolabi AO, Aiyedun PO, Sadiq OM (2018) Geotechnical assessment of pavement failure along Lagos-Ibadan expressway. FUOYE J Eng Technol 3(2):113–117

Oladapo MI, Olorunfemi MO, Ojo JS (2008) Geophysical investigation of road failures in the basement complex areas of southwestern Nigeria. Res J Appl Sci 3(2):103–112

Olofinyo OO, Olabode OF, Fatoyinbo IO (2019) Engineering properties of residual soils in part of Southwestern Nigeria: implication for road foundation. SN Appl Sci 1:507. https://doi.org/10.1007/s42452-019-0515-3

Olorunfemi MO, Idornigie AI, Coker AT, Babadiya GC (2004) Assessment of anomalous seepage conditions in the Opa dam embankment, Ile-Ife southwestern Nigeria. Glob J Geol Sci 2(2):191–198

Olorunfemi MO, Akintorinwa JO, Iginla IB, Bayowa GO (2010) Micro-resistivity measurements, near surface sequence delineation, and empirical relationships with engineering geotechnical parameters. Pac J Sci Technol 11(1):537–544

Olorunfemi MO, Oni AG, Bamidele OE, Fadare TK, Aniko OO (2020) Combined geophysical investigation of the characteristics of a regional fault zone for groundwater development in a basement complex terrain of south-west Nigeria. SN Appl Sci 2(6):1033. https://doi.org/10.1007/s42452-020-2363-6

Oni AG, Olorunfemi MO (2016) Integrated geophysical investigation of the Igbara-Oke–Igbara-odo road pavement failure in Ondo/Ekiti State, southwestern, Nigeria. Ife J Sci 18(1):119–131

Owolabi AO, Abiola OS (2011) Development of priority index assessments model for road pavements in Nigeria. In: 8th international conference on managing pavement assets (ICMPA093), Chile, pp 1–11

Owoyemi OO, Adeyemi GO (2017) Variability in the highway geotechnical properties of two residual lateritic soils from Central Nigeria. J Geol Geophys 6:290. https://doi.org/10.4172/2381-8719.1000290

Rahaman MA, Lancelot JR (1984) Continental crust evolution in southwestern Nigeria: constraints from U/Pb dating of Pan-African gneiss. Earth Planets Sci Lett 67:19–34

Talwani M (1965) Computation with the help of magnetic anomalies caused by arbitrary. Geophysics 30:797–817

Talwani M, Heirtzler JR (1964) Computation of magnetic anomalies caused by two-dimensional bodies of arbitrary shape. In: Parks GA (ed) Computers in the mineral industries, part 1, vol 9. Stanford University Publication Geological Sciences, Stanford, pp 464–480

Turner DC (1989) Upper Proterozoic schist belts in the Nigerian sector of the Pan-African province of West African. In: Kogbe CA (ed) Geology of Nigeria. Rock View (Nig.) Limited, Jos

Wen IJ, Bevis M (1987) Computing the gravitational and magnetic anomalies due to a polygon: algorithms and Fortran subroutines. Geophysics 52:232–238
Acknowledgements
The authors are grateful to Dr. O. Afolabi and other lecturers of the Department of Geology, Obafemi Awolowo University, Ile-Ife, Osun State, Nigeria for their support and provision of the geophysical equipment used for this study. We also appreciate Mr. M. O. Okunubi for the help rendered during the course of the study and Dr. A. A. Adepelumi for providing the DIPRO for windows (version 4.0) software used in this study.
Additional information
Publisher's Note
Springer Nature remains neutral with regard to jurisdictional claims in published maps and institutional affiliations.
About this article
Cite this article
Falade, A.H., Olajuyigbe, O.E., Oni, A.G. et al. Integrated magnetic and electrical resistivity investigation for assessment of the causes of road pavement failure along the Ife-Osogbo Highway, Southwestern Nigeria. Model. Earth Syst. Environ. (2020). https://doi.org/10.1007/s40808-020-00966-9
Received:

Accepted:

Published:
Keywords
Road pavement failure

2D modeling

Integrated geophysical method

Geologic structures