Abstract
Hospital has become a most important facility to cure people's health-related problems and improve standard healthy life. In Rajpur–Sonarpur Municipality, populations are increasing rapidly due to urbanization and this area suffers from unequal distribution of hospitals. One government hospital and a few health centres are there. Site selection of any area or hospital with some specific selected criteria is a very difficult process. It is not only the technical buildup, but also social, environmental and political conflicting points. The high income people can easily afford the best health facility. They go to Kolkata for better treatment. Geographic information system (GIS) and multi-criteria decision analysis (MCDA) were used for hospital site selection. Due to the areal condition, we used 12 criteria. Analytic hierarchy process (AHP) and pairwise comparison method were used for weighted calculation of each criterion and spatial analysis of GIS-based system to create the factor map and suitability map. Each criteria map was classified from 1 (Low suitable) to 10 (highly Suitable) for their area for this site selection. All factors map were overlaid using the ArcGIS weighted overlay selection tool. The final map is represented the hospital site suitability area in Rajpur–Sonarpur Municipality and it is being presented from the highly suitable 3.4514% (169.97 ha) to not suitable area 23.9562% (1179.85 ha). The result shows that the northern part of this area is best for all criteria due to the density of the population. The south and middle part of this area are moderate or less suitable site for a new hospital.
Access options
Buy single article
Instant access to the full article PDF.
US$ 39.95
Tax calculation will be finalised during checkout.
Subscribe to journal
Immediate online access to all issues from 2019. Subscription will auto renew annually.
US$ 79
Tax calculation will be finalised during checkout.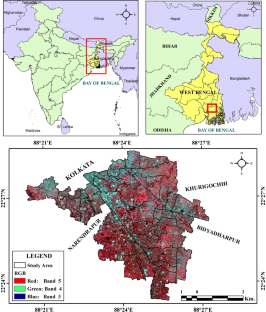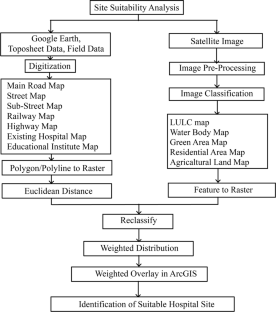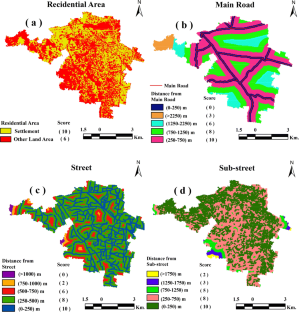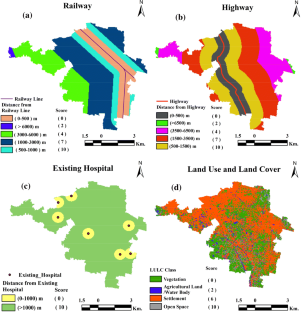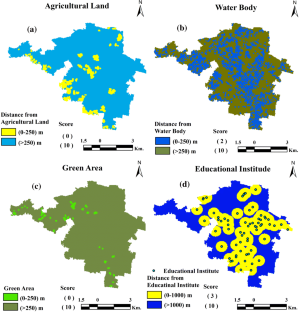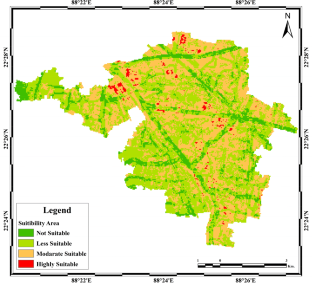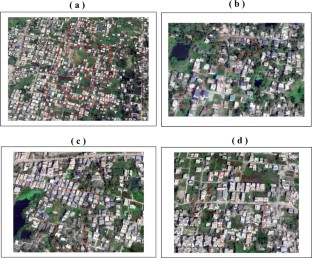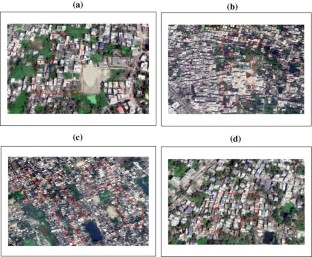 References
Al-Shalabi MA, Mansor SB, Ahmed NB, Shiriff R (2006) GIS based multicriteria approaches to housing site suitability assessment. In: XXIII FIG congress, shaping the change, Munich, Germany, October (pp. 8–13). [Online] Accessed January 2020 http://fp-hid1076751.testsider.dk/resources/proceedings/fig_proceedings/fig2006/papers/ts72/ts72_05_alshalabi_etal%2520_0702.pdf

Akıncı H, Özalp AY, Turgut B (2013) Agricultural land use suitability analysis using GIS and AHP technique. Comput Electron Agricul 97:71–82. https://doi.org/10.1016/j.compag.2013.07.006

Abdullahi S, Mahmud ARB, Pradhan B (2014) Spatial modelling of site suitability assessment for hospitals using geographical information system-based multicriteria approach at Qazvin city. Iran Geocarto Int 29(2):164–184. https://doi.org/10.1080/10106049.2012.752531

Ahmed AH, Mahmoud H, Aly AMM (2016) Site suitability evaluation for sustainable distribution of hospital using spatial information technologies and AHP: a case study of Upper Egypt, Aswan City. J Geographic Inform Syst 8(05):578

Aydi A, Abichou T, Nasr IH, Louati M, Zairi M (2016) Assessment of land suitability for olive mill wastewater disposal site selection by integrating fuzzy logic, AHP, and WLC in a GIS. Environ Monit Assess 188(1):59. https://doi.org/10.1007/s10661-015-5076-3

Bhagat, V. (2014). Use of IRS P6 LISS-IV data for land suitability analysis for cashew plantation in hilly zone. Asian J Geoinform 14(3):25–30

Beheshtifar S, Alimohammadi A (2014) Multi-objective evolutionary algorithm for modeling of site suitability for health-care facilities. https://hdl.handle.net/11400/1410. Accessed 17 March 2020

Cengiz T, Akbulak C (2009) Application of analytical hierarchy process and geographic information systems in land-use suitability evaluation: a case study of Dümrek village (Çanakkale, Turkey). Int J Sustain Dev World Ecol 16(4):286–294. https://www.tandfonline.com/doi/abs/10.1080/13504500903106634

Chen Y, Yu J, Khan S (2010) Spatial sensitivity analysis of multi-criteria weights in GIS-based land suitability evaluation. Environ Modelling Softw 25(12):1582–1591

Effat HA, Hassan OA (2013) Designing and evaluation of three alternatives highway routes using the analytical hierarchy process and the least-cost path analysis, application in Sinai Peninsula, Egypt. Egypt J Remote Sens Space Sci 16(2):141–151

Feizizadeh B, Blaschke T (2013) Land suitability analysis for Tabriz County, Iran: a multi-criteria evaluation approach using GIS. J Environ Planning Manage 56(1):1–23

Feizizadeh B, Jankowski P, Blaschke T (2014) A GIS based spatially-explicit sensitivity and uncertainty analysis approach for multi-criteria decision analysis. Comput Geosci 64:81–95

Gordon A, Womersley J (1997) The use of mapping in public health and planning health services. J Publ Health 19(2):139–147. https://doi.org/10.1093/oxfordjournals.pubmed.a024601

Girvan MS, Bullimore J, Pretty JN, Osborn AM, Ball AS (2003) Soil type is the primary determinant of the composition of the total and active bacterial communities in arable soils. Appl Environ Microbiol 69(3):1800–1809

Kiker GA, Bridges TS, Varghese A, Seager TP, Linkov I (2005) Application of multicriteria decision analysis in environmental decision making. Integrated Environ Assess Manag 1(2):95–108

Kar B, Hodgson ME (2008) A GIS-based model to determine site suitability of emergency evacuation shelters. Trans GIS 12(2):227–248

Khahro SH, Matori AN, Chandio IA, Talpur MAH (2014) Land suitability analysis for installing new petrol filling stations using GIS. Proc Eng 77:28–36

Malczewski J (1999) GIS and multicriteria decision analysis. Wiley, Hoboken

Malczewski J (2004) GIS-based land suitability: a critical overview progress in planning. Progress Planning 62:3–65

Maglogiannis I, Hadjiefthymiades S (2007) EmerLoc: Location-based services for emergency medical incidents. Int J Med Inform 76(10):747–759

Miller W, Collins MG, Steiner FR, Cook E (1998) An approach for greenway suitability analysis. Landsc Urban Planning 42(2–4):91–105

Muhsin N, Ahamed T, Noguchi R (2018) GIS-based multi-criteria analysis modeling used to locate suitable sites for industries in suburban areas in Bangladesh to ensure the sustainability of agricultural lands. Asia Pac J Reg Sci 2(1):35–64. https://doi.org/10.1007/s41685-017-0046-0

Nobre FF, Trotta LTF, Gomes LFAM (1999) Multi‐criteria decision making–an approach to setting priorities in health care. Stat Med 18(23):3345–3354. https://doi.org/10.1002/(SICI)1097-0258(19991215)18:23%3C3345::AID-SIM321%3E3.0.CO;2-7

Ohsawa I, Ishikawa M, Takahashi K, Watanabe M, Nishimaki K, Yamagata K, Ohta S (2007) Hydrogen acts as a therapeutic antioxidant by selectively reducing cytotoxic oxygen radicals. Nat Med 13(6):688–694. https://doi.org/10.1038/nm1577

Ohta K, Kobashi G, Takano S, Kagaya S, Yamada H, Minakami H, Yamamura E (2007) Analysis of the geographical accessibility of neurosurgical emergency hospitals in Sapporo city using GIS and AHP. Int J Geogr Inf Sci 21(6):687–698. https://doi.org/10.1080/13658810601135692

Parimala M, Lopez D (2012) Decision making in agriculture based on land suitability–spatial data analysis approach 1. https://www.researchgate.net/publication/292645177_

Pramanik MK (2016) Site suitability analysis for agricultural land use of Darjeeling district using AHP and GIS techniques. Modeling Earth Syst Environ 2(2):56

Saaty TL (1980) The analytical hierarchy process, planning, priority. Resource allocation. RWS publications

Saaty TL (1990) Decision making for leaders: the analytic hierarchy process for decisions in a complex world. RWS publications, Pittsburgh

Saaty TL (1997) That is not the analytic hierarchy process: what the AHP is and what it is not. J Multi‐Criteria Decis Anal 6(6):324–335. https://doi.org/10.1002/(SICI)1099-1360(199711)6:6%3C324::AID-MCDA167%3E3.0.CO;2-Q

Saaty TL (2003) Decision-making with the AHP: Why is the principal eigenvector necessary. Eur J Oper Res 145(1):85–91. https://doi.org/10.1016/S0377-2217(02)00227-8

Saaty TL (2005) Theory and applications of the analytic network process: decision making with benefits, opportunities, costs, and risks. RWS publications, Pittsburgh

Saaty TL (2008) Decision making with the analytic hierarchy process. Int J Serv Sci 1(1):83–98

Triantaphyllou E, Mann SH (1995) Using the analytic hierarchy process for decision making in engineering applications: some challenges. Int J Ind Eng 2(1):35–44

Tiwari DN, Loof R, Paudyal GN (1999) Environmental–economic decision-making in lowland irrigated agriculture using multi-criteria analysis techniques. Agric Syst 60(2):99–112

Tienwong K, Dasananda S, Navanugraha C (2009) Integration of land evaluation and the analytical hierarchical process method for energy crops in Kanchanaburi, Thailand. Sci Asia 35:170–177

Vahidnia MH, Alesheikh AA, Alimohammadi A (2009) Hospital site selection using fuzzy AHP and its derivatives. J Environ Manage 90(10):3048–3056. https://doi.org/10.1016/j.jenvman.2009.04.010

Yalew SG, van Griensven A, Mul ML, van der Zaag P (2016) Land suitability analysis for agriculture in the Abbay basin using remote sensing, GIS and AHP techniques. Modeling Earth Syst Environ 2(2):101. https://doi.org/10.1007/s40808-016-0167-x

Zabihi H, Ahmad A, Vogeler I, Said MN, Golmohammadi M, Golein B, Nilashi M (2015) Land suitability procedure for sustainable citrus planning using the application of the analytical network process approach and GIS. Comput Electron Agric 117:114–126. https://doi.org/10.1016/j.compag.2015.07.014

Zhou L, Wu, J. (2012). GIS-based multi-criteria analysis for hospital site selection in Haidian district of Beijing. Student Thesis, Master Programme in Geomatics. University of Gävle, Sweden. https://www.diva-portal.org/smash/get/diva2:555935/FULLTEXT01.pdf. Accessed 18 March 2020

Zolekar RB, Bhagat VS (2015) Multi-criteria land suitability analysis for agriculture in hilly zone: remote sensing and GIS approach. Comput Electron Agric 118:300–321. https://doi.org/10.1016/j.compag.2015.09.016
Acknowledgements
We would like to thank the Vidyasagar University for supporting this research to develop the multi-criteria decision analysis for hospital site selection in the Rajpur–Sonarpur Municipality area situated in South 24 Parganas district, India. We are also thankful to the local government body for our field data collection and other necessary secondary data collection. We also express our gratitude to the West Bengal Government for providing scholarship to carry out this research.
Additional information
Publisher's Note
Springer Nature remains neutral with regard to jurisdictional claims in published maps and institutional affiliations.
About this article
Cite this article
Halder, B., Bandyopadhyay, J. & Banik, P. Assessment of hospital sites' suitability by spatial information technologies using AHP and GIS-based multi-criteria approach of Rajpur–Sonarpur Municipality. Model. Earth Syst. Environ. 6, 2581–2596 (2020). https://doi.org/10.1007/s40808-020-00852-4
Received:

Accepted:

Published:

Issue Date:
Keywords
Site selection process

Geographic information system

AHP

MCDA

Hospital

Rajpur–Sonarpur Municipality