Abstract
This study is to assess the current trend of implemented climate change adaptation strategies, food security management system, and crop modelling in the context of Lechraganj Char Union, Harirampur Subdistrict, Bangladesh. The adverse impacts on the local char dwellers of various major disasters in the study area are mainly drought; flood, riverbank erosion, and norwester accelerated by climate change were elaborated in this study as well. This research paper also analyzes the implemented pre-disaster and post-disaster approaches of various climate change adaptation strategies to insecure the food security system by the local villagers. Both primary and secondary sources were used to illustrate the research problem and receiving proper outputs from the précised structure of the study. The nature and types of food insufficiency, migration process, occupation changes, agriculture process, socio-economic condition, and governmental and non-governmental organization steps in the study area were considered as research trimming.
Access options
Buy single article
Instant access to the full article PDF.
US$ 39.95
Tax calculation will be finalised during checkout.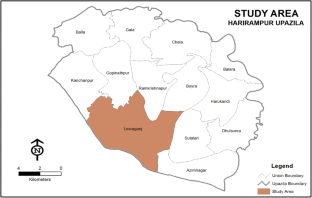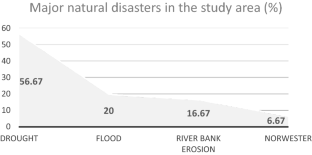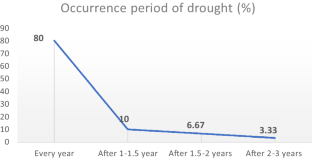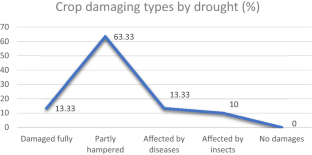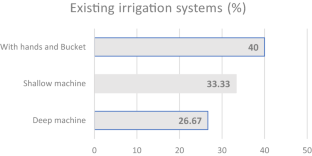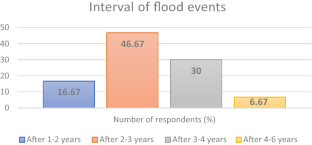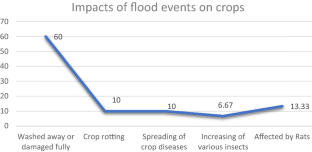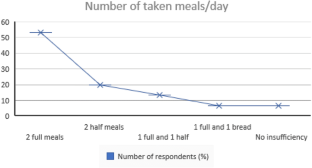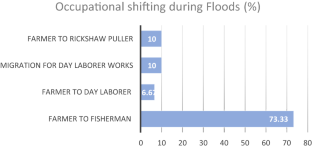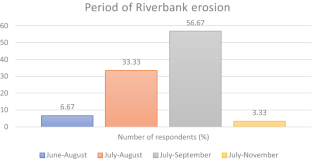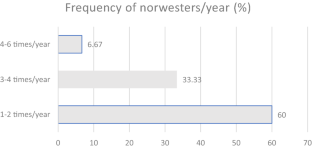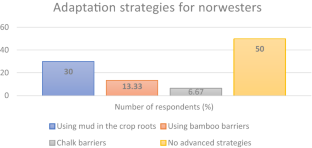 References
Albaba JM (1993) Political economy of large natural disasters with special reference to developing countries. Clarendon Press, Oxford

Anderson MD (2008) Rights-based food systems and the goals of food systems reform. Agric Hum Values 25(4):593

Barton I (1997) Vulnerability and adaptative response in the context of climate and climatic change. Clim Change 36:185–196

BBS District Gazetteer (2014) Manikganj District, Dhaka, Bangladesh

Blaik P, Wisner B (1994) Natural hazards: people's vulnerability and disasters. Rouledge, London

Bohle HG et al (1994) Climate changes and social vulnerability; towards a sociology and geography of food security. Glob Environ Change Hum Policy Dimens 4(1):37–48

Carter TP et al (1994) IPCC technical guidelines for assessing climatic change impacts and adaptations. University College London, London

Datta DK, Ghosh P, Aktar M (2018) Bio-physical attributes of coastal villages under climate stressed environmental conditions in Bengal delta, Bangladesh. J Clim Change 4:71–83

Denevan W (1983) Adaptation, variation and cultural geography. Prof Geogr 35:406–412

Fankhouser III CE, Schneider GN, DePaolo JR (1997) Removable cap visor extension. U.S. Patent 5,621,915

Feenstra JF, Buton I (1998) Handbook on methods for climatic change impact assessment and adaptation strategies. UNEP, Amsterdam

Frederick KD (1997) Adaptation to climate impacts on the supply and demand for water. Clim Change 37:141–156

Hardesty DL (1983) Re-thinking cultural adaptation. Prof Geogr 385:399–406

Huq S (2001) Climate change and Bangladesh, pp 1617

International Federation of Red Cross and Red Crescent Societies (IFRC) (2009) Emergency appeal. Kenya. Drought emergency appeal no. MDRKE009, GLIDE no. DR-2009-000197-KEN, 17 September

IPCC (1996) Summery for policy makers; Scientific technical analysis of adaptations and mitigation of climate change. Cambridge University Press, Cambridge, pp 1–18

Islam S, Alam J (2004) Annual report, BARCIK, Bangladesh

Islam R, Islam MN, Islam MN (2017) Evaluation of solar home system (SHS) implementation in Harirampur subdistrict. Renew Sustain Energy Rev 69:1281–1285

Kates RW (2000) Cautionary tales: adaptation and global poor. Clim Change 45:5–17

Klein RJT, Tol RSE (1997) Adaptation to climate change: Options and technologies. Institute of Environmental Sciences, Vrije University, Amsterdam

Ophra SJ, Begum S, Islam R, Islam MN (2018) Assessment of bank erosion and channel shifting of Padma River in Bangladesh using RS and GIS techniques. Spat Inf Res 1–7

Sen GA, Santoso A, Taschetto AS, Ummenhofer CC, Trevena J, England MH (2009) Projected changes to the Southern Hemisphere ocean and sea ice in the IPCC AR4 climate models. J Clim 22(11):3047–3078. https://doi.org/10.1175/2008JCLI2827.1

Shahzahan H, Khan H (2009) Climate change and its impacts on older adults' health in Kazakhstan. The NISPAcee J Public Adm Policy 4(1):97–119

Smit B, Menabb P (1997) Agricultural adaptation to climate change. Global Environ Change 33:7–29

Hall DK, Williams RS, Barton JS, Sigurosson O (2000) Evaluation of remote-sensing techniques to measure decadal-scale changes of Hofsjökull ice cap, Iceland. J Glaciol 46(154):375–388

Smith J, Cenhart SS (1996) Climate change adaptation policy options. Clim Res 6:193–201

Smithers J, Smit B (1997) Human adaptation to climatic variability and change. Glob Environ Change 7(2):129–146

Titus JG (1990) Strategies for adapting to the greenhouse effect. J Am Plan 56:311323

Wigley TML (1985) Climatology: impact of extreme events Nature. 316(6024):106–107
Additional information
Publisher's Note
Springer Nature remains neutral with regard to jurisdictional claims in published maps and institutional affiliations.
About this article
Cite this article
Islam, R., Islam, M.M., Islam, M.N. et al. Climate change adaptation strategies: a prospect toward crop modelling and food security management. Model. Earth Syst. Environ. 6, 769–777 (2020). https://doi.org/10.1007/s40808-019-00708-6
Received:

Accepted:

Published:

Issue Date:
Keywords
Climate change

Adaptation strategies

Natural disaster

Food security

Food insufficiency