Abstract
The research paper aims at understanding the level of vulnerability of the Haor communities in Sulla Upazila of Sunamganj District due to climate change induced events. It assesses the climate change impacts on household and community level and summarizes the adaptation efforts by the communities and reconfirms the communities' challenges and needs. Using geographic information system, the paper prepares ward level vulnerability maps. Questionnaire survey, key informant interviews and focus group discussions produced first hand attribute information which were processed and analyzed within SPSS environment. Policy documents, previous researches, and Government statistics and reports helped develop the concepts and planning of the research. The ArcGIS-based mapping process and parameters have been finalized upon consultation with the inhabitants and they can update the process over time and check for their status and prioritize adaptation strategies. Haors' unparalleled hydro-ecological attributes pose opportunities and constraints for the inhabitants. Poverty, lack of basic infrastructure and amenities, awareness and external support have already put the Haor community inhabitants in a vulnerable situation while the recurring natural hazards and shifting pattern of climate is making the constraints nearly unmanageable for the communities alone. Excessive rainfall in the monsoon and drought in the dry season are affected the farming and fishery-based communities the most. The adaptation strategies that they have taken up are insignificant. It is equally important for them to be able to correctly interpret their situation and measure their level of vulnerability so that they can participate in the local level action planning better. This paper might to encourage the local government organizations to initiate local adaptation programme of action, adopting the methodology at a broader scale, incorporating more vulnerability indicators, where and when applicable, for different timeframes and communities.
This is a preview of subscription content, log in to check access.
Access options
Buy single article
Instant access to the full article PDF.
US$ 39.95
Price includes VAT for USA
Subscribe to journal
Immediate online access to all issues from 2019. Subscription will auto renew annually.
US$ 99
This is the net price. Taxes to be calculated in checkout.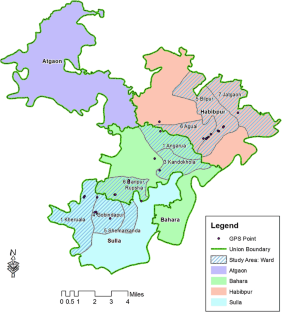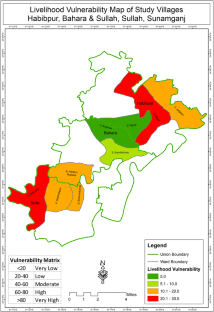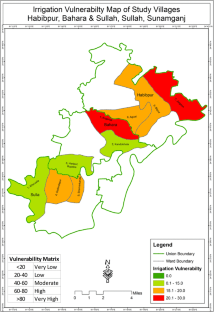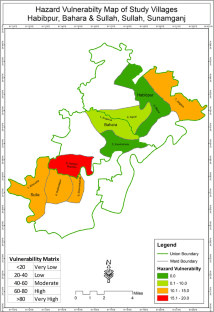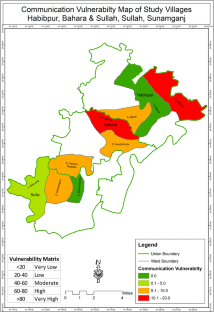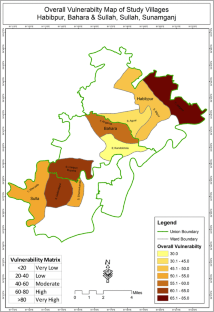 References
Abedin MA, Habiba U, Shaw R (2013) Gender and climate change: impacts and coping mechanism of women and speciall vulnerable groups. In: Shaw R, Mallick F, Rahman A (eds) Climate change adaptation actions in Bangladesh. Springer, Tokyo

Abuodha PA, Woodroffe CD (2006) International assessments of the vulnerability of the coastal zone to climate change, including an Australian perspective. School of Earth and Environmental Sciences, University of Wollongong for the Australian Greenhouse Office, Department of the Environment and Heritage, Australia

ADB (1998) Asia Least-Cost Greenhouse Gas Abatement Strategy (ALGAS). Bangladesh. Asian Development Bank, Global Environmental Facility, United Nations Development Programme

Adger WN, Huq S, Brown K, Conway D, Hulme M (2003) Adaptation to climate change in the developing world. Prog Dev Stud 3(3):179–195

Ahmed AU (2001) Adaptability of Bangladesh's crop agriculture to climate change: possibilities and limitations. Asia Pac J Environ Dev 7(1):71–93

Ahmed AU, Alam M (1999) Development of climate change scenarios with general circulation models. In: Huq S, Karim Z, Asaduzzaman M, Mahtab F (eds) Vulnerability and adaptation to climate change for Bangladesh. Kluwer Academic Publishers, Dordrecht

Ahmed N, Occhipinti-Ambrogi A, Muir JF (2012) The impact of climate change on prawn postlarvae fishing in coastal Bangladesh: socioeconomic and ecological perspectives. Mar Policy 39:224–233

Ali A (1999) Climate change impacts and adaptation assessment in Bangladesh. Clim Res 12:109–116

Asaduzzaman M, Reazuddin M, Ahmed AU (eds) (1997) Global climate change. Bangladesh Episode. Department of Environment (DoE), Ministry of Environment and Forest. Government of the People's Republic of Bangladesh

BBS (2011a) Census report 2011. BBS (Bangladesh Bureau of Statistics). Ministry of Planning, Government of Bangladesh, Dhaka

BBS (2011b) Population and Housing Census 2011 Community Report: Sunamganj. Ministry of Planning, Government of Bangladesh, Dhaka

BCAS (2012) 1st National conference community based adaptation to climate change in Bangladesh 08–09 April 2012, Dhaka

Bevanger K, Brøseth H (2001) Bird collisions with power lines—an experiment with ptarmigan (Lagopus spp.). Biol Conserv 99:341–346

BHWDB (2012) Master plan of Haor area: volume I summary report. Ministry of Water Resources, Government of Bangladesh, Dhaka

Black R, Bennett SRG, Thomas SM (2011) Migration as adaptation: mobility can bring opportunities for coping with environmental change. Nature 478:477–479

Brammer H (1990) Floods in Bangladesh: geographical background to the 1987 and 1988 floods. Geogr J 156(1):112–122

CCC (2009) Characterizing long-term changes of Bangladesh climate in context of agriculture and irrigation. Climate Change Cell, DoE, MoEF, Component 4b, CDMP, MoFDM. Month 2009, Dhaka

CDMPII (2014) Upazila level disaster management plan development: Upazila-Sulla, District-Sunamganj. Ministry of Disaster Management and Relief, Dhaka

Chowdhury TA, Chowdhury SS (2011) Performance evaluation of agricultural banks in Bangladesh. Int J Bus Manag 6(4):75–89. doi:10.5539/ijbm.v6n4p75

Collins AE (2008) Health security or climate change adaptation? What do we really mean by disaster risk reduction in times of disease? In: Walter MP, Ammann J, Hakkinen E, Hoffer G (eds) International disaster and risk conference (IDRC) Davos 2008, Switzerland, p 46

Debsarma SK (2003) Intra-annual and inter-annual variations of rainfall over different regions of Bangladesh. In Quadir DA, Prasad K, Hussain MA (eds) Proceedings of SAARC seminar on climate variability in the South Asian region and its impacts, held on 10–12 December 2002. SAARC Meteorological Research Center (SMRC), Dhaka, pp 137

Emaran A, Rob MA, Kabir MH, Islam MN (2016) Modeling spatio-temporal shoreline and areal dynamics of coastal island using geospatial technique. Model Earth Syst Environ 2:4. doi:10.1007/s40808-015-0060-z

Faruque HSM, Ali ML (2005) Climate change and water resources management in Bangladesh. In: Mirza MMQ, Ahmad QK (eds) Climate change and water resources in South Asia. A. A. Balkema Publishers, Leiden, p 231

Fussel H-M, Klein RJT (2006) Climate change vulnerability assessments: an evolution of conceptual thinking. Clim Change 75:301–329

GoB (2005) National adaptation program of action, Ministry of Environment and Forest (MOEF), extracted from UNFCC Website, http://unfccc.int/resource/docs/napa/ban01.pdf. Accessed 15 Jul 2011

GoB & UNDP (2009) The probable impacts of climate change on poverty and economic growth and the options of coping with adverse effect of climate change in Bangladesh. Support to Monitoring PRS and MDGs in Bangladesh. General Economics Division, Planning Commission, Government of the People's Republic of Bangladesh & UNDP Bangladesh, p 117

Hinkel J (2005) DIVA: an iterative method for building modular integrated models. Adv Geosci 4:45–50 (SRef-ID: 1680-7359/adgeo/2005-4-45)

Hinkel J, Klein RJT (2009) Integrating knowledge to assess coastal vulnerability to sea-level rise: the development of the DIVA tool. Glob Environ Change 19:384–395. doi:10.1016/j.gloenvcha.2009.03.002

Hossain MAR, Naser MN (2014) Assessment of agro-ecological zone specific risks, vulnerabilities of disaster and climate change and Climate Change Adaptation (CCA) in fisheries sector of Bangladesh—Draft Report. Disaster and Climate Risks Management in Fisheries Project. Department of Fisheries/CDMP-II, Matshya Bhaban, Ramna, p 97

Huq S, Moinuddin K (2004) Climate change, vulnerability and adaptation in Bangladesh. In: Grover VI (ed) Climate change five years after Kyoto. Science Publishers Inc., Enfield, pp 251–271

Intergovernmental Panel on Climate Change (IPCC) (2007) IPCC fourth assessment report (AR4): climate change 2007: synthesis report. World Meteorological Organization, Geneva

Islam MN, Kitazawa D (2012) Modeling of freshwater wetland management strategies for building the public awareness at local level in Bangladesh. Mitig Adapt Strateg Glob Change 18(4):449–470. doi:10.1007/s11027-012-9369-3

Islam MN, Kitazawa D, Runfola DM, Giner N (2012) Urban lakes in a developing nation: drivers, states, and impacts of water quality and quantity in Dhaka. Bangladesh Lakes Reserv Res Manag 17:253–263. doi:10.1111/lre.12010

Islam MM, Sallu S, Hubacek K, Paavola J (2014) Vulnerability of fishery-based livelihoods to the impacts of climate variability and change: insights from coastal Bangladesh. Reg Environ Change 14:281–294

Islam MN, Kitazawa D, Mannan MA, Islam MS, Tamanna S, Islam MN (2015) Modeling alternative mitigation strategies of salinity intrusion on food production by integrating SWOT and TEAM decision models Model. Earth Syst Environ 1:12. doi:10.1007/s40808-015-0012-7

Karim M, Ahmed M, Talukder RK, Taslim MA, Rahman HZ (2006) Dynamic agribusiness focused aquaculture for poverty reduction and economic growth in Bangladesh. WorldFish Center Discuss Ser 1:44

Karmakar S, Shrestha ML (2000) Recent climatic changes in Bangladesh. SMRC No. 4. SAARC Meteorological Research Centre, Dhaka

Kartiki K (2011) Climate change and migration: a case study from rural Bangladesh. Gend Dev 9(1):23–38

Mazid MA (2002) Development of fisheries in Bangladesh: plans and strategies for income generation and poverty alleviation. Nasima Mazid, Dhaka

Ministry of Environment and Forests (MoEF) (2009) Bangladesh climate change strategy and action plan 2009. Government of the People's Republic of Bangladesh, Dhaka

Mirza MMQ (1997) Modeling the effects of climate change on flooding in Bangladesh. A thesis for the Doctor of Philosophy in the International and Resource Studies at The University of Waikato

Mirza MMQ (2005) The implications of climate change on river discharge in Bangladesh. In: Mirza MMQ, Ahmad QK (eds) Climate change and water resources in South Asia. A. A. Balkema Publishers, Leiden, p 103

MoEF (2005) National adaptation program of action. Final Report, Ministry of Environment and Forest, Government of Bangladesh

MoEF (2009) Bangladesh Climate Change Strategy and Action Plan 2009, Ministry of Environment and Forests, Government of the People's Republic of Bangladesh, Dhaka, p 76

Parvin GA, Ahsan SMR (2013) Impacts of climate change on food security of rural poor women in Bangladesh. Manag Environ Qual 24(6):802–814

Rahman KM, Ahmed FRS, Islam MN (2016) Modeling on climate induced drought of north-western region. Bangladesh Model Earth Syst Environ 2:45. doi:10.1007/s40808-016-0089-7

Rawlani AK, Sovacool BK (2011) Building responsiveness to climate change through community based adaptation in Bangladesh. Mitig Adapt Strateg Glob Change 16:845–863

Romilly P (2005) Time series modelling of global mean temperature for managerial decision-making. J Environ Manag 76:61–70

Sarkar MAR, Alam K, Gow J (2013) Assessing the determinants of rice farmers' adaptation strategies to climate change in Bangladesh. Int J Clim Change Strateg Manag 5(4):382–403

Schaerer C, Ahmed AU (2004) Adaptation to climate change in vulnerable communities: lessons from practice in Southwestern Bangladesh. In: Ahmed AU, Haque N (eds) Adaptation to climate change knowledge sharing for capacity building. Workshop Proceedings held in COP-9 at Milan. 10 December, 2003. Climate Action Network South Asia CANSA, Dhaka, p 09

Shahid S (2010) Recent trends in the climate of Bangladesh. Clim Res 42(3):185–193

Shahid S (2011) Impact of climate change on irrigation water demand of dry season Boro rice in northwest Bangladesh. Clim Change 105:433–453. doi:10.1007/s10584-010-9895-5

Tsai Chu-fa, Ali MY (1985) Openwater fisheries (carp) management program in Bangladesh. Fish Inf Bull 2(4):51 (BFRSS. DOF, Dhaka)

UNDP (2012) Terminal evaluation: coastal and wetland biodiversity management at Cox's Bazar and Hakaluki Haor. United Nations Development Program, Dhaka

UNFCCC (1997) Kyoto protocol to the United Nations framework convention on climate change, 11 December, Kyoto

WB-DRG (World Bank, Development Research Group) (2016) Poverty headcount ratio at $1.90 a day (2011 PPP) (% of population). http://data.worldbank.org/indicator/SI.POV.DDAY. Accessed 18 Jan 2016
Acknowledgements
The authors are grateful to the Islamic Relief, Bangladesh (House-10, Road-10, Block-K, Baridhara, Dhaka-1212, Bangladesh) is an international development organization established in the UK in 1984, seeking to promote sustainable economic and social development by implementing relief and development programmes in close cooperation with local communities for providing financial grants to complete this research. The authors show the debt gratitude to the inhabitants of Haor areas those who have provided many information and supports. Feedback from anonymous researchers and reviewers helped to improve the quality of this research.
About this article
Cite this article
Jakariya, M., Islam, M.N. Evaluation of climate change induced vulnerability and adaptation strategies at Haor areas in Bangladesh by integrating GIS and DIVA model. Model. Earth Syst. Environ. 3, 1303–1321 (2017). https://doi.org/10.1007/s40808-017-0378-9
Received:

Accepted:

Published:

Issue Date:
Keywords
Haor (wetland)

Climate change impacts

Vulnerability mapping

Adaptation

GIS and DIVA tools

Modeling