Abstract
While siblings can be close allies, they can also be significant competitors. They are also family members that are typically with us for most of our lives. Research has raised questions about the factors shaping sibling relationships, and an adaptationist perspective would predict a role for a number of factors including sex, genetic relatedness, and childhood co-residence. Recent work has highlighted sex differences with regard to conflict and emotional closeness, greater conflict among full-siblings than half-siblings, and a role for co-residence in increasing sibling altruism. This study examines levels of both sibling conflict and sibling cooperation as a function of respondent sex, sex of sibling, birth interval (or absolute age difference), co-residence, and relatedness. Results indicate that sibling conflict and cooperation may not be shaped by the same set of factors. Sibling conflict was predicted by own sex, sex of sibling, birth interval, duration of co-residence, and the degree of relatedness. Greater levels of conflict were reported by sisters, those closer in age, those who have co-resided longer, and full-siblings compared to half-siblings. However, sibling prosocialness was only predicted by sex and relatedness with females and full siblings reporting greater levels of sibling prosocialness. More research investigating patterns of conflict and cooperation within families using more ecologically valid cues are necessary to determine whether the two are operating under the same mechanism, sensitive to the same cues, or are, indeed, operating under different mechanisms.
Access options
Buy single article
Instant access to the full article PDF.
USD 39.95
Price excludes VAT (USA)
Tax calculation will be finalised during checkout.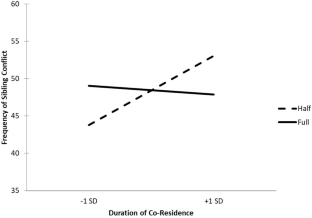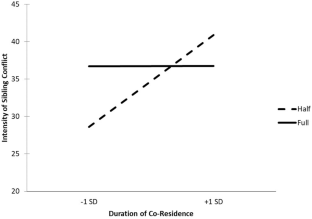 Availability of Data and Material
Data and measures will be made available upon publication. Deidentified data is available from the authors or on Zenodo.
References
Bressan, P., Colarelli, S. M., & Cavalieri, M. B. (2009). Biologically costly altruism depends on emotional closeness among step but not half or full sibling. Evolutionary Psychology, 7(1), 147470490900700130.

Brody, G. H., Stoneman, Z., MacKinnon, C. E., & MacKinnon, R. (1985). Role relationships and behaviors between preschool-aged and school-age sibling pairs. Developmental Psychology, 21, 124–129.

Buist, K. L., Dekovic, M., Meeus, W., & Van Aken, M. A. G. (2002). Developmental patterns in adolescent attachment to mother, father and sibling. Journal of Youth and Adolescence, 31, 167–176.

Campione-Barr, N., & Smetana, J. G. (2010). "Who said you could wear my sweater?" Adolescent siblings' conflicts and associations with relationship quality. Child Development, 81, 464–471.

Caprara, G. V., Steca, P., Zelli, A., & Capanna, C. (2005). A new scale for measuring adults' prosocialness. European Journal of Psychological Assessment, 21(2), 77–89.

Cicirelli, V. G. (1995). Sibling relationships across the life span. Springer.

Coyne, S. M., Jensen, A. C., Smith, N. J., & Erickson, D. H. (2016). Super Mario brothers and sisters: Associations between coplaying video games and sibling conflict and affection. Journal of Adolescence, 47, 48–59.

Dunn, J., & Munn, P. (1985). Becoming a family member: family conflict and the development of socialunderstanding in the second year. Child Development, 56, 764–774.

Emlen, S. T. (1997). The evolutionary study of human family systems. Social Science Information, 34, 563–589.

Gyuris, P., Kozma, L., Kisander, Z., Láng, A., Ferencz, T., & Kocsor, F (2020). Sibling relations in patchwork families: co-residence is more influential than genetic relatedness. Frontiers in Psychology, 11. https://doi.org/10.3389/psyg.2020.00993

Hamilton, W. D. (1964). The genetic evolution of social behavior, I and II. Journal of Theoretical Biology, 7, 1–52.

Hodge, S. J., Manica, A., Flower, T. P., & Clutton-Brock, T. H. (2008). Determinants of reproductive success in dominant female meerkats. Journal of Animal Ecology, 77, 92–102.

Holmes, W. G., & Sherman, P. W. (1982). The ontogeny of kin recognition in two species of ground squirrels. American Zoologist, 22, 491–517.

Jankowiak, W., & Diderich, M. (2000). Sibling solidarity in a polygamous community in the USA: unpacking inclusive fitness. Evolution and Human Behavior, 21, 125–139.

Jensen, A. C., Whiteman, S. D., & Fingerman, K. L. (2018). "Can't live with or without them:" transitions and young adults' perceptions of sibling relationships. Journal of Family Psychology, 32(3), 385–395.

Khan, R., Brewer, G., & Archer, J. (2020). Genetic relatedness, emotional closeness and physical aggression: a comparison of full and half sibling experiences. Europe's Journal of Psychology, 16(1), 167–185.

McGuire, S., Manke, B., Eftekhari, A., & Dunn, J. (2000). Children's perceptions of sibling conflict during middle childhood: issues and sibling (dis)similarity. Social Development, 9(2), 173–190.

McHale, S. M., Updegraff, K. A., & Whiteman, S. D. (2012). Sibling relationships and influences in childhood and adolescence. Journal of Marriage and the Family, 74, 913–930.

Neyer, F. J., & Lang, F. R. (2003). Blood is thicker than water: kinship orientation across adulthood. Journal of Personality and Social Psychology, 84, 310–321.

Pollet, T. V. (2007). Genetic relatedness and sibling relationship characteristics in a modern society. Evolution and Human Behavior, 28, 176–185.

Pollet, T. V., & Hoben, A. D. (2011). An evolutionary perspective on siblings: Rivals and resources. In C. Salmon & T. K. Shackelford (Eds.), The Oxford Handbook of Evolutionary Family Psychology (pp. 128–148). Oxford University Press.

Reed, B. W., Segal, N. L., Miller, S. A. (2021). Evolutionary perspective on decreases in grief intensity for deceased twin and non-twin relatives: An update. Personality and Individual Differences, 178. https://doi.org/10.1016/j.paid.2021.110822

Salmon, C., & Hehman, J. (2015). Evolutionary perspectives on the nature of sibling conflict: the impact of sex, relatedness, and co-residence. Evolutionary Psychological Science, 1(2), 123–129.

Salmon, C., & Hehman, J. A. (2014). The evolutionary psychology of sibling conflict and siblicide. In T. K. Shackelford & R. D. Hansen (Eds.), The evolution of violence (pp. 137–157). Springer.

Segal, N. L. (1999). Entwined lives: Twins and what they tell us about human behaviour. Penguin Books.

Segal, N. L. (2005). Evolutionary studies of cooperation, competition, and altruism: a twin-based approach. In R. L. Burgess & K. B. MacDonald (Eds.), Evolutionary perspectives on human development (2nd ed., pp. 265–304). Sage.

Steinbach, A., & Hank, K. (2018). Full-, half-, and step-sibling relations in young and middle adulthood. Journal of Family Issues, 39(9), 2639–2658.

Stocker, C. M., Gilligan, M., Klopack, E. T., Conger, K. J., Lanthier, R. P., Neppl, T. K., & Wickrama, K. A. S. (2020). Sibling relationships in older adulthood: Links with loneliness and well-being. Journal of Family Psychology, 34(2), 175–185.

Straus, M., Gelles, R. J., & Steinmetz, S. K. (2006). Behind closed doors: Violence in the American family. Transaction Publishers.

Sulloway, F. J. (1996). Born to rebel: Birth order, family dynamics, and creative lives. Pantheon.

Sznycer, D., De Smet, D., Billingsley, J., & Lieberman, D. (2016). Coresidence duration and cues of maternal investment regulate sibling altruism across cultures. Journal of Personality and Social Psychology, 111(2), 159–177.

Tanskanen, A. O., & Danielsbacka, M. (2019). Relationship quality among half siblings: the role of childhood co-residence. Evolutionary Psychological Science, 5(1), 13–21.

Tanskanen, A. O., Danielsbacka, M., Jokela, M., David-Barrett, T., & Rotkirch, A. (2016). Diluted competition? Conflicts between full-and half-siblings in two adult generations. Frontiers in Sociology, 1, 6. https://doi.org/10.3389/fsoc.2016.00006

Tanskanen, A. O., Danielsbacka, M., Jokela, M., & Rotkirch, A. (2017). Sibling conflicts in full-and half-sibling households in the UK. Journal of Biosocial Science, 49, 31–47.

Tibbetts, G., & Scharfe, E. (2015). Oh, brother (or sister)!: an examination of sibling attachment, conflict, and cooperation in emerging adulthood. Journal of Relationships Research, 6(8), 1–11.

Tifferet, S., Pollet, T., Bar, A., & Efrati, H. (2016). Predicting sibling investment by perceived sibling resemblance. Evolutionary Behavioral Sciences, 10(1), 64–70.

Trivers, R. L. (1972). Parental investment and sexual selection. In B. Campbell (Ed.), Sexual section and the descent of man (pp. 136–179). Aldine Publishing Company.

Trivers, R. L. (1974). Parent-offspring conflict. American Zoologist, 14, 249–264.

Wahaj, S. A., Van Horn, R. C., Van Horn, T. L., Dreyer, R., Hilgris, R., Schwarz, J., & Holekamp, K. E. (2004). Kin discrimination in the spotted hyena (Crocuta crocuta): Nepotism among siblings. Behavioral Ecology and Sociobiology, 56(3), 237–247.

White, L. K., & Riedmann, A. (1992). Ties among adult siblings. Social Forces, 71, 85–102.

White, L. K., & Riedmann, A. (1992). When the Brady bunch grows up: Step/half- and full sibling relationships in adulthood. Journal of Marriage and the Family, 54, 197–208.
Ethics declarations
Ethics Approval
Survey was approved by the University of Redlands Institutional Review Board.
Consent to Participate
All participants provided informed consent.
Consent for Publication
All participants provided informed consent.
Competing Interests
The authors declare no competing interests.
Additional information
Publisher's Note
Springer Nature remains neutral with regard to jurisdictional claims in published maps and institutional affiliations.
About this article
Cite this article
Salmon, C.A., Hehman, J.A. Good Friends, Better Enemies? The Effects of Sibling Sex, Co-Residence, and Relatedness on Sibling Conflict and Cooperation. Evolutionary Psychological Science 7, 327–337 (2021). https://doi.org/10.1007/s40806-021-00292-y
Received:

Revised:

Accepted:

Published:

Issue Date:

DOI: https://doi.org/10.1007/s40806-021-00292-y
Keywords