Abstract
Research has documented sex differences in risk-taking behavior, and young men in particular are more prone than women to engage in activities associated with physical risks. Evolutionary scientists have proposed that this sex difference is a consequence of male competition over mating opportunities. Thus, mating motives promote risk-taking in men more than in women. Here, we report analyses of assessments of male physical risk-taking in a Russian sample (n = 546). Men and women judged vignettes describing men who differed in risk-taking propensity for short- and long-term attractiveness, provisioning quality, and aggression. Risk-taking propensity had an effect on all attributes. Occasional (but not high) risk-takers received the highest ratings on short-term attractiveness. Low risk-takers were judged highest on long-term attractiveness and provisioning quality. High risk-takers were judged as more aggressive than occasional and low risk-takers. Thus, male risk-taking behavior affects assessments of male quality, but high risk-taking is not regarded as positive. We discuss the results with reference to evolutionary investigations of risk-taking behavior and cultural characteristics of masculinity ideology.
This is a preview of subscription content, log in to check access.
Access options
Buy single article
Instant access to the full article PDF.
US$ 39.95
Price includes VAT for USA
Subscribe to journal
Immediate online access to all issues from 2019. Subscription will auto renew annually.
US$ 99
This is the net price. Taxes to be calculated in checkout.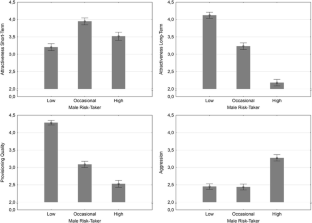 References
Apicella, C. L., Crittenden, A. N., & Tobolksy, V. A. (2017). Hunter-gatherer males are more risk-seeking than females, even in late childhood. Evolution and Human Behavior, 38, 592–603.

Ariely, D., & Loewenstein, G. (2006). The heat of the moment: the effect of sexual arousal on sexual decision making. Journal of Behavioral Decision Making, 19, 87–98.

Baker, M. D. J., & Maner, J. K. (2008). Risk-taking as a situationally sensitive male mating strategy. Evolution and Human Behavior, 29, 391–395.

Baker, M. D. J., & Maner, J. K. (2009). Male risk-taking as a context-sensitive signaling device. Journal of Experimental Social Psychology, 45, 1136–1139.

Bassett, J. F., & Moss, B. (2004). Men and women prefer risk takers as romantic and nonromantic partners. Current Research in Social Psychology, 9, 133–144.

Bliege Bird, R., Smith, E. A., & Bird, D. W. (2001). The hunting handicap: costly signaling in human foraging strategies. Behavioral Ecology and Sociobiology, 50, 9–19.

Buss, D. M. (1994). The evolution of desire: strategies of human mating. New York: Basic Books.

Butovskaya, M. L., & Smirnov, O. V. (2004). Why sex matters? Differences in long-term mate preferences in Russia. L'Anthropologie, 42, 205–214.

Byrnes, J. P., Miller, D. C., & Schafer, W. D. (1999). Gender differences in risk-taking: a meta-analysis. Psychological Bulletin, 125, 367–383.

Cockerham, W. C. (2000). Healthy lifestyles in Russia. Social Science and Medicine, 51, 1313–1324.

Farthing, G. W. (2005). Attitudes toward heroic and nonheroic physical risk takers as mates and as friends. Evolution and Human Behavior, 26, 171–185.

Farthing, G. W. (2007). Neither daredevils nor wimps: attitudes toward physical risk takers as mates. Evolutionary Psychology, 5, 754–777.

Fessler, D. M. T., Ziokhin, L. B., Hoolbrook, C., Gervais, M. M., & Snyder, J. K. (2014). Foundations of the Crazy Bastard Hypothesis: nonviolent physical risk-taking enhances conceptualized formidability. Evolution and Human Behavior, 35, 26–33.

Finch, J. (1987). The vignette technique in survey research. Sociology, 21, 105–114.

Gray, P. B., & Anderson, K. G. (2010). Fatherhood: evolution and human parental behavior. Cambridge: Harvard University Press.

Greitmeyer, T., Kastenmüller, A., & Fischer, P. (2013). Romantic motives and risk-taking: an evolutionary approach. Journal of Risk Research, 16, 19–38.

Griskevicius, V., Tybur, J. M., Sundie, J. M., Cialdini, R. B., Miller, G. F., & Kenrick, D. T. (2007). Blatant benevolence and conspicuous consumption: when romantic motives elicit strategic costly signals. Journal of Personality and Social Psychology, 93, 85–102.

Griskevicius, V., Tybur, J. M., Gangestad, S. W., Perea, E. F., Shapiro, J. R., & Kenrick, D. T. (2009). Aggress to impress: hostility as an evolved context-dependent strategy. Journal of Personality and Social Psychology, 96, 980–994.

Harris, C. R., Jenkins, M., & Glaser, D. (2006). Gender differences in risk assessment: why do women take fewer risks than men? Judgement and Decision Making, 1, 48–63.

Hawkes, K. (1991). Showing off: test of an hypothesis about men's foraging goals. Ethology and Sociobiology, 12, 29–54.

Hillier, L. M., & Morrongiello, B. A. (1998). Age and gender differences in school-age children's appraisals of injury risk. Journal of Pediatric Psychology, 23, 229–238.

Hofstede, G. (2001). Culture's consequences: comparing values, behaviors, institutions, and organizations across nations (2nd ed.). Thousand Oaks: Sage Publications.

Hosker-Field, A. M., Molnar, D. S., & Book, A. S. (2016). Psychopathy and risk-taking: examining the role of risk-perception. Personality and Individual Differences, 91, 123–132.

Kelly, S., & Dunbar, R. I. M. (2001). Who dares, wins: Heroism versus altruism in women's mate choice. Human Nature, 12, 89-105.

Kruger, D. J., & Nesse, R. M. (2004). Sexual selection and the male:female mortality ratio. Evolutionary Psychology, 2, 66–85.

Kruger, D., & Nesse, D. (2006). An evolutionary life-history framework for understanding sex-differences in human mortality rates. Human Nature, 17, 74–97.

Kruger, D., Wang, X. T., & Wilke, A. (2007). Towards the development of an evolutionary valid domain-specific risk-taking scale. Evolutionary Psychology, 5, 555–568.

Levant, R. F., Cuthbert, A., Richmond, K., Sellers, A., Matveev, A., Mitina, O., …, Heesacker, M. (2003). Masculinity ideology among Russian and U.S. young men and women and its relationships to unhealthy lifestyles habits among young Russian men. Psychology of Men & Masculinity, 4, 26–36.

McSweeney, B. (2002). The essentials of scholarship: a reply to Gert Hofstede. Human Relations, 55, 1363–1372.

Meshcherkina, E. (1996). Vvedie v antologiiu myzhskoi zhizni (introduction to an anthology of masculine life). In V. Semenova & E. Foteeva (Eds.), Syd'by Liudei: Rossiia XX Vek (pp. 298–325). Moscow: Institut Sotziologii RAN.

Patton, G. C., Coffey, C., Sawyer, S. M., Viner, R. M., Haller, D. M., Bose, K., …, Mathers, C. D. (2009). Global patterns of mortality in young people: a systematic analysis of population health data. The Lancet, 374,881–892.

Pawlowski, B., Atwal, R., & Dunbar, R. I. M. (2008). Sex differences in everyday risk-taking behavior in humans. Evolutionary Psychology, 6, 29–42.

Petraitis, J. M., Lampman, C. B., Boeckmann, R. J., & Falconer, E. M. (2014). Sex differences in the attractiveness of hunter-gatherer and modern risks. Journal of Applied Social Psychology, 44, 442–453.

Pridemore, W. A. (2002). Vodka and violence: alcohol consumption and homicide in Russia. Public Health Matters, 92, 1921–1930.

Shan, W., Shenghua, J., Davis, H. M., Peng, K., Shao, X., Wu, Y., …, Wang, Y. (2012). Mating strategies I Chinese culture: female risk avoiding vs. male risk-taking. Evolution and Human Behavior, 33, 182–192.

Smith, E. A., Bliege Bird, R., & Bird, D. W. (2001). The benefits of costly signaling: Meriam turtle hunters. Behavioral Ecology, 14, 116–126.

Snyder, J. K., Fessler, D. M. T., Tiokhin, L., Frederick, D. A., Lee, S. W., & Navarrete, C. D. (2011). Trade-offs in a dangerous world: women's fear of crime predicts preference for aggressive and formidable mates. Evolution and Human Behavior, 32, 127–137.

Stack, S., & Bankowski, E. (1994). Divorce and drinking: an analysis of Russian data. Journal of Marriage and Family, 56, 805–812.

Sylwester, K., & Pawlowski, B. (2011). Daring to be darling: attractiveness of risk takers as partners in long- and short-term sexual relationships. Sex Roles, 64, 695–706.

Trivers, R. L. (1972). Parental investment and sexual selection. In B. Campbell (Ed.), Sexual selection and the descent of man, 1871–1971 (pp. 136–179). Chicago: Aldine.

Waldron, I. (1997). Changing gender roles and gender differences in health behavior. In G. S. Goodman (Ed.), Handbook of health behavior and research I: personal and social determinants (pp. 303–328). New York: Plenum Press.

Weber, E. U., Blais, A., & Betz, E. N. (2002). A domain-specific attitude risk-attitude scale: measuring risk perception and risk behaviors. Journal of Behavioral Decision Making, 15, 263–290.

Wilke, A., Hutchinson, J. M. C., Todd, P. M., & Kruger, D. (2006). Is risk taking a cue in mate choice? Evolutionary Psychology, 4, 367–393.

Wilke, A., Sherman, A., Curdt, B., Mondal, S., Fitzgerald, C., & Kruger, D. (2014). An evolutionary domain-specific risk scale. Evolutionary Behavioral Sciences, 8, 123–141.

Wilson, M., & Daly, M. (1985). Competitiveness, risk taking and violence: the young male syndrome. Ethology and Sociobiology, 6, 59–73.

Wilson, M., & Daly, M. (2004). Do pretty women inspire men to discount the future? Proceedings of the Royal Society B, Biological Science, 271, S177–S179.

Zardidze, D., Lewington, S., Boroda, A., Scélo, G., Karpov, R., Lazarev, A., …., Peto, R. (2014). Alcohol and mortality in Russia: prospective observational study of 151,000 adults. The Lancet, 383, 1465–1473.
Funding
This research was supported by a grant from the Russian Foundation for Basic Research (RFBR), grant no. 17-29-02203, and by the German Research Foundation grant no. FI1450/7-2. This study was conducted within the scope of the program of fundamental studies of the National Research University High School of Economics.
Ethics declarations
Conflict of Interest
The authors declare that they have no conflict of interest.
About this article
Cite this article
Apalkova, Y., Butovskaya, M.L., Bronnikova, N. et al. Assessment of Male Physical Risk-Taking Behavior in a Sample of Russian Men and Women. Evolutionary Psychological Science 4, 314–321 (2018). https://doi.org/10.1007/s40806-018-0140-1
Keywords
Risk-taking

Perception

Attractiveness

Aggression

Provisioning quality

Men

Russia