Abstract
This study investigated variation in viewing time in response to different types of images with violent and/or disgusting content. We hypothesized that people should exhibit aversion to and avoidance of disgusting images and/or interest in and attraction to images of violence, especially those that represent a potential threat to them. Study participants were 101 White male and female college students. They viewed 60 images on a computer monitor and could control, within certain limits, their viewing time for each image. Viewing time was lowest for disgusting non-violent images, highest for violent non-disgusting images, and intermediate for images that were both violent and disgusting. Images of animal to human violence had higher viewing time than images of human to animal violence, and images of male-male violence in which an outgroup individual was the perpetrator of violence against an ingroup individual had the highest viewing time of all images in which we manipulated the ingroup/outgroup identity of perpetrator and victim. Images of outgroup-ingroup violence also had higher viewing time than images of accidental self-inflicted violence. Female participants had lower viewing time than male participants across most image types, but variation in viewing time in relation to the content of the image was largely similar in men and women. The results of our study are consistent with our hypothesis that differences in viewing time devoted to images with disgusting and violent content reflect functionally adaptive responses to different cues of danger: presence of pathogens vs threat of physical violence. Further research on responses to disgusting and nondisgusting images of violence may enhance our understanding of the role of emotions in the regulation of violent behavior and responses to displays of violence.
Access options
Buy single article
Instant access to the full article PDF.
US$ 39.95
Tax calculation will be finalised during checkout.
Subscribe to journal
Immediate online access to all issues from 2019. Subscription will auto renew annually.
US$ 79
Tax calculation will be finalised during checkout.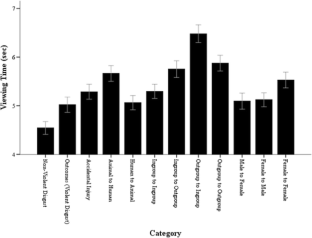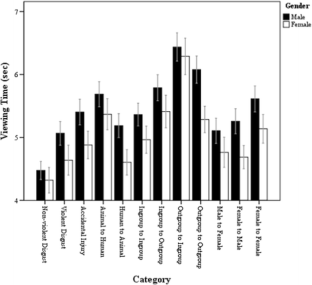 References
Amir, N., Elias, J., Klumpp, H., & Przeworski, A. (2003). Attentional bias to threat in social phobia: facilitated processing of threat or difficulty disengaging attention from threat? Behaviour Research and Therapy, 41, 1325–1335.

Bradley, M. M., Codispoti, M., Sabatinelli, D., & Lang, P. J. (2001). Emotion and motivation II: sex differences in picture processing. Emotion, 1, 300–319.

Buss, D. (2015). Evolutionary psychology: the new science of the mind. New York: Psychology Press.

Cikara, M. (2015). Intergroup Schadenfreude: motivating participation in collective violence. Current Opinion in Behavioral Sciences, 3, 12–17.

Cisler, J. M., Bacon, A. K., & Williams, N. L. (2009). Phenomenological characteristics of attentional biases towards threat: a critical review. Cognitive Therapy and Research, 33, 221–234.

Eysenck, H. J., & Nias, D. K. B. (1978). Sex, violence, and the media. New York: Harper & Row.

Fox, E., Russo, R., Bowles, R., & Dutton, K. (2001). Do threatening stimuli draw or hold visual attention in subclinical anxiety? Journal of Experimental Psychology: General, 130, 681–700.

Funk, J. B., Bechtold Baldacci, H., Pasold, T., & Baumgardner, J. (2004). Violence exposure in real-life, video games, television, movies, and the Internet: is there desensitization? Journal of Adolescence, 27, 23–39.

Harris, G. T., Rice, M. E., Quinsey, V. L., & Chaplin, T. L. (1996). Viewing time as a measure of sexual interest among child molesters and normal heterosexual men. Behaviour Research and Therapy, 34, 389–394.

Haselton, M. G., & Nettle, D. (2006). The paranoid optimist: an integrative evolutionary model of cognitive biases. Personality and Social Psychology Review, 10, 47–66.

Holbrook, C., & Fessler, D. M. T. (2015). The same, only different: threat management systems as homologues in the tree of life. In P. J. Carroll, R. M. Arkin, & A. L. Wichman (Eds.), Handbook of personal security (pp. 95–109). New York: Psychology Press.

Keil, A., Bradley, M. M., Hauk, O., Rockstroh, B., Elbert, T. R., & Lang, P. J. (2002). Large-scale neural correlates of affective picture viewing. Psychophysiology, 39, 641–649.

Koster, E. H. W., Crombez, G., Van Damme, S., Verschuere, B., & De Houwer, J. (2004). Does imminent threat capture and hold attention? Emotion, 4, 312–317.

Lang, P. J., Bradley, M. M., & Cuthbert, B. N. (2008). Technical Report A-7. University of Florida; Gainesville, FL: International Affective Picture System (IAPS): affective ratings of pictures and instruction manual.

LoBue, V., & DeLoache, J. S. (2008). Detecting the snake in the grass: attention to fear-relevant stimuli by adults and young children. Psychological Science, 19, 284–289.

Mandalaywala, T., Parker, K. J., & Maestripieri, D. (2014). Early experience affects the strength of vigilance for threat in rhesus monkey infants. Psychological Science, 25, 1893–1902.

Navarrete, C. D., McDonald, M. M., Molina, L. E., & Sidanius, J. (2010). Prejudice at the nexus of race and gender: an outgroup male target hypothesis. Journal of Personality and Social Psychology, 98, 933–945.

Navarrete, C. D., Olsson, A., Ho, A., Mendes, W., Thomsen, L., & Sidanius, J. (2009). Fear extinction to an out-group face: the role of target gender. Psychological Science, 20, 155–158.

Navarrete, C. D., & Tybur, J. (2013). The psychology of intergroup prejudice from an adaptationist perspective. In C. Stangor & C. Crandall (Eds.), Stereotyping and prejudice, frontiers in social psychology book series (pp. 71–92). New York: Psychology Press.

Neuberg, S. L., Kenrick, D. T., & Schaller, M. (2011). Human threat management systems: self-protection and disease-avoidance. Neuroscience & Biobehavioral Reviews, 35, 1042–1051.

Öhman, A., & Mineka, S. (2001). Fears, phobias, and preparedness: toward an evolved module of fear and fear learning. Psychological Review, 108, 483–522.

Schaller, M. (2011). The behavioural immune system and the psychology of human sociality. Philosophical Transactions of the Royal Society of London B, 366, 3418–3426.

Schaller, M. (2014). When and how disgust is and is not implicated in the behavioral immune system. Evolutionary Behavioral Sciences, 8, 251–256.

Schaller, M. (2016). The behavioral immune system. In D. M. Buss (Ed.), The handbook of evolutionary psychology (2nd ed., Vol. 1, pp. 206–224). New York: Wiley.

Schupp, H. T., Öhman, A., Junghöfer, M., Weike, A. I., Stockburger, J., & Hamm, A. O. (2004). The facilitated processing of threatening faces: an ERP analysis. Emotion, 4, 189–200.

Tybur, J. M., Lieberman, D., Kurzban, R., & DeScioli, P. (2013). Disgust: evolved function and structure. Psychological Review, 120, 65–84.

van Hooff, J. C., Devue, C., Vieweg, P. E., & Theeuwes, J. (2013). Disgust- and not fear-evoking images hold our attention. Acta Psychologica, 143, 1–6.
Acknowledgments
This study was supported by intramural funds from The University of Chicago. We thank the NIMH Center for the Study of Emotion and Attention at the University of Florida for permission to use images from the International Affective Picture System (IAPS). We also thank Chris L. Hiestand for his help and support with the development of the application software.
About this article
Cite this article
Ibarra, F., Maestripieri, D. Assessing People's Interest in Images with Violent or Disgusting Content: a Functional-Evolutionary Analysis. Evolutionary Psychological Science 3, 133–140 (2017). https://doi.org/10.1007/s40806-016-0082-4
Keywords
Violence

Threat

Disgust

Visual stimuli

Avoidance

Adaptation