Abstract
This study examines the hypothesis that adherence the rule of law is a cross-cutting determinant of gender inequality. We gathered data from previously published sources to calculate the correlation between gender inequality and the rule of law, using a cross-sectional and ecological design. Data was collected between 2017 and 2019 from United Nations (gender inequality, health, and economic data); political freedom from Freedom House; income inequality from the World Bank; and adherence to the rule of law from the World Justice Project. We found an association between gender inequality and adherence to the rule of law, controlling for economic inequality, population, GDP per capita, health expenditure per capita, education, ethnolinguistic fractionalization, and political rights and civil liberties. While the design of the study does not permit causality to be inferred, we propose here three plausible causal mechanisms, borne out in other studies, which suggest it: (1) weak enforcement of rights; (2) legal frameworks that tolerate violence against women; and (3) corruption.
Access options
Buy single article
Instant access to the full article PDF.
USD 39.95
Price excludes VAT (USA)
Tax calculation will be finalised during checkout.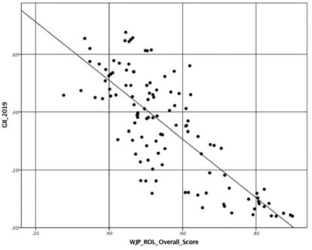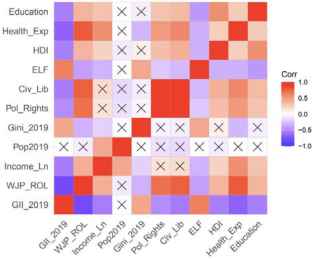 Notes
Gender Inequality Index | Human Development Reports (undp.org) Accessed 27 June 2022.

This analysis follows in part the framework developed in A.M. Pinzon-Rondon et al, 2015.

See, e.g., Montesquieu, The Spirit of Laws; Hamilton, Madison and Jay, Federalist Papers.
References
Bingham T (2011) The rule of law. Penguin Books, London

Coovadia H, Jewkes R, Barron P et al (2009) The health and health system of South Africa: historical roots of current public health challenges. Lancet 374:817–834

Cuberes D, Teignier‐Baqué M (2011) Gender inequality and development background paper (World Development Report 2012). https://openknowledge.worldbank.org/bitstream/handle/10986/9117/WDR2012-0019.pdf?sequence=1. Accessed 26 Mar 2022

Dwyer J (2005) Global health and justice. Bioethics 19(460–75):33

Gerry F, Rowland A, Fowles S, Smith S, Hodes D et al (2016) Archives of disease in childhood. London 101(8):778. https://doi.org/10.1136/archdischild-2016-311000

Gostin LO (2000) Public health law in a new century. Part I: law as a tool to advance the community's health. JAMA 283:2837–2841

Hsu LKG (1989) The gender gap in eating disorders: why are the eating disorders more common among women? Clin Psychol Rev 9(3):393–407. https://doi.org/10.1016/0272-7358(89)90063-9

Jahan S (2018) Violence against women, a cause and consequence of inequality. UNDP. http://hdr.undp.org/en/content/violence-against-women-cause-and-consequence-inequality. Accessed 26 Mar 2022

Lebart L, Morineau A, Piron M (1985) Statistique exploratoire multidimensionnelle. 3e ed. Dunod

Payscale (2022) State of the Gender Pay Gap Report. https://www.payscale.com/data/gender-pay-gap#section02. Accessed 26 Mar 2022

Pinzon-Rondon AM, Attaran A, Botero JC, Ruiz AM (2015) Association of rule of law and health outcomes: an ecological study. BMJ Open 5(10). http://bmjopen.bmj.com/content/5/10/e007004.full

Seth S (2009) Inequality, interactions, and human development. J Hum Dev Capabilities 10(3):375–396. https://doi.org/10.1080/19452820903048878

Trebilcock M, Daniels R (2008) Rule of law reform and development: charting the fragile path of progress. Northhampton, Cheltenham

U.S. Department of State (2014) Country reports on human rights practices 2013, Bolivia. February 27, 2014. https://2009-2017.state.gov/j/drl/rls/hrrpt/2013humanrightsreport/index.htm#wrapper Accessed 26 Mar 2022

World Bank (2013) World Development Report 2012. Gender equality and development. https://doi.org/10.1596/978-0-8213-8810-5. Accessed 26 Mar 2022

World Justice Project, Rule of Law Index 2019. https://worldjusticeproject.org/sites/default/files/documents/ROLI-2019-Reduced.pdf. Accessed 26 Mar 2022
Funding
This research received no specific grant from any funding agency in the public, commercial, or not-for-profit sectors. It was produced with computers and statistical software belonging to Universidad del Rosario, Pontificia Universidad Javeriana and Columbia University.
Ethics declarations
Conflict of interest
The Authors declare that there is no conflict of interest.
Additional information
Publisher's Note
Springer Nature remains neutral with regard to jurisdictional claims in published maps and institutional affiliations.
About this article
Cite this article
Barajas-Sandoval, E., Botero-Pinzón, H., Botero, J.C. et al. Gender Inequality and the Rule of Law. Hague J Rule Law 15, 95–107 (2023). https://doi.org/10.1007/s40803-022-00175-9
Accepted:

Published:

Issue Date:

DOI: https://doi.org/10.1007/s40803-022-00175-9
Keywords