Abstract
In recent years the creeping deterioration of democratic rule worldwide has become a major preoccupation across a wide range of research fields and disciplines—especially public law and political science—as scholars struggle to understand the nature of evolving threats to a broad range of democratic systems. Many terms are now used to refer to the incremental degradation of democratic rule worldwide, or 'democratic decay'. Abusive constitutionalism. Autocratic legalism. Populist constitutionalism. Bad faith constitutionalism. De-constitutionalism. Constitutional retrogression. Constitutional capture. Constitutional rot. Constitutional decay. Democratic deconsolidation. Democratic backsliding. Authoritarianisation. Authoritarian backsliding. Rule of law backsliding. Democratic erosion. Democratic recession. The list goes on. This article argues that conceiving of this scattered cross-disciplinary literature as a research field and providing an account of recent conceptual development can help to map a rapidly developing landscape, maximise the analytical utility of key concepts, identify resonances and duplication among concepts and across discrete literatures, and can help to ensure that this emerging quasi-field develops in a more coherent and rigorous manner.
This is a preview of subscription content, log in to check access.
Access options
Buy single article
Instant access to the full article PDF.
US$ 39.95
Price includes VAT for USA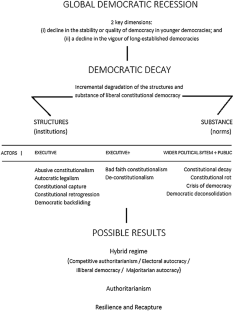 Notes
1.

See also assessments by the Economist Intelligence Unit, V-dem, and POLITY.

2.

Huq and Ginsburg state: "Because no democratic system is perfect, there will always be some quanta of such violations."

3.

The original work is Parfit D (1984). Reasons and Persons. Oxford University Press.

4.

5.

A third cause of constitutional crisis under Graber's schema—namely, when important political actors are too faithful to the constitution—is rooted in US history and need not concern us here.

6.
References
Aach M (2008) The decline of democracy in Venezuela: the deterioration of Venezuelan exceptionalism and the rise of Hugo Chavez. Lehigh Rev 16:88

Abdurrachman S (2018) Constitutional Retrogression in Indonesia Under President Joko Widodo's Government: what Can the Constitutional Court Do? Const Rev 4(2):271

Acar A (2016) De-constitutionalism" in Turkey? Int J Const Law, May 19

Alpan B (2016) From AKP's 'conservative democracy' to 'advanced democracy': shifts and challenges in the debate on 'Europe'. J South Eur Soc Polit 21(1):15

Amur J (2017) Why Turkish opposition parties are contesting the referendum results. Washington Post, April 17

Balkin J (2017a) Constitutional crisis and constitutional rot. Md Law Rev 77:147

Balkin J (2017b) Constitutional rot and constitutional crisis. Balkinization, May 15

Balkin J (2018) Constitutional rot. In: Sunstein CR (ed) Can it happen here?: Authoritarianism in America. Dey Street Books, New York

Bermeo N (2016) On democratic backsliding. J Democr 27(1):5

Blokker P (2013) New democracies in crisis? A comparative constitutional study of the Czech Republic, Hungary, Poland, Romania and Slovakia. Routledge

Bozóki A, Hegedűs D (2018) An externally constrained hybrid regime: Hungary in the European Union. Democratization 25(7):1173

Çalı B (2018) Will legalism be the end of constitutionalism in Turkey? Verfassungsblog, January 22

Carothers T (2002) The end of the transition paradigm. J Democr 13(1):5

Carothers T, Samet-Marram O (2015) The new global marketplace of political change. Brief (Carnegie Endowment for International Peace, April 2015)

Cheung A (2018) "For my Enemies, the law": abusive legalism. Candidacy paper, JSD Program, NYU School of Law

Clements J (2016) Christ's Samurai: the true story of the Shimabara Rebellion. Hachette, London

Corrales J (2015) The authoritarian resurgence: autocratic legalism in Venezuela. J Democr 26(2):37

Daly TG (2017a) Democratic Decay in 2016. In: International IDEA annual review of constitution-building processes: 2016. International IDEA

Daly TG (2017b) 'Preventing ANC Capture of South African Democracy: A Missed Opportunity for Other 'Constitutional Courts'?' I-CON conference, 5–7 July 2016

Daly TG (2018) Populism, public law, and democratic decay in Brazil: understanding the rise of Jair Bolsonaro. In: 'Democratic Backsliding and Human Rights' conference, College of Law and Business, Tel Aviv, Israel, 2–3 January 2019

Diamond L (2015) Facing up to the democratic recession. J Democr 26(1):141

Ercan SA, Gagnon J-P (2014) Editorial: the crisis of democracy: which crisis? Which democracy? Democr Theory 1(2):1

Finn JE (2014) Peopling the constitution. University Press of Kansas, Lawrence

Foa R, Mounk Y (2016) The danger of deconsolidation: the democratic disconnect. J Democr 27(3):5

Frantz E, Kendall-Taylor A (2017) The evolution of autocracy: why authoritarianism is becoming more formidable. Survival 59:57

Freedom House (2018a) Democracy in crisis. Freedom in the World 2018

Freedom House (2018b) Nations in Transit 2018: confronting illiberalism. Hungary country report

Graber MA (2013) A new introduction to American constitutionalism. Oxford University Press, New York

Graber M, Levinson S, Tushnet M (eds) (2018) Constitutional democracy in crisis? Oxford University Press, Oxford

Human Rights Watch (2016) Stifling dissent: the criminalization of peaceful expression in India. Report (Human Rights Watch, 24 May 2016)

Huq AZ, Ginsburg T (2018a) How to lose a constitutional democracy. UCLA Law Rev 65:95

Huq AZ, Ginsburg T (2018b) How to save a constitutional democracy. University of Chicago Press, Chicago

Issacharoff S (2011) Constitutional courts and democratic hedging. Georget Law J 99:961

Khaitan T (2018) India's third constitutional retrogression. In: ICON annual conference, 25–27 June 2018

Kilovaty I (2018) Doxfare: politically motivated leaks and the future of the norm on non-intervention in the era of weaponized information. Harv Natl Secur J 9(1):146

Kingston J (ed) (2016) Press freedom in contemporary Japan. Routledge, Abingdon

Koncewicz TT (2017a) Unconstitutional capture and constitutional recapture: of the rule of law, separation of powers and judicial promise. Jean Monnet Working Paper 3/17, Jean Monnet Program, New York University (NYU)

Koncewicz TT (2017b) Of the politics of resentment and european disintegration: are the European peoples ready to keep paddling together? Part I. Int J Const Law, February 26

Körösényi A (2018) The theory and practice of plebiscitary leadership: Weber and the Orbán regime' East European Politics and societies: and cultures (First Online Articles: published 25 September 2018)

Korycki K (2017) Memory, politics and the "populist" moment. In: Canadian Political Science Association (CPSA) Annual Meeting, Ryerson University, Presentation, May 30–June 1, 2017

Kosař D, Šipulová K (2018) The strasbourg court meets abusive constitutionalism: Baka v. Hungary and the rule of law. Hague J Rule Law 10(1):83

Krastev I (2007) The strange death of the liberal consensus. J Democr 18(4):56

Landau D (2013) Abusive constitutionalism. UC Davis Law Rev 47:189

Landau D (2018) Populist Constitutions (2018). Univ Chicago Law Rev 85:521

Landau D, Dixon R (2018) Abusive constitutional borrowing. Paper presented at the Centre for Comparative Constitutional Studies. Melbourne Law School, 1 May 2018

Levitsky S, Ziblatt D (2018) How democracies die. What History Reveals About Our Future. Penguin, London

Lins Ribeiro G (2016) The Brazilian political conundrum. LASA Forum 47(3):12

MacFarquhar L (2011) How to be good. New Yorker, September 5

Machado JEM (2013) The Portuguese constitution of 1976: half-life and decay. In: Contiades X (ed) Engineering constitutional change: a comparative perspective on Europe, Canada and the USA. Routledge, London and New York

Magarian GP (2018) Forward into the past: speech intermediaries in the television and internet ages. Okla Law Rev 71(1):237

Magyar B (2016) Post-communist mafia state. The case of Hungary. CEU Press, Budapest

Matsudaira T (2017) Abe's Japan—another case of abusive constitutionalism. Int J Const Law, September 23

Mitchell J (2017) 'Press Freedom in Contemporary Japan': persuasive and important but incomplete. Japan Times, May 6

Mordechay N, Roznai Y (2017) A Jewish and (declining) democratic state? Constitutional retrogression in Israel. Md Law Rev 77(1):244

Morgan KA (ed) (2013) Popular tyranny: sovereignty and its discontents in ancient Greece. University of Texas Press, Austin

Mounk Y (2018) The people versus democracy: the rise of undemocratic liberalism and the threat of illiberal democracy. Harvard University Press, Cambridge and London

Mudde C, Rovira Kaltwasser C (2017) Populism: a very short introduction. Oxford University Press, Oxford and New York

Mudde C, Rovira Kaltwasser C (2018) Studying Populism in Comparative Perspective: Reflections on the Contemporary and Future Research Agenda. Comp Polit Stud 51(13):1667

Müller J-W (2014) Rising to the challenge of constitutional capture. Eurozine, March 21

Müller J-W (2016) Protecting the rule of law (and democracy!) in the EU: the idea of a Copenhagen commission. In: Closa C, Kochenov D (eds) Reinforcing rule of law oversight in the European Union. Cambridge University Press, Cambridge

Müller J-W (2017) What is populism? Penguin, London

Norris P (2017) Is Western democracy backsliding? Diagnosing the risks. HKS Working Paper No. RWP17-012

O'Donnell G (1992) Transitions, continuities, and paradoxes. In: Mainwaring S, O'Donnell G, Valenzuela J (eds) Issues in democratic consolidation: the New South American democracies in comparative perspective. University of Notre Dame Press, Notre Dame

O'Donnell G (2007) The perpetual crises of democracy. J Democr 18:5

Ohlin JD (2017) Did Russian cyber interference in the 2016 election violate international law? Texas Law Rev 95:1579

Ottaway M (2013) Democracy challenged: the rise of semi-authoritarianism. carnegie endowment. Ch. 3 'Venezuela: Democratic Decay'

Oyaya CO, Poku NK (2018) The making of the constitution of Kenya: a century of struggle and the future of constitutionalism. Routledge, London

Pech L, Scheppele K (2017a) Illiberalism within: rule of law backsliding in the EU. Camb Yearb Eur Legal Stud 19:3

Pech L, Scheppele KL (2017b) Poland and the European commission, part I: a dialogue of the deaf? Verfassungsblog, January 3

Peluso Neder Meyer E (2018) Judges and courts destabilizing constitutionalism: the Brazilian judiciary branch's political and authoritarian character. German Law J 19(4):727

Rosenblatt H (2018) The lost history of liberalism: from ancient rome to the twenty-first century. Princeton University Press, Princeton

Runciman D (2018) How democracies end. Profile Books, London

Ruys T, Turkut E (2018) Turkey's post-coup 'purification process': collective dismissals of public servants under the European Convention on Human Rights. Hum Rights Law Rev 18(3):539

Scheppele KL (2013) The rule of law and the frankenstate: why governance checklists do not work. Governance 26(4):559

Scheppele KL (2018) Autocratic legalism. Univ Chic Law Rev 85:545

Schneider C (2008) The consolidation of democracy: comparing Europe and Latin America. Routledge, London

Snyder T (2018) The road to unfreedom: Russia, Europe, America. Random House, London

Stephanopoulos NO (2018) The causes and consequences of gerrymandering. William & Mary Law Rev 59(5):2115

Stopler G (2017) Constitutional capture in Israel. Int J Const Law, August 21

The Prime Minister's Speeches (2018) Prime Minister Viktor Orbán's speech at the 29th Bálványos Summer Open University and Student Camp

Thiel M (ed) (2016) The militant democracy principle in modern democracies. Routledge, London

Tushnet M (2004) Constitutional hardball. J Marshall Law Rev 37:523

Uprimny R (2011) The recent transformation of constitutional law in Latin America: trends and challenges. Texas Law Rev 89:1587

Zaiden Benvindo J (2016) Abusive impeachment? Brazilian Political Turmoil and the judicialization of mega-politics. Int J Const Law, April 23
Additional information
Publisher's Note
Springer Nature remains neutral with regard to jurisdictional claims in published maps and institutional affiliations.
About this article
Cite this article
Daly, T.G. Democratic Decay: Conceptualising an Emerging Research Field. Hague J Rule Law 11, 9–36 (2019). https://doi.org/10.1007/s40803-019-00086-2
Keywords
Democratic decay

Conceptual development

Democracy

Public law

Political science