Abstract
Externally bonded fiber-reinforced polymer (FRP) composites are commonly used to retrofit concrete beams in shear. However, debonding failure limits the effectiveness of such a system. Mechanically anchored systems eliminate the debonding mode of failure, which maximizes the effectiveness of the retrofit system. This study investigates the effectiveness of using a modified mechanical anchor to strengthen concrete T-beams in shear. The fabrication and design details of this system are discussed. Three reinforced concrete (RC) T-beams were tested up to failure under a four-point bending test to assess the effectiveness of the proposed retrofit system. One beam was tested as a control beam, while two beams were strengthened in shear using mechanically anchored dry carbon fiber (CF) sheets. The tested beams were instrumented with conventional instruments to monitor the load, strain, displacement, and acoustic sensors to monitor the damage initiation, progression, and location. The modified mechanical anchor retrofit system increased the shear capacity by up to 22 %. The acoustic emissions (AE) monitoring of the tested T-beams was able to detect the locations of the cracks that caused the failure of the beams.
Access options
Buy single article
Instant access to the full article PDF.
US$ 39.95
Tax calculation will be finalised during checkout.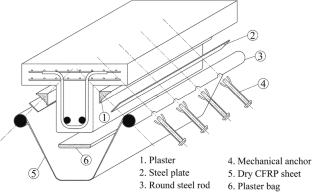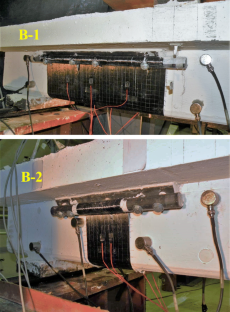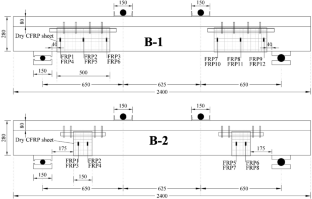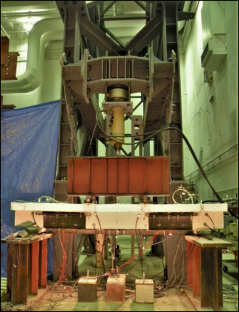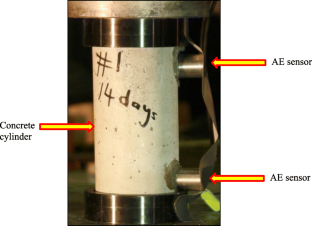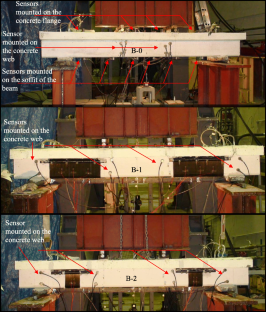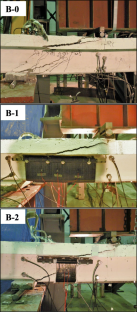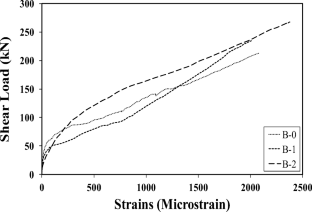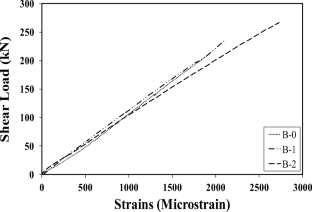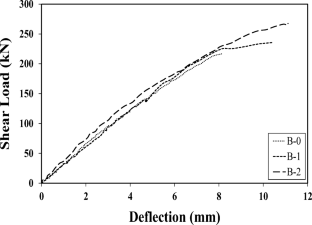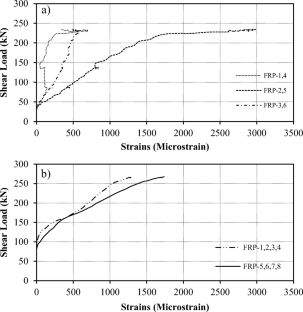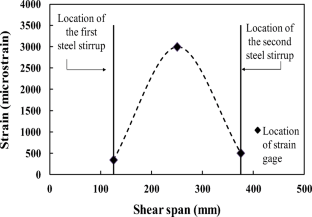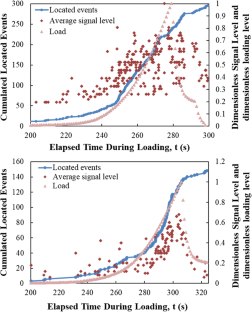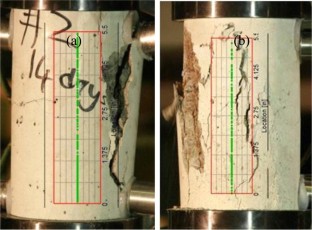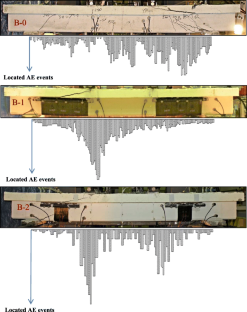 References
1.

Higgins C, Potisuk T, Farrow W, Robelo M, McAuliffe T, Nicholas B (2007) Tests of RC deck girders with 1950s vintage details. J Bridg Eng 12(5):621–631

2.

Amleh L, Mirza M (2004) Corrosion response of decommissioned deteriorated bridge deck. J Perform Constr Facil 18(4):185–194

3.

Christophe D, Cheng J (2001) Shear behavior of reinforced concrete T-beams with externally bonded fiber-reinforced polymer sheets. ACI Struct J 98(3):386–394

4.

American Concrete Institute (ACI) (2008) Guide for the design and construction of externally bonded FRP systems for strengthening concrete structures. ACI 440.2R-08. Committee 440, Farmington Hills, Mich

5.

Mofidi A, Chaallal O, Benmokrane B, Neale K (2012) Performance of end-anchorage systems for RC beams strengthened in shear with epoxy-bonded FRP. J Compos Constr 16(3):322–331

6.

Lees J, Winistörfer A, Meier U (2002) External prestressed carbon fiber-reinforced polymer straps for shear enhancement of concrete. J Compos Constr 6(4):249–256

7.

Kesse G, Lees J (2007) Experimental behavior of reinforced concrete beams strengthened with prestressed CFRP shear straps. J Compos Constr 11(4):375–383

8.

Hoult N, Lees J (2009) Efficient CFRP strap configurations for the shear strengthening of reinforced concrete t-beams. J Compos Constr 13(1):45–52

9.

Galal K, Mofidi A (2010) Shear Strengthening of RC T-Beams using mechanically-anchored unbonded dry carbon fiber sheets. J Perform Constr Facil 24(1):31–39

10.

Archana Naira CS, Caib XK (2018) Acoustic emission pattern recognition in CFRP retrofitted RC beams for failure mode identification. J Compos Part B 161:691–701

11.

Syed Mazlan SMS, Abdullah SR, Shahidan S, Noor S, Mohd R (2017) A review of the application Acoustic Emission (AE) incorporating mechanical approach to monitor Reinforced concrete (RC) strengthened with fiber reinforced polymer (FRP) properties under fracture. IOP Conference Series: Materials Science and Engineering, pp 271–012086

12.

Nair A, Cai CS, Kong X (2020) Using acoustic emission to monitor failure modes in CFRP-strengthened concrete structures. J Aerosp Eng 33(1), 04019110:1–12

13.

Canadian Standard Association (CSA) (2019) Design of concrete structures. A23.3-19. Canadian Standard Association, Toronto

14.

Sandeep D, Piervincenzo R, Karthik R, Kent AH (2009) Acoustic emission monitoring of CFRP reinforced concrete slabs. J Constr Build Mater 23:2016–2026

15.

Nair A, Cai CS, Pan F, Kong X (2014) Acoustic emission monitoring of damage progression in CFRP retrofitted RC beams. Struct Monit Maint 1(1):111–130. https://doi.org/10.12989/smm.2014.1.1.111

16.

Gutkin R, Green SJ, Vangrattanachai S, Pinho ST, Robinson P, Curtis PT (2017) On acoustic emission for failure investigation in CFRP: pattern recognition and peak frequency analyses. J Smart Mater Struct 26–6. https://doi.org/10.1088/1361-665X/aa6e43

17.

Archana N, Xuan CSC (2019) Acoustic emission pattern recognition in CFRP retrofitted RC beams for failure mode identification. J Compos Part B 161:691–701
Acknowledgements
The authors would like to acknowledge the financial support from the Natural Sciences and Engineering Research Council of Canada (NSERC). The Acoustic Emission analysis would not have been possible without the collaboration of TISEC Inc.; their equipment, efforts, and technical contributions are acknowledged. The authors would like to extend their acknowledgments to Juan Mejia and Thomas Bird for their technical support in the acoustic emission setup.
Ethics declarations
Conflict of Interest
The authors declare that they have no known competing financial interests or personal relationships that could have influenced the work reported in this paper.
Additional information
Publisher's Note
Springer Nature remains neutral with regard to jurisdictional claims in published maps and institutional affiliations.
About this article
Cite this article
El-Tahan, M., Hassanein, A., Megid, W.A. et al. Evaluation of Reinforced Concrete T-Beams Retrofitted in Shear with Mechanically Anchored Dry Carbon Fiber Sheets. Exp Tech (2021). https://doi.org/10.1007/s40799-021-00497-7
Received:

Accepted:

Published:
Keywords
Dry carbon fibre sheets

Retrofitting

Reinforced concrete

T-beams

Acoustic Emission monitoring

Structural evaluation.