Abstract
This paper investigates the international wine trade based on a new sophistication index (called C-Consy) focused on import flows. We posit that the sophistication level of destination countries provides relevant information on the kind of competition a product is going to meet in the final market. The sophistication level for the clients of the major world exporters is assessed for the 2006/07–2016/17 timespan. The main results of our analysis can be summarized as follows: (a) as expected, the category of bottled wines is more sophisticated than the one of bulk wines. However, for some exporters the destination markets for the latter are, indeed, more sophisticated; the C-Consy for sparkling wines varies widely across the destination markets of the main exporters here analyzed, suggesting a variety of different uses; (b) Products sold by the Old Wine World are generally more sophisticated, this is particularly true for Italy and France together with New Zealand which belongs to the so called New Wine World; (c) some exporters differentiate their destinations widely, especially according to wine items, while others concentrate their set of clients in the search for synergies.
Access options
Buy single article
Instant access to the full article PDF.
US$ 39.95
Tax calculation will be finalised during checkout.
Subscribe to journal
Immediate online access to all issues from 2019. Subscription will auto renew annually.
US$ 79
Tax calculation will be finalised during checkout.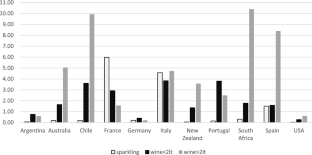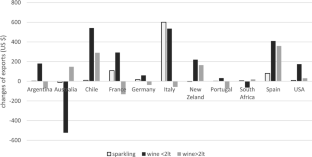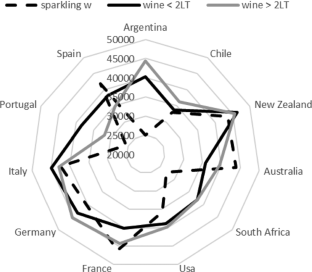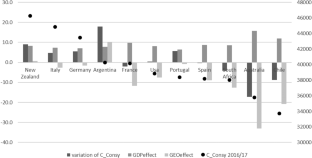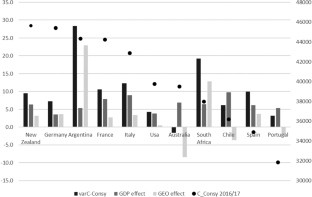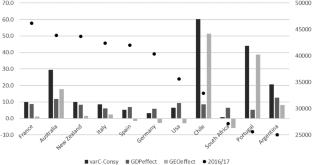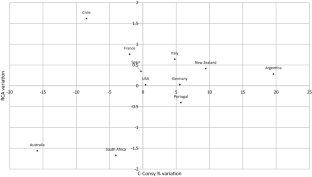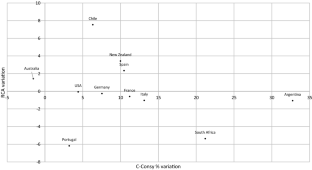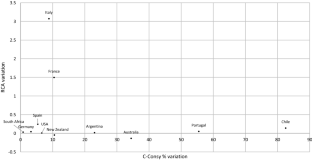 Notes
1.

The index, based on the Ricardian comparative advantage concept, is defined as the ratio of two shares: the share of a country's total exports of the commodity of interest in its total exports, and the share of world exports of the same commodity in total world exports; it takes a value between 0 and infinite. A Country is said to have a revealed comparative advantage if the value is more than one (Balassa 1965; De Benedictis and Tamberi 2004).

2.

Weights based on RCAs have also been proposed (Hausmann et al. 2007).

3.

4.

Indeed, income is not the only factor that can influence import demand. Besides income, many other personal as well as social features may impact consumption and thus imports. First of all, it is worth recalling the impact of income distribution on consumption patterns (Musgrove 1980). More heterogeneous income distributions likely push the demand up for luxury goods and for goods that act as "signalling of status" (i.e. overall high-quality goods). As higher income countries tend to have a smoother income distribution path, it would have been interesting to embed a measure for income distribution in our index. However, our attempts so far did not provide useful results, so we leave this task for future research.

Among the other factors that are likely to impact on consumption and imports we here limit to recall a few such as culture, traditions, religion, education, lifestyles, habits and so forth (Cleveland et al. 2013; Michael 1975; Shaw and Clarke 1998). Some of these are usually considered to be positively related to income (i.e. education), while some others may not (i.e. tradition and culture). However, in line with the sophistication literature and as in many other fields, we posit that income remains a key factor in explaining the sophistication of import flows (Carbone et al. 2020).

5.

This can be due to the penetration in a new market or to the change in the share of any client.

6.

Trade data comes from United Nations ComTrade databank. The index is built on the import flows of 130 countries in years 2006/07 and 2016/17 where the average is calculated for each biennium. Data are in current US dollars (USD). The three wine items are defined at 6-digit level of HS-6 1996 version. The 130 countries considered represent around 90% of world imports. For each country the GDPpc is measured in International Dollars at 2011 PPP (Purchasing Power Parity) values as released by the World Bank (WDI-World Development Indicators).
References
Aksoy MA, Francis MG (2013) The evolution of world agricultural trade flows. Policy Research Working Paper Series n. 5308: 1–35.

Balassa B (1965) Trade liberalisation and revealed comparative advantage'. Manch Sch Econ Soc Stud 33:99–123

Carbone A, Henke R (2012) Sophistication and performance of Italian agri-food exports. J Food Syst Dyn 3(1):22–34

Carbone A, Henke R, Pozzolo FA (2015) Italian agri-food exports in the international arena. Bio-based Appl Econ 4(1):55–75

Carbone A, Quici L, Pica G (2019) The age dynamics of vineyards: past trends affecting the future. Wine Econ Policy 8(1):38–48

Carbone A, Demaria F, Henke R (2020) The "Sophistication" of agri-food international trade: switching the concept to imports. J Food Syst Dyn 11(5):451–467

Cardebat JM, Figuet JM (2019) The impact of exchange rates on French wine exports. J Wine Econ 14(1):71–89

Cembalo L, Caracciolo F, Pomarici E (2014) Drinking cheaply: the demand for basic wine in Italy. Austral J Agric Resour Econ 58(3):374–391

Charters S (2005) Drinking sparkling wine: an exploratory investigation. Int J Wine Mark 17(1):54–68

Cleveland M, Laroche M, Hallab R (2013) Globalization, culture, religion, and values: Comparing consumption patterns of Lebanese Muslims and Christians. J Bus Res 66(8):958–967

De Benedictis L, Tamberi M (2004) Overall specialization empirics: techniques and applications. Open Econ Rev 15(4):323–346

Fabrizio S, Igan D, Mody A (2007) The dynamics of product quality and international competitiveness. IMF Working Papers, pp 1–33.

Fajgelbaum P, Grossman GM, Helpman E (2011) Income distribution, product quality, and international trade. J Polit Econ 119:721–765

Farinelli F (2007) The awakening of the sleeping giant: export growth and technological catch-up of the Argentine wine industry. Int J Technol Glob 3(2/3):179–196

Ferto I, Bojnec S (2015) Quality upgrading in the European-Union agri-food exports. In: Paper presented at the 87th Annual Conference of the Agricultural Economic Society, 8–10 April 2015, University of Warwick, United Kingdom

Fisher C (2010) Food quality and product export performance: an empirical investigation of the Eu situation. J Food Agribus Mark 22(3):210–233

Gehlhar MJ, Pick DH (2002) food trade balances and unit values: what can they reveal about price competition? Agribusiness 18(1):61–79

Giuliani E, Morrison A (2011) Rabellotti R (2011) Innovation and technological catch-up: the changing geography of wine production. Edward Elgar Publishing, Northampton

Hallak JC (2006) Product quality and the direction of trade. J Int Econ 68(1):238–265

Hallak JC (2010) A product-quality view of the Linder hypothesis. Rev Econ Stat 92(3):453–466

Hausmann R, Hwang J, Rodrik D (2007) What you export matters. J Econ Growth 12:1–25

Helpman E (1981) International trade in the presence of product differentiation, economies of scale and monopolistic competition: a Chamberlin-Heckscher-Ohlin approach. J Int Econ 11:305–340

Knobel A, Pyzhikov N, Aliev T (2020) Trends in the development of world trade in recent decades and current challenges for its development. J New Econ Assoc 45(1):174–182

Krishna P, Maloney WF (2011) Export Quality Dynamics. Policy Research Working Paper 5701, The World Bank, Washington D.C.

Krugman P (1980) Scale economies, product differentiation, and the pattern of trade. Am Econ Rev 70:950–959

Lall S, Weiss J, Zhang J (2006) The "sophistication" of exports: a new trade measure. World Dev 34(2):222–237

Lebre De Freitas M, Salvado S (2009) Industry similarities and comparative advantages in Portugal: an empirical assessment based on 2005 trade data. GEE papers 0010.

Linder S (1961) An essay on trade and transformation. Almqvist & Wiksell, Stockholm

Marvasi E (2012) China's exports sophistication, imports and intermediate products. In: Gomel G, Marconi D, Musu I, Quintieri B (eds) The Chinese economy. Springer, Berlin, pp 181–209

Meloni G, Swinnen JF (2013) The rise and fall of the world's largest wine exporter (and it's institutional legacy). LICOS-KU Leuven Discussion Paper, No. 327

Michael RT (1975) Education and consumption. In: Juster T (ed) Education, income, and human behavior. NBER, Cambridge, pp 233–252

Musgrove P (1980) Income distribution and the aggregate consumption function. J Polit Econ 88(3):504–525

Pomarici E, Boccia F, Catapano D (2012) The wine distribution systems over the world: an explorative survey. New Medit 11(4):23–32

Rodrik D (2006) What's so special about China's exports? China World Econ 14(5):1–19

Sarker R, Surry Y (2006) Product differentiation and trade in agri-food products: taking stock and looking forward. J Int AgricTrade Dev 2(1):39–78

Schott PK (2004) Across-product versus within-product specialization in international trade. Quart J Econ 119:647–678

Shaw DS, Clarke I (1998) Culture, consumption and choice: towards a conceptual relationship. J Consumer Stud Home Econ 22(3):163–168

Thorpe M (2009) The globalization of the wine industry: new world, old world and China. China Agric Econ Rev 1(3):301–313
Additional information
Publisher's Note
Springer Nature remains neutral with regard to jurisdictional claims in published maps and institutional affiliations.
About this article
Cite this article
Carbone, A., Demaria, F. & Henke, R. The Sophistication of International Wine Trade: A New Import Measure. Ital Econ J (2021). https://doi.org/10.1007/s40797-020-00139-8
Received:

Accepted:

Published:
Keywords
Wine

International wine trade

Import sophistication

International competition
JEL Classification