Defining the General Principles of Stem Cell Aging: Lessons from Organismal Models
Age-related Stem Cell Modifiers (B Schumacher and L Kurian, Section Editors)
Part of the following topical collections:
Abstract
One of the most obvious characteristics of the aging process is the progressive decline in the regenerative potential of tissues. Adult somatic stem cells are critical for rejuvenating tissues and persist throughout the lifespan of organisms. However, stem cell function declines during the aging process in tissues such as the brain, blood, skin, intestinal epithelium, bone, and skeletal muscle. This demise may contribute to tissue degeneration, organismal aging, and age-related diseases. A series of organismal models have emerged as valuable systems to study stem cell aging in vivo. Here, we review the age-associated changes of stem cells and the different organismal models used to define stem cell aging.
Keywords
Aging 
C. elegans
D. melanogaster
Germline stem cells 
Organismal models 
Somatic stem cells 
Introduction
Organismal aging is associated to a progressive imbalance in tissue and organ homeostasis and a timely decline in their regeneration capacity, which is accompanied by the loss of physiological integrity that, in turn, results in susceptibility to death. Stem cell exhaustion has been defined as one of the hallmarks of aging and determines the tissue repair ability of organisms [1••]. Stem cells are divided into two groups: embryonic stem cells (ESCs) and adult stem cells. ESCs are pluripotent and are found in early stage of embryos. Since ESCs do not undergo replicative senescence, they are considered to be immortal in culture [2, 3]. Adult organisms have two types of stem cells: (1) adult somatic stem cells with regenerative potential, which are found in several tissues and (2) germline stem cells (GSCs), which can generate gametes for reproduction [4]. GSCs are designed to maintain an unlimited proliferative capacity to fulfill their biological purpose: to be passed from one generation to the next. Adult somatic stem cells are critical for rejuvenating tissues and persist in the adult body of an organism throughout its lifespan. Adult somatic stem cells reside in various adult tissues such as liver, brain, and bone marrow. In contrast to ESCs, they can only differentiate into a limited type of cells. Adult somatic stem cell function decreases with age, and this failure may contribute to age-related diseases [1••, 5, 6]. For instance, neural stem cells (NSCs) from older animals are less able to self-renew and more skewed toward astrocytes [7]. A decline in the proliferation of NSCs and neurogenesis during aging has been correlated with impairment of olfactory discrimination [8]. Notably, postnatally generated neurons are absent in advanced stages of Huntington's disease [9]. Another example is the decline of hematopoietic stem cell (HSCs) function with age. This failure could have a significant impact on organismal aging since decreased hematopoiesis with age results in a diminished generation of adaptive cells and increased myeloid malignancies and anemia [6]. In this review, we will focus on age-associated changes of somatic and germline stem cells and the emerging models for the study of their aging in vivo.
In Vivo Models for Stem Cell Aging
A series of model organisms have started to reveal the general principles of stem cell aging (Fig. 
1
). These findings generally come from studies in the budding yeast (
Saccharomyces cerevisiae
), invertebrates (the nematode
Caenorhabditis elegans
and the fruit fly
Drosophila melanogaster
), and rodents (Table 
1
).
S. cerevisiae
has been used to identify genes that modulate replicative lifespan [
10
], a process observed in many dividing cells such as adult stem cells. The yeast cell divides asymmetrically by forming a bud which gives rise to the daughter cell. As the cell wall of the daughter cell is formed de novo, the mother cell retains the same wall, evidenced by scars from each budding event on the cell wall surface. Accumulation of budding scars is a marker of replicative senescence. Ultimately, the mother cell is not able to reproduce anymore, and sterility is the final phenotype of yeast aging [
10
]. In addition, the asymmetric cell divisions invoked by the budding yeast resemble stem cell self-renewal. In yeast asymmetric cell division, the daughter cell inherits a limited amount of damaged macromolecules from the mother cell [
11
] enabling the generation of a rejuvenated, germ-like, daughter cell lineage. Thus, this phenomenon can be considered a model for GSCs. One interesting example for successful use of yeast and its extrapolation to stem cell aging is the role of sirtuins, which are histone-deacetylating enzymes involved in gene silencing. The sirtuin family of proteins impinges upon replicative lifespan of yeast [
12
]. For example, Sir2 was shown to be involved in the stabilization of repetitive DNA in yeast. During aging and DNA damage, Sir2 specifically localizes to the sites of low genomic integrity (genomic instability), and SIRT1, the mammalian orthologue of Sir2, may play a major role in age-dependent gene expression [
13
]. Thus, data from yeast have suggested a major role for epigenetic changes in aging. Finally, yeast can also be used as a model for chronological aging [
14
]. In these studies, yeast cells are induced into a non-dividing state by withdrawal of nutrients.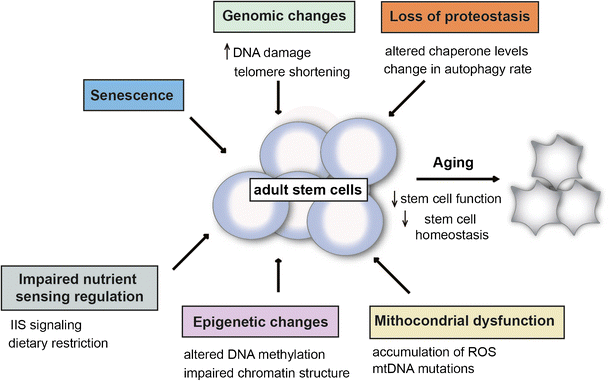 Table 1
Example of model organisms for stem cell aging
Organism

Examples for in vivo studies

S. cerevisae

Asymmetric cell division giving rise to rejuvenated daughter cell

Model for germline stem cells

Resemblance to adult stem cells

Study of replicative lifespan

Chronological lifespan inducible by dietary restriction

Epigenetic changes in aging

C. elegans

Study of germline stem cells

D. melanogaster

Study of germline stem cells, somatic stem cells (mostly intestinal stem cells)

M. musculus

Study of several adult stem cell types (HSCs, NSCs, satellite cells, epidermal stem cells, cardiac stem cells, etc.)

Modulation of specific stem cells by either their niche or other tissues in a non-autonomous manner

Heterochronic parabiotic experiments to identify the role of the stem cell niches
Metazoan models provide the means to study stem cell decline during organismal aging. C. elegans and D. melanogaster are established models for the study of GSCs. Fly and mouse models are the main organisms used for somatic stem cell aging research. D. melanogaster has been mostly used to study the intestinal stem cell (ISCs) population in the midgut, although other somatic stem cell compartments are starting to be identified. Mouse models are suitable for the study of a wide number of stem cell types. These models have helped to establish not only general principles of stem cell aging but also differences between the different somatic stem cells [8, 15]. Although these general age-related changes may induce a decline in stem cell function at some extent, they do not always result in a change in the stem cell number. For instance, the number of NSCs and melanocyte stem cells decreases with age in mammals. However, the number of HSCs increases with age in some mouse strains [16]; whereas, their functionality declines (e.g., HSCs from old mice are skewed to differentiate toward the myeloid lineage [17]). Metazoans also allow the study of the modulation of specific stem cells by either their niche or other tissues in a non-autonomous manner (i.e., through systemic signals in response to environmental and nutrient changes). Of special relevance are heterochronic parabiotic experiments in mice that demonstrated that aging of muscle stem cells (also known as satellite cells) is regulated by systemic factors. In this experimental paradigm, in which aged mice are surgically connected to young mice, muscle stem cells are rejuvenated by the exposure to a youthful environment [18].
Age-Associated Changes of Stem Cells
Somatic stem cell exhaustion is one of the hallmarks of aging [1••]. Besides stem cell exhaustion, López-Otín and colleagues have pointed out other hallmarks of aging (i.e., genomic instability, telomere shortening, epigenetic alterations, loss of proteostasis, mitochondrial dysfunction, cellular senescence, altered intercellular communication, impaired nutrient sensing regulation) [1••]. Somatic stem cells exhibit a series of these age-related changes that could trigger stem cell dysfunction/death and, in turn, a progressive decline in regeneration capacity [15] (Fig. 1). In this section, we discuss age-related cellular changes of somatic stem cells.
Germline Stem Cells
Both C. elegans and D. melanogaster are well-established models for the study of GSCs. In the female germline stem cell niche of flies, the primary niche-associated factor decapentaplegic (DPP) promotes GSC self-renewal. Interestingly, GSCs themselves regulate the restriction of DPP function through activation of the epidermal growth factor receptor (EGFR) mitogen-activated protein kinase (MAPK) in the nearby somatic cells [89]. In aged flies, dILPs regulate the homeostasis and proliferation of GSCs through autonomous and non-autonomous mechanisms in both females and males [90, 91, 92]. Furthermore, IIS declines in the ovary from aged females [90]. Thus, age-associated changes in the levels of local or circulating dILPs may contribute to the decline in the number and functionality of GSCs. In addition, DR also enhances GSC maintenance [93].
Notably, signals from the GSCs regulate organismal lifespan in both worms and flies [94]. Genetic ablation of the germline, but not the entire gonad, leads to lifespan extension in worms [95]. This phenotype may be caused by increased proteome stability within the post-mitotic soma [96, 97]. Inhibiting germline proliferation induces an increase in the somatic levels of the proteasome subunit RPN-6 that, in turn, promotes proteasome activity and extends lifespan [96, 97]. Increased levels of RPN-6 are modulated by DAF-16, the worm FOXO orthologue [98, 99•]. Extended lifespan induced by the lack of germline could be explained by the disposable soma theory of aging in reverse. Hypothetically, the need for repairing and preventing damage to the germline dominates resource allocation strategies, while the somatic tissues age and deteriorate [100]. Abrogation of the germline would stimulate a re-allocation of metabolic resources to the somatic tissues.
Conclusions
In this review, we have discussed the different general principles that might define adult stem cell aging. Besides the insights gained into the aging of these cells, the molecular mechanisms underlying stem cell exhaustion are still unknown. It will be fascinating to continue exploring the interconnectedness between stem cell exhaustion and the other candidate hallmarks of aging. Although cumulative evidence suggests that delaying age-associated changes in stem cells could have beneficial effects in the health and lifespan of an organism, more research in this field is needed to facilitate the development of specific adult stem-cell-based therapies. However, considering the links between enhanced stem cell proliferation and malignant cells, some detrimental effects of this approach should not be discarded. Additionally, it is important to remark the contribution of the decline of post-mitotic and progenitor cells to age-associated diseases and loss of tissue homeostasis. Thus, it is important to understand the interplay between stem, progenitor, and post-mitotic cells to develop efficient healthspan-promoting therapies.
Notes
Acknowledgments
This work was supported by the Deutsche Forschungsgemeinschaft (DFG) (DFG Research Grant VI742/1-1), the University of Cologne Advanced Postdoc Grant, the Cologne Graduate School of Ageing Research, the Alexander von Humboldt Foundation, and the European Commission (FP7-PEOPLE-2013-CIG).
Compliance with Ethics Guidelines
ᅟ
Conflict of Interest
The authors declare that they have no competing interests.
Human and Animal Rights and Informed Consent
This article does not contain any studies with human or animal subjects performed by any of the authors.
References
Papers of particular interest, published recently, have been highlighted as: • Of importance •• Of major importance
Copyright information
© Springer International Publishing AG 2015