Abstract
The identification of factors that impact student success in mathematics courses has been a focus of a great deal of research since the early 2000s. The role of classroom approaches, teacher beliefs, and underlying student backgrounds have been studied in different ways. As a part of this effort researchers have studied the degree to which personality factors and affect contribute to (or mitigate) a student's level of effective engagement. In this work we present the results from the first semester of a two-year study of the role of anxiety, personality factors and self-efficacy in student success and career planning for a cohort of students entering a developmental mathematics course at the university level. We quantify the impact of anxiety on success and grade outcomes, as well as identify a personality factor interacting with success in a surprising way. We provide initial data regarding the students' sense of belonging in STEM disciplines and their self-efficacy levels, and then analyse their career planning patterns.
Access options
Buy single article
Instant access to the full article PDF.
USD 39.95
Price excludes VAT (USA)
Tax calculation will be finalised during checkout.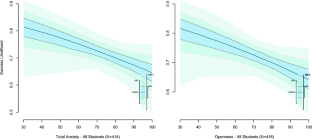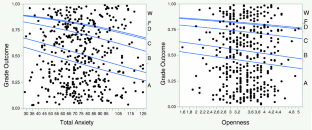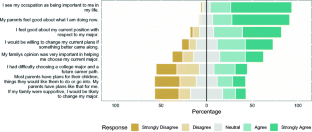 References
Alexander, L., & Martray, C. (1989). The development of an abbreviated version of the mathematics anxiety rating scale. Measurement and Evaluation in Counseling and Development, 22(3), 143–150.

Ashby, F. G., Isen, A. M., & Turken, A. U. (1999). A neuropsychological theory of positive affect and its influence on cognition. Psychological Review, 106, 529–550.

Ashcraft, M. H., & Krause, J. A. (2007). Working memory, math performance, and math anxiety. Psychonomic Bulletin & Review, 14(2), 243–248.

Bandura, A. (1997). Self-efficacy. The exercise of control. New York, NY: Freeman.

Brickhouse, N. W., Lowery, P., & Schultz, K. (2000). What kind of a girl does science? The construction of school science identities. Journal of Research in Science Teaching, 37(5), 441–458.

Erikson, E. H. (1968). Identity: Youth and crisis. New York, NY: W. W. Norton & Company, Inc.

Fossati, A., Borroni, S., Marchione, D., & Maffei, C. (2011). The big five lnventory (BFI) reliability and validity of its Italian translation in three independent nonclinical samples. European Journal of Psychological Assessment, 27(1), 50–58.

Frenzel, A. C., Pekrun, R., & Goetz, T. (2007). Girls and mathematics – A "hopeless" issue? A control-value approach to gender differences in emotions towards mathematics. European Journal of Psychology of Education, 22(4), 497–514.

Frenzel, A. C., Goetz, T., Lüdtke, O., Pekrun, R., & Sutton, R. E. (2009). Emotional transmission in the classroom: Exploring the relationship between teacher and student enjoyment. Journal of Educational Psychology, 101(3), 705.

Gatzka, T., & Hell, B. (2018). Openness and postsecondary academic performance: A meta-analysis of facet-, aspect-, and dimension-level correlations. Journal of Educational Psychology, 110(3), 355.

Good, C., Rattan, A., & Dweck, C. S. (2012). Why do women opt out? Sense of belonging and women's representation in mathematics. Journal of Personality and Social Psychology, 102(4), 700–717.

Goodenow, C. (1993). The psychological sense of school membership among adolescents: Scale development and educational correlates. Psychology in the Schools, 30(1), 79–90.

Hembree, R. (1990). The nature, effects and relief of mathematics anxiety. Journal for Research in Mathematics Education, 21(1), 33–46.

Hopko, D. R., Ashcraft, M. H., Gute, J., Ruggiero, K. J., & Lewis, C. (1998). Mathematics anxiety and working memory: Support for the existence of a deficient inhibition mechanism. Journal of Anxiety Disorders, 12(4), 343–355. https://doi.org/10.1016/S0887-6185(98)00019-X.

John, O. P., & Srivastava, S. (1999). The big-five trait taxonomy: History, measurement, and theoretical perspectives. In L. Pervin & O. P. John (Eds.), Handbook of personality: Theory and research (2nd ed., pp. 102–138). New York, NY: Guilford.

John, O. P., Naumann, L. P., & Soto, C. J. (2008). Paradigm shift to the integrative big-five trait taxonomy: History, measurement, and conceptual issues. In O. P. John, R. W. Robins, & L. A. Pervin (Eds.), Handbook of personality: Theory and research (pp. 114–158). New York, NY: Guilford Press.

Junge, B., Quinones, C., Kakietek, J., Teodorescu, D., & Marsteller, P. (2010). Promoting undergraduate interest, preparedness, and professional pursuit in the sciences: An outcomes evaluation of the SURE program at Emory University. CBE-Life Sciences Education, 9(2), 119–132. https://doi.org/10.1187/cbe.09-08-0057.

Ma, X. &, Xu, J., (2004). The causal ordering of mathematics anxiety and mathematics achievement: A longitudinal panel analysis. Journal of Adolescence, 27(2), 165–179.

McCann, C., & English, J. (2017). Developmental education. US Department of Education.

McCrae, R. R. (2004). Openness to experience. In C. Spielberger (Ed.), Encyclopedia of applied psychology (pp. 707–709). Oxford, UK: Elsevier. https://doi.org/10.1016/B0-12-657410-3/00068-4.

Mill, A., Kööts-Ausmees, L., Allik, J., & Realo, A. (2018). The role of co-occurring emotions and personality traits in anger expression. Frontiers in Psychology, 9, 123. https://doi.org/10.3389/fpsyg.2018.00123.

Núñez-Peña, M. I., Súarez-Pellicioni, M., & Bono, R. (2016). Gender differences in test anxiety and their impact on higher education students' academic achievement. Procedia-Social and Behavioral Sciences, 228, 154–160.

Pajares, F. (1996). Self-efficacy beliefs in academic settings. Review of Educational Research, 66, 543–578. https://doi.org/10.3102/00346543066004543.

Pajares, F., & Miller, M. D. (1995). Mathematics self-efficacy and math- ematics performance: The need for specificity of assessment. Journal of Counseling Psychology, 42, 190–198. https://doi.org/10.1037//0022-0167.42.2.190.

Pekrun, R. (2006). The control-value theory of achievement emotions: Assumptions, corollaries, and implications for educational research and practice. Educational Psychology Review, 18, 315–341. https://doi.org/10.1007/s10648-006-9029-9.

Peterson, C. H., Casillas, A., & Robbins, S. B. (2006). The student readiness inventory and the big five: Examining social desirability and college academic performance. Personality and Individual Differences, 41(4), 663–673.

Pintrich, P. R. (2000). In M. Boekaerts, P. R. Pintrich, & M. Zeidner (Eds.), Handbook of self-regulation The role of goal orientation in self-regulated learning (pp. 451–502). San Diego, CA: Academic Press.

Pintrich, P. R., Smith, D. A., Garcia, T., & McKeachie, W. J. (1991). A manual for the use of the motivated strategies for learning questionnaire (MSLQ). Ann Arbor, MI: National Center for Research to Improve Postsecondary Teaching and Learning.

Richardson, F. C., & Suinn, R. M. (1972). The mathematics anxiety rating scale: Psychometric data. Journal of Counseling Psychology, 19(6), 551–554.

Richardson, M., Abraham, C., & Bond, R. (2012). Psychological correlates of university students' academic performance: A systematic review and meta- analysis. Psychological Bulletin, 138, 353–387. https://doi.org/10.1037/a0026838.

Schoenfeld, A. H. (1983). Beyond the purely cognitive: Belief systems, social cognition, and metacognitions as driving forces in intellectual performance. Cognitive Science, 7, 329–363.

Snow, R. E., Corno, L., & Jackson, D. (1996). Individual differences in affective and conative functions. In D. C. Berliner & R. C. Calfee (Eds.), Handbook of Educational Psychology (pp. 243–310). New York, NY: Simon & Schuster Macmillan.

Zeidner, M. (1998). Test anxiety: The state of the art. New York, NY: Plenum.
Acknowledgements
This material is based upon work supported by the National Science Foundation under Grant No. (DUE 1544011).
Ethics declarations
Conflict of Interest
On behalf of all authors, the corresponding author states that there is no conflict of interest.
Additional information
Publisher's Note
Springer Nature remains neutral with regard to jurisdictional claims in published maps and institutional affiliations.
About this article
Cite this article
Deshler, J., Fuller, E. & Darrah, M. Affective States of University Developmental Mathematics Students and their Impact on Self-Efficacy, Belonging, Career Identity, Success and Persistence. Int. J. Res. Undergrad. Math. Ed. 5, 337–358 (2019). https://doi.org/10.1007/s40753-019-00096-3
Published:

Issue Date:

DOI: https://doi.org/10.1007/s40753-019-00096-3
Keywords
Self-efficacy

Belonging

Anxiety

Persistence

Affect

Developmental mathematics