Abstract
Objective
Cognitive scientists suggest that stress reduction may be one of the important elements for the success of religion as a social structure. Studies among Christian Charismatics support this model, pointing to the importance of belief, training, and proclivity for psychological absorption in maximizing the influence of cultural rituals for reducing stress and positively influencing mood. Furthermore, this "absorption hypothesis" likely extends to other cultural settings.
Methods
We test the role of absorption in influencing stress and emotional affect among members (N = 12) of a comedy improvisation (improv) theater in upstate New York. We tested for main and interaction effects of improv experience and absorption on self-reported mood and biomarkers of stress on improv and non-improv days.
Results
We found a significant positive association between absorption and cortisol on improv days but no effects for improv experience and no significant interaction effects.
Conclusions
These findings suggest absorption may be important for focus in skilled adult play, but involvement in comedy improv may not be analogous to active church membership.
Access options
Buy single article
Instant access to the full article PDF.
US$ 39.95
Tax calculation will be finalised during checkout.
Subscribe to journal
Immediate online access to all issues from 2019. Subscription will auto renew annually.
US$ 79
Tax calculation will be finalised during checkout.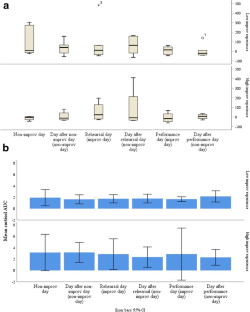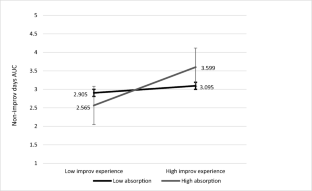 References
Adam, E. K., Hawkley, L. C., Kudielka, B. M., & Cacioppo, J. T. (2006). Day-to-day dynamics of experience–cortisol associations in a population-based sample of older adults. Proceedings of the National Academy of Sciences, 103(45), 17058–17063. https://doi.org/10.1073/pnas.0605053103.

Barrett, J. L. (2011). Cognitive science of religion: Looking back, looking forward. Journal for the Scientific Study of Religion, 50(2), 229–239.

Christiano, B. A., & Russ, S. W. (1996). Play as a predictor of coping and distress in children during invasive dental procedure. Journal of Clinical Child Psychology, 25(2), 130–138.

Cohen, S., & Williamson, G. M. (1988). Perceived stress in a probability sample of the United States. In S. Spacapan & S. Oskamp (Eds.), The social psychology of health (p. 31). Newbury Park: Sage.

Cohen, S., Kamarck, T., & Mermelstein, R. (1983). A global measure of perceived stress. Journal of Health and Social Behavior, 24(4), 385–396.

Csikszentmihalyi, M. (1990). Flow: The psychology of optimal experience. New York: Harper & Row.

Dawson, J. F. (2014). Moderation in management research: What, why, when, and how. Journal of Business and Psychology, 29(1), 1–19.

Erickson, K., Drevets, W., & Schulkin, J. (2003). Glucocorticoid regulation of diverse cognitive functions in normal and pathological emotional states. Neuroscience & Biobehavioral Reviews, 27(3), 233–246.

Fries, E., Dettenborn, L., & Kirschbaum, C. (2009). The cortisol awakening response (CAR): Facts and future directions. International Journal of Psychophysiology, 72(1), 67–73.

Harris, P. L. (2000). The work of the imagination. Oxford: Blackwell Publishing.

Hellhammer, D. H., Wust, S., & Kudielka, B. M. (2009). Salivary cortisol as a biomarker in stress research. Psychoneuroendocrinology, 34, 163–171.

Jamieson, G. (2005). The modified Tellegen absorption scale: A clearer window on the structure and meaning of absorption. Australian Journal of Clinical and Experimental Hypnosis, 33, 119.

Kaiser, B. N., Haroz, E. E., Kohrt, B. A., Bolton, P. A., Bass, J. K., & Hinton, D. E. (2015). "Thinking too much": a systematic review of a common idiom of distress. Social Science & Medicine, 147, 170–183.

Kirschbaum, C., Pirke, K. m., & Hellhammer, D. H. (1995). Preliminary evidence for reduced cortisol responsivity to psychological stress in women using oral contraceptive medication. Psychoneuroendocrinology, 20(5), 509. http://www.sciencedirect.com/science/article/B6TBX-3YCDW7X-13/2/22d46c95a2e27e6163e78cf0f2e880f2–514.

Luhrmann, T. M. (2005). The art of hearing god: Absorption, dissociation, and contemporary American spirituality. Spiritus: A Journal of Christian Spirituality, 5(2), 133. http://muse.jhu.edu.libdata.lib.ua.edu/journals/spiritus/v005/5.2luhrmann.html–157.

Luhrmann, T. M. (2012). When god talks back: Understanding the American evangelical relationship with God. New York: Knopf.

Luhrmann, T. M., Nusbaum, H., & Thisted, R. (2010). The absorption hypothesis: Learning to hear god in evangelical Christianity. American Anthropologist, 112(1), 66–78. https://doi.org/10.1111/j.1548-1433.2009.01197.x.

Lynn, C. D., Paris, J. J., Frye, C. A., & Schell, L. M. (2010). Salivary alpha-amylase and cortisol among Pentecostals on a worship and nonworship day. American Journal of Human Biology, 22(6), 819–822. https://doi.org/10.1002/ajhb.21088.

Lynn, C. D., Paris, J. J., Frye, C. A., & Schell, L. M. (2011). Glossolalia is associated with differences in biomarkers of stress and arousal among apostolic Pentecostals. Religion, Brain & Behavior, 1(3), 173. https://doi.org/10.1080/2153599x.2011.639659.

Lynn, C. D., Dominguez, J. T., & Decaro, J. A. (2016). Tattooing to "toughen up": Tattoo experience and secretory immunoglobulin a. American Journal of Human Biology, 28, 603–609. https://doi.org/10.1002/ajhb.22847.

Lynn, C. D., Howells, M., Herdrich, D., Ioane, J., Hudson, D., & Fitiao, S. T. U. (2019). The evolutionary adaptation of body art: Tattooing as costly honest signaling of enhanced immune response in American Samoa. American Journal of Human Biology, 32(4), 1–12.

Miller, G. E., Chen, E., & Zhou, E. S. (2007). If it goes up, must it come down? Chronic stress and the hypothalamic-pituitary-adrenocortical axis in humans. Psychological Bulletin, 133(1), 25–45.

Miller, G. E., Chen, E., & Cole, S. W. (2009). Health psychology: Developing biologically plausible models linking the social world and physical health. Annual Review of Psychology, 60, 501–524.

Pellis, S., & Pellis, V. (2013). The playful brain: Venturing to the limits of neuroscience. London: Oneworld Publications.

Pruessner, J. C., Wolf, O. T., Hellhammer, D. H., Buske-Kirschbaum, A., Von Auer, K., Jobst, S., et al. (1997). Free cortisol levels after awakening: a reliable biological marker for the assessment of adrenocortical activity. Life Sciences, 61(26), 2539–2549.

Pruessner, J. C., Kirschbaum, C., Meinlschmid, G., & Hellhammer, D. H. (2003). Two formulas for computation of the area under the curve represent measures of total hormone concentration versus time-dependent change. Psychoneuroendocrinology, 28(7), 916. https://doi.org/10.1016/s0306-4530(02)00108-7.

Seligman, R., & Kirmayer, L. J. (2008). Dissociative experience and cultural neuroscience: Narrative, metaphor and mechanism. Culture, Medicine and Psychiatry, 32(1), 31. https://doi.org/10.1007/s11013-007-9077-8.

Smyth, J., Ockenfels, M. C., Porter, L., Kirschbaum, C., Hellhammer, D. H., & Stone, A. A. (1998). Stressors and mood measured on a momentary basis are associated with salivary cortisol secretion. Psychoneuroendocrinology, 23(4), 353–370.

Stromberg, P. G. (2009). Caught in play. http://site.ebrary.com/lib/alabama/Top?id=10329901.

Tellegen, A., & Atkinson, G. (1974). Openness to absorbing and self-altering experiences ("absorption"), a trait related to hypnotic susceptibility. Journal of Abnormal Psychology, 83(3), 268.

Thompson, T., Steffert, T., Steed, A., & Gruzelier, J. (2010). A randomized controlled trial of the effects of hypnosis with 3-D virtual reality animation on tiredness, mood, and salivary cortisol. International Journal of Clinical and Experimental Hypnosis, 59(1), 122–142.

Wasson, S. (2017). Improv nation: How we made a great American art. Boston: Houghton Mifflin Harcourt.

Watson, D., & Clark, L. A. (1999). The PANAS-X: Manual for the positive and negative affect schedule-expanded form. University of Iowa, Iowa City. (Unpublished manuscript).

WHO. (2020). Mental health. World Health Organization. https://www.who.int/mental_health/advocacy/en/#Factsheets. Accessed 28 May 2020.

Wüst, S., Wolf, J., Hellhammer, D. H., Federenko, I., Schommer, N., & Kirschbaum, C. (2000). The cortisol awakening response - normal values and confounds. Noise & Health, 2(7), 79–88.
Ethics declarations
Conflict of Interest
The authors declare that they have no conflict of interest.
Ethical Approval
All study participants provided informed consent, and all protocols were approved by the improv theatre and the University at Albany Institutional Review Board (17-E-281).
Additional information
Publisher's Note
Springer Nature remains neutral with regard to jurisdictional claims in published maps and institutional affiliations.
About this article
Cite this article
Ocobock, C., Lynn, C.D., Sarma, M. et al. Organized Adult Play and Stress Reduction: Testing the Absorption Hypothesis in a Comedy Improv Theater. Adaptive Human Behavior and Physiology 6, 436–446 (2020). https://doi.org/10.1007/s40750-020-00147-z
Received:

Revised:

Accepted:

Published:

Issue Date:
Keywords
Play

Absorption

Comedy improvisation (improv)

Mood

Cortisol