Opinion statement
Constipation is one of the most common problems evaluated by pediatricians, pediatric gastroenterologist, and pediatric surgeons alike. A clear and concise management algorithm is needed to appropriately treat patients and avoid unnecessary outpatient and emergency department visits. Once organic causes of constipation have been ruled out, treatment should progress in a stepwise fashion until success, defined as daily bowel movements without encopresis or overflow pseudoincontinence. Therapy should begin with diet modification and progress through the use of polyethylene glycol, stimulant laxatives, daily enemas, and even formal inpatient fecal disimpaction. For those patients who fail to successfully evacuate their colons or those who have persistent incontinence secondary to severe constipation, surgical options such as appendicostomy should be explored. Ultimately, we must all accept that constipation can be a severe, life-altering problem which should be addressed with an aggressive management strategy.
Access options
Buy single article
Instant access to the full article PDF.
USD 39.95
Price excludes VAT (USA)
Tax calculation will be finalised during checkout.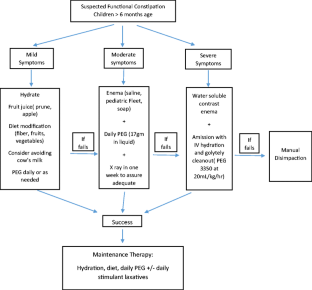 References and Recommended Reading
Colombo JM, Wassom MC, Rosen JM. Constipation and encopresis in childhood. Pediatr Rev. 2015;36(9).

van den Berg MM, Benninga MA, Di Lorenzo C. Epidemiology of childhood constipation: a systematic review. Am J Gastroenterol. 2006;101(10):2401–9.

Nurko S, Zimmerman L. Boston Children's Hospital, Boston, Massachusetts. Evaluation and treatment of constipation in children and adolescents. Am Fam Physician. 2014;90(2):82–90.

Tabbers MM, Dilorenzo C, Berger MY, et al. Evaluation and treatment of functional constipation in infants and children: evidence-based recommendations from ESPGHAN and NASPGHAN. J Pediatr Gastroenterol Nutr. 2014;58(2):265–81.

Rajindrajith S, Manjuri ND, Perera JC, Benninga MA. Childhood constipation as an emerging public health problem. World J Gastroenterol. 2016;22(30):6864–6875. Published online 2016 Aug 14. doi:10.3748/wjg.v22.i30.6864.

Sommers T, Corban C, Sengupta N, Jones M, Cheng V, Bollom A, Nurko S, Kelley J, Lembo A. Emergency department burden of constipation in the United States from 2006 to 2011. Am J Gastroenterol. 2015 Apr;110(4):572–9. doi:10.1038/ajg.2015.64.

Gilroy AM. Anatomy: an essential textbook. New York: Thieme Medical Publishers, Inc.; 2013. p. 151. 222-224

Palit S, Lunniss PJ, Scott SM. The physiology of human defecation. Dig Dis Sci. 2012;57(6):1445–64.

van den Berg MM, Voskuijl WP, Boeckxstaens GE, Benninga MA. Rectal compliance and rectal sensation in constipated adolescents, recovered adolescents and healthy volunteers. Neurogastroenterology Gut. 2008;57:599–603. doi:10.1136/gut.2007.125690.

Rao SS, Sadeghi P, Beaty J, Kavlock R, Ackerson K. Ambulatory 24-h colonic manometry in healthy humans. Am J Physiol Gastrointest Liver Physiol. 2001;280:G629–39.

Bardisa-Ezcurra L, Ullman R, Gordon J, Guideline Development Group. Diagnosis and management of idiopathic childhood constipation: summary of NICE guidance. BMJ. 2010;340.

Benninga MA, Nurko S, Faure C, Hyman PE, Roberts I, Schechter N. Childhood functional gastrointestinal disorders: neonate/toddler. Gastroenterology. 2016;150(6):1443–1455.e2.

Tschudy MM, Arcara KM. Johns Hopkins Hospital. Harriet Lane handbook: a manual for pediatric house officers. 19th ed. Philadelphia: Elsevier; 2012.

Bekkali NL, van den Berg MM, Dijkgraaf MG, et al. Rectal fecal impaction treatment in childhood constipation: enemas versus high doses oral PEG. Pediatrics. 2009;124(6):e1108–15.

Candy D, Belsey J. Macrogol (polyethylene glycol) laxatives in children with functional constipation and faecal impaction: a systematic review. Arch Dis Child. 2009;94(2):156–60.

Russell KW, Barnhart DC, Zobell S, Scaife ER, Rollins MD. Effectiveness of an organized bowel management program in the management of severe chronic constipation in children. J Pediatr Surg. 2015;50(3):444–7. doi:10.1016/j.jpedsurg.2014.08.006.

Ray Parashette K, Waseem S, Horn D, Shah A, Croffie J. Effect of octreotide on colonic motility in pediatric patients with chronic recalcitrant constipation. J Pediatr Gastroenterol Nutr. 2015;61(6):626–9. doi:10.1097/MPG.0000000000000872.

Ng RT, Lee WS, Ang HL, Teo KM, Yik YI, Lai NM. Transcutaneous electrical stimulation (TES) for treatment of constipation in children. Cochrane Database Syst Rev. 2016;7:CD010873. doi:10.1002/14651858.CD010873.pub2.
Ethics declarations
Conflict of Interest
Kevin A. Jiles declares that he has no conflict of interest. Miller C. Hamrick declares that he has no conflict of interest.
Human and Animal Rights and Informed Consent
This article does not contain any studies with human or animal subjects performed by any of the authors.
Additional information
This article is part of the Topical Collection on General Surgery
About this article
Cite this article
Jiles, K.A., Hamrick, M.C. Evaluation and Management of Pediatric Constipation. Curr Treat Options Peds 3, 69–76 (2017). https://doi.org/10.1007/s40746-017-0078-8
Published:

Issue Date:

DOI: https://doi.org/10.1007/s40746-017-0078-8
Keywords
Constipation

Impaction

Polyethylene glycol

Appendicostomy