Abstract
The role of Emotional Support Animals (ESAs) in facilitating mental health recovery is gaining increasing attention internationally. Within the United States, ESAs are companion animals without any special training, who are denoted in writing by a licensed mental health professional to be a therapeutic necessity for someone living with chronic mental health symptoms and who has a condition that meets the legal definition of a disability. ESAs are recognized within federal disability legislation, with limited rights to those who have ESAs as accommodations for their disabilities. The aim of this article is to present ESAs as a valid psychosocial rehabilitation intervention, consistent with the tenets of mental health recovery. Empirical literature is discussed, and a theoretical foundation is applied to explain the mechanism within the theory of change for how and why ESAs benefit people living with chronic mental health issues. To advance the current literature and practice, emergent best practices and guidelines for mental health clinicians for designating and documenting ESA need for clients who request such are provided.
Access options
Buy single article
Instant access to the full article PDF.
US$ 39.95
Tax calculation will be finalised during checkout.
Subscribe to journal
Immediate online access to all issues from 2019. Subscription will auto renew annually.
US$ 119
Tax calculation will be finalised during checkout.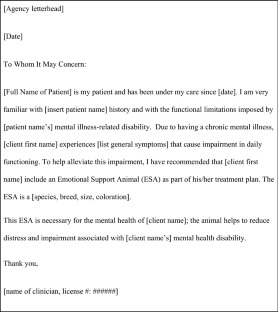 References
1.

U.S. Department of Health & Human Services. Recovery is possible. https://www.mentalhealth.gov/basics/recovery-possible (2019, March 19). Retrieved 22 May 2019.

2.

Ellison ML, Belanger LK, Niles BL, Evans LC, Bauer MS. Explication and definition of mental health recovery: a systematic review. Adm Policy Ment Health Mental Health Serv Res. 2018;45(1):91–102. https://doi.org/10.1007/s10488-016-0767-9.

3.

Wisdom JP, Saedi GA, Green CA. Another breed of "service" animals: STARS study findings about pet ownership and recovery from serious mental illness. Am J Orthopsychiatry. 2009;79(3):430–6. https://doi.org/10.1037/a0016812.

4.

Zimolag U, Krupa T. Pet ownership as a meaningful community occupation for people with serious mental illness. Am J Occup Ther. 2009;63(2):126–37. https://doi.org/10.5014/ajot.63.2.126.

5.

Jacob KS. Recovery model of mental illness: a complementary approach to psychiatric care. Indian J Psychol Med. 2015;37(2):117.

6.

Brooks H, Rushton K, Walker S, Lovell K, Rogers A. Ontological security and connectivity provided by pets: a study in the self-management of the everyday lives of people diagnosed with a long-term mental health condition. BMC Psychiatry. 2016;16(1):1–12.

7.

Brooks HL, Rushton K, Lovell K, Bee P, Walker L, Grant L, Rogers A. The power of support from companion animals for people living with mental health problems: a systematic review and narrative synthesis of the evidence. BMC Psychiatry. 2018;18(1):31.

8.

Fine AH, editor. Handbook on animal-assisted therapy: foundations and guidelines for animal-assisted interventions. Pomona: Academic press; 2019.

9.

Beetz A, Uvnäs-Moberg K, Julius H, Kotrschal K. Psychosocial and psychophysiological effects of human–animal interactions: the possible role of oxytocin. Front Psychol. 2012;3:234.

10.

Odendaal JS, Meintjes RA. Neurophysiological correlates of affiliative behaviour between humans and dogs. Vet J. 2003;165(3):296–301. https://doi.org/10.1016/S1090-0233(02)00237-X.

11.

Hoy-Gerlach J, Wehman S. The relevance of human–animal interaction for social work practice. Washington: NASW Press; 2017.

12.

Engel GL. The need for a new medical model: a challenge for biomedicine. Science. 1977;196(4286):129–36.

13.

Freund LS, McCune SE, Esposito LE, Gee NR, McCardle PE. The social neuroscience of human–animal interaction. Washington: American Psychological Association; 2016.

14.

American Veterinary Medical Association (AVMA). Assistance animals: rights of access and the problem of fraud (2017). https://www.avma.org/KB/Resources/Reports/Pages/Assistance-Animals-Rights-of-Access-and-the-Problem-of-Fraud.aspx. Retrieved 22 July 2019.

15.

U.S. Department of Justice. Service animals, ADA requirements (2019). https://www.ada.gov/service_animals_2010.html. Retrieved 22 July 2019.

16.

American Veterinary Medical Association (AVMA@Work). AVMA, United Airlines reach agreement on veterinary health form (2018). https://atwork.avma.org/2018/03/02/avma-united-airlines-reach-agreement-on-veterinary-health-form/. Retrieved 22 July 2019.

17.

Ng ZY, Pierce BJ, Otto CM, Buechner-Maxwell VA, Siracusa C, Werre SR. The effect of dog–human interaction on cortisol and behavior in registered animal-assisted activity dogs. Appl Anim Behav Sci. 2014;159:69–81.

18.

Hoy-Gerlach J, Delgado M, Sloane H, Arkow P. Rediscovering connections between animal welfare and human welfare: creating social work internships at a humane society. J Soc Work. 2019;19(2):216–32. https://doi.org/10.1177/1468017318760775.

19.

Younggren JN, Boisvert JA, Boness CL. Examining emotional support animals and role conflicts in professional psychology. Prof Psychol Res Pract. 2016;47(4):255–60. https://doi.org/10.1037/pro0000083.

20.

Katz J. The new work of dogs: tending to life, love, and family. New York: Random House Incorporated; 2004.

21.

Schlau E. Bring your dog to work day: what animal-assisted therapy is NOT. In: American Counseling Association Conference, San Francisco, CA. Vistas Online; 2017.
Additional information
Publisher's Note
Springer Nature remains neutral with regard to jurisdictional claims in published maps and institutional affiliations.
About this article
Cite this article
Hoy-Gerlach, J., Vincent, A. & Lory Hector, B. Emotional Support Animals in the United States: Emergent Guidelines for Mental Health Clinicians. J. Psychosoc. Rehabil. Ment. Health 6, 199–208 (2019). https://doi.org/10.1007/s40737-019-00146-8
Received:

Accepted:

Published:

Issue Date:
Keywords
Emotional support animal

Human–animal interaction

Human–animal bond

Psychosocial rehabilitation

Mental health recovery