Abstract
A green and environmentally friendly inhibitor based on salicylaldehyde-modified chitosan Schiff base was synthesized and its inhibition performance was studied by corrosion product analysis and electrochemical measurements in 1.0 M HCl. The chitosan Schiff base was characterized by Fourier-transformed infrared (FTIR) and the Q235 steel surface morphological was characterized via scanning electron microscope (SEM). The inhibition efficiency increased and the corrosion rate decreased with increasing concentrations of Schiff base. A maximum of 92.72% inhibition efficiency was achieved using 2000 ppm of Schiff base. The polarization measurements showed that the Schiff base acts as both cathodic and anodic inhibitor. The electrochemical impedance studies confirmed that the chitosan Schiff base was adsorbed on the metal surface. Langmuir isotherm provided the best description on the adsorption nature of the inhibitor via both chemisorption and physisorption. SEM analysis indicated the presence of protective film formed by chitosan Schiff base on the metal surface.
Access options
Buy single article
Instant access to the full article PDF.
US$ 39.95
Tax calculation will be finalised during checkout.
Subscribe to journal
Immediate online access to all issues from 2019. Subscription will auto renew annually.
US$ 79
Tax calculation will be finalised during checkout.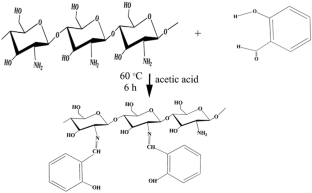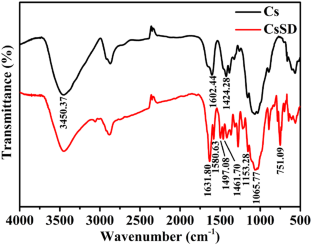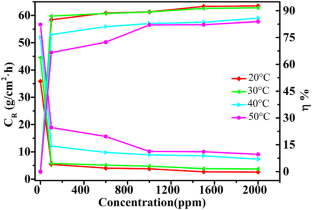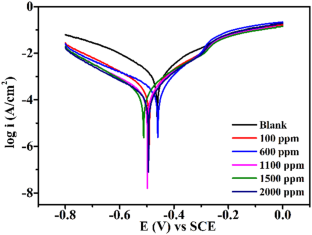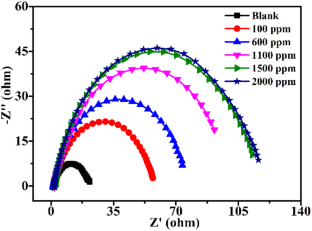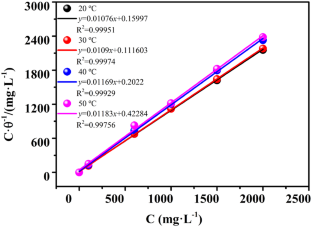 References
1.

Bouklah M, Hammouti B, Benkaddour M et al (2005) Thiophene derivatives as effective inhibitors for the corrosion of steel in 0.5 M H2SO4. J Appl Electrochem 35(11):1095–1101

2.

Azhar ME, Mernari B, Traisnel M et al (2001) Corrosion inhibition of mild steel by the new class of inhibitors [2,5-bis(n-pyridyl)-1,3,4-thiadiazoles] in acidic media. Corros Sci 43:2229–2238

3.

Sangeetha Y, Meenakshi S, Sairamsundaram C (2014) Corrosion mitigation of N-(2-hydroxy-3-trimethyl ammonium)propyl chitosan chloride as inhibitor on mild steel. Int J Biol Macromol 72(72C):1244

4.

Frau AF, Pernites RB, Advincula RC (2010) A conjugated polymer network approach to anticorrosion coatings: poly(vinylcarbazole) electrodeposition. Ind Eng Chem Res 49(20):9789–9797

5.

Nataraja SE, Venkatesha TV, Manjunatha K et al (2011) Inhibition of the corrosion of steel in hydrochloric acid solution by some organic molecules containing the methylthiophenyl moiety. Corros Sci 53(8):2651–2659

6.

Ahamad I, Prasad R, Quraishi MA (2010) Adsorption and inhibitive properties of some new Mannich bases of Isatin derivatives on corrosion of mild steel in acidic media. Corros Sci 52(4):1472–1481

7.

Sargent RWH (2004) Introduction: 25 years of progress in process systems engineering. Comput Chem Eng 28(4):437–439

8.

Mercer AD (2013) Corrosion inhibitors. Br Corros J 18(3):118–119

9.

Sinko J (2001) Challenges of chromate inhibitor pigments replacement in organic coatings. Prog Org Coat 42:267–282

10.

Manahan SE (1993) Fundamentals of environmental chemistry, 3rd edn. CRC Press, Boca Raton

11.

Bonoli M, Bendini A, Cerretani L et al (2004) Qualitative and semiquantitative analysis of phenolic compounds in extra virgin olive oils as a function of the ripening degree of olive fruits by different analytical techniques. J Agric Food Chem 52(23):7026–7032

12.

Lee OH, Lee BY, Lee J et al (2009) Assessment of phenolics-enriched extract and fractions of olive leaves and their antioxidant activities. Bioresour Technol 100(23):6107–6113

13.

Abdel-Gaber AM, Abd-El Nabey BA, Sidahmed IM et al (2006) Effect of temperature on inhibitive action of damsissa extract on the corrosion of steel in acidic media. Corrosion 62(4):293

14.

Abdel-Gaber AM, Abd-El-Nabey BA, Sidahmed IM et al (2006) Inhibitive action of some plant extracts on the corrosion of steel in acidic media. Corros Sci 48(9):2765–2779

15.

Abdel-Gaber AM, Khamis E, Abo-Eldahab H et al (2010) Novel package for inhibition of aluminium corrosion in alkaline solutions. Mater Chem Phys 124(1):773–779

16.

Abdel-Gaber AM (2007) Effect of immersion time and temperature on the inhibition of the acid corrosion of zinc by fenugreek seeds extract. Int J Appl Chem 3:161–174

17.

Abdel-Gaber AM, Khamis E, Abo-Eldahab H et al (2008) Inhibition of aluminium corrosion in alkaline solutions using natural compound. Mater Chem Phys 109(2–3):297–305

18.

De Assunção Araújo Pereira SS, Pêgas MM, Fernández TL et al (2012) Inhibitory action of aqueous garlic peel extract on the corrosion of mild steel in HCl solution. Corros Sci 65:360–366

19.

Elgadir MA, Uddin MS, Ferdosh S et al (2014) Impact of chitosan composites and chitosan nanoparticle composites on various drug delivery systems: a review. J Food Drug Anal 23(4):619–629

20.

Singh BK, Dutta PK, Chitin (2016) Chitosan, and silk fibroin electrospun nanofibrous scaffolds: a prospective approach for regenerative medicine, pp 151–189. Springer India, New Delhi

21.

Achouri ME, Infante MR, Izquierdo F et al (2001) Synthesis of some cationic gemini surfactants and their inhibitive effect on iron corrosion in hydrochloric acid medium. Corros Sci 43(1):19–35

22.

Mobin M, Aslam R, Aslam J (2017) Non toxic biodegradable cationic gemini surfactants as novel corrosion inhibitor for mild steel in hydrochloric acid medium and synergistic effect of sodium salicylate: experimental and theoretical approach. Mater Chem Phys 191:151–167

23.

Umoren SA, Eduok UM (2016) Application of carbohydrate polymers as corrosion inhibitors for metal substrates in different media: a review. Carbohydr Polym 140:314–341

24.

Carneiro J, Tedim J, Ferreira MGS (2015) Chitosan as a smart coating for corrosion protection of aluminum alloy 2024: a review. Prog Org Coat 89:348–356

25.

El-Haddad MN (2013) Chitosan as a green inhibitor for copper corrosion in acidic medium. Int J Biol Macromol 55:142–149

26.

Guinesi LS, Cavalheiro TG (2006) Influence of some reactional parameters on the substitution degree of biopolymeric Schiff bases prepared from chitosan and salicylaldehyde. Carbohyd Polym 65(4):557–561

27.

Dos Santos JE, Dockal ER, Cavalheiro TG (2005) Synthesis and characterization of Schiff bases from chitosan and salicylaldehyde derivatives. Carbohyd Polym 60(3):277–282

28.

Wan K, Feng P, Hou B et al. Enhanced corrosion inhibition properties of carboxymethyl hydroxypropyl chitosan for mild steel in 1.0 M HCl solution. Rsc Adv 2016

29.

Li M, Xu J, Li R et al (2014) Simple preparation of aminothiourea-modified chitosan as corrosion inhibitor and heavy metal ion adsorbent. J Colloid Interface Sci 417(3):131

30.

Umoren SA, Banera MJ, Alonso-Garcia T et al (2013) Inhibition of mild steel corrosion in HCl solution using chitosan. Cellulose 20(5):2529–2545

31.

Wang J, Lian Z, Wang H et al (2012) Synthesis and antimicrobial activity of Schiff base of chitosan and acylated chitosan. J Appl Polym Sci 123(6):3242–3247

32.

Menaka R, Subhashini S (2016) Chitosan Schiff base as eco-friendly inhibitor for mild steel corrosion in 1 M HCl. J Adhes Sci Technol 30(15):1622–1640

33.

Kasaai M (2008) A review of several reported procedures to determine the degree of N-acetylation for chitin and chitosan using infrared spectroscopy. Carbohyd Polym 71(4):497–508

34.

Menaka R, Subhashini S (2017) Chitosan Schiff base as effective corrosion inhibitor for mild steel in acid medium. Polym Int 66(3):349–358

35.

Tengroth C, Gasslander U, Andersson F et al (2005) Cross-linking of gelatin capsules with formaldehyde and other aldehydes: an FTIR spectroscopy study. Pharm Dev Technol 10(3):405–412

36.

Tree-Udom T, Wanichwecharungruang SP, Seemork J et al (2011) Fragrant chitosan nanospheres: controlled release systems with physical and chemical barriers. Carbohyd Polym 86(4):1602–1609

37.

Geethanjali R, Subhashini S (2015) Thermodynamic characterization of metal dissolution and adsorption of polyvinyl alcohol-grafted poly(acrylamide-vinyl sulfonate) on mild steel in hydrochloric acid. J Food Saf 33(1):35–48

38.

Zhang J, Gong XL, Yu HH et al (2011) The inhibition mechanism of imidazoline phosphate inhibitor for Q235 steel in hydrochloric acid medium. Corros Sci 53(10):3324–3330

39.

Mistry BM, Kim DH, Jauhari S (2016) Analysis of adsorption properties and corrosion inhibition of mild steel in hydrochloric acid solution by synthesized quinoline schiff base derivatives. Trans Indian Inst Met 69(6):1297–1309

40.

Umoren SA, Obot IB, Madhankumar A et al (2015) Effect of degree of hydrolysis of polyvinyl alcohol on the corrosion inhibition of steel: theoretical and experimental studies. J Adhes Sci Technol 29(4):271–295

41.

Ahamad I, Prasad R, Quraishi MA (2010) Inhibition of mild steel corrosion in acid solution by Pheniramine drug: experimental and theoretical study. Corros Sci 52(9):3033–3041

42.

Rubaye AYI, Abdulsahib HT, Abdulwahid AA (2015) Corrosion inhibition properties of norepinephrine molecules on mild steel in acidic media. J Encapsul Adsorpt Sci 5(3):155–164

43.

Yaro AS, Khadom AA, Wael RK (2013) Apricot juice as green corrosion inhibitor of mild steel in phosphoric acid. Alex Eng J 52(1):129–135

44.

Stupnišek-Lisac E, Gazivoda A, Madžarac M (2002) Evaluation of non-toxic corrosion inhibitors for copper in sulphuric acid. Electrochim Acta 47(26):4189–4194

45.

Rose K, Kim BS, Rajagopal K et al (2016) Surface protection of steel in acid medium by Tabernaemontana divaricata, extract: physicochemical evidence for adsorption of inhibitor. J Mol Liq 214:111–116

46.

Gopiraman M, Selvakumaran N, Kesavan D et al (2012) Adsorption and corrosion inhibition behaviour of N -(phenylcarbamothioyl)benzamide on mild steel in acidic medium. Prog Org Coat 73(1):104–111

47.

El-Haddad MN, Elattar KM (2015) Synthesis, characterization and inhibition effect of new antipyrinyl derivatives on mild steel corrosion in acidic solution. Int J Ind Chem 6(2):105–117
About this article
Cite this article
Chen, N.L., Kong, P.P., Feng, H.X. et al. Corrosion Mitigation of Chitosan Schiff Base for Q235 Steel in 1.0 M HCl. J Bio Tribo Corros 5, 27 (2019). https://doi.org/10.1007/s40735-019-0219-7
Received:

Revised:

Accepted:

Published:
Keywords
Chitosan

Green

Inhibitor

Adsorption