Abstract
Functional analytic psychotherapy enhanced behavioral activation (FEBA) is a therapeutic approach that combines strategies from behavioral activation and functional analytic psychotherapy to improve therapeutic outcomes in clients who lack stable sources of reinforcement in their natural environments. In FEBA, therapists modify clients' behaviors within the therapeutic session and simultaneously change clients' environmental conditions in their natural contexts. A concurrent and nonconcurrent multiple-baseline design between participants was conducted. Four participants—2 men and 2 women—who reported depressive symptoms were independently treated in a psychological services center by 2 male therapists. FEBA increased the frequency of healthy behaviors (e.g., engaging in meaningful conversations with friends) in session and out of session. However, depressive behaviors in therapeutic and natural settings did not show stable changes. The implications for implementing some of the results of this study with clients with depression are discussed. Methodological recommendations for using FEBA with specific populations and in other contexts are also presented.
This is a preview of subscription content, log in to check access.
Access options
Buy single article
Instant access to the full article PDF.
US$ 39.95
Price includes VAT for USA
Subscribe to journal
Immediate online access to all issues from 2019. Subscription will auto renew annually.
US$ 99
This is the net price. Taxes to be calculated in checkout.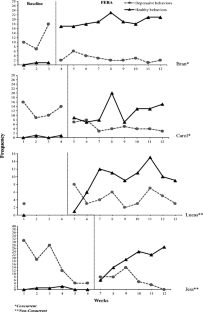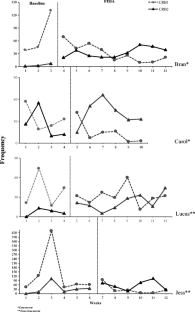 References
American Psychological Association (2002). Ethical principles of psychologists and code of conduct.Retrieved from http:// www.apa.org/ethics.

American Psychological Association (2015). Psychological treatments.Retrieved from https://www.div12.org/psychological-treatments/treatments/.

Becker, K. D., Chorpita, B. F., & Daleiden, E. L. (2011). Improvement in symptoms versus functioning: How do our best treatments measure up? Administration and Policy in Mental Health and Mental Health Services Research, 38, 440–458.

Bianchi, J. M., & Muñoz-Martínez, A. M. (2014). Activaciónconductual: Revisiónhistórica, conceptual y empírica. Psychologia: Avances de la disciplina, 8, 83–93. https://doi.org/10.21500/19002386.1223.

Callaghan, G. M., Follette, W. C., Ruckstuhl Jr., L. E., & Linnerooth, P. J. (2008). The Functional Analytic Psychotherapy Rating Scale (FAPRS): A behavioral psychotherapy coding system. The Behavior Analyst Today, 9, 98–116.

Campo-Arias, A., Díaz-Martínez, L. A., Rueda-Jaimes, G. E., & Barros-Bermúdez, J. A. (2005). Validación de la escala de Zung para depresiónenuniversitarias de Bucaramanga, Colombia. RevistaColombiana de Psiquiatría, 34, 54–62.

Carr, J. E. (2005). Recommendations for reporting multiple-baseline designs across participants. Behavioral Interventions, 20, 219–224.

Carrascoso, F., & Valdivia, S. (2007). Towards alternative criteria for the validation of psychological treatments. International Journal of Psychology and Psychological Therapy, 7, 347–363.

Cooper, J., Heron, T., & Heward, W. (2007). Applied behavior analysis (2nd ed.). London: Pearson.

David, D., & Montgomery, G. H. (2011). The scientific status of psychotherapies: A new evaluative framework for evidence-based psychosocial interventions. Clinical Psychology: Science and Practice, 18, 89–98.

Ekers, D., Webster, L., Van Straten, A., Cuijpers, P., Richards, D., & Gilbody, S. (2014). Behavioural activation for depression: An update of meta-analysis of effectiveness and sub group analysis. PLoS One, 9. https://doi.org/10.1371/journal.pone.0100100.

Fernández Parra, A., & Ferro García, R. (2006). Psicoterapiaanalíticofuncional: Una aproximación contextual funcional al tratamientopsicológico. EduPsykhé, 5, 203–229.

Follette, W. C., Naugle, A. E., & Callaghan, G. M. (1996). A radical behavioral understanding of the therapeutic relationship in effecting change. Behavior Therapy, 27, 623–641.

Grosscup, S. J., & Lewinsohn, P. M. (1980). Unpleasant and pleasant events, and mood. Journal of Clinical Psychology, 36, 252–259.

Hayes, S., Strosahl, K., & Wilson, K. (1999a). Acceptance and commitment therapy: An experiential approach to behavior change. New York: Guilford Press.

Hayes, S. C., Barlow, D., & Nelson-Gray, R. (1999b). The scientist practitioner: Research and accountability in the age of managed care. Needham Heights: Allyn & Bacon.

Hayes, S. C., Nelson, R. O., & Jarrett, R. B. (1987). The treatment utility of assessment: A functional approach to evaluating assessment quality. American Psychologist, 42, 963–974.

Hurl, K., Wightman, J., Virues-Ortega, J., & Haynes, S. N. (2016). Does a pre-intervention functional assessment increase intervention effectiveness? A meta-analysis of within-subject interrupted time-series studies. Clinical Psychology Review, 47, 71–84.

Kanter, J. W., Busch, A. M., & Rusch, L. C. (2009). Behavioral activation: Distinctive features. New York: Routledge.

Kanter, J. W., Manos, R. C., Bowe, W. M., Baruch, D. E., Busch, A. M., & Rusch, L. C. (2010). What is behavioral activation? A review of the empirical literature. Clinical Psychology Review, 30, 608–620.

Kanter, J. W., Manos, R. C., Busch, A. M., & Rusch, L. C. (2008). Making behavioral activation more behavioral. Behavior Modification, 32, 780–803.

Kohlenberg, R. J., & Tsai, M. (1991). Functional analytic psychotherapy: A guide for creating intense and curative therapeutic relationships. New York: Plenum Press.

Lewinsohn, P. M. (1974). A behavioral approach to the treatment of depression. In R. M. Freidman & M. M. Katz (Eds.), The psychology of depression: Contemporary theory and research (pp. 157–185). New York: Wiley.

Manos, R. C., Kanter, J. W., & Busch, A. M. (2010). A critical review of assessment strategies to measure the behavioral activation model of depression. Clinical Psychology Review, 30, 547–561.

Manos, R. C., Kanter, J. W., Rusch, L. C., Turner, L. B., Roberts, N. A., & Busch, A. M. (2009). Integrating functional analytic psychotherapy and behavioral activation for the treatment of relationship distress. Clinical Case Studies, 8, 122–138.

Martell, C., Dimidjian, S., & Hernan-Dunn, R. (2010). Behavioral activation for depression: A clinician's guide. New York: Guilford Press.

Martell, C. R., Addis, M. E., & Jacobson, N. S. (2001). Depression in context: Strategies for guided action. New York: Norton.

Muñoz, R., Le, H., Clarke, G., Barrera, A., & Torres, L. (2009). Preventing first onset and recurrence of major depressive episodes. In I. Gotlib & C. Hammen (Eds.), Handbook of depression (pp. 533–553). New York: Guilford Press.

Muñoz-Martínez, A., & Novoa-Gómez, M. (2011). Confiabilidad y validación de unmodelo de formulaciónclínicaconductual. UniversitasPsychologica, 10, 501–519. https://doi.org/10.4067/S0718-48082012000100003.

Muñoz-Martínez, A. M., & Coletti, J. P. (2015). Psicoterapiaanalíticafuncional: Aproximaciones y alcances de unaterapiabasadaenloscambiosen el contextoterapéutico. Vertex, 26, 43–48.

Parker, R. I., & Vannest, K. (2009). An improved effect size for single-case research: Nonoverlap of all pairs. Behavior Therapy, 40, 357–367.

Perkins, R. (2001). What constitutes success? The British Journal of Psychiatry, 179, 9–10.

Tolin, D. F., McKay, D., Forman, E. M., Klonsky, E. D., & Thombs, B. D. (2015). Empirically supported treatment: Recommendations for a new model. Clinical Psychology: Science and Practice, 22, 317–338.

World Health Organization (2012). 10 facts about mental health.Retrieved from http://www.who.int/features/factfiles/mental_health/mental_health_facts/es/index1.html.
Ethics declarations
The authors certify that they have no affiliations with or involvement in any organization or entity with any financial or nonfinancial interest in the subject matter or materials discussed in this article.
Conflict of interest
The authors declare that they have no conflicts of interest.
Human participants and Animal studies
All procedures performed in studies involving human participants were in accordance with the ethical standards of the institutional and/or national research committee and with the 1964 Declaration of Helsinki and its later amendments or comparable ethical standards.
Informed consent
Informed consent was obtained from all individual participants included in the study.
About this article
Cite this article
Montaño, O.M., Montenegro, M.A. & Muñoz-Martínez, A.M. Functional Analytic Psychotherapy Enhanced Behavioral Activation for Depression: A Concurrent and Non-Concurrent Between-Participants Study. Psychol Rec 68, 27–37 (2018). https://doi.org/10.1007/s40732-018-0263-6
Keywords
Functional analytic psychotherapy enhanced behavioral activation

Depressive behaviors

Healthy behaviors

Clinically relevant behaviors