Abstract
The aim of this study was to investigate transformation of thought suppression functions via 'same' and 'opposite' relations. In Experiment 1 participants were given training and testing with the aim of generating same and opposite relational responding in two five-member relational networks. They then had to suppress a target word from one of the two networks, while words appeared individually onscreen including the target, and words either in the same (target) or a different (nontarget) network. They could remove any word by pressing the spacebar. Findings showed more frequent and faster removal of the target than other words and of words in the target network than other words. Experiment 2, the aim of which was to include predominantly 'opposite' relations in the relational networks, produced a similar but weaker pattern. Experiment 3 replicated the pattern seen in Experiment 2, while showing that the relations designated as opposite produced a more conventional transformation of functions in a context other than thought suppression.
Access options
Buy single article
Instant access to the full article PDF.
US$ 39.95
Tax calculation will be finalised during checkout.
Subscribe to journal
Immediate online access to all issues from 2019. Subscription will auto renew annually.
US$ 79
Tax calculation will be finalised during checkout.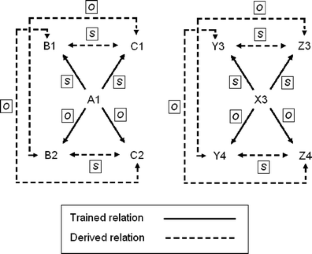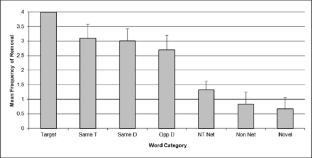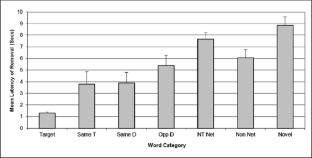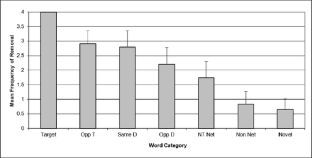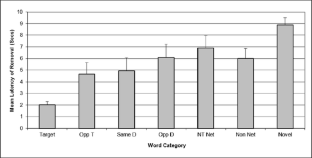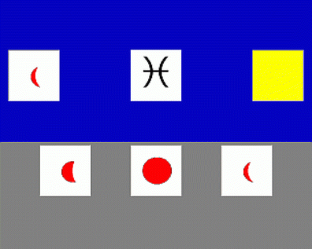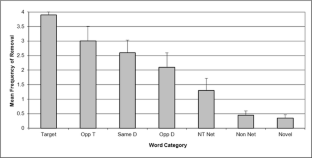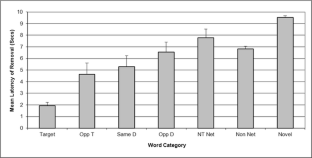 Notes
1.

Wegner (1989) drew a distinction between subtypes of thought control including suppression ("I will not think of X") and distraction ("I will think of Y"), and suggested that thought suppression more broadly conceptualized probably involves moving from the first to the second. Wegner's ECH focuses more on the second than the first and so does the current study. This can be justified as this is a particularly common strategy of thought suppression conceptualised more broadly (Rachman and de Silva 1978). In addition, the current study is an extension of previous work that was interested primarily in how derived relations impact on thought suppression than on modelling the phenomenon itself completely.

2.

Since, in RFT, 'transformation of function' is a generic term that includes 'transfer of function', in the remainder of this article the former term will be preferred, except where the latter is more suitable for purposes of communication.

3.

One question that might be raised in relation to the pattern of responding shown on the basis of this particular protocol, and which might indeed be raised in regard to the patterns of responding shown on the basis of the nonarbitrary relational training procedures used across all three experiments, concerns the extent to which it might be more accurate to characterise at least some of the responding at issue as comparative than opposite relational responding. In response, even though the training / testing stimuli used in these procedures did indeed vary in terms of size and quantity, and participants were sometimes (i.e., in the presence of the 'opposite' cue), required to choose comparisons that were either bigger / smaller or more / less than the sample, the patterns of responding they showed were always more consistent with opposite than comparison relations at a functional level because on such trials they were always required to choose from amongst several comparisons that were all either more or bigger than the sample or less or smaller than the sample and the correct response always involved choosing the comparison farthest away from the sample in size. The latter is required in a pattern of opposition relational responding but not in a pattern of comparison relational responding and thus any person responding consistently correctly can be considered as showing opposition rather than comparison relations.
References
Auguston, E. M., & Dougher, M. J. (1997). The transfer of avoidance evoking functions through stimulus equivalence classes. Journal of Behavioral Therapy and Experimental Psychiatry, 3, 181–191.

Barnes, D., Browne, M., Smeets, P. M., & Roche, B. (1995). A transfer of functions and a conditional transfer of functions through equivalence relations in three to six year old children. The Psychological Record, 45, 405–430.

Dymond, S. & Roche, B. (2013). Advances in relational frame theory: Research & application. Context Press.

Dymond, S. & Whelan, R. (2010). Derived relational responding: A comparison of matching to sample and the relational completion procedure. Journal of the Experimental Analysis of Behavior, 94, 37–55.

Dymond, S., Roche, B., Forsyth, J. P., Whelan, R., & Rhoden, J. (2007). Transformation of avoidance response functions in accordance with same and opposite relational frames. Journal of the Experimental Analysis of Behavior, 88, 249–262.

Fields, L., Verhave, T., & Fath, S. J. (1984). Stimulus equivalence and transitive associations: a methodological analysis. Journal of the Experimental Analysis of Behavior, 42, 143–157.

Greenway, D. E., Dougher, M. J., & Wulfert, E. (1996). Transfer of consequential functions via stimulus equivalence. Generalization to different testing conditions. Psychological Record, 46, 131–144.

Hayes, S. C. (2004). Acceptance and commitment therapy, relational frame theory, and the third wave of behavioural and cognitive therapies. Behaviour Therapy, 35, 639–665.

Hayes, S. C., Strosahl, K. D., & Wilson, K. G. (1999). Acceptance and commitment therapy: An experiential approach to behavior change. New York: The Guilford Press.

Hayes, S. C., Barnes-Holmes, D., & Roche, B. (Eds.). (2001). Relational Frame Theory: A Post-Skinnerian account of human language and cognition. New York: Plenum Press.

Hester, R. K. (1995). Behavioral self-control training. In R. K. Hester & W. R. Miller (Eds.), Handbook of alcoholism treatment approaches: Effective alternatives (pp. 148–159). Needham Heights: Allyn & Bacon.

Hooper, N., Saunders, J., & McHugh, L. (2010). The derived generalization of thought suppression. Learning & Behavior, 38(2), 160–168.

Lattal, K. A. (2012). Self in behavior analysis. In L. McHugh & I. Stewart (Eds.), The self and perspective taking. CA: Context Press.

Najmi, S., & Wegner, D. M. (2008). Thought suppression and psychopathology. In A. Elliott (Ed.), Handbook of approach and avoidance motivation (pp. 447–459). Mahwah: Erlbaum.

Rachman, S., & de Silva, P. (1978). Abnormal and normal obsessions. Behavior Research and Therapy, 16, 233–238.

Roche, B., & Barnes, D. (1997). A transformation of respondently conditioned functions in accordance with arbitrarily applicable relations. Journal of the Experimental Analysis of Behavior, 67, 275–301.

Wegner, D. M. (1989). White bears and other unwanted thoughts: Suppression, obsession, and the psychology of mental control. London: The Guildford Press.

Wegner, D. M., Schneider, D. J., Carter, S. R., & White, T. L. (1987). Paradoxical effects of thought suppression. Journal of Personality and Social Psychology, 53(1), 5–13.

Whelan, R., Cullinan, V., O'Donovan, A., & Valverde, M. R. (2005). Derived same and opposite relations produce association and mediated priming. International Journal of Psychology and Psychological Therapy, 5, 247–264. 

Wilson, K.G., Hayes, S.C., Gregg, J., & Zettle, R.D. (2001). Psychopathology and psychotherapy. In S.C. Hayes, D. Barnes-Holmes, and B. Roche (Eds.) Relational Frame Theory: A Post-Skinnerian Account of Human Language and Cognition. Oakland, CA: Context Press.
About this article
Cite this article
Stewart, I., Hooper, N., Walsh, P. et al. Transformation of Thought Suppression Functions Via Same and Opposite Relations. Psychol Rec 65, 375–399 (2015). https://doi.org/10.1007/s40732-014-0113-0
Keywords
Relational frame theory

Same and opposite relations

Transformation of functions

Thought suppression

Derived relational responding