Abstract
Based on an efficient potential flow wave model to simulate the oscillating water column (OWC) wave fields, this research further develops the solutions using higher index terms in the wave potential. This effort together with a linear damping correction significantly improves the free surface elevation correlation between the potential model predictions and the model test measurements. In addition, a method to establish conservation of energy within the incident, diffracted, and radiated wave energy flux is introduced. The method uses the gradient of wave phase to efficiently determine the propagating direction of a small element of wave in the wave field. By integrating over the control boundary, this research provides the energy balance for diffraction-only case and diffraction-radiation combined case. Discussions about the influence of different parameters on the energy extraction from the wave field demonstrate the effective application of the method in optimizing wave energy converters utilizing oscillations induced by 3-D wave field.
This is a preview of subscription content,
to check access.
Access this article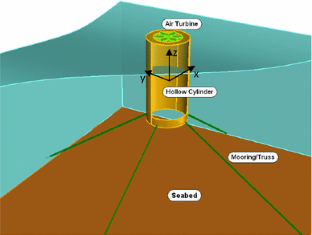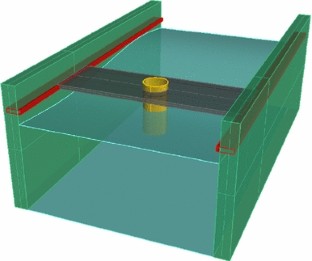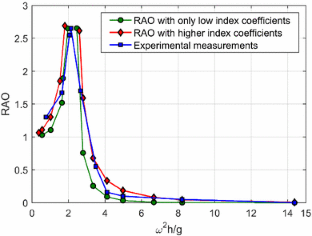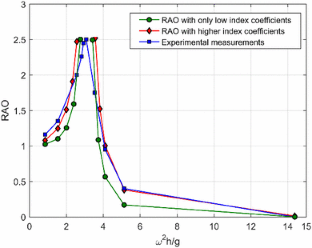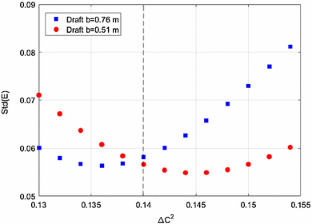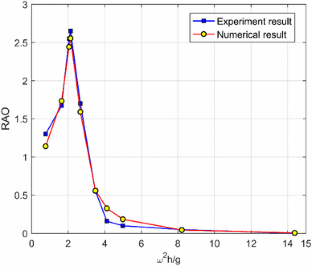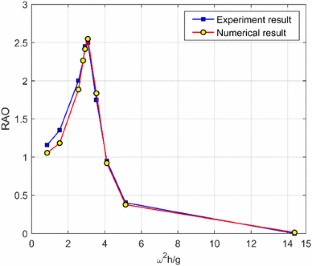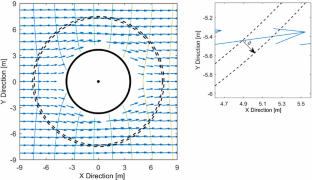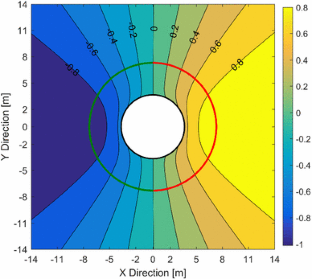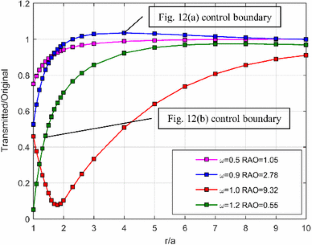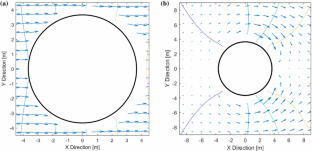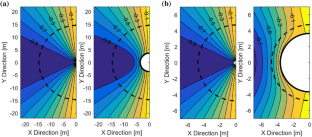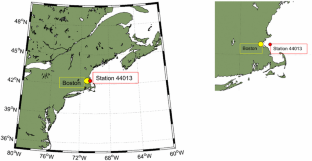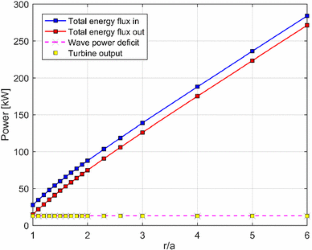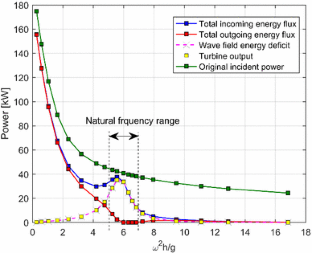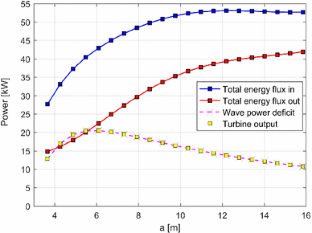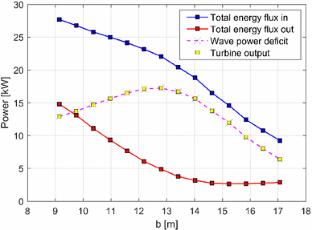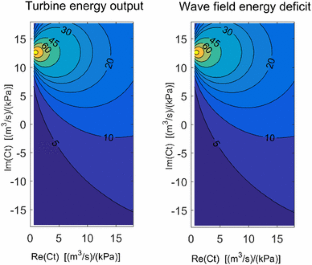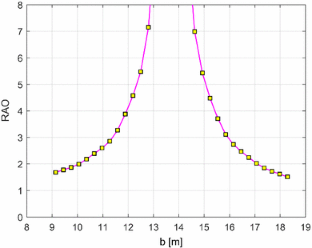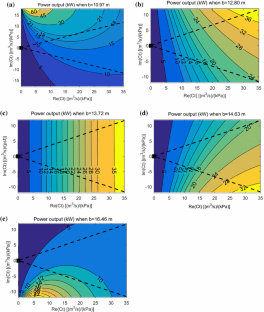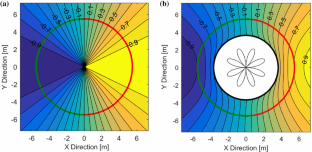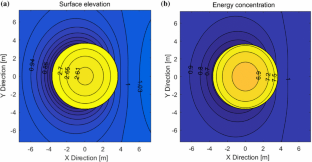 References
Baudry V, Babarit A, Clement A (2013) An overview of analytical, numerical and experimental methods for modeling oscillating water columns. In: EWTEC, 2013

Chakrabarti K (1987) Hydrodynamics of offshore structures. WIT Press, Southampton

Cui Y, Hyun S (2016) Numerical study on wells turbine with penetrating blade tip treatments for wave energy conversion. Int J Naval Arch and Ocean Eng 8:456–465

Dean R, Dalrymple R (1984) Water wave mechanics for engineers and scientists. World Scientific Publishing, Singapore

Elhanafi A, Fleming A, Macfarlane G, Leong Z (2016) Numerical energy balance analysis for an onshore oscillating water column wave energy converter. Energy 116:539–557

Evans D (1982) Wave-power absorption by systems of oscillating surface pressure distributions. J Fluid Mech 114:481–499

Evans D, Porter R (1997) Efficient calculation of hydrodynamic properties of OWC-type devices. J Offshore Mech Arct Eng 119:210–218

Falnes J (2002) Ocean waves and oscillating systems. Cambridge University Press, Cambridge

Falnes J, McIver P (1985) Surface wave interactions with systems of oscillating bodies and pressure distributions. Appl Ocean Res 7:225–234

Falzarano J, Gao Z, Landet E, Boulluec M, Rim C, Sirkar J, Sun L, Suzuki H, Thiry A, Trarieux F, Wang c (2012) Offshore renewable energy. In: Proceedings of 18th international ship and offshore structures congress, Rostock, Germany, vol 2, pp 153–200

Fleming A, Penesis I, Macfarlane G, Bose N, Denniss T (2012) Energy balance analysis for an oscillating water column wave energy converter. Ocean Eng 54:26–33

Garrett R (1970) Bottomless harbors. J Fluid Mech 43:433–449

Garriga O, Falzarano J (2008) Water wave interaction on a truncated vertical cylinder. J Offshore Mech Arct Eng 130(3):1–8

Guha A (2016) Development and application of a potential flow computer program: determining first and second order wave forces at zero and forward speed in deep and intermediate water depth. PhD Thesis, Texas A&M University

Jacobson P (2011) Mapping and assessment of the United States ocean wave energy resource. http://www.boem.gov/Renewable-Energy-Program/Renewable-Energy-Guide/Ocean-Wave-Energy.aspx. Accessed 10 Oct 2016

Koo W, Kim M (2010) Nonlinear time-domain simulation of a land-based oscillating water column. J Waterw Port Coast Ocean Eng 136(5):276–285

Li Y, Yu Y (2012) Synthesis of numerical methods for modeling wave energy converter-point absorbers. doi:10.1016/j.rser.2011.11.008 (Preprint)

Linton M, McIver P (2001) Handbook of mathematical techniques for wave? Structure interactions. CRC, Boca Raton

Liu Y, Falzarano J (2017) Irregular frequency removal methods: theory and applications in hydrodynamics. Mar Syst Ocean Techno 12(2):49–64

Liu Y, Falzarano J (2017) A method to remove irregular frequencies and log singularity evaluation in wave-body interaction problems. J Ocean Eng Mar Energy 3(2):161–189

Malmo O, Reitan A (1985) Wave-power absorption by an oscillating water column in a channel. J Fluid Mech 158:153–175

Margheritini L, Vicinanza D, Frigaard P (2009) SSG wave energy converter: design, reliability and hydraulic performance of an innovative overtopping device. Renew Energy 34(5):1371–1380

Mei C (1989) The applied dynamics of ocean surface waves. World Scientific Publishing, Singapore

Newman J (1979) The interaction of stationary vessels with regular waves. In: Proceedings of 11th symposium on naval hydrodynamics, London, UK, pp 491–501

Okuhara S, Takao M, Takami A, Setoguchi T (2013) Wells turbine for wave energy conversion improvement of the performance by means of impulse turbine for bi-directional flow. Open J of Fluid Dyn 3:36–41

Somayajula A, Falzarano J (2015) Large-amplitude time-domain simulation tool for marine and offshore motion prediction. Mar Syst Ocean Technol 10(1):1–17

Tom N, Lawson M, Yu Y, Wright A (2016) Development of a nearshore oscillating surge wave energy converter with variable geometry. Renew Energy 96:410–424

Wang H (2013) Wave energy extraction from an oscillating water column in a truncated circular cylinder. Master Thesis, Texas A&M University

Wang H, Falzarano J (2013) Energy extraction from the motion of an oscillating water column. Ocean Syst Eng 4:327–348

Wang H, Sitanggang K, Falzarano J (2017) Exploration of power take off in wave energy converters with two-body interaction. Ocean Syst Eng 1–16
Acknowledgements
The authors would like to acknowledge the Marine Dynamics Laboratory at Texas A&M University: Dr. Somayajula, Dr. Guha, Mr. Liu, and Mr. Zhi for their inspirations to this research. Prof. Evans and Dr. Porter from the University of Bristol have done excellent work in solving the potential flow model used in the paper and Mr. Garriga has provided important experimental data, which both give us great support in this work.
About this article
Cite this article
Wang, H., Falzarano, J. Energy balance analysis method in oscillating type wave converter. J. Ocean Eng. Mar. Energy 3, 193–208 (2017). https://doi.org/10.1007/s40722-017-0081-y
Received:

Accepted:

Published:

Issue Date:

DOI: https://doi.org/10.1007/s40722-017-0081-y
Keywords