Abstract
An eco-friendly mineral-free process for tanning has been developed in the present investigation, which is based on replenishable plant resources. Significant reduction in total dissolved solids and chlorides compared to conventional tanning method was observed in the new process. Tara and jatropha seed oil were employed for tanning of animal skins. The thermal and morphological characteristics, resistance to fungal and organoleptic properties of the tanned leathers were analyzed by using shrinkage, differential scanning calorimetric and thermo-mechanical analysis techniques. It has been proved that the properties of the tanned leathers are better than that of conventional vegetable tanned and comparable to chrome tanned leathers. The cross section of fibre structure indicates uniform structure and fibre bundles seem to be less dispersed when analyzed through scanning electron microscope. The tanned leathers exhibited better physico-chemical and organoleptic properties. The new tanning system also exhibited cost advantages due to reduction in chemicals consumption and savings due to reduced effluent treatment costs. The developed tanning process reduces the generation of toxic waste compared to mineral tannages, which reduces the environmental impacts. Hence, this techno-commercial study provided a viable and versatile solution for mineral-free tanning for commercially sustainable processing through cleaner process options.
Access options
Buy single article
Instant access to the full article PDF.
USD 39.95
Price excludes VAT (USA)
Tax calculation will be finalised during checkout.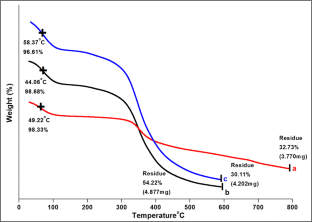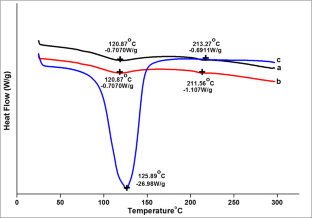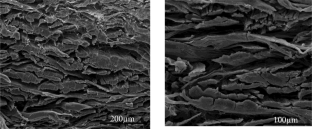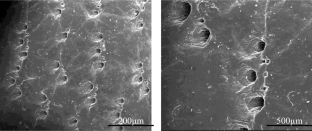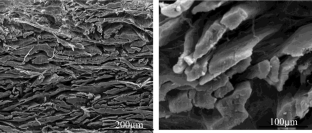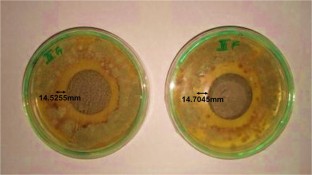 References
Afsar A, Sekeroglu O (2008) An investigation about the effect of oxazolidine on modified valonia extract tanning. Afr J Biotechnol 7:3737–3742

ASTM D2020, Standard Test Methods (1999) Mildew-Fungus. Antimicrobial Testing Method

ASTM G21, Standard Test Methods (2002) Standard Practice for Determining Resistance of Synthetic Polymeric Materials to Fungi

Bacardit A, Burgh SVD, Armengol J, Olle L (2014) Evaluation of a new environment friendly tanning process. J Clean Prod 65:568–573

Bacardit A, Diaz J, Casas C, Olle L (2015) Low carbon products to design innovative leather processes. Part III: Optimization of an eco-friendly formulation using tara. J Am Leather Chem Assoc 110:302–309

Bhat TK, Singh B, Sharma PO (1998) Microbial degradation of tannins – a current perspective. Biodegradation 9:343–357

Castell JC, Fabregat C, Sorolla S, Jorba M, Bacartit A, Olle L (2012) Caesalpinia spinosa (tara): the sustainable source of tannins. J Aqeic 63:21–29

Chambi F, Chirinos R, Pedreschi R, Pallardel IB, Debaste F, Campos D (2013) Antioxidant potential of hydrolyzed polyphenolic extracts from tara (Caesalpinia spinosa) pods. Ind Crop Prod 47:168–175

Clesceri LS, Greenberg AE, Trussell RR (1989) Standard methods for the examination of water and wastewater, 17th edn. American Public Health Association, Washington, DC

Cocks L, Rede CV (1966) Laboratory handbook for oils and fat analysis. Academic Press, London

Çolak SM, Özdil N, Ekinci M, Kaplan O (2016) Thermophysiological comfort properties of the leathers processed with different tanning agents. Tekstil ve Konfeksiyon 26(4):436–443

Cot J (1998) Oxazolidine – a unique tanning agent, Sp Ch of finished leathers – A review. J Aqeic 39:47–52

Covington AD (1997) Modern tanning chemistry. Chem Soc Rev 26:111–126

Devikavathy G, Sundar VJ, Muralidharan C (2009) Enzyme facilitated vegetable tannin-skin interaction. J Turk Leather Technol Chem Soc 3:2–7

Galvez GJ, Riedl B, Conner A (1997) Analytical studies on tara tannins. Holzforschung 51(3):235–243

Gross GG, Hemingway RW, Yoshida T (1999) Plant polyphenols 2: chemistry. Pharmacology and Ecology, Kluwer Academic/Plenum Publishers, New York, Biology

Gubitz GM, Mittelbach M, Trabi M (1999) Exploitation of the tropical oil seed plant Jatropha curcas. Bioresour Technol 67:73–82

Haslam E (1981) Vegetable tannins. In: Conn EE (ed.) the biochemistry of plants. Academic Press, London 7(18):527–555

Hedberg YS, Liden C, Wallinder IO (2015) Chromium released from leather – I: exposure conditions that govern the release of chromium (III) and chromium (VI). Cont Dermat 72:206–215

International Union for Chemical Testing (1977) IUC 7, ISO 4047. Determination of Sulphated Total Ash and Sulphated Water Insoluble Ash

International Union for Chemical Testing (1984) IUC 10, ISO 5397. Determination of Nitrogen and Hide Substance

International Union for Chemical Testing (2005) IUC 5, ISO 4684. Determination of Volatile Matter

International Union for Chemical Testing (2006) IUC 6, ISO 4098. Determination of Water-soluble Matter, Water Soluble Inorganic Matter and Water Soluble Organic Matter

International Union for Chemical Testing (2008) IUC 4, ISO 4048. Determination of Matter Soluble in Dichloromethane and Free Fatty Acid Content

International Union for Physical Test Methods (1958) International Union of Leather Chemists Societies, Physical Testing Commission – IUP/1, 12, 32. J Soc Leather Technol Chem 42–52

Kanagaraj J, Panda RC, Jayakumar GC (2019) Interaction of glyoxal with collagenous matrix and its behavioral aspects for non-toxic and sustainable tanning system. Int J Environ Sci Technol. https://doi.org/10.1007/s13762-019-02327-1

Lin J, Yan F, Tang L, Chen F (2003) Anti-tumor effects of curcin from seeds of Jatropha curcas. Acta Pharmacol Sin 24(3):241–246

Maier M, Oelbermann AL, Renner M, Weidner E (2017) Screening of European medicinal herbs on their tannin content - new potential tanning agents for the leather industry. Ind Crop Prod 99:19–26

Marsal A, Cuadros S, Manich AM, Izquierdo F, Font J (2017) Reduction of the formaldehyde content in leathers treated with formaldehyde resins by means of plant polyphenols. J Clean Prod 148:518–526

Mathiason F, Liden C, Hedberg YS (2015) Chromium released from leather – II: the importance of environmental parameters. Cont Dermat 72:275–285

Munz KH, Sundar VJ, Muralidharan C, Parthasarathi K (1997) Chrome tannage without pickling. Das Leder 48:128–133

Olle L, Diaz J, Casas C, Bacardit A (2016) Low carbon products to design innovative leather processes. Part IV: Manufacture of automatic leather using tara. J Am Leather Chem Assoc 111:185–191

Ozgunay H (2008) Lightfastness properties of leathers tanned with various vegetable tannins. J Am Leather Chem Assoc 103:345–351

Puntener A (1995) The ecological challenge of producing leather. J Am Leather Chem Assoc 90:206–219

Qiang T, Gao X, Ren J, Chen X, Wang X (2016) A chrome-free and chrome-less tanning system based on the hyperbranched polymer. Sustain Chem Eng 4:701–707

Rosu L, Varganici CD, Crudu AM, Rosu D, Bele A (2018) Ecofriendly wet–white leather vs. conventional tanned wet–blue leather. A photochemical approach. J Clean Prod 177:708–720

Shi J, Chen H, Arocena JM, Whitcombe T, Thring RW, Memiaghe JN (2016) Elemental sulfur amendment decreases bio-available Cr VI in soils impacted by leather tanneries. Environ Pollut 212:57–64

Shirmohammadli Y, Efhamisisi D, Pizzi A (2018) Tannins as a sustainable raw material for green chemistry: a review. Ind Crop Prod 126:316–332

Sivakumar V, Sundar VJ, Rangasamy T, Muralidharan C, Swaminathan G (2005) Management of total dissolved solids in tanning process through improved techniques. J Clean Prod 13:699–703

Slabbert NP (1981) Mimosa - Aluminium tannages- an alternative to chrome tanning. J Am Leather Chem Assoc 76:231–237

Society of Leather Technologists Chemists Association (SLTC) (1965) Official methods of Analysis

Sundar VJ, Muralidharan C (2017) Salinity free high tannin fixation vegetable tanning: commercial success through new approach. J Clean Prod 142:2556–2561

Sundar VJ, Haribabu V, Muralidharan C, Sadulla S (2008) Turning to nature for 'eco benign' stabilization of skin protein. J Turk Leather Technol Chem Soc 4:24–28

Sundar VJ, Muralidharan C, Mandal AB (2013a) A novel chrome tanning process for minimization of total dissolved solids and chromium in effluents. J Clean Prod 59:239–244

Sundar VJ, Muralidharan C, Mandal AB (2013b) Eco-benign stabilization of skin protein – role of Jatropha curcas oil as a co-tanning agent. Ind Crop Prod 47:227–231

Taylor MM, Lee J, Bumanlag LP, Latona RJ, Brown EM, Liu CK (2012) Preparation and evaluation of Tara – modified proteins. J Am Leather Chem Assoc 108:16–22

Vitolo S, Seggiani M, D'Aquino A, Barbani N (2003) Tara - aluminum tanning as an alternative to traditional chrome tanning: development of a pilot-scale process for high-quality bovine upper leather. J Am Leather Chem Assoc 98:123–131

Wu J, Zhao L, Liu X, Chen W, Gu H (2017) Recent progress in cleaner preservation of hides and skins. J Clean Prod 148:15–173

Zalacain A, Carmona M, Lorenzo C, Blazquez I, Alonso GL (2002) Antiradical efficiency of different vegetable tannin extracts. J Am Leather Chem Assoc 97:137–142
Additional information
Publisher's Note
Springer Nature remains neutral with regard to jurisdictional claims in published maps and institutional affiliations.
Article Highlights
1. The skins are stabilized with replenishable tara and esterified jatropha seed oil
2. No common salt, chromium and solvents needed during processing.
3. Tara and esterified jatropha seed oil tanned leathers exhibit good strength and organoleptic characteristics.
4. Reduction of Biochemical Oxygen Demand, Total Dissolved Solids, Chlorides and chromium were achieved in effluent streams.
5. The tanned leathers revealed well oriented and aligned fibre structures with improved hydrothermal stabilities via intra- and inter-molecular cross linkage.
Electronic supplementary material
Appendices
Appendix 1
| Process | Wattle (%) | Wattle with jatropha oil (%) | Tara with jatropha oil (%) | Duration (min) |
| --- | --- | --- | --- | --- |
| Pickling |   |   |   |   |
| Water | 100 | 100 | 100 |   |
| Common salt | 10 | – | – | 15 |
| Formic acid | 0.5 | 1.0 | 1.0 | 3 × 10 |
| Sulphuric acid | 1.5 | – | – | 3 × 10 + 60 |
| Depickling |   |   |   |   |
| Water | 100 | – | – | 30 |
| Common salt | 5 | – | – | 90 |
| Sodium formate | 1.75 | – | – | 60 |
| Pretanning syntan | 2 | – | – |   |
| Tanning |   |   |   |   |
| Water | 50 | 50 | 50 |   |
| Wattle | 10 | 10 | – | 60 |
| Wattle | 10 | – | – | 120 |
| Synthetic preservative | 0.75 | – | – | 45 |
| Tara | – | – | 10 | 60 |
| Esterified Jatropha seed oil |   | 10 | 10 | 120 |
| Myrob Powder | 5 | – | – | 90 |
| Pungam oil | 10 | – | – | 60 |
Appendix 2
Process

Chrome Tanning (%)

Duration (min)

Pickling

Water

100

 

Common salt

10

15

Formic acid

0.5

3 × 10

Sulphuric acid

1.5

3 × 10 + 60

After obtaining pH 2.9, 50% Float was drained

Tanning

Basic chromium sulphate

4

60

Basic chromium sulphate

4

90

Water

100

30

Sodium formate

1

45

Sodium bicarbonate

0.75

120
About this article
Cite this article
Sundar, V.J., Muralidharan, C. An Environmentally Friendly Mineral-Free Tanning of Animal Skins – Sustainable Approach with Plant Resources. Environ. Process. 7, 255–270 (2020). https://doi.org/10.1007/s40710-020-00422-x
Received:

Accepted:

Published:

Issue Date:

DOI: https://doi.org/10.1007/s40710-020-00422-x
Keywords