Tagetes minuta L. Variability in Terms of Lead Phytoextraction from Polluted Soils: Is Historical Exposure a Determining Factor?
Abstract
Tagetes minuta L. is a plant which accumulates Pb under certain conditions, making it a candidate for phytoextraction projects because it also produces marketable essential oils without detectable Pb levels. Although extraction efficiency has been shown to significantly vary between individuals, these results have been obtained using only historically exposed populations, which leads to the questions: Is the ability to tolerate and accumulate Pb a property of the species? Or is it a characteristic of some individuals from a historically exposed population? In this context, a greenhouse experiment was performed to analyse the intrapopulation and interpopulation variability in response to Pb among individuals from historically unexposed and exposed populations. In addition, we also attempted to identify relationships between certain capabilities (toleration and accumulation of Pb) and the physiological parameters related to oxidative stress or the volatile compounds of the essential oils. The Pb concentration was determined by total reflection X-ray fluorescence, physiological parameters were obtained by spectrophotometry, and essential oils were analysed by gas chromatography. The results demonstrated that adequate tolerance and accumulation capabilities are present in T. minuta, irrespective of the exposure history. These findings may be associated to a hormesis response, which includes enhancement of pigments, biomass production and the uptake of other heavy metals such as micronutrients. Nevertheless, the historically exposed population had a better tolerance to Pb, since it presented defence characteristics reflected in the essential oil composition and in the avoidance of damage at the lipid peroxidation level after Pb uptake.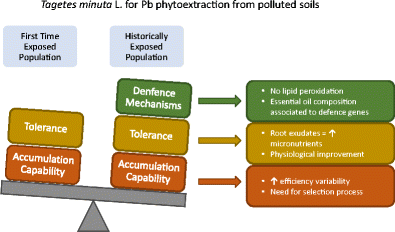 Keywords
Pb pollution 
Phytoremediation 
Tolerance 
Essential oils 
Notes
Acknowledgements
This work was partially supported by the Secretaría de Ciencia y Técnica de la Universidad Nacional de Córdoba (SECYT-UNC "B" Res. 313/2016), Fondo para la Investigación Científica y Técnica (FONCyT, PICT 2013-0988; 2015-1362). The author M.J. Salazar was funded by CONICET through a postdoctoral scholarship. We would especially like to thank the Brazilian Synchrotron Light Source (LNLS) (partially supported under proposal 20150094). Special thanks are also due to Proof Reading Service and to Dr. P. Hobson (native speaker) for language revision.
Author Contributions
M.J.S. and M.L.P planned and designed the research; M.J.S. and E.M.P. performed the experiments, sample processing and analysis of volatile oils and physiological parameters, M.J.S. and E.D.W performed heavy metal analysis, and M.J.S. wrote the manuscript.
Copyright information
© Springer International Publishing AG, part of Springer Nature 2018