Abstract
The main goal of this paper was to examine middle school students' game engagement and its effect on math performance. For the game, we developed [Math App], an educational video game intended to support students' understanding of fractions. Using [Math App] in a quasi-experimental research setting, we collected data on game engagement, game features, the perception of game learning ability, gender, and the amount of gameplay, and math performance. Our structural equation modeling analysis revealed that game engagement was categorized into two subdomains of behavioral and emotional/cognitive engagement. We also found that students' game engagements were associated with student's perception of gaming ability and in turn, it displayed a significant path with game features.
Access options
Buy single article
Instant access to the full article PDF.
USD 39.95
Price excludes VAT (USA)
Tax calculation will be finalised during checkout.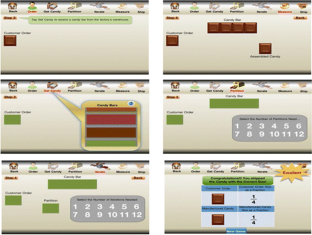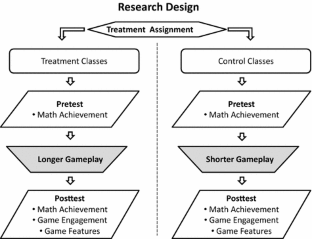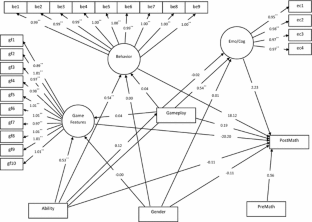 References
Ainley, M. D. (1993). Styles of engagement with learning: Multidimensional assessment of their relationship with strategy use and school achievement. Journal of Educational Psychology, 85(3), 395–405.

Anderson, C., Shibuya, A., Ihori, N., Swing, E. L., Bushman, B. J., Sakamoto, A., et al. (2010). Violent video game effects on aggression, empathy, and prosocial behavior in Eastern and Western countries: A meta-analytic review. Psychological Bulletin, 136(2), 151–173.

Atkinson, T., & Hirumi, A. (2010). The game brain. In A. Hirumi (Ed.), Playing games in school (pp. 57–73). Washington, DC: International Society for Technology Education (ISTE).

Bangert-Drowns, R., & Pyke, C. (2002). Teacher ratings of student engagement with educational software: An exploratory study. Educational Technology Research and Development, 50(2), 23–37.

Barkatsasa, A. T., Kasimatisb, K., & Gialamas, V. (2009). Learning secondary mathematics with technology: Exploring the complex interrelationship between students' attitudes, engagement, gender and achievement. Computers & Education, 52(3), 562–570.

Bowman, R. F. (1982). A Pac-Man theory of motivation: Tactical implications for classroom instruction. Educational Technology, 22(9), 14–17.

Bressler, D. M., & Bodzin, A. M. (2013). A mixed methods assessment of students' flow experiences during a mobile augmented reality science game. Journal of Computer Assisted Learning, 29(6), 505–517.

Brockmyer, J. H., Fox, C. M., Curtiss, K. A., McBroom, E., Burkhart, K. M., & Pidruzny, J. N. (2009). The development of the game engagement questionnaire: A measure of engagement in video game-playing. Journal of Experimental Social Psychology, 45(4), 624–634.

Burgers, C., Eden, A., van Engelenburg, M. D., & Buningh, S. (2015). How feedback boosts motivation and play in a brain-training game. Computers in Human Behavior, 48, 94–103.

Chou, T.-J., & Ting, C.-C. (2003). The role of flow experience in cyber-game addiction. CyberPsychology & Behavior, 6(6), 663–675.

Chu, Y. Y. S. L., Duh, H. B., & Quek, F. (2010). Investigating narrative in mobile games for seniors. In Proceedings of the SIGCHI Conference on Human Factors in Computing Systems (pp. 669–672). ACM.

Clarke, D., & Roche, A. (2010). The power of a single game to address a range of important ideas in fraction learning. Australian Primary Mathematics Classroom, 15(3), 18–24.

Clark, D. B., Tanner-Smith, E. E., & Killingsworth, S. S. (2016). Digital games, design, and learning: A systematic review and meta-analysis. Review of Educational Research, 86(1), 79–122.

Connell, J. P., & Wellborn, J. G. (1991). Competence, autonomy, and relatedness: A motivational analysis of self-system processes. In M. R. Gunnar & L. A. Sroufe (Eds.), Self-processes and development: Minnesota symposium on child psychology (Vol. 23, pp. 43–77). Chicago: University of Chicago Press.

Csikszentmihalyi, M. (2014). Toward a psychology of optimal experience. In Flow and the foundations of positive psychology (pp. 209–226). Netherlands: Springer.

Davis, F. D. (1989). Perceived usefulness, perceived ease of use, and user acceptance of information technology. MIS Quarterly, 13(3), 319–340.

Engle, R. W. (2002). Working memory capacity as executive attention. Current Directions in Psychological Science, 11, 19–23.

Finn, J. D. (1989). Withdrawing from school. Review of Educational Research, 59, 117–142.

Finn, J. D., & Rock, D. A. (1997). Academic success among students at risk for school failure. Journal of Applied Psychology, 82, 221–234.

Fredricks, J. A., Blumenfeld, P. C., & Paris, A. H. (2004). School engagement: Potential of the concept, state of the evidence. Review of Educational Research, 74, 59–109.

Fredricks, J. A., Filsecker, M., & Lawson, M. A. (2016). Student engagement, context, and adjustment: Addressing definitional, measurement, and methodological issues. Learning and Instruction, 43, 1–4.

Fu, F., Su, R., & Yu, S. (2009). EGameFlow: A scale to measure learners' enjoyment of e-learning games. Computers & Education, 52(2009), 101–112.

Garris, R., Ahlers, R., & Driskell, J. E. (2002). Games, motivation, and learning: A research and practice model. Simulation & Gaming, 33(4), 441–467.

Gentile, D. A. (2011). The multiple dimensions of video game effects. Child Development Perspectives, 5(2), 75–81.

Grüsser, S. M., Thalemann, R., & Griffiths, M. D. (2006). Excessive computer game playing: Evidence for addiction and aggression? CyberPsychology & Behavior, 10(2), 290–292.

Ha, I., Yoon, Y., & Choi, M. (2007). Determinants of adoption of mobile games under mobile broadband wireless access environment. Information & Management, 44(3), 276–286.

Hackenberg, A. J., & Lee, M. Y. (2015). Relationships between students' fractional knowledge and equation writing. Journal for Research in Mathematics Education, 46(2), 196–243.

Hair Jr, J. F., Hult, G. T. M., Ringle, C., & Sarstedt, M. (2016). A primer on partial least squares structural equation modeling (PLS-SEM). Sage.

Hays, R. T. (2005). The effectiveness of instructional games: A literature review and discussion. Naval Air Warfare Center Training System Division (No. 2005-004). Retrieved November 8, 2010 from http://www.dtic.mil/cgi-bin/GetTRDoc?AD=ADA441935&Location=U2&doc=GetTRDoc.pdf.

Hays, R. T. (2010). Making games more effective in the classroom. In A. Hirumi (Ed.), Playing games in school: Video games and simulations for primary and secondary education (pp. 241–268). Washington, DC: International Society for Technology Education (ISTE).

Hoffman, B., & Nadelson, L. (2010). Motivational engagement and video gaming: A mixed methods study. Educational Technology Research and Development, 58(3), 245–270.

Howard-Jones, P. A., & Demetriou, S. (2009). Uncertainty and engagement with learning games. Instructional Science, 37(6), 519–536.

Hsu, C.-L., & Lu, H.-P. (2004). Why do people play on-line games? An extended TAM with social influences and flow experience. Information & Management, 41(7), 853–868.

Hull, D. C., Williams, G. A., & Griffiths, M. D. (2013). Video game characteristics, happiness and flow as predictors of addiction among video game players: A pilot study. Journal of Behavioral Addictions, 2(3), 145–152.

Kebritchi, M., & Hirumi, A. (2008). Examining the pedagogical foundations of modern educational computer games. Computers & Education, 51(4), 1729–1743.

Kebritchi, M., Hirumi, A., & Bai, H. (2010). The effects of modern mathematics computer games on mathematics achievement and class motivation. Computers & Education, 55(2), 427–443.

Kim, P. W., Kim, S. Y., Shim, M., Im, C.-H., & Shon, Y.-M. (2012). The influence of an educational course on language expression and treatment of gaming addiction for massive multiplayer online role-playing game (MMORPG) players. Computers & Education, 63(2013), 208–217.

Kim, E. J., Namkoong, K., Ku, T., & Kim, S. J. (2008). The relationship between online game addiction and aggression, self-control and narcissistic personality traits. European Psychiatry, 23(3), 212–218.

Kneer, J., & Glock, S. (2013). Escaping in digital games: The relationship between playing motives and addictive tendencies in males. Computers in Human Behavior, 29(4), 1415–1420.

Lau, S., & Roeser, R. W. (2002). Cognitive abilities and motivational processes in high school students' situational engagement and achievement in science. Educational Assessment, 8(2), 139–162.

Law, E., Gamble, T., Schwarz, D., Kickmeier-Rust, M., & Holzinger, A. (2009). A mixed-method approach on digital educational games for K12: Gender, attitudes and performance. HCI and Usability for e-Inclusion, 42–54.

Lee, L. C., & Hao, K. C. (2015). Designing and evaluating digital game-based learning with the ARCS motivation model, humor, and animation. International Journal of Technology and Human Interaction (IJTHI), 11(2), 80–95.

Lemmens, J. S., Valkenburg, P. M., & Peter, J. (2009). Development and validation of a game addiction scale for adolescents. Media Psychology, 12(1), 77–95.

Lim, C. P., Nonis, D., & Hedberg, J. (2006). Gaming in a 3D multiuser virtual environment: Engaging students in science lessons. British Journal of Educational Technology, 37(2), 211–231.

Lowrie, T., & Jorgensen, R. (2011). Gender differences in students' mathematics game playing. Computers & Education, 57(4), 2244–2248.

MacCallum, R. C., Browne, M. W., & Sugawara, H. M. (1996). Power analysis and determination of sample size for covariance structure modeling. Psychological Methods, 1(2), 130–149.

Malone, T. (1981). Towards a theory of instrinsically motivating instruction. Cognitive Science, 4, 333–369.

Mandinach, E. B., & Corno, L. (1985). Cognitive engagement variations among students of different ability level and sex in a computer problem solving game. Sex Roles, 13(3), 241–251.

Martin, A. J. (2007). Examining a multidimensional model of student motivation and engagement using a construct validation approach. British Journal of Educational Psychology, 77, 413–440.

Martin, A. J., Ginns, P., & Papworth, B. (2017). Motivation and engagement: Same or different? Does it matter? Learning and Individual Differences, 55, 150–162.

Messick, S. (1995). Validity of psychological assessment: Validation of inferences from persons' responses and performances as scientific inquiry into score meaning. American Psychologist, 50, 741–749.

National Mathematics Advisory Panel. (2008). Foundations for success: The final report of the National Mathematics Advisory Panel. US Department of Education.

Negini, F., Mandryk, R. L., & Stanley, K. G. (2014). Using affective state to adapt characters, NPCs, and the environment in a first-person shooter game. In Games Media Entertainment (GEM), 2014 IEEE (pp. 1–8). IEEE.

Olive, J., & Vomvoridi, E. (2006). Making sense of instruction on fractions when a student lacks necessary fractional schemes: The case of Tim. The Journal of Mathematical Behavior, 25(1), 18–45.

Pagnano-Richardson, K., & Henninger, M. L. (2008). A model for developing and assessing tactical decision-making competency in game play. Journal of Physical Education, Recreation & Dance, 79(3), 24–29.

Pintrich, P. R. (2003). A motivational science perspective on the role of student motivation in learning and teaching contexts. Journal of Educational Psychology, 95, 667–686.

Posner, M. I. (1978). Chronometric explorations of mind. Hillsdale, N.J: Erlbaum.

Posner, M. I., & Rothbart, M. K. (2007). Research on attention networks as a model for the integration of psychological science. Annual Review of Psychology, 58, 1–23.

Prensky, M. (2008). Students as designers and creators of educational computer games: Who else? British Journal of Educational Technology, 39(6), 1004–1019.

Prensky, M. (2010). Educating the millennial generation. In A. Hirumi (Ed.), Playing games in school (pp. 7–32). Washington, DC: International Society for Technology in Education (ISTE).

Reschly, A. L., & Christenson, S. L. (2012). Jingle, jangle, and conceptual haziness: Evolution and future directions of the engagement construct. In S. Christenson, A. Reschly, & C. Wylie (Eds.), Handbook of research on student engagement. New York: Springer.

Rideout, V. J., Foehr, U. G., & Roberts, D. F. (2010). Generation M 2 : media in the lives of 8- to 18-year-olds. The Kaiser Family Foundation.

Rieger, D., Wulf, T., Kneer, J., Frischlich, L., & Bente, G. (2014). The winner takes it all: The effect of in-game success and need satisfaction on mood repair and enjoyment. Computers in Human Behavior, 39, 281–286.

Ringle, C. M., Wende, S., and Becker, J.-M. (2015). SmartPLS 3.0, SmartPLS GmbH: Boenningstedt.

Roscoe, R. D., Snow, E. L., Brandon, R. D., & McNamara, D. S. (2013). Educational game enjoyment, perceptions, and features in an intelligent writing tutor. In FLAIRS Conference.

Rotgans, J. I., & Schmidt, H. G. (2011). Cognitive engagement in the problem-based learning classroom. Advances in Health Sciences Education, 16(4), 465–479.

Rueda, M. R., Posner, M. I., & Rothbart, M. K. (2004). Attentional control and self-regulation. Handbook of self-regulation: Research, theory, and applications, 2, 284–299.

Ryan, R. M., Rigby, C. S., & Przybylski, A. (2006). The motivational pull of video games: A self-determination theory approach. Motivation and Emotion, 30(4), 344–360.

Schumaker, R. E., & Lomax, R. G. (2004). A beginner's guide to structural equation modeling (2nd ed.). Mahwah, NJ: Lawrence Erlbaum.

Sherry, J. L. (2001). The effects of violent video games on aggression. Human Communication Research, 27(3), 409–431.

Skinner, E. A., Kindermann, T. A., Connell, J. P., & Wellborn, J. G. (2009). Engagement as an organizational construct in the dynamics of motivational development. In K. Wentzel & A. Wigfi eld (Eds.), Handbook of motivation at school (pp. 223–245). Malwah, NJ: Erlbaum.

Smith, T. D., & McMillan, B. F. (2001). A Primer of model fit indices in structural equation modeling.

Sweetser, P., & Wyeth, P. (2005). GameFlow: A model for evaluating player enjoyment in games. ACM Computers in Entertainment, 3(3), 3.

Thijs, J., & Verkuyten, M. (2009). Students' anticipated situational engagement: The roles of teacher behavior, personal engagement, and gender. The Journal of genetic psychology, 170(3), 268–286.

Vandewater, E., Shim, M.-S., & Caplovitz, A. G. (2004). Linking obesity and activity level with children's television and video game use. Journal of Adolescence, 27(1), 71–85.

Voelkl, K. E. (1997). Identifi cation with school. American Journal of Education, 105, 204–319.

Wilson, K. A., Bedwell, W. L., Lazzara, E. H., Salas, E., Burke, C. S., Estock, J. L., et al. (2009). Relationships between game attributes and learning outcomes: Review and research proposals. Simulation and Gaming, 40(2), 217–266.

Yang, D. C., Reys, R. E., & Wu, L. L. (2010). Comparing the development of fractions in the fifth-and sixth-graders' textbooks of Singapore, Taiwan, and the USA. School Science and Mathematics, 110(3), 118–127.
Acknowledgements
This manuscript is based upon work supported by the National Science Foundation (NSF) under Grant No. DRL-1118571. Any opinions, findings, and conclusions or recommendations expressed in this material are those of the author(s) and do not necessarily reflect the views of NSF. Mido Chang was a co-principal investigator of the funded project by the NSF. Sunha Kim was the recipient of graduate assistantship of the project and later served on the grant as a consultant.
Funding
The authors of Mido Chang, Michael A. Evans, Kirby Deater-Deckard, and Anderson Norton were the principal and co-principal investigators of the funded project by the NSF.
Ethics declarations
Ethical approval
The research has been conducted by collecting data from 5th and 8th grade students after the research team obtained the necessary approvals of Virginia Tech Institutional Review Board (FWA00000572) and Florida International University Institutional Review Board (IRB-13-0219), the consent form from parents, and the assent form from students.
About this article
Cite this article
Kim, S., Chang, M., Deater-Deckard, K. et al. Educational games and students' game engagement in elementary school classrooms. J. Comput. Educ. 4, 395–418 (2017). https://doi.org/10.1007/s40692-017-0095-4
Received:

Revised:

Accepted:

Published:

Issue Date:

DOI: https://doi.org/10.1007/s40692-017-0095-4
Keywords
Game engagement

Game features

Perceived competence in games