Abstract
This paper describes how a partnership between a large, urban school district and researchers resulted in a process to measure school climate and support schools and the district in school safety efforts. The partnership utilized a comprehensive framework of safe and supportive schools, where constructs such as physical safety and security were included along with connectedness of staff and students, emotional safety, physical environment, engagement, and norms and policies. Researchers then developed a process for measuring these constructs using existing, school-level data collected by the state and the district and communicating the results to district and school staff. This paper aims to describe the method of identifying and utilizing school-level data, our development of a standardized measurement model, and our processes to communicate and consult with the district and schools on using a data-driven process to improve school safety.
Access options
Buy single article
Instant access to the full article PDF.
USD 39.95
Price excludes VAT (USA)
Tax calculation will be finalised during checkout.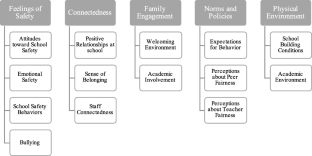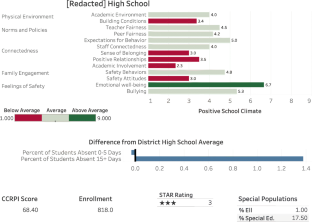 References
American Academy of Pediatrics. (2003). Out-of-school suspension and expulsion. Pediatrics. https://doi.org/10.1542/peds.112.5.1206.

Appleton, J. J. (2012). Systems consultation: developing the assessment-to-intervention link with the student engagement instrument. In S.L. Christenson, A. L. Resckly & C. Wylie (Eds.), Handbook of research on student engagement (pp. 725–741). Springer Science + Business Media. https://doi.org/10.1007/978-1-4614-2018-7_35.

Appleton, J., Christenson, S., Kim, D., & Reschly, A. (2006). Measuring cognitive and psychological engagement: validation of the student engagement instrument. Journal of School Psychology, 44(5), 427–445. https://doi.org/10.1016/j.jsp.2006.04.002.

Arcia, E. (2006). Achievement and enrollment status of suspended students outcomes in a large, multicultural school district. Education and Urban Society, 38(3), 359–369. https://doi.org/10.1177/0013124506286947.

Bobbitt, L., Green, S., Candura, L., & Morgan, G. (2005). The development of a county level index of well-being. Social Indicators Research, 73(1), 19–42. https://doi.org/10.1007/s11205-004-6165-9.

Bradshaw, C., Waasdorp, T., Debnam, K., & Johnson, S. (2014). Measuring school climate in high schools: a focus on safety, engagement, and the environment. Journal of School Health, 84(9), 593–604. https://doi.org/10.1111/josh.12186.

Christle, C. A., Jolivette, K., & Nelson, C. M. (2005). Breaking the school to prison pipeline: identifying school risk and protective factors for youth delinquency. Exceptionality, 13(2), 69–88. https://doi.org/10.1207/s15327035ex1302_2.

Cohen, J., McCabe, L., Michelli, N. M., & Pickeral, T. (2009). School climate: research, policy, practice, and teacher education. The Teachers College Record, 111(1), 180–213 https://www.researchgate.net/publication/235420504_School_Climate.

Cowen, K., Vaillancourt, K., Rossen, E., & Pollit, K. (2013). A framework for safe and successful schools. National Association of School Psychologists. https://www.nasponline.org/resources-and-publications.

Education Trust West. (2018). Data Equity Walk Toolkit. https://west.edtrust.org/data-equity-walk-toolkit/.

Fox, J.A., & Fridel, E. (2018). The menace of school shootings in America: panic and overresponse. In H. Shapiro (Ed.), The Wiley Handbook on Violence in Education: Forms, Factors, and Preventions, (pp. 15–45). https://doi.org/10.1002/9781118966709.ch1.

Gaffney, H., Ttofi, M., & Farrington, D. (2019). Evaluating the effectiveness of school-bullying prevention programs: an updated meta-analytical review. Aggression and Violent Behavior, 45, 111–113. https://doi.org/10.1016/j.avb.2018.07.001.

Goodman, R. (2001). Psychometric properties of the strengths and difficulties questionnaire. Journal of American Academy of Child Adolescent Psychiatry, 40(11), 1337–1345. https://doi.org/10.1097/00004583-200111000-00015.

Hemphill, S. A., Toumbourou, J. W., Herrenkohl, T. I., McMorris, B. J., & Catalano, R. F. (2006). The effect of school suspensions and arrests on subsequent adolescent antisocial behavior in Australia and the United States. Journal of Adolescent Health, 39(5), 736–744. https://doi.org/10.1016/j.jadohealth.2006.05.010.

Hemphill, S., Heerde, J., Herrenkohl, T., Toumbourou, J., & Catalano, R. (2012). The impacts of school suspension on student tobacco use: a longitudinal study in Victoria, Australia and Washington State, United States. Health Education & Behavior, 39(1), 45–56. https://doi.org/10.1177/1090198111406724.

Hemphill, S. A., Tollit, M., & Herrenkohl, T. I. (2014). Protective factors against the impact of school bullying perpetration and victimization on young adult externalizing and internalizing problems. Journal of School Violence, 13(1), 125–145. https://doi.org/10.1080/15388220.2013.844072.

Honig, M. (2004). Where's the "up" in bottom-up reform? Educational Policy, 18(4), 527–561. https://doi.org/10.1177/0895904804266640.

Jenkins, L., Demaray, M., Smit Wren, M., Secord, S., Lyell, K., Magers, A., Setmeyer, A., Rodelo, C., Newcomb-McNeal, E., & Tennant, J. (2014). A critical review of five commonly used social-emotional and behavioral screeners for elementary or secondary schools. Contemporary School Psychology, 18(4), 241–254. https://doi.org/10.1007/s40688-014-0026-6.

Kendziora, K., Mack, A., Jones, W., Pate, W.E. (2018). Collaboration for safe and healthy schools: study of coordination between school climate transformation Grants and project AWARE. U.S. Department of Education. https://www2.ed.gov/rschstat/eval/school-safety/school-climate-transformation-grants-aware-full-report.pdf.

Koth, C. W., Bradshaw, C. P., & Leaf, P. J. (2008). A multilevel study of predictors of student perceptions of school climate: the effect of classroom-level factors. Journal of Educational Psychology, 100(1), 96–104. https://doi.org/10.1037/0022-0663.100.1.96.

Kuperminc, G. P., Leadbeater, B. J., & Blatt, S. J. (2001). School social climate and individual differences in vulnerability to psychopathology among middle school students. Journal of School Psychology, 39(2), 141–159. https://doi.org/10.1016/S0022-4405(01)00059-0.

Lessne, D., Yanez, C. (2018). Changes in bullying victimization and hate-related words at school since 2007. Data Point. https://www.nces.ed.gov/pubs2018/2018095.pdf.

Miller, R. (1969). Interpretation and utilization of scores on the air force officer qualifying test. Personnel Research Division: Air Force Human Resources Laboratory. https://www.apps.dtic.mil/sti/pdfs/AD0691001.pdf.

Musu, L., Zhang, A., Wang, K., Zhang, J., & Oudekerk, B.A. (2019). Indicators of School Crime and Safety: 2018 (NCES 2019–047/NCJ 252571). National Center for Education Statistics. https://www.nces.ed.gov/pubs2019/2019047.pdf.

Nekvasil, E. K., Cornell, D. G., & Huang, F. L. (2015). Prevalence and offense characteristics of multiple casualty homicides: are schools at higher risk than other locations? Psychology of Violence, 5(3), 236–245. https://doi.org/10.1037/a0038967.

Patchin, J., & Hinduja, S. (2016). Lifetime Cyberbullying Victimization Rates: Eleven Different Studies 2007-2019. https://cyberbullying.org/summary-of-our-cyberbullying-research.

Perumean-Chaney, S. E., & Sutton, L. M. (2013). Students and perceived school safety: the impact of school security measures. American Journal of Criminal Justice, 38(4), 570–588. https://doi.org/10.1007/s12103-012-9182-2.

Piscatelli, J & Lee, C. (2011). State policies on school climate and bully prevention efforts: challenges and opportunities for deepening state policy support for safe and civil schools. National School Climate Center. https://www.schoolclimate.org/themes/schoolclimate/assets/pdf/policy_brief.pdf.

Sabatier, P. (1986). Top-down and bottom-up approaches to implementation research: a critical analysis and suggested synthesis. Journal of Public Policy, 6(1), 21–48. https://doi.org/10.1017/S0143814X00003846.

Smith, E. J., & Harper, S. R. (2015). Disproportionate impact of K-12 school suspension and expulsion on Black students in southern states. Philadelphia: University of Pennsylvania, Center for the Study of Race and Equity in Education. https://www.web-app.usc.edu/web/rossier/publications.

Thapa, A., Cohen, J., Guffey, S., & Higgins-D'Alessandro, A. (2013). A review of school climate research. Review of Educational Research, 83(3), 357–385. https://doi.org/10.3102/0034654313483907.

Thorndike, R. L. (1982). Applied psychometrics. Boston, MA: Houghton-Mifflin.

U.S. Department of Education. (2015). 2013–2014 Civil rights data collection: a first look. Retrieved from http://www2.ed.gov/about/offices/list/ocr/docs/2013-14-first-look.pdf.

Vaughn, M. G., Maynard, B. R., Salas-Wright, C. P., Perron, B. E., & Abdon, A. (2013). Prevalence and correlates of truancy in the US: results from a national sample. Journal of Adolescence, 36(4), 767–776. https://doi.org/10.1016/j.adolescence.2013.03.015.

Wang, M.-T., & Holcombe, R. (2010). Adolescents' perceptions of school environment, engagement, and academic achievement in middle school. American Educational Research Journal, 47(3), 633–662. https://doi.org/10.3102/0002831209361209.

Whisman, S.A. (2011). The West Virginia School Climate Index: a measure of school engagement, safety, and environment. West Virginia Department of Education. https://wvde.us/wpcontent/uploads/2018/01/WVSCIDevelopmentReport_2012.pdf.

Zych, I., Ortega-Ruiz, R., & Del Rey, R. (2015). Systematic review of theoretical studies on bullying and cyberbullying: facts, knowledge, prevention, and intervention. Aggression and Violent Behavior, 23, 1–21. https://doi.org/10.1016/j.avb.2015.10.001.
Funding
This study was supported by Award Number 2015-CK-BX-K001, granted by the National Institute of Justice, Office of Justice Programs, U.S. Department of Justice.
Ethics declarations
Conflict of Interest
The authors declare that they have no conflict of interest.
Ethical Approval
This article does not contain studies with human participants or animals performed by any of the authors.
Additional information
Publisher's Note
Springer Nature remains neutral with regard to jurisdictional claims in published maps and institutional affiliations.
About this article
Cite this article
Terrell, J.H., Henrich, C.C., Nabors, A. et al. Conceptualizing and Measuring Safe and Supportive Schools. Contemp School Psychol 24, 327–336 (2020). https://doi.org/10.1007/s40688-020-00309-6
Published:

Issue Date:

DOI: https://doi.org/10.1007/s40688-020-00309-6
Keywords